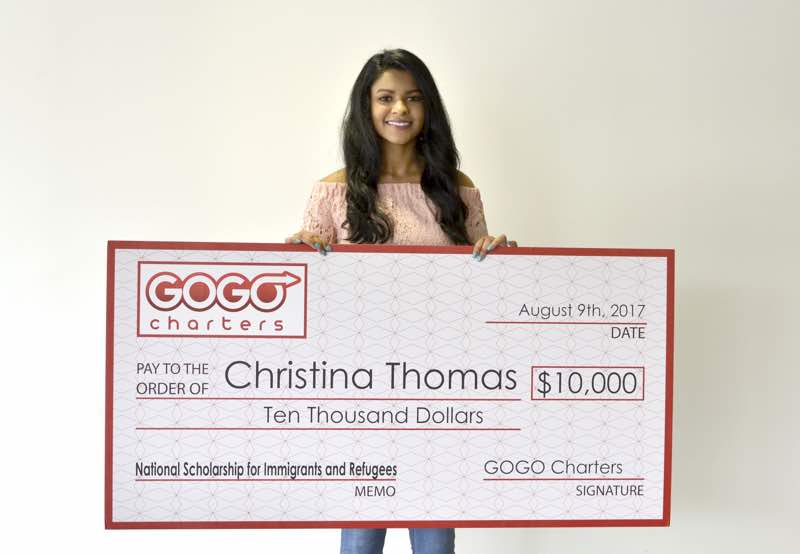 GOGO Charters Awards Christina Thomas the National Scholarship for Immigrants and Refugees
Christina Thomas of Kennesaw, Georgia was chosen as the winner of the GOGO Charters National Scholarship for Immigrants and Refugees. Inspired by CEO Armir Harris's challenges as an immigrant, the scholarship provides $10,000 to one driven individual who has faced similar challenges.
Born in India, Christina Thomas graduated from Kennesaw Mountain High School and is a rising freshman at the University of Georgia, where she will pursue a degree in genetics and eventually a career in neonatology.
Christina served as co-president of Kennesaw Mountain's "Future Healthcare Providers" organization while completing a medical internship at Wellstar Kennestone Hospital in Marietta, Georgia. "I knew I wanted to be a doctor, but I didn't know what kind of doctor I was going to be. When internship choices were announced, I took a chance and did neonatal. I loved every minute of it. That's when I knew."
Christina ended up playing a crucial role in implementing the Golden Hour Initiative, which ensures that the hospital staff is doing everything possible to give an infant the best possible chance at survival during their first two hours of life. "We brought the initiative to Kennestone, and I helped establish the protocol. I ran statistical tests to see what we could do better."
"Some of the most heartbreaking moments happen in neonatology," Thomas explained. "You have to prepare yourself for that. But the feeling you get when a parent finally gets to hold their baby and take their baby home— that makes it all worth it."
Christina's hard work and dedication set her apart from over 500 scholarship applicants from all over the USA. We at GOGO Charters are extremely proud of Christina's work thus far, and we can't wait to see what the future holds for her. Click below to listen to the moment Christina found out she had won the scholarship, plus some advice from our team about college life in Athens.
Congratulations Christina, and GO DAWGS!
GOGO Charters is a charter bus rental service that operates in over 200 cities across the United States. With access to a variety of buses combined with superior customer service, we've got everything you need to schedule your next big trip. We can accommodate groups of all shapes and sizes, making us perfect for weddings, corporate events, sports teams, church trips, vacations, and more. Have any transportation questions you need answered? Call us 24/7 at 1-855-826-6770. We're happy to help.
Do you need to rent a charter bus?