Looking for the GOGO Charters National Scholarship for Immigrants and Refugees? The scholarship is now the CharterUP National Scholarship for Immigrants and Refugees but not to worry: it has the same exact requirements, application process, and award amount of $10,000 for a single school year. The 2018-2019 application will open on the CharterUP site on April 9th, 2018. Applications will close on July 5, 2018.
After a successful and fulfilling year hosting the scholarship, the team at GOGO Charters has passed the torch to our friends at CharterUP for the 2018-2019 school year. We trust that CharterUP will generously continue the legacy of our CEO's commitment to advancing the education of immigrant students in the United States.
Ready to apply? Head over to https://CharterUP.com/scholarship to learn the requirements and submit your application now.
Congratulations to the 2017-2018 scholarship winner, Christina Thomas! Read more about the scholarship here.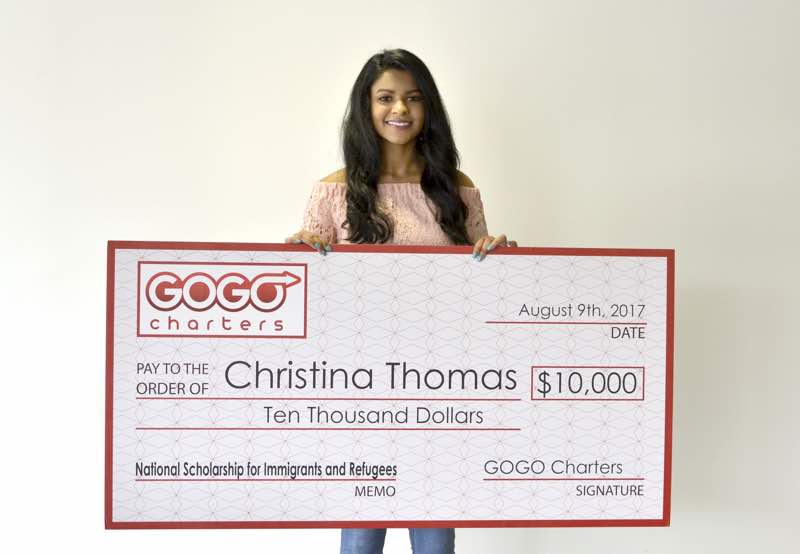 About GOGO Charters
GOGO Charters is a nationwide charter bus rental service that provides a variety of buses to traveling groups across the country. From corporate events in San Diego to vacations in Los Angeles, hiking trips outside of Denver, family reunions in Austin, and sporting events in Dallas, we've got everything you need to book reliable transportation to your next event. Call us today at 1-855-826-6770 to get a free quote for your next group trip!.