It doesn't matter whether you're a professional sports team, a group of local teachers, a marketing department, or a simple group of close friends-- going out and cutting loose is always a good way to bond and catch up with your teammates. Luckily, Chicago has plenty of places to do so!
Below, we've gathered our favorite group team-building venues in Chicago, from sporting events to vintage arcades to theaters, restaurants, breweries, and more.
Once you've chosen the perfect venue for your team outing, there's only one more detail to consider: how will you get everyone there?
That's where GOGO Charters has you covered.
We book Chicago charter bus rentals spanning a variety of bus types to help accommodate all groups. Whether you need a one-way transportation service or an all-day shuttle. Don't want to pick a designated driver? Let us hire a professional for you! Are you new to Chicago and worried about navigating the city streets? We'll handle that. Not sure what group transportation service is best for you? Our 24-hour reservation specialists are always ready to help you plan the perfect travel arrangement for your team-building event.
Ready to get started? Take a look at some venue options below and call GOGO Charters at 312-546-3925 to receive a free quote for your team outing!
AceBounce Ping Pong Bar
230 N Clark St, Chicago, IL 60601
Is there a better way to bond with your crew than schooling them in ping pong? We don't think so. Whether your team is up for WonderBall—beer pong with a futuristic twist—or just a round of old-fashioned pong after a big event, this place is great for blowing off some steam with a little friendly competition. AceBounce features semi-private spaces for up to 40 people, a private parlor for up to 70, and a full venue buyout for you and up to 550 of your friends.
Wrigley Field
1060 W Addison St, Chicago, IL 60613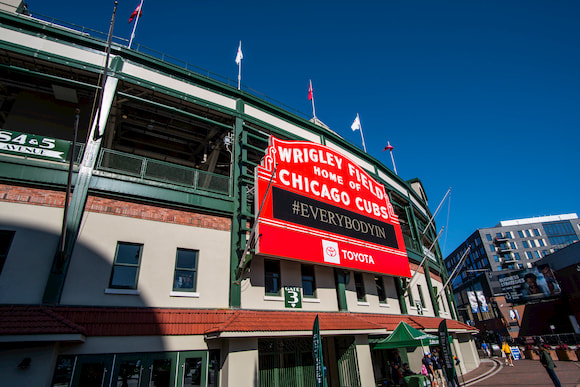 Now the proud home of recent World-Series winners the Chicago Cubs, Wrigley Field is an exciting destination for sports enthusiasts and life-long Cubs fans. Book a group suite for an exclusive game-viewing experience complete with in-seat food and beverage services, comfortable seating, beautiful views of the ballpark, and more. After everyone's spent the afternoon celebrating a win (knock on wood!), we'll make sure your private minibus rental is ready to bring your team members back home safely.
Headquarters Beercade
213 W Institute Pl, Chicago, IL 60610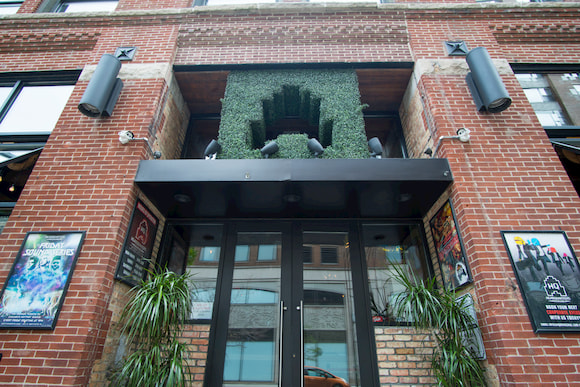 In the mood for some vintage arcade games? Bring your team to the Beercade, where you can tap into '80s nostalgia while enjoying some local beers, ciders, cocktails, and even boozy popsicles! Pinball, Pac-Man, Punch-Out, and more classic games await to foster some healthy competition among you and your teammates. A variety of group spaces are available, whether you'd like to book a few tables for a small gathering of about 30 guests or book the entire venue for an unforgettable bash with up to 750 guests.
WhirlyBall Chicago
1825 W Webster Ave, Chicago, IL 60614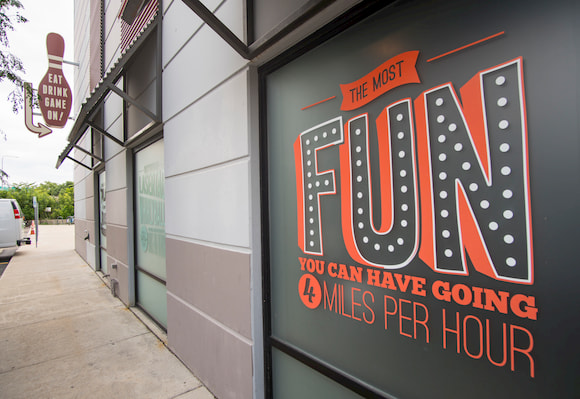 It's lacrosse… but on bumper cars. Need we say more? If a gripping round of WhirlyBall just isn't your team's speed, this Bucktown attraction also offers a multi-level laser tag arena and plenty of bowling lanes to keep everyone entertained. WhirlyBall Chicago can accommodate anywhere between 45 and 1,200 guests, depending on the event package and venue space you rent out.
Brew & Grow
3625 N Kedzie Ave, Chicago, IL 60618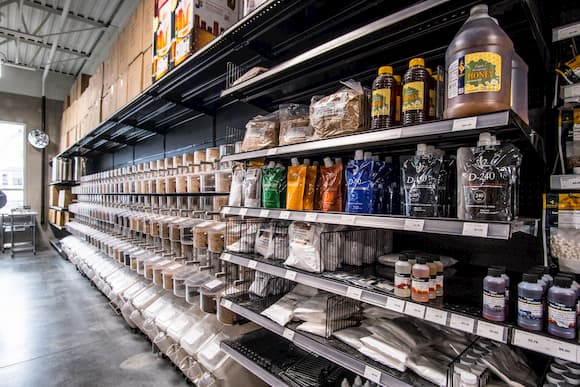 It's not often that a brewery offers a glimpse into the entire beer-making process—from first sprout to final sip. Brew & Grow not only crafts its own hoppy concoctions from plants grown on-site, but will even teach you how to do it all yourself. Private events here include a brewmaster/gardner masterclass and rounds out with a beer tasting session of 4 to 6 beers. Don't sweat the ride home, though. With a GOGO Charters rental, your team can enjoy as many libations as they please and leave the driving to the professionals.
United Center
1901 W Madison St, Chicago, IL 60612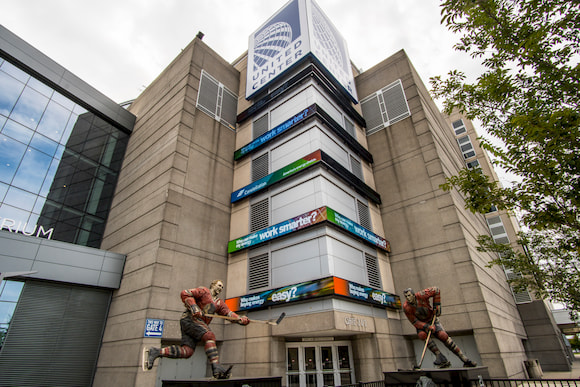 This expansive arena on Chicago's West Side hosts home games for the Bulls and the Blackhawks. If you don't want to treat your group to a basketball or hockey game, you can buy tickets to a concert by an artist like Cher, Erykah Badu, or Carrie Underwood. You can also book all or part of the venue for a private team-building event by emailing booking@unitedcenter.com.
Music Box Theatre
3733 N Southport Ave, Chicago, IL 60613, USA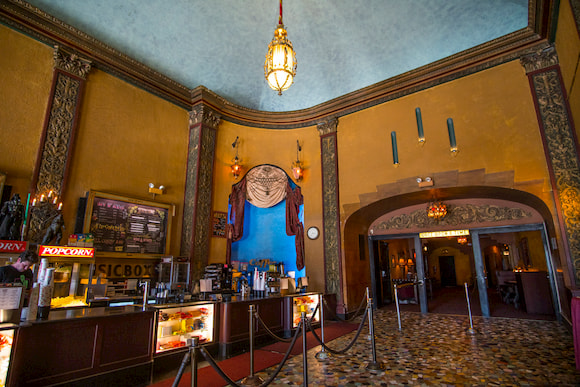 Built in 1929, this historic movie theater specializes in arthouse and independent films. Stop at the Lounge and Garden to sip a glass of wine or a specialty cocktail before seeing the latest offerings from the film festival circuit. The Lounge and Garden can be reserved for elegant events, and you can also rent out a theater to host a private movie screening.
The Social Table
819 W Armitage Ave, Chicago, IL 60614, USA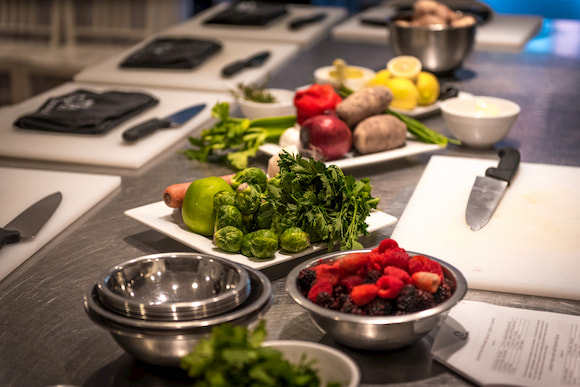 The Social Table offers one-of-a-kind dinner and brunch parties. Reserve a private event for anywhere from 5-25 people (or for up to 50 people if you're willing to pay for the entire space) and choose from an array of menus, wines and cocktails. The Social Table's instructors will guide your group through preparing a delicious meal, and then you'll all sit around a table together to share it. It's like family dinner, except with professional assistance, excellent ingredients, and a wide selection of drinks.
Image Credit: Jason Patinkin
The iO Theater
1501 N Kingsbury St, Chicago, IL 60642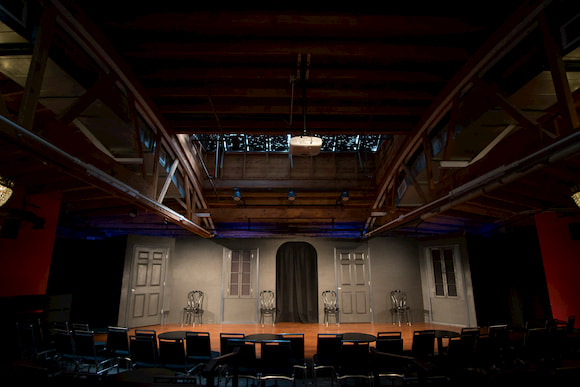 If you're looking for a creative team-building exercise, improv is one of the best ways to break the ice. The iO Theater offers private classes for groups who want to improve their communication skills in an entertaining way. Classes can be customized to help your team work on everything from presentation skills and conflict resolution to critical thinking and brainstorming. You'll have iO's experienced comedy performers leading your team to improv success. Along with its specialized classes, the theater also offers event space rentals for banquets, parties, and seminars.
Penguin Foot Pottery
2514 W Armitage Ave, Chicago, IL 60647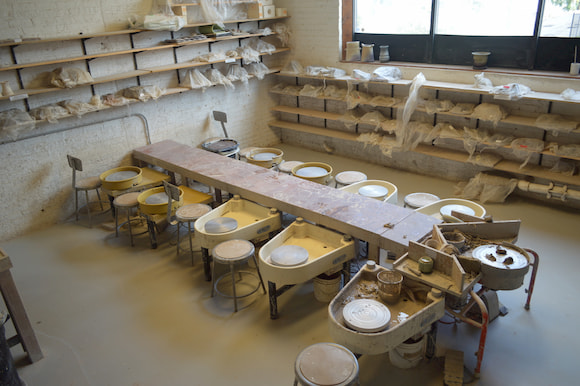 Penguin Foot is the perfect place for teams to get their hands a little dirty. The ceramics studio has private pottery classes on weekend evenings that can accommodate up to 20 people. Your team can book a private wheel throwing or handbuilding class where you can make up to 2 ceramic pieces per person. Smaller groups of 10 or fewer people can visit the studio drop-in hours throughout the week. Your team can learn pottery techniques together and collaborate on pieces to decorate your common areas.
Image Credit
Build a Better Team With GOGO Charters Chicago
Planning a successful team-building event can easily become an overwhelming task. Take the group transportation off your plate by calling GOGO Charters Chicago. Put all your efforts into choosing the best team-building activity and ensuring your colleagues have a great time-- we'll take care of how you'll get there. Everyone can enjoy food, drinks, collaborative activities, and even a little bit of friendly competition, all without needing to park and drive after a long day. Call us at 312-546-3925 to get a personalized quote for your team's private charter bus.