Exploring SF's Hottest Neighborhoods with a Local Guide

Sharon Traeger
Founder of Traeger Tours
San Francisco is a diverse mix of cultures and history. In fact, the hardest part of exploring the city is figuring out where to start. With over 50 city-recognized neighborhoods in town, SF offers a little something for everyone—if you know where to look.
To help your group narrow down your itinerary, we spoke with Sharon Traeger—a certified tour guide and owner of Traeger Tours. With over a decade of experience showing folks around the Bay Area, she knows a thing or two about traversing the city with out-of-towners and first-time visitors. Here's what she had to say about some of the most popular neighborhoods to explore in San Francisco:
Civic Center
Your crowd of art enthusiasts and architecture nerds are sure to adore this stately district full of historical government buildings, fine art museums, and performance halls.
"I'd recommend this spot as representing the 'Spirit of San Francisco,'" Sharon says. "My favorite is visiting City Hall and enjoying the architecture, as well as the frequent weddings during business hours. This city hall was built after the 1906 earthquake and fire destroyed the previous city hall. The dome is taller than the dome of our U.S. Capitol building!"
Groups of 8 or more who want to poke around San Francisco's historic city hall should reserve their guided tour in advance to ensure availability. Sharon notes that groups should be aware they will need to go through security to get into City Hall, and that parking may be difficult in the building's vicinity. If you're planning a visit during peak tourism seasons, consider having your charter bus driver drop everyone off nearby and find parking elsewhere.
Besides touring the city hall, here groups can catch a chamber ensemble performance at the War Memorial Opera House, visit the masterpieces housed in the Asian Art Museum, or simply walk around and take in the neighborhood's Beaux-style architecture from the sidewalk.
Haight-Ashbury
"This neighborhood reflects the counter-cultural influences that have shaped San Francisco through the years," says Sharon. "This is an eclectic, bohemian, and dynamic neighborhood with a clear desire to experiment and celebrate counterculture."
One minute, you can stroll along avenues lined by well-preserved, colorful Victorian homes. The next, you can pop into a hole-in-the-wall record store, comedy club, or coffee house in this district, the epicenter of San Francisco's hippie scene. Just keep in mind that you're just as likely to walk past a tattoo parlor and storefront selling drug paraphernalia as you are to walk past an upscale boutique or restaurant as you navigate the neighborhood.
Sharon's personal favorite stops?

"Pass by some of the Victorian Homes once occupied by now-famous rock music stars…. the Janis Joplin House (635 Ashbury), the Grateful Dead House (710 Ashbury), the Jimi Hendrix House (1524 Haight), etc."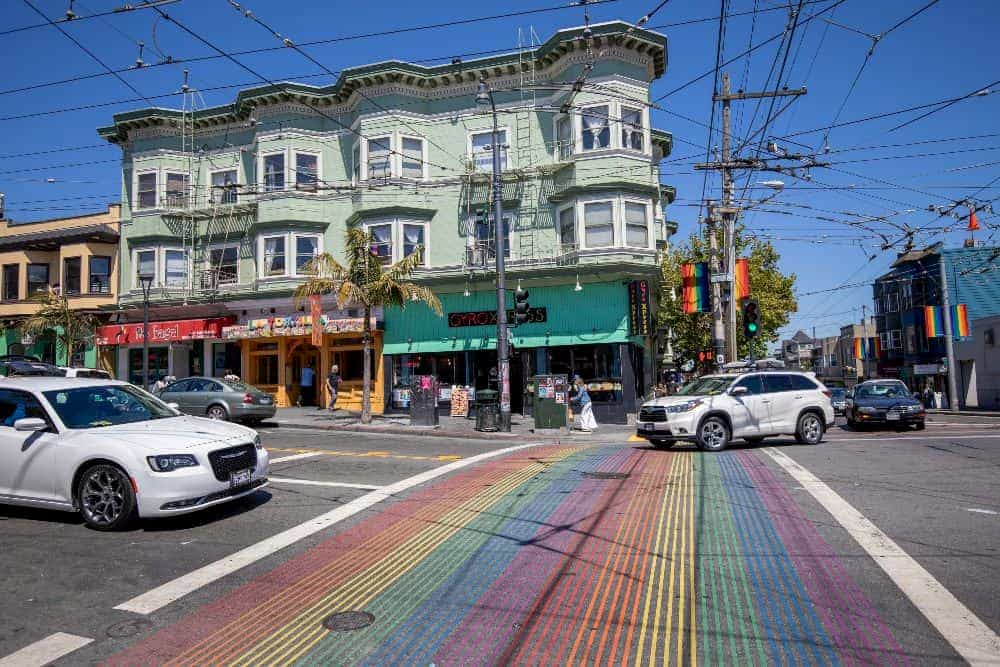 Castro
This neighborhood is considered a landmark neighborhood when it comes to the LGBTQ+ community, considering its role in gay activism and culture since the 1960s. Today, Sharon says the district carries on the same "out and proud, bold and brassy" atmosphere.
"Groups should keep in mind that there are occasional sights of naked individuals," she says.
Learn more about the accomplishments of Harvey Milk by reading the commemorative plaques throughout the district and pay your respects at the Pink Triangle Park (which remembers and honors the LGBTQ+ people who were lost to the Holocaust).
Whether or not you're here to learn more about LGBTQ+ history in San Francisco, every history buff in your group will enjoy stopping by Sharon's personal favorite place in Castro: the beautiful Castro Theatre.

"It was constructed by the Bay Area architect Timothy Pflueger, with a design reminiscent of a Mexican cathedral," she says. "It's still used today for all kinds of events and speakers and films, even though it's now a registered city landmark."
Chinatown
San Francisco's Chinatown is one of the most distinct neighborhoods in the city—24 blocks full of iconic Chinese-inspired architecture and some of the oldest structures in the city. Besides being the oldest Chinatown in North America, San Francisco Chinatown is home to Portsmouth Square, which is the city's oldest public square. It serves as "Chinatown's living room" and a neighborhood gathering place for music, tai-chi, mahjong, and reading the newspaper. (Portsmouth Square is also one of the only spots in the district with a public restroom, so keep this in mind if you're not planning on renting a charter bus with a lavatory!)
This district also contains other historic sites like the Tin How Temple (the oldest Taoist temple in SF, which houses an altar that miraculously survived a devastating 1906 earthquake) and the Golden Gate Fortune Cookie Factory (which has offered samples to visitors since its founding in 1962). Take a walk down Grant Avenue to admire the ornamental lamp posts, red lanterns, and traditional Chinese architecture that sets this district apart. In particular, Sharon recommends paying the building on 965 Clay Street a visit.
"Once Chinatown's YWCA, this building now houses the Chinatown Historical Society," she says. "The architect of the building, Julia Morgan, was the first woman architect to graduate from the Ecole de Beaux-Arts in Paris. Morgan incorporated many Chinese architectural details in the building like the inset windows, the tile roof, the keystone over the door, metalwork in the lighting, and a mix of colors—red, green, and yellow."