Why GOGO Charters?
Business groups traveling for a convention can rely on GOGO Charters for professional transportation and shuttling services around most major cities. We have access to buses across the nation to offer to convention groups of all sizes. Our rental experts aim to make our personalized rental process quick and efficient for busy business groups. We help personalize your group's travel experience by pairing you with the most suitable motorcoach and professional driver based on your unique travel needs. Exceptionally large groups can even rely on us to build a custom fleet of buses to provide shuttle services to and from hotels, meeting spaces, convention centers, and more.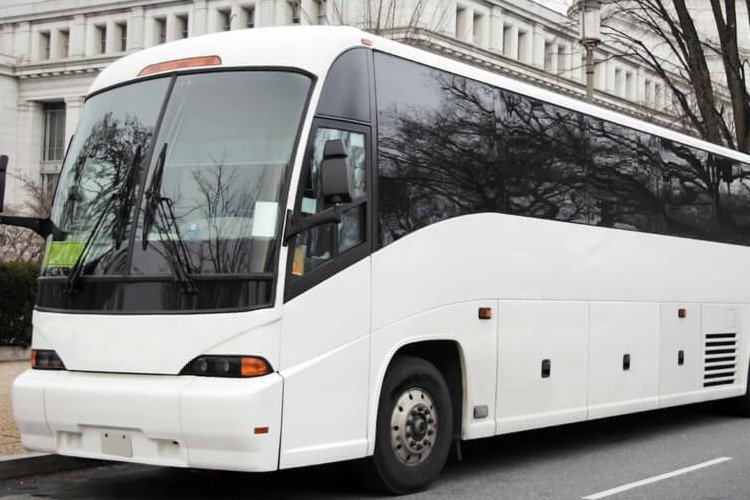 Professional Convention Shuttles
Conventions and conferences require plenty of organizing, especially when taking place in major cities like New York City, Chicago, and Atlanta. This includes planning transportation services for employees and convention attendees. Depending on the location, convention organizers can alleviate traffic stressors by offering shuttles from popular hotels or designated locations in the area. Each shuttle will be operated by a professional driver familiar with the area to get everyone to the convention center in a timely fashion.
Keep Seminar Guests Comfortable
Rather than worrying about arriving to the event space on time, important guests can travel in the comfort of a private charter bus to the convention. They can relax in a private, spacious full-sized motorcoach or a compact minibus while their professional driver handles the navigation. Before giving an important speech or leading a workshop, guests can enjoy plush, reclining seats and additional amenities on-board before a long day of convention events.
Additional Amenities for Productivity
Renting a motorcoach through GOGO Charters allows convention organizers and business leaders to choose vehicles with top-of-the-line amenities. Not only can additional amenities enhance traveler comfort, but convention-goers can optimize their productivity on the road. Attendees can prepare meeting and seminar material with in-cabin WiFi and power outlets, along with viewing presentations on each bus's television screens. Passengers can also use travel time to prepare for an upcoming presentation or research convention speakers before each big event.
Long-Distance Travel Made Easy
If your convention group is planning a trip from one major city to another, a charter bus is often an efficient option to transport everyone. Our services span across the country, so no matter where you're traveling to or from, we'll have professional transportation available for you. Travel in plush, reclining seats and climate-controlled interiors to your next business convention across state lines.
Skip Difficult Rideshare Services
When you're traveling with a large convention group, organizing a rideshare service or hotel shuttle service in a large city can be a tough task. Rather than scrambling to make it to a hotel shuttle or taxi on time, a charter bus allows you to stick to your group's own schedule. Your private driver will work with your group's convention schedule so you won't need to rush before your business events. Instead of cramming into a taxi or small shuttle, travel in a sleek, modern charter bus.
Airport Shuttle Services
Business groups that decide to fly in for a convention can utilize a charter bus as an airport shuttle before and after the event. Rather than hailing a taxi or struggling with rideshare services, your business group can charter a minibus for small- to medium-sized groups. If your group is in town for a multi-day convention, a charter bus can serve as the primary mode of transportation for your group. Shuttle from your convention to restaurants and social outings after the business is done. Enjoy the sights of the city and a night of unwinding after your convention with your own private shuttle bus.
Booking a Convention Shuttle
GOGO Charters ensures reliable and professional travel services to important industry events.
Reserve your convention shuttle bus with us as soon as possible. Availability of buses and specific models vary by location and travel time. In order to access the best rates and bus models, reserving at least 3 months in advance is advised. Call us today at 1-855-826-6770 to begin the rental process
Getting Started
If you're looking to rent a bus but you're not sure where to begin, we've put together a few guides to help you start your journey.
Start by reading our complete guide to charter bus rentals to find out why charter buses are a great option for group travel.
If you're feeling overwhelmed about the variety of bus types, check out our guide to choosing the best bus type for your group to see which bus you might want to rent.
Wondering about prices? Read our pricing guide to see what you can expect before you call and receive your free, personalized quote.
Our reservation specialists are available 24/7 to help guide you through the rental process. Give us a call today at 1-855-826-6770 to secure transportation for your next trip!
FAQ
Frequently Asked Questions
More Questions?
We're happy to help.
GOGO Charters is a charter bus rental service that operates in over 300 cities across the United States. With access to a variety of buses combined with superior customer service, we've got everything you need to schedule your next big trip. We can accommodate groups of all shapes and sizes, making us perfect for corporate events, convention transportation, employee shuttles, event shuttles, movie and television productions, weddings, sports teams, field trips, campus tours, church trips, and more. Have any transportation questions you need answered? Call us 24/7 at 1-855-826-6770. We're happy to help.