Putting Your Trust in Us
---
Traveling brings a lot of unknowns, but safety shouldn't be one of them. From the time you call to book to your final drop-off, GOGO Charters takes the safety of your group very seriously. Here are the ways in which we ensure a safe, secure, and comfortable charter bus ride for every passenger: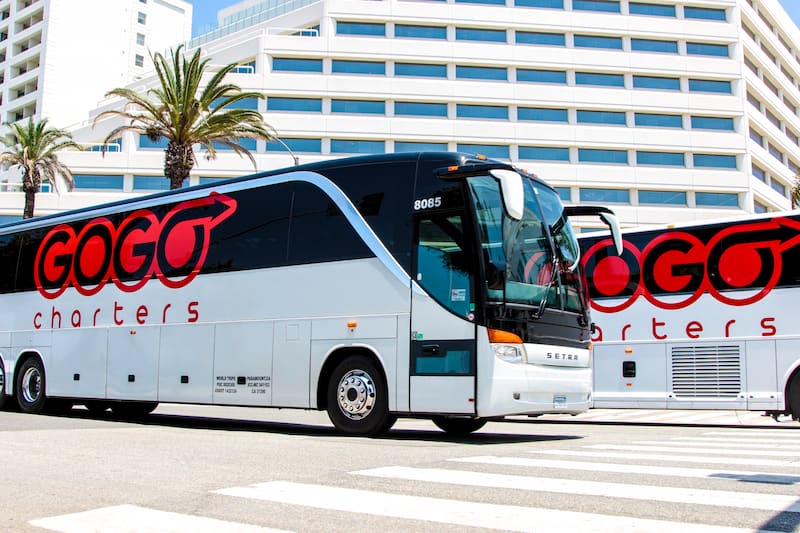 COVID-19 Precautions
We'll help you enforce mask mandates, social distancing, or any other health measures that will make you feel more comfortable on your trip. Drivers will always mask up when requested to do so, and we encourage all drivers to sanitize their hands frequently. Before your trip begins, we'll make sure your bus has been cleaned by sanitizing high-touch surfaces and providing hand sanitizer to your passengers. Let us know if there are any additional precautions you'd like to take!
Read more about how we're limiting the spread of COVID-19 on daily employee commutes and private group bus trips.
Our Charter Bus Partners
Before we decide to work with another charter bus provider, we make sure they're as dedicated to your group's safety as we are. Partners must have a "satisfactory" safety rating by the FMCSA (the highest possible safety rating). Our team also reviews the size and age of the company's fleet as well as customer ratings and reviews, plus other internal data points to ensure you're still receiving the highest quality trip service.
Charter bus companies who have had excessive late pickups, vehicle breakdowns, or negative reviews pertaining to drivers or fleet quality are not permitted to work with us.
Cybersecurity
We take great care to ensure that all communications regarding your trip are made securely, especially when it comes to payment. We accept payment via phone or through a secure checkout link that you'll receive after you book your bus. Checking out online is the safest and most secure way to pay for your charter bus rental—just make sure you've received your official GOGO Charters invoice and confirm the amount with your sales representative before paying your balance.
We will NEVER ask you to send payment information via email, and we don't store payment or credit card information for any customer.
Charter Bus Maintenance
Before hitting the road, each charter bus must undergo a thorough maintenance inspection to ensure it's ready to run at peak efficiency. We'll make sure your bus has enough engine oil and coolant, check for appropriate tire pressure, ensure appropriate tire tread depth for optimum traction, dust & clean electrical equipment, and double-check that other mechanical components such as headlights, warning lights, mirrors, and speedometers are functioning properly.
Additionally, charter buses will undergo routine preventive maintenance to ensure that all internal components are reliable and up-to-date.
ADA Accessibility
Passengers with mobility concerns or disabilities can still enjoy a charter bus trip from GOGO Charters. When you call to book, ask your rep about ADA-accessible bus features that are specifically designed to keep everyone safe, including wheelchair users and those with other physical or invisible disabilities.
Service Animals
We understand that service animals are crucial to keeping their companions safe, comfortable, and relaxed, especially during particularly stressful times such as long trips. Registered emotional support and service animals are allowed on all charter bus rentals after providing an ESA letter or service animal certification to your sales rep.
Customer Service
When you book with us, you can trust more than just the mechanical specifications of your charter bus rental. Our experienced customer service team will take your itinerary and find the perfect bus for you, taking into account any additional amenity requests. We're always happy to answer your questions regarding bus types, bus pricing factors, bus drivers, and anything else that's on your mind.
Booking with Confidence
When you book a charter bus with GOGO Charters, you can be sure you're getting a safe, reliable, and up-to-date bus rental, no matter how big or small your trip. Call our 24-hour team at 1-855-826-6770 to ask any other questions you may have about charter bus safety!