About GOGO Charters
---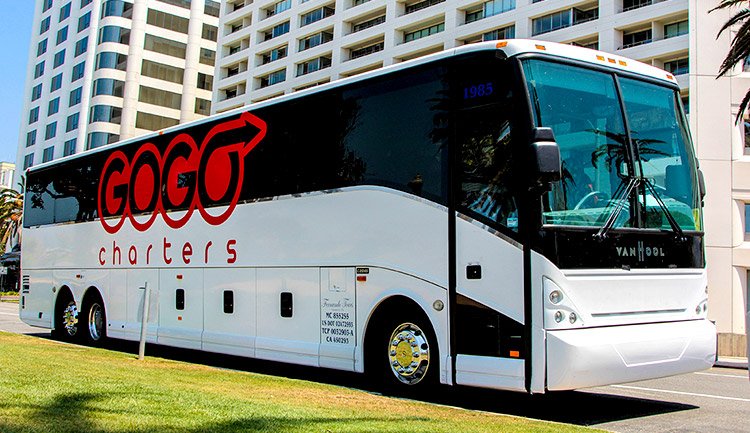 Here's why you should choose GOGO Charters for your next group trip
You know you need a charter bus. But how do you find the right one? Four hours of Google searching? Thirty minutes of Google searching followed by giving up and choosing a company based on which name you like best?
At GOGO Charters, our goal is to make the charter bus booking process as simple as possible. Call our experienced reservation specialists any time of day (yes, we're open 24/7), and we'll help you figure out what kind of charter bus you need and what it will cost. But why call us and not another charter bus company? Here are seven excellent reasons to choose GOGO:
We take the stress out of planning
You plan the itinerary—we'll plan the transportation. GOGO Charters can find the best charter bus or minibus for you based on the size of your group and what amenities you value (free WiFi! Power outlets! Reclining seats!). Once you have your bus and your schedule, we'll tell your driver where the best drop-off and parking areas are.
We offer a wide array of buses
GOGO Charters works with charter bus providers across the nation to bring you the best bus selection in the business. We have access to minibuses that accommodate up to 18 people, larger minibuses that hold up to 30, and full-size motorcoaches for up to 56. Need multiple buses? We'll craft a fleet just for you.
We can take you anywhere (that's not across an ocean)
When we say "GOGO can get you there," we mean it. If your starting point and your destination are within the continental U.S., we'll figure out how to move you from point A to point B.
And there's plenty to do within the U.S. Planning a custom hop-on-hop-off film tour of Los Angeles? We'll be waiting at every stop with TV screens and reclining seats for all you movie buffs' en-route binging needs. Need a shuttle to the International Mariachi Conference in Tucson? We can find a bus with plenty of room to store your guitars, trumpets, and accordions, as well as plenty of AC to defeat the Southwestern sun.
And the options don't stop there. Red Sox game? We have buses to take you to Boston. New York Comic Con? Your cosplay group will be there as soon as the doors open. Wedding at the San Diego Zoo? You won't lose a single bridesmaid, groomsman, or person of honor (unless they stop to look at the pandas. Nothing that can be done about that. Pandas are adorable.)
Let us prove what we're capable of. Call us anytime at (415) 462-2870, and our reservation team will take it from there.
We have values we don't compromise on
GOGO Charters has four values that we expect everyone on our team to live up to. If we ever fail to meet our own expectations, let us know. We'll make it right.
Punctuality
Our drivers arrive at least 15 minutes early to every stop so you never have to worry about running late. If your group needs more loading or unloading time, we'll work with you to create a schedule that accommodates everyone.
Availability
Our reservation agents are available 24/7, because we understand trips don't run on a 9-5 schedule. Sometimes you realize at 2 am that the charter bus you booked needs WiFi. Go ahead and call. We'll pick up the phone.
Professionalism
When your manager asks you to plan the corporate retreat or your principal asks you to organize the eighth grade field trip, you need to make a good impression. Our professional staff, modern buses, and punctual drivers will ensure you do.
Flexibility
Travel is all about flexibility. Just realized you need two more hours at the art museum and two fewer hours at the aquarium? We get it. Call us at 1-855-826-6770 and we'll do our best to help you.
We take safety seriously
You want to get where you're going easily, quickly and comfortably. But you need to get there safely. A professional driver and thoroughly inspected bus are just the beginning of our safety commitment to our passengers.
We require all of the drivers in our network to pass a thorough background check, a drug test, and multiple driving examinations before taking on your trip. When you put your students, friends, or coworkers on a bus from GOGO Charters, you're putting your trust in us, and we intend to justify that trust.
The bus providers in our network of partners must also maintain their buses regularly and inspect each one thoroughly before deploying them for a trip. Every bus must include modern safety features and exceed the Department of Transportation's regulations for charter buses. Keep reading for more information about how our partners maintain the buses in their fleet.
We make sure every bus is in excellent shape
Booking a charter bus helps you avoid many headaches you might face on a road trip, including choosing designated drivers, splitting up gas costs, and enduring ruthless rounds of rock-paper-scissors to avoid riding in the middle seat in the back of the car. Even worse may be the random flat tire, remembering that you've needed an oil change since January, or the dreaded check engine light, all of which are sure to spark panic in the middle of your road trip.
No one wants the threat of unexpected maintenance woes hanging over their head. That's why we ensure that each and every bus has passed a thorough inspection prior to dispatch. This includes:
Confirming a proper amount of engine oil and coolant
Ensuring that tire pressure is at an appropriate level
Measuring tire tread depth for optimum traction
Keeping electrical equipment (such as battery, lights, horn, and windshield wipers) clean and free of dust
Checking various other mechanical components such as headlights, warning lights, mirrors, and speedometers to make sure that your vehicle is ready to hit the road
Bus upkeep includes routine preventive maintenance carried out by a team of professionals to ensure that every moving part of your charter bus is clean and in working condition. With us, you can always travel with peace of mind in a modern, efficient, and reliable vehicle.
We can help almost any type of group
Our access to some of the nation's best bus fleets allows us to accommodate a wide array of events. The passengers we most often service include:
Wedding Guests
No couple wants to arrive at their wedding reception only to find out half the wedding party got lost on their way from the ceremony. Book a shuttle between venues to take the stress out of wedding transportation and to keep everyone safe while they celebrate.
Event Planners
Plan an unforgettable event for your clients, no matter how complex or simple their requests. We'll make sure you're able to provide for all their transportation needs with ease.
Corporate Travelers
From bus rides to quick meetings or multi-day conventions to daily employee shuttles, we can take care of your company's charter bus needs. Set your own travel schedule and enjoy WiFi and power outlets on the way to your next business event.
Sports Teams & Fans
Book a fleet of buses for your team or a private minibus for your group of dedicated fans. We'll get you to the next game, tournament, or tailgate with ease so you can focus on helping your team win.
Families & Friends
Whether you're planning a vacation, a family reunion, or a church gathering, GOGO Charters can provide easy group transportation. Don't worry about who will volunteer their car or pay for gas; let a professional do the driving while you catch up with your loved ones.
School Groups
Leave the old yellow school bus behind and book a modern, clean motorcoach for your next field trip, college tour or on-campus event. Keep your students safe with a professional driver at the wheel, and keep them from getting bored with free WiFi and TVs with DVD players. Your charter buses also include on-board restrooms, a must for traveling with kids.
Let us serve you
Now that you know what GOGO Charters has to offer, we'd be honored if you choose us for your next group trip. Call one of our reservation specialists at 1-855-826-6770 to learn more about reserving a charter bus, request a free quote, and book your next group adventure!