About GOGO Charters
---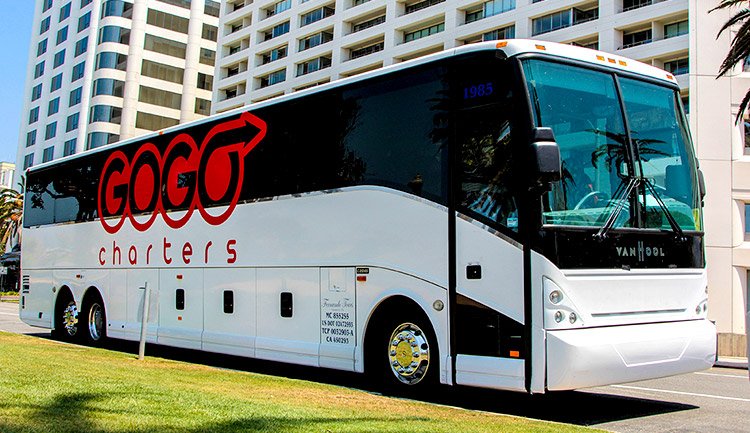 Your #1 source for nationwide charter bus rentals
GOGO Charters helps groups across the United States attend events of all types with absolute ease. Our experienced reservation specialists work around-the-clock to find the perfect charter bus for every group, whether you're traveling with 10 passengers or 1,000.
Our goal is to make the charter bus reservation process as simple as possible so that we can take the stress out of planning group transportation. Whether you need in-city shuttle services or long-distance transportation, we're here to ensure that you're paired with the best charter bus at our best price, every time.
How we help you
GOGO Charters takes the stress out of planning group transportation while leaving you in complete control of your trip. All you have to do is put together an itinerary that perfectly suits your group's needs. We'll find the best charter bus or minibus for you, outfit it with your favorite amenities, tell your driver (or drivers) where to arrive, and find the best parking and staging areas for your bus.
You won't have to worry about coordinating pick-up and drop-off points with venues or endlessly searching for parking. Let us handle the phone calls and logistics while you sit back, relax, and look forward to your upcoming trip!
What we offer
GOGO Charters works with charter bus providers across the nation to bring you the best bus selection in the business. Choose from buses ranging in size from compact 18-passenger minibuses to mid-sized 30-passenger minibuses to full-sized 56-passenger coaches. When you book with us, you can choose a bus that's completely customized to your group's unique needs. Need multiple buses to accommodate a large group? We'll craft a fleet just for you to comfortably transport every passenger to your destination.
Our Values
We aim to make every group trip easy, comfortable, and free of stress with reliable, modern charter bus rentals. Take a look at some of the characteristics we value most to accomplish this goal:
Punctuality
We instruct drivers to arrive at least 15 minutes early to every stop so that you'll never have to worry about running late. If you'd like to factor in more loading or unloading time on your trip, no worries-- we work with you to create a schedule that best suits your group.
Availability
Our reservation agents are ready to assist you at any time of day. If you'd like to book a trip or make adjustments to an existing reservation, just give our 24/7 team a call at 1-855-826-6770. We're always prepared to help make your trip perfect.
Professionalism
Our professional and friendly staff members ensure that your bus rental will help you leave a lasting positive impression at your next corporate event or business meeting. Sleek, modern buses and punctual drivers make for an excellent way to impress VIPs and other important guests.
Safety
Charter buses must be up-to-date on modern safety standards before they're deployed on their next trip. Buses are also operated by experienced, professional drivers who are dedicated to ensuring the safety of your group. You'll always be in safe hands with an up-to-date bus and a professional driver at the wheel.
Flexibility
Make any necessary changes to your trip with ease by simply calling our 24-hour staff. Whether you're adding a destination, taking one away, or you'd like to request additional amenities, we'll always work to accommodate your needs.
Groups We Service
Our access to some of the nation's best bus fleets allows us to provide a variety of bus services for all types of events and gatherings. The passengers we most often service include:
Wedding Guests
Provide shuttle services between venues to take the stress out of wedding transportation. You won't need to worry about guests driving themselves and getting lost. Everyone can come together on a private minibus to enjoy your wedding celebration to the fullest!
Event Planners
Plan an unforgettable event for your clients, no matter how big or small their requests. We'll make sure you're able to provide for all of your clients' transportation needs with ease.
Corporate Travelers
From quick meetings to multi-day conventions to daily employee shuttles, we can provide shuttles or long-distance travels to all event attendees. Set your own travel schedule and enjoy exclusive bus accommodations at your next business event.
Sports Teams & Fans
Book a fleet of buses for your team or a private minibus for your group of dedicated fans. We'll help you get to the next game, off-site practice, or team-building activity with ease so that you can relax and enjoy your time together.
Families & Friends
Whether it's for a personal vacation, a family reunion, or a church gathering, rely on GOGO Charters to provide easy group transportation. Don't worry about who will volunteer their car or pay for gas; we'll hire a professional to do the driving for a stress-free trip spent with loved ones.
School Groups
Leave the old yellow school bus behind and book a modern, clean motorcoach for your next field trip, college tour, on-campus event, or other school outing. Keep your students safe with a professional driver at the wheel while you relax and focus on educating your students.
Let Us Service Your Next Group Trip!
Planning an upcoming group trip? GOGO Charters has everything you need to transport your passengers in safety and comfort. Call one of our reservation specialists now at 1-855-826-6770 to learn more about booking a charter bus, request a free quote, and book your next group adventure!