Reliable, Professional Drivers.
---
Where the rubber meets the road.
So you're gearing up for your next group excursion, GOGO-style.
The bags are packed.
The itinerary is set.
Every passenger is accounted for.
And your GOGO Charters bus rental is loaded and ready to depart.
But who's behind the wheel?
Luckily, every GOGO Charters reservation includes the services of an accredited driver at no additional cost.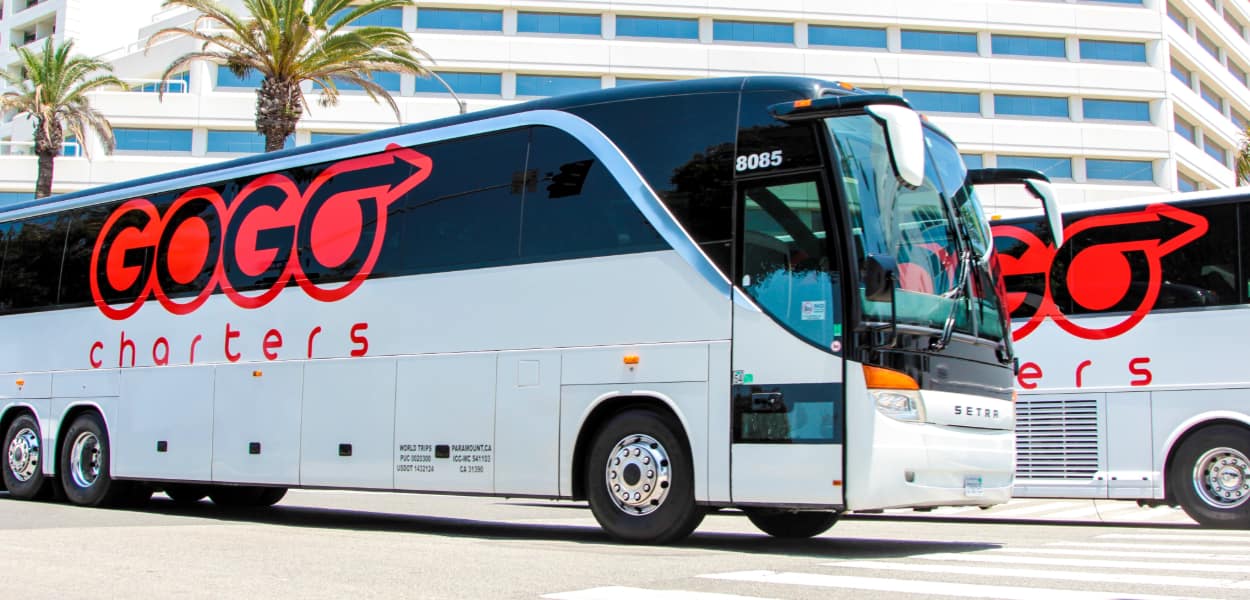 Our wide-reaching network of providers means we have thousands of professional operators from across the United States. From seasoned experts with pre-screened clearance for military functions to flexible navigators that can work a convention shuttle circuit like nobody's business, we'll connect you with an operator who knows more than a thing or two about charter buses, minibuses, tour buses, and more.
Of course, we don't work with just anyone.
Becoming a certified motorcoach driver is an intensely involved process. Every potential professional must ace both written and practical performance exams; pass a series of background checks, drug screenings, and physicals; and earn a coveted passenger endorsement certificate as a testament to their skills.
We at GOGO Charters only work with the best and brightest drivers in the industry. While there are many qualities that make up a great driver, in our experience, the best bus drivers have that something extra that makes them stand out.
Book with us, and you can expect a professional driver who is...
Compassionate.
A great driver values their passengers' comfort above all else. Whether its an outing with your senior community, a field trip with your star students, or a family vacation with your loved ones, your driver will treat every traveler with respect, dignity, and the utmost care.
Regimented.
GOGO drivers are notorious sticklers when it comes to punctuality. They make a habit of arriving 10 minutes early to every destination and have the staging process down to a science, so your trip will run like clockwork.
Safety-minded.
With years of training under their belts, state-of-the-art motorcoaches at their fingertips, rigorous inspections in their pre-trip routines, and each passengers' safety on their mind, your driver will not rest until everyone gets where they need to be, safe and sound.
Ambitious.
A go-getter who is willing to go the extra mile for your group. A professional planner, with all the best routes and parking spots already mapped out before you embark. A people-person through-and-through, with the ability to engage with thousands of passengers throughout their career.
Polished.
From rocking a clean-cut uniform to playing it cool in the face of pressure and stress, we value drivers who are proud of their work—and it shows. They're nimble both at the wheel and when it comes to last-minute schedule changes. In short, your driver is sure to handle anything you throw at them, all while remaining professional and level-headed.
Hit the Road with GOGO Charters
Whether you're packed and ready to hit the road or just starting the planning process, our team is here to help. Give us a ring anytime at 1-855-826-6770, and we'll connect you to a professional driver that can make all the transportation magic happen so you won't have to sweat any of the logistics. Call today to claim your instant, no-obligation quote!