Why GOGO Charters?
From small off-site meetings to large-scale international conventions, GOGO Charters has a transportation solution for any type of business event. We can assist startups and Fortune 500s alike with professional charter bus rental services to simplify your business outings. Our nationwide network of partners includes a variety of full-sized charter buses for big events and a selection of minibuses for small gatherings.
When you call 1-855-826-6770, a reservation expert will help tailor your rental to your business group's transportation needs. We'll assist you in selecting the best model of charter bus, help you pick out premium amenities like WiFi and power outlets, and pair you with a professional driver to navigate the roads. Even if you're hosting a convention with thousands of attendees, we can build a custom fleet for your gathering. Give us a call 24/7!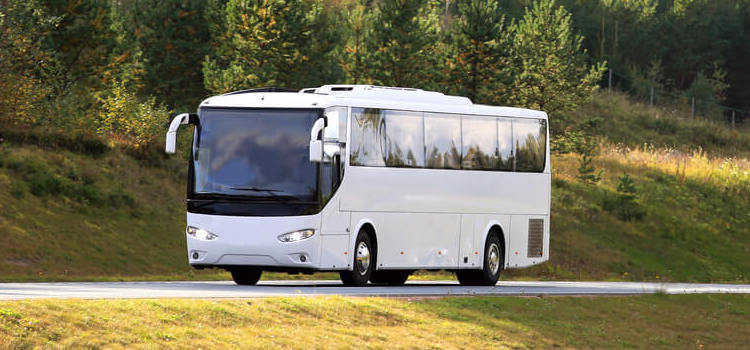 Keep Conferences & Events Running On-Time
Punctuality and professionalism often go hand in hand. GOGO Charters wants to help your corporate gathering go according to schedule with efficient transportation. We instruct all drivers to arrive early at designated pick-up locations to give your group plenty of time to board and get comfortable. Booking a charter bus for events like team-building days or off-site meetings will also allow all colleagues to arrive to your destination at the same time, so you won't need to adjust your schedule for someone who may be running behind.
Work or Relax on the Road
Traveling for business can be stressful. You may have last-minute work to complete or you might really need a few minutes of shut-eye after a long red-eye flight. The last thing you probably want to stress about is traffic in metropolises like Chicago and New York City. With a GOGO Charters bus rental in Chicago or NYC, business groups can kick back and relax in reclining seats or send emails and brush up on important information with onboard WiFi.
Head to Company Parties, Offsite Meetings, Team-Building Events, and More
Don't make employees drive themselves to your upcoming office events. Instead, book a private bus to come to your office, pick everybody up, and safely transport them to your offsite festivities. Whether it's a quick afternoon lunch up the road, a team-building activity day at the beach, a weekend retreat, or a group visit to a baseball game, we'll make sure your company group is paired with the perfect bus for the occasion. Plus, no one will have to worry about circling the event venue for parking or getting lost while navigating to a new place!
Business Travel Across All Distances
Is your team planning to attend a business conference hundreds of miles away? Airfare can be expensive when transporting a whole team for conventions and conferences. With a charter bus, you'll stay comfortable and relaxed, even on a long ride, and your team will be able to bond while on the road with a professional handling the driving.
GOGO Charters has your group travel covered in town too. Businesses can rely on GOGO Charters for safe and efficient rides to special events like holiday parties and team-building events. Colleagues can enjoy their time socializing on the bus while their driver shuttles them between the office and your party venue.
Getting Started
If you're looking to rent a bus but you're not sure where to begin, we've put together a few guides to help start your journey.
Start by reading our complete guide to charter bus rentals to find out why charter buses are a great option for group travel.
If you're feeling overwhelmed about the variety of bus types, check out our guide to choosing the best bus type for your group to see which bus you might want to rent.
Wondering about prices? Read our pricing guide to see what you can expect before you call and receive your free, personalized quote.
Our reservation specialists are available 24/7 to help guide you through the rental process. Give us a call today at 1-855-826-6770 to secure transportation for your next trip!
FAQ
Frequently Asked Questions
More Questions?
We're happy to help.
GOGO Charters is a charter bus rental service that operates in over 300 cities across the United States. With access to a variety of buses combined with superior customer service, we've got everything you need to schedule your next big trip. We can accommodate groups of all shapes and sizes, making us perfect for corporate events, convention transportation, employee shuttles, campus shuttles, movie and television productions, weddings, sports teams, field trips, church trips, family vacations, and more. Have any transportation questions you need answered? Call us 24/7 at 1-855-826-6770. We're happy to help.