Construction Site Shuttles for Construction Companies
At GOGO Charters, we understand how site construction projects can take many months—even years—of building and development. With this comes countless hours of managing a team of construction workers and their commute to and from work sites. We're no stranger to organizing easy and efficient shuttle service for employees, and construction teams are no exception! Call us today at 1-855-826-6770 to discuss shuttle services for your company's construction sites.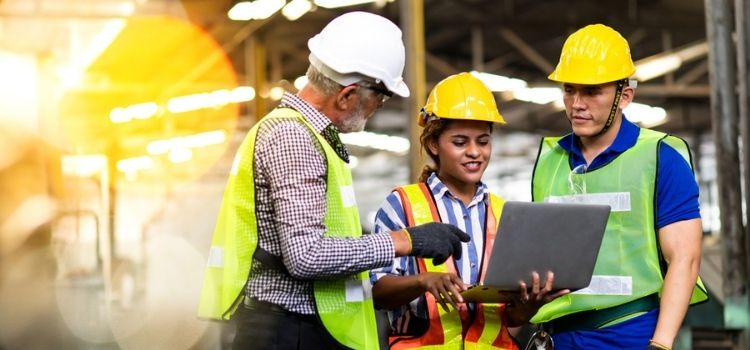 Why GOGO Charters?
GOGO Charters works with a wide network of ground transportation providers and professional bus drivers across the United States. Our vast experience and connections make it possible to provide you with the best type of charter bus for your needs across many kinds of group transportation services.
This means, when you give us a call at 1-855-826-6770, you'll be connected to a team of dedicated reservation specialists ready to help you customize your company's construction site shuttle service. No matter what your particular transportation needs may be, you can count on the GOGO Charters to help you anytime, 24/7.
Convenient Transportation for Construction Workers
Private commuter shuttle service to construction sites ensures your construction team and staff will arrive on-site on time and well-rested every day. With GOGO Charters, you can organize a short-term or long-term contract for any time frame your business requires. If you have any questions or need to make changes to your shuttle service during the time of your contract, you can simply contact us and we'll work with you to get your transportation needs met.
Additionally, shuttle buses are fitted with a variety of amenities designed for commuter comfort. Your team will enjoy climate-controlled cabins, reclining seats, and ample storage space for their belongings. They can also take time to begin or end their work day without the stress of navigating traffic, and can instead start their day with a travel mug of coffee or unwind on the ride home with music or a favorite TV show.
Daily Commuter Shuttles to and from Construction Sites
When a large team of construction workers is needed at one site, shuttling personnel in a single shuttle bus can be easier and more efficient than asking workers to commute. For example, if a construction job is located in a tight urban district or private residential area, there may not be enough space for each construction worker on your team to commute and find available parking using their personal vehicle.
With shuttle service, you don't need to worry about that. All you need to do is identify Park and Rides, carpool parking lots, or office parking lots where your construction workers can meet each day, and we'll help you organize a commuter route and schedule between them.
Shuttle to Rural or Remote Construction Sites
Organizing a construction job in a remote or rural location? Establishing shuttle service to and from remote work sites can eliminate any stressors or unreasonable commuting conditions for your construction team.
For example, if your construction company is in a large metropolitan area like New York City or Los Angeles, it's possible that some of your employees rely on public transportation to get to work. Other employees may be faced with traveling very far from where they live or on a route with heavily congested traffic. This could mean adding a lot of mileage to their personal vehicle, and the burden of purchasing more fuel than usual.
Keep your construction team happy and focused on work by renting a fleet of commuter shuttle buses. You can design a convenient route and pick-up/drop-off schedule around your team's needs so they can travel to far-away work sites on time and with ease.
Book Construction Site Shuttle Service with GOGO Charters
No matter where your construction site is located and how large your team is, GOGO Charters has the transportation for you. Give our team a call at 1-855-826-6770 around the clock, 24/7, to speak with a specialist about shuttle service contracts.
FAQ
Frequently Asked Questions
More Questions?
We're happy to help.
GOGO Charters is a charter bus rental service that operates in over 300 cities across the United States. With access to a variety of buses combined with superior customer service, we've got everything you need to schedule your next big trip. We can accommodate groups of all shapes and sizes, making us perfect for company events, convention transportation, employee shuttles, event shuttles, movie and television productions, weddings, sports teams, field trips, church trips, and more. Have any transportation questions you need answered? Call us 24/7 at 1-855-826-6770. We're happy to help.