Field Trip & School Bus Rentals
GOGO Charters has an extensive transportation network with access to the latest charter bus and minibus models for your upcoming educational events. Our impact extends across all 50 states to make travel easier for your staff, students and respective institutions.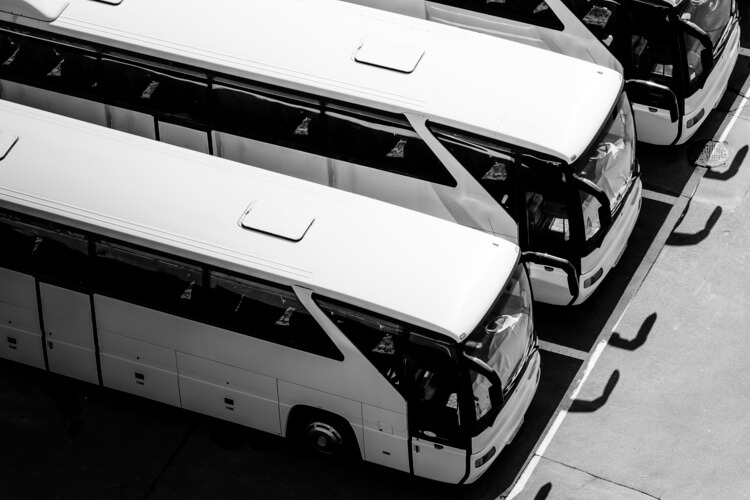 Why GOGO Charters?
At GOGO Charters we don't discriminate. We cater to all groups without sacrificing on space or comfort. The bus rentals we offer can accommodate groups as large as 56 or as small as 18, providing each party with a memorable yet intimate travel experience. In the past, we've assisted with the following trips:
Field trips for K-12 classes
Off-site faculty meetings
Greek events
College tours
University-led research gatherings
Marches, protests and non-profit events
Sports travel for school or college teams
These trips all had the following things in common: our unquestionable dedication to customer service, a spacious bus rental with customized amenities and a trained driver who completed the trip with the utmost professionalism. Our 24/7 transportation service makes it possible for groups to book trips at whatever time they please, allowing them to adhere to their own schedule with the assistance of our friendly reservation specialists. In addition, all bus rentals in our network are up-to-date on all modern safety standards. Simply contact us at 1-855-826-6770 to learn more about the availability of certain bus rentals in your city or to calculate your trip quote for free!
Improved Field Trip Experiences
Avoid traveling in a traditional school bus for your next field trip, and focus instead on renting a charter bus for a climate-controlled and comfortable journey. A charter bus rental will allow you to add amenities such as cushy reclining seats for quick naps, free WiFi for on-the-go assignments, flat screen TVs and AV entertainment for educational videos, PA systems for announcements or headcounts, restrooms for quick access, and more. The journey will be less excruciating and more exciting with your students, staff, and mentors onboard.
Easy Off-site Faculty Meetings
GOGO Charters is happy to provide off-campus bus transportation in the event your staff wants to get away from the usual meeting rooms. By renting a charter bus, you'll ensure that everyone sticks together and arrives on time without being held up by traffic or other unforeseen circumstances. It's also important to note that mingling on a charter bus is a great way to break the ice before the meeting starts!
Streamline Transportation to Greek Events
If you're part of a fraternity or sorority that arranges parties or off-campus events from time to time, it's essential to book a bus rental to ensure that all members travel together and arrive at the event promptly before the general public. You can even utilize the luggage bins on your bus rental for party supplies, food, and drinks so that multiple trips aren't required to transport these goods. On the occasion that there's alcohol served at these events, instead of looking for a designated driver, you can rely on your charter bus driver to get your members safely back to campus.
Tour Colleges On Your Own Time
Our far-reaching transportation network allows us to provide bus rentals to any college campus in the United States, including cities like New York City, Los Angeles, Atlanta, or Washington DC. Instead of relying on unpredictable public transportation, your group will be able to visit any metropolitan college campus or small college town in the United States with GOGO Charters. Your driver will make sure to drop you off right where the tour begins so you can focus on enjoying your time on campus.
Travel Off-campus for Research Gatherings
Conducting an important research study with your classmates? Instead of traveling in individual cars to the archaeological site, forest, lake, or laboratory, opt for a bus rental instead to keep everyone in one place, under one roof. If your study involves traveling with extensive equipment, books, and papers, you can utilize the luggage cabins onboard for safe keeping. The free WiFi on the bus will also prove to be helpful when you need access to the internet for last-minute research needs or to take group selfies to commemorate the occasion!
Organize Transportation for Marches, Protests and Non-profit Events
GOGO Charters is proud to provide transportation to historical marches and events that rally for important causes. If your school or university is participating in events such as Pride, Womens March, or Black Lives Matter (to name a few), we can pair you with the appropriate charter bus rental for the occasion. Since traffic and overcrowding is usually an issue during these events, traveling in a bus rental is the best way to get to your destination on time without hunting for multiple parking spots for your group. In addition, you can store all your march merchandise (poster boards, flags, banners etc.) on your bus rental or use the compact restroom to freshen up your appearance after a day of passionate activism.
Sports Travel for Schools and Colleges
Have an upcoming sporting event at your school or university? Streamline travel to all away games, intramural sports or physically intensive competitions with a bus rental from GOGO Charters. All athletes will be able to kick back and relax in the climate-controlled bus cabins or can listen to game-day music or anthems over the loudspeakers in the bus rental. The large luggage bins will also provide enough space to store sports equipment, duffle bags and coolers for the game. Moreover, traveling in a bus will ensure a memorable bonding experience for your team without sacrificing on space and comfort.
Travel Anywhere with GOGO Charters
Since we provide 24/7 private bus transportation to over 300 cities nationwide, there are endless opportunities for you to arrange educational trips with GOGO Charters. Whether your plans take you to career fairs, spelling bees, chess club tournaments or even proms, we have the right bus rental for any occasion. In addition to customizing your onboard amenities, your reservation specialist can even help you book an ADA-accessible bus so that everyone on board is able to enjoy the off-campus event without any limitations. Simply contact us at 1-855-826-6770 to get started today!
Getting Started
If you're looking to rent a bus but you're not sure where to begin, we've put together a few guides to help start your journey.
Start by reading our complete guide to charter bus rentals to find out why charter buses are a great option for group travel.
If you're feeling overwhelmed about the variety of bus types, check out our guide to choosing the best bus type for your group to see which bus you might want to rent.
Wondering about prices? Read our pricing guide to see what you can expect before you call and receive your free, personalized quote.
Our reservation specialists are available 24/7 to help guide you through the rental process. Give us a call today at 1-855-826-6770 to secure transportation for your next trip!
FAQ
Frequently Asked Questions
More Questions?
We're happy to help.
GOGO Charters is a charter bus rental service that operates in over 300 cities across the United States. With access to a variety of buses combined with superior customer service, we've got everything you need to schedule your next big trip. We can accommodate groups of all shapes and sizes, making us perfect for weddings, company events, sports teams, church trips, school groups, family vacations, and more. Have any transportation questions you need answered? Call us 24/7 at 1-855-826-6770. We're happy to help.