The Ultimate Guide to Group Campus Tours in Atlanta
As senior year approaches, students in Atlanta begin narrowing down their college choices. To help them make their decision, we work with hundreds of high schools and community organizations every year to organize safe transportation for their campus visits.
To make your trip planning simpler, our team reached out to tour coordinators from the most popular colleges in Atlanta to gather key information. Check out our findings below!
Georgia Institute of Technology
Are your students interested in engineering, business, or design? Georgia Tech is one of the top colleges to visit for these disciplines and more. If you're traveling with 10 to 40 participants, you can schedule a group visit at Georgia Tech to give students an idea of the admissions process, financial aid options, and life on campus.
To be eligible for a group tour, students must be in grades 10 through 12. Please note that one adult chaperone is required for every 20 students.
Schedule your visit four weeks in advance online. Once your request is approved, you can book your bus transportation with GOGO Charters at 1-855-826-6770.
Our reservation specialists can pair you with an 18-passenger minibus, 35-passenger minibus, or anything in between. Georgia Tech requires a $30 parking fee for its motorcoach parking on Ferst Drive in front of the student center, and you'll need to contact the school ahead of time to reserve your spot.
Georgia State University
As one of the most diverse schools in the country, Georgia State University attracts thousands of students from across the nation. Take your students to see the school's campus and learn about its 250 nationally-acclaimed degree programs.
Groups of 10 to 50 students and chaperones may schedule a group visit at Georgia State University. Like Georgia Tech, students who wish to tour the campus must be in grades 10 through 12, and a chaperone is required for every 20 students.
Be sure to schedule your GSU visit at least two weeks in advance. After your request is accepted, call GOGO Charters to choose from a variety of minibuses and full-sized coaches.
Morehouse College
Morehouse's staff conducts group tours to explain the admission process, provide a brief history of the college, and guide participants around campus. Only male prospective students are permitted to attend, but female chaperones or family members in your group are allowed to join. Young women are encouraged to visit Spelman College, which is a five minute walk from Morehouse.
Due to the global pandemic, in-person guided campus tours are suspended. However you can still conduct your own self-guided tour.  For future reference, to book your tour, visit the Morehouse College Tour page. Buses aren't permitted on campus, but your driver can drop students off at Morehouse College Leadership Center at the corner of West End Avenue and Westview Drive. When you arrive on campus, security can direct your driver to the best parking location.
Call us today at 1-855-826-6770 with the number of people in your group, your pickup and dropoff locations, and the date and times of your trip. Our highly-trained staff will pair you with a professional driver and a modern bus to take you to Morehouse's campus.
Emory University
Emory welcomes groups of 9th through 12th grade students for on-campus visits each year. Invite ten to 75 of your students to participate in a tour, and submit your reservation request at least two weeks prior to your visit. No matter the size of your class, we'll book your campus tour transportation in a matter of minutes.
Before the day of your visit, contact Emory's Transportation and Parking Services and discuss your travel plans with them. The school's shuttle traffic, narrow roadways, and bridge weight restrictions can interfere with a smooth bus ride. Their representatives can tell you where your driver should park and provide other information about driving on campus.
There is no fee for one-day parking, but multi-day visits may require payment for parking services. Coordinate with the university beforehand to streamline your trip.
Savannah College of Art and Design
Savannah College of Art and Design (SCAD) helps turn talent into professional careers, and creative students can explore the programs it offers. Their Atlanta campus is located in Midtown and hosts groups of up to 25 high school juniors and seniors for on-campus tours.
Minibuses are perfect for smaller tours, and we can pair you with one that fits your group's size and budget. Call us 24/7 at 1-855-826-6770 for a free quote on your group's bus transportation.
The designated bus parking spaces are on the exit side of A building (on the right). Typically, a charter bus enters the entrance side of 1600 Main Campus, travels behind the parking garage, and enters the exit side through SCAD's rear gate. There is no parking fee for motorcoaches, but security must be notified in advance to open the rear gate.
Helpful Campus Visit Tips: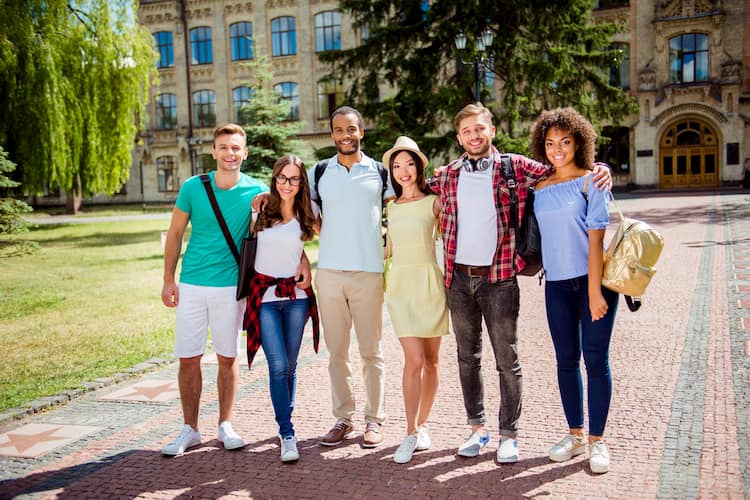 Prevent hiccups in your travel plans by calling the school ahead of time. You can discuss your specific trip details, verify your reservation, and ask about any road closures near campus to prevent delays.
Schedule your tour when classes are in session. Though traffic may be lighter in the summer months, your group will get a better idea of life on campus when the university is teeming with current students. Ask students and faculty what they like most about the school and what extracurricular activities they recommend.
Encourage students in your group to come prepared with questions. They can ask about life on campus, financial aid, academic programs, extracurricular activities, housing, and more. It's also helpful to take notes the old-fashioned way, by pen and paper, instead of by phone. Tour guides may assume students aren't engaged in the tour if they're typing on their phones during the visit.
GOGO Charters wants to help you plan your next campus visit. Timing and safety are key when transporting groups of students and chaperones, and we only work with professional drivers who have met or exceeded our safety standards.
When you're ready to book your trip, call us at 1-855-826-6770 to speak with our highly-trained staff and receive a personalized quote!
Tags In
Do you need to rent a charter bus?
Do you need a long-term shuttle service?
We offer contracted shuttle services for businesses, schools, hotels, and more. Contact our experts at 1-844-897-5201 to discuss your long-term transportation plans.