Why a Minibus is the Best Way to Shuttle Wedding Guests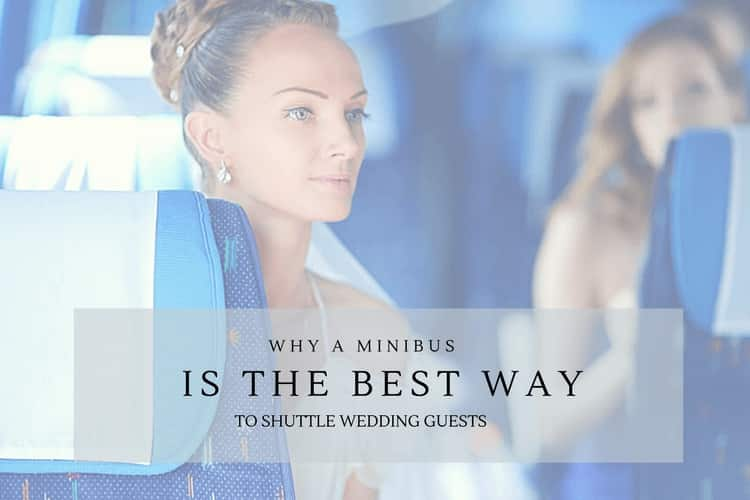 You've planned every single detail to a T. The dress, the flowers, the food, and the cake– but it's the guests who really make or break the event. Guests not showing up or arriving late can put a damper on your big day, and with all the attention you put into your wedding, it's never fun when guests miss out.
So what's the best solution to ensure your guests arrive safely and on time to your wedding?
Arranging a wedding day shuttle service for your guests provides a variety of benefits that'll make your day perfect. Keep reading to learn how a minibus will make your event the wedding of the year:
Don't Leave Guests to Fend for Themselves
It's easy to forget about your guests' travel accommodations while you're wrapped up in a million other wedding details. While a shuttle service may seem like an unnecessary detail, especially for locals, it could make a drastic difference for out-of-towners.
Providing a shuttle service will alleviate the stress of guests navigating on their own, while allowing them to fully enjoy the wedding with drinks, dancing, and other celebrations. Guests will arrive together and on time, and your shuttle service will be a high-end detail they will never forget. Plus, you'll have one less detail to stress about without the responsibility of making sure tipsy guests head back home safely.
Renting a Minibus is More Cost Effective
Transporting a large group of guests can get pricey, but with a personal minibus, you'll end up spending less per passenger.
Minibuses specialize in short-distance trips, and since they only cost around $125-160 an hour, a full minibus can go a long way for your guests and your wallet. While some shuttle services can charge up to $30 a person, renting a minibus could save your wedding day and your budget.
Request Luxury Amenities for Guests' Comfort
Your guests' ride can get as luxurious as you want it. Want to provide champagne for guests while classical music plays on the minibus's entertainment system? Done. Want a slideshow of you and your spouse-to-be playing on the bus's TV monitors while guests are chauffeured to the wedding? Easy.
Your vision for your wedding day is possible, even on your minibus. Chat with your representative and ask what's available. As long as you can provide it, most bus providers are willing to accommodate special requests. Many buses can come with a variety of premium amenities, from WiFi to reclining seats, to make the passengers' experience unforgettable.
Hotel Shuttles Don't Do It All
Why hire a minibus when your hotel provides the same service? Hotels may provide complimentary shuttles, but they often run on their own schedules and have limited proximity and space. With most hotel shuttle services only driving within a 3 to 5 mile radius, your ceremony and reception venues may not be accessible. Additionally, hotel shuttles are obligated to accommodate other hotel guests who aren't attending your wedding.
Wedding schedules are important, and with hotel shuttles always on call for others, your guests may find themselves waiting or with no transportation at all. Having your own private minibus will allow you to plan the exact route, regardless of distance.
Decorate and Arrive in Style
You've been planning your wedding for quite some time, so it's important that every detail is more than lackluster– including your guests' transportation. With a minibus, you'll be able to decorate to your heart's content. Add your wedding colors throughout the interior with banners and balloons, and wrap the bus with you and your soon-to-be spouse's names to blow your guests away. Just make sure to speak to your representative about all the possibilities.
Participate in the Fun Along with your Guests
Ride privately and in style with your wedding party and new spouse. While limos are usually the preferred ride for wedding parties, they limit space and comfort.
Minibuses come in a variety of sizes, from as low as 18 passengers to as high as 35, and they leave plenty of space for passengers to spread out. Ride to the ceremony without the stress of traveling on your own or keeping your wedding party together. Prep for the day ahead without worrying about traffic or parking. As soon as you say "I do," get the party started on the ride to your reception.
Pro Tip: Don't forget to include your photographer on the ride so they can capture those priceless moments before and after the celebration!
With all the possibilities and benefits of hiring a minibus for your wedding day, it's a detail you surely won't regret.
So, are you ready to rent a minibus for your wedding? Make sure you follow this to-do list:

1. Plan Your Guest List
It's good to begin putting together your guest list as early as possible to determine the size and needs of your wedding. It's okay if some of the guests end up not making the cut. But to effectively begin planning your wedding and any potential transportation needs, make sure you have a good idea before you hunt for a venue and vendors, including transportation.
2. Know the Addresses of Your Hotel, Ceremony Venue, and Reception Venue
You can't plan anything else without having your ceremony and reception venues booked, and you won't be able to book transportation without knowing the address of your starting location, like a hotel, and your final destination. Venues get booked up quickly, so ensure this is your first step in order to get the venue you want and make the rest of the planning process a breeze.
3. Finalize the Total Time Needed for a Minibus Shuttle
Once you have your venues and hotel booked, you'll want to make sure you know how long you'll need a minibus for before calling for quotes. Since shorter trips are usually charged by the hour, determining the length of your minibus rental will help get you the most value. For example, if your wedding starts at 5pm and ends at 10pm, you'll need to factor in additional time for pickup and dropoff.
Pro Tip: Add additional padding time to account for any traffic, weather, and any other uncontrollable factors.
4. Finalize Your Guest List
After a couple months evaluating bus service providers, you'll have a better idea of what's possible within your budget. By finalizing your guest list now, you won't end up paying for more buses in the future because of guests you didn't account for.
5. Set Your Minibus Budget
You probably already have an overall budget for your wedding. Now it's time to find out how much you can allocate towards transportation. Compare quotes from multiple bus companies to get the best value, and don't forget to factor in a 10%-15% gratuity to thank your driver!
6. Establish Which Guests Require Transportation
Ideally, providing transportation for guests at your designated hotel should be included to ensure your event runs smoothly. However, if you have any out-of-town guests, see if they need additional transportation from their hometown to your wedding. That way, you'll know every guest will be accounted for with no excuse of expensive airfare, missed flights, or traveling long distances on their own.
7. Establish Your Wedding Party Size
By now, you should have an idea of who will be included in your wedding party. Unless you're booking a separate minibus for yourself and your wedding party, make sure you officially confirm the size before booking transportation, as your wedding party will be included in the same quote for your wedding guests.
8. Research the Minibus Size You'll Need
Now that you know how many guests need transportation and the size of your wedding party, you can figure out which minibus best accommodates your needs. Minibuses come in a variety of sizes, from 18 passengers all the way up to 35 passengers. It's helpful to have an idea of the bus size you want before you call for quotes, but your reservation specialist will be happy to help you decide which vehicle is best for your group.
9. Confirm Any Special Amenities Needed
Is your wedding during the summer? Then you'll definitely need air conditioning. Want to set the mood with music while your guests ride to your ceremony? Make sure you ask for a bus with speakers and an entertainment system. Do you need a bus that's handicap accessible? Compile a list of special amenities you'd like so your representative can book you the perfect bus for your special day.
10. Book Your Minibus 3-6 Months in Advance
Depending on the season of your wedding, make sure to book your minibus in advance. April, May, and June are the busiest and most expensive months for charter bus companies due to graduation, prom, and summer vacation. Booking early will ensure you get the best rate possible.
11. Confirm Your Minibus Details
As your day quickly approaches, make sure to confirm your minibus details. While most charter bus companies will reach out to confirm your day of details before the trip, it's best to be meticulous to ensure there are no mishaps on your wedding day. Plus, you'll have a chance to make any last minute changes if anything else arises.
12. Enjoy Your Wedding Day!
When your day finally arrives, you'll have one less detail to worry about as your transportation is handled by professionals. Congratulations and cheers to many happy years ahead!
Booking a wedding transportation is easy and stress-free when you collaborate with an experienced bus rental company like GOGO Charters. We'd love to hear more about your wedding day plans and help you organize seamless transportation. We're available 24/7 at 1-855-826-6670.
Do you need to rent a charter bus?
Do you need a long-term shuttle service?
We offer contracted shuttle services for businesses, schools, hotels, and more. Contact our experts at 1-844-897-5201 to discuss your long-term transportation plans.