7 Reasons Why a Minibus is Better Than a Van for Small Group Travel
If you're a frequent traveler, you know that finding reliable transportation can be difficult. When you're traveling with a group, it can feel like your additional passengers limit your options even more, and you may be having trouble choosing between a minibus and a van. Minibuses are the most efficient resource for transporting smaller groups to company events, sports competitions, church events, school outings, weddings, and much more, but why are they a better option than a van?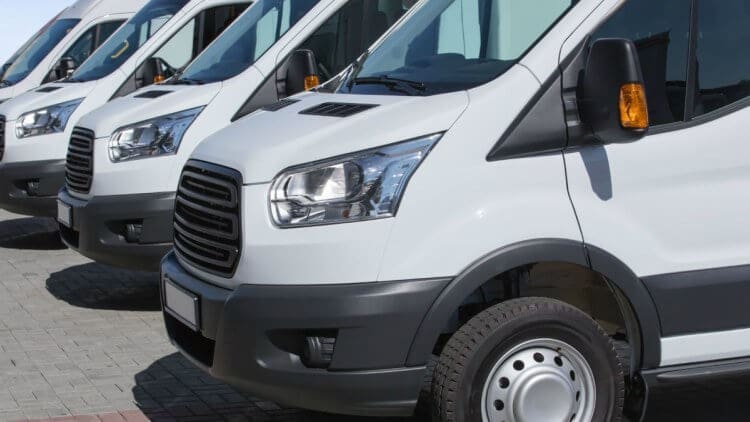 We've outlined the key differences between minibuses and vans below:
1. Fit More Passengers
Due to their difference in size, vans tend to be more cramped than minibuses. While most vans can only fit 12 to 15 passengers, several models of minibus are capable of accommodating up to 35. GOGO Charters has access to minibuses ranging from 18 to 35-passengers , giving you the ability to transport larger groups during your travels.
2. Store More Items
Minibuses also feature overhead storage bins, which allow passengers to transport items that may not have been able to fit in a van. Vans may allow you to fit some small items under your seat, but in terms of overall storage space, there's no comparison.
3. Ride More Safely
Minibuses are better equipped to provide a safe riding experience than vans, primarily due to their differences in construction.
Dual rear wheels and steel cage construction are two very important features that minibuses are fitted with for passenger safety. Dual rear wheels significantly decrease rollover risk, while steel cage construction on a bus's sidewalls help protect passengers from injury in the event of an accident.
4. Sit More Comfortably
Minibuses provide a more relaxing riding experience for passengers, as well. Bucket seats found in minibuses are far more comfortable than bench seats that are typically fitted in vans. Minibuses also have significantly more interior headroom for passengers, and their center aisles make it easier to move around the vehicle.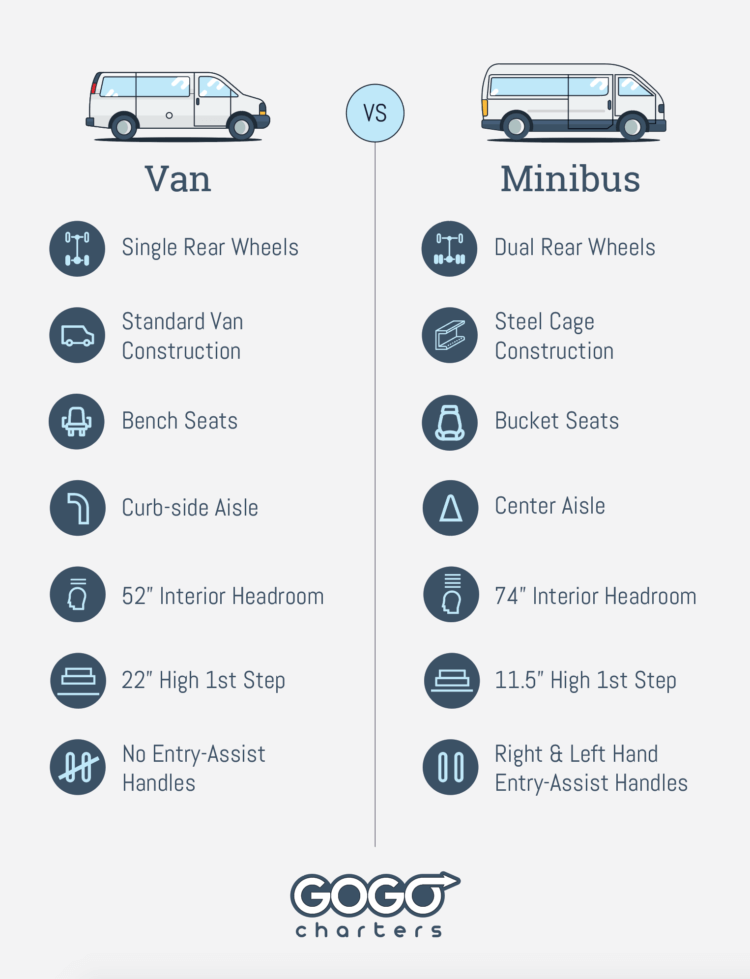 The comfort that a minibus affords it's passengers will be well-received in situations like traffic jams or large events. While rush hour traffic and traffic caused by road accidents can be hard to avoid, minibus comforts make the inconvenience less challenging to deal with. For example, a minibus is the best transportation to Atlanta sporting events because it can provide a significantly better group travel experience during gameday traffic.
5. Improve Passenger Accessibility
In terms of accessibility, minibuses also have an advantage because they are easier to board. While a van typically has a 22-inch high first step, a minibus' first step is only 11.5 inches. They are also equipped with entry assist handles, which make it easier for older and disabled passengers to board the vehicle.
6. Enjoy More Amenities
Minibuses also feature a wider array of amenities than traditional vans. Standard vans often only provide air conditioning and a radio. With a minibus, you can choose from a number of quality amenities such as large, plush seats, air conditioning, overhead and rear storage space, flat screen TVs, WiFi, and more. These kinds of premium amenities make a minibus perfect for private events, like corporate conventions or shuttling wedding guests. And long distance trips to your preferred destination are easier than ever when you book a minibus with GOGO Charters.
7. Know Your Driver
When you reserve a minibus from GOGO Charters, you're assigned a driver dedicated to getting you exactly where you need to go. Your driver has knowledge of the area they're traveling through and is thus able to find the most efficient route possible. We vet all drivers and make sure they've all passed a background check, ensuring you're getting transported by someone who is safe and reliable. You can even call us for more information about who your driver is, as well as how long they've been driving.
Choose a Minibus to Transport Your Small Group
Overall, a minibus' design fits the needs of a small group better, because it facilitates a more comfortable ride, has improved safety features, and increases accessibility for passengers of all types. If you're interested in booking a minibus for your next trip, check out our minibus rental pricing guide and contact GOGO Charters' 24/7 support staff at 1-855-826-6770 for a personalized quote.
Do you need to rent a charter bus?
Do you need a long-term shuttle service?
We offer contracted shuttle services for businesses, schools, hotels, and more. Contact our experts at 1-844-897-5201 to discuss your long-term transportation plans.