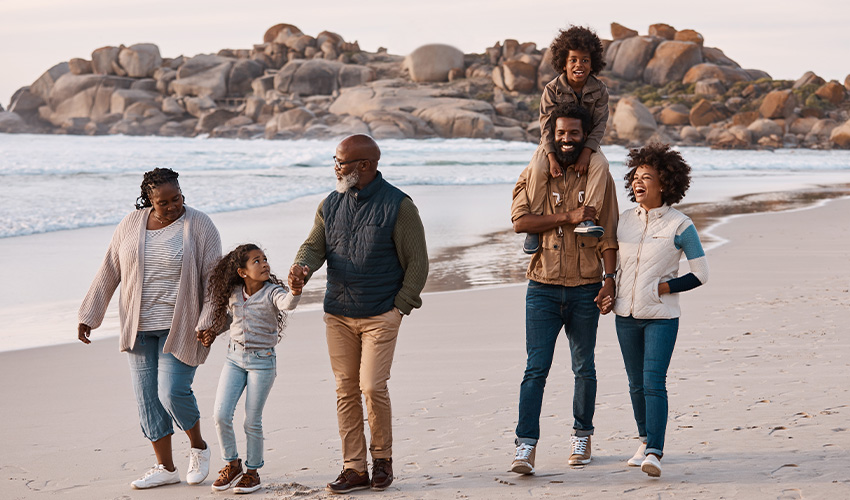 88 Must-Know Travel Statistics by Age Group for 2024
After years of travel restrictions, the hospitality and travel industry bounced back thanks to record-breaking travel spending. Of course, not all travelers are interested in the same kind of experience. Road trips, international travel, and weekend getaways appeal to different people. However, one factor can dramatically change travel preferences: age. 
Whether you want to keep up with trends or find inspiration for your next trip, we've compiled a list of travel statistics by age group to show you how different generations travel solo and together. We'll also share statistics about destinations, methods, reasons for travel, and accommodation preferences.
Travel Statistics by Age Group
While baby boomers prefer to use all of their vacation days, millennials aren't afraid to dip into debt to plan their dream trip. Read on to learn how age impacts travel in today's post-pandemic landscape.
Baby Boomer Travel Statistics
Thanks to their established careers, baby boomers have the resources to travel longer and more often. Here are the specifics: 
Gen X Travel Statistics
Gen X travelers often balance careers and family obligations with their travel plans. With that in mind, here are some statistics on Gen X travel:
Millennial Travel Statistics
Here are some of the top millennial travel and vacationing statistics:
Gen Z Travel Statistics
While many Gen Zers haven't reached adulthood, trends have begun around the ways they travel. 

Reasons for Travel Statistics
Different generations travel for different reasons. Here are a few statistics showing how:
Destination Travel Statistics
Different generations prioritize different destinations. Review these area tourism statistics to understand how:
In the next year, 69% of American travelers want to vacation in the United States. By contrast, 12% prefer international trips (

Avail

).

New York City remains the most popular domestic destination, followed by Orlando and Las Vegas (

Hopper

).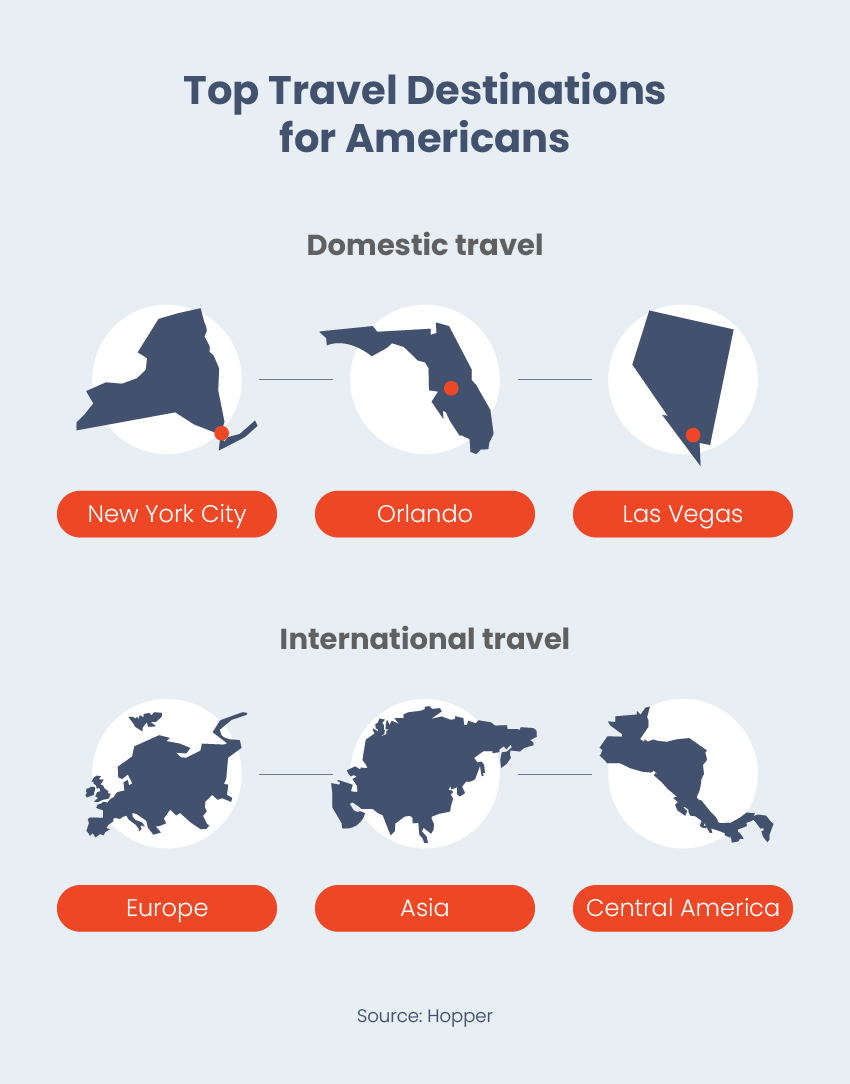 Spending and Cost of Travel Statistics
Your age and income play a key role in travel spending. Discover how: 
57% of Americans currently save money for travel (

Expedia

).

Low-income travelers prioritize quality time with friends and family on trips,  and middle-income travelers prioritize sightseeing and tourism. The highest earners see travel as a chance to relax (

Expedia

).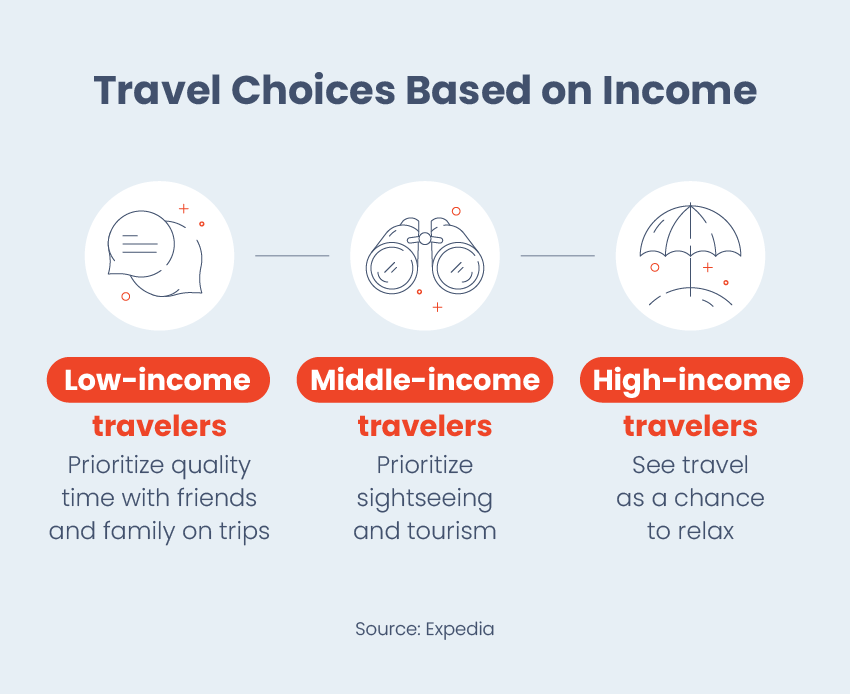 Method of Travel Statistics
Here are a few statistics on how different age groups prefer to travel:
Booking and Accommodation Travel Statistics
Where and when you book accommodations correlates to age in a few key ways: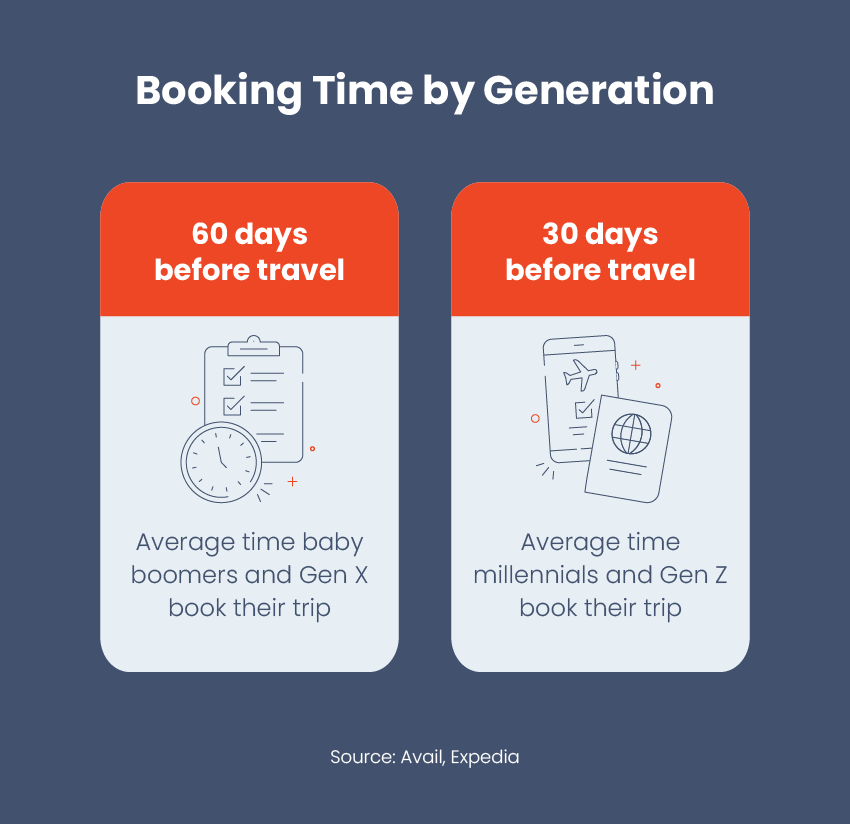 Group Travel Statistics
Some new trends in group travel have emerged in the past few years. To highlight these changes, consider the data on travel with family, friends, and coworkers.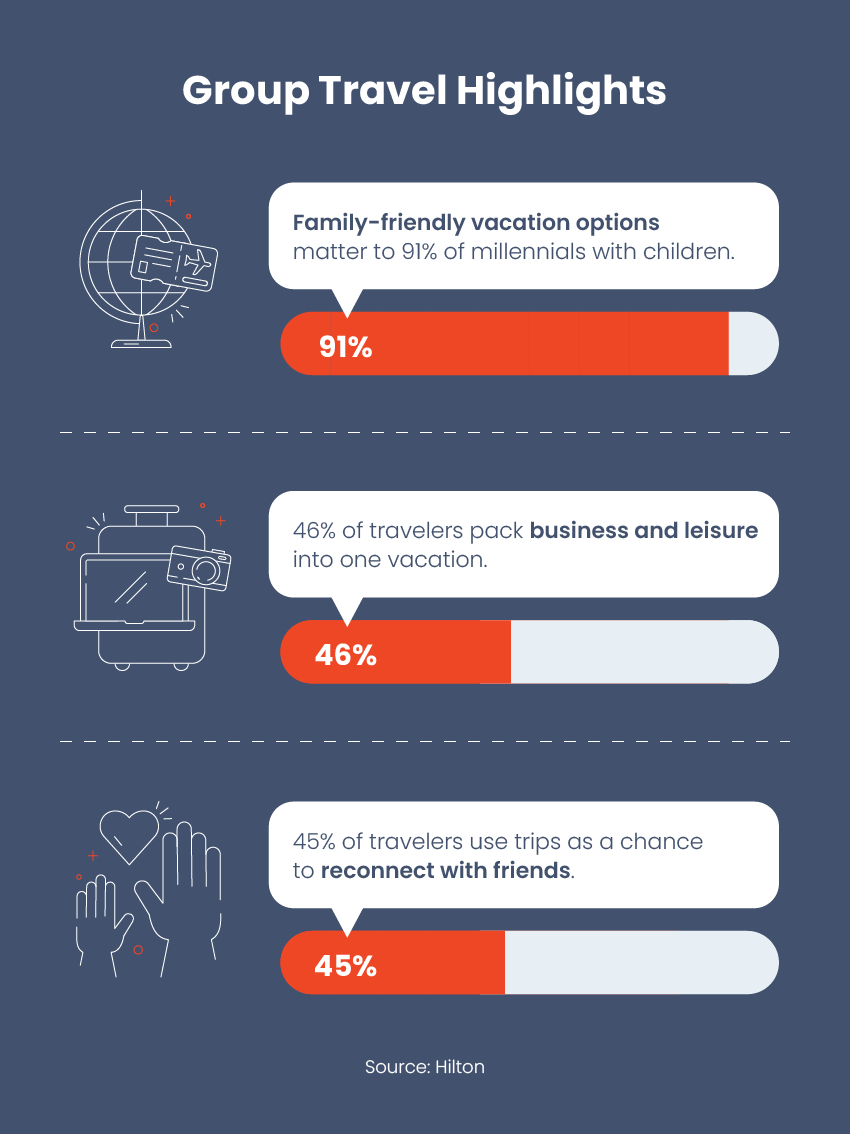 Family Travel Statistics
When looking at the ways families travel together, keep these statistics in mind:
Work Travel Statistics
Whether it's for business or business and leisure, here are a few statistics on work travel:
Friend Group Travel Statistics
Here are a few data points about how friends travel together:
How Age Affects Travel
While age doesn't have a one-to-one effect on how people travel, these statistics show a few key correlations. Here are some of the most significant points:
Duration of trips:

Baby boomers and Gen X have more to spend on traveling, largely because they're more established in their careers. As a result, older generations tend to take longer trips than millennials or Gen Z. 

Working while traveling:

millennials are more likely to work while traveling than Gen X or baby boomers. Because their trips are shorter and more spontaneous, this allows them to take a trip without taking too much PTO.

Cost of trips:

There's a direct correlation between age and the amount travelers are willing to spend for their trips. While millennials and Gen Z are happy to save or take on a part-time job, baby boomers still spend the most on their vacations.

Travel destinations:

Because far-away destinations cost more to reach, older generations travel abroad more often. That said, domestic travel is popular among all generations. 

Solo and group travel:

Younger generations have a greater interest in traveling alone. They are also interested in adventurous experiences that don't suit family trips and that they can book at the last minute. As a result, solo travel is on the rise.
Plan Your Next Trip With GOGO Charters
Even after years of turbulence, every generation still wants the chance to travel by air, car, or bus. While each generation travels differently, reviewing these travel statistics by age group reveals a few common threads. Whether you're trying to go abroad or have a weekend getaway, the chance to travel is well worth the investment. 
To help you get where you're going, try GOGO Charters. Our extensive fleet includes minibus and charter bus rentals. Our rentals suit every occasion, from family reunions to corporate retreats, by offering customization to fit your needs.
Do you need to rent a charter bus?
Do you need a long-term shuttle service?
We offer contracted shuttle services for businesses, schools, hotels, and more. Contact our experts at 1-844-897-5201 to discuss your long-term transportation plans.