The Ultimate Southeast Road Trip | GOGO Charters Travel Guide
Is your cubicle making you claustrophobic? Have you run out of Netflix shows to binge watch?  Are you absolutely sick of your monotonous drive to work every day? Taking a road trip with a group of friends will offer a much-needed break from mundane day-to-day tasks. Organizing a big trip to travel with some of your favorite people will give everyone an opportunity to unwind and bond.
GOGO Charters will take care of transportation with a compact yet comfortable minibus for your group while you enjoy the scenic Southeast. Stay entertained throughout your entire road trip with WiFi, televisions with DVD players, and power outlets along with panoramic windows enjoy the view. Renting a charter bus will help eliminate the hassle of renting a caravan of smaller vehicles to accommodate your entire group. Everyone will stay together throughout your entire trip, which means every friend or family member can spend the drive bonding and enjoying one another. You can trust GOGO Charters for all your road trip transportation needs in the Southeast and beyond. We've serviced countless trips ranging from personal vacations to destination wedding services, school field trips, and specialized conventions.
Travel through Charlotte, Atlanta, and beyond with a professional driver behind the wheel as you coast through Southeastern states. We put together this fun 5-day road trip guide that's sure to leave you feeling refreshed, rejuvenated and ready to conquer the world.
1. Charlotte, NC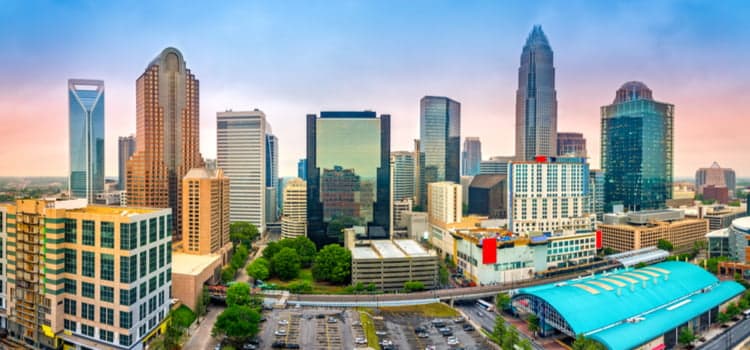 With a well-balanced mix of east-coast city-folk and southern charm, Charlotte has landed the coveted first stop on our Southeast road trip. Though many think of Charlotte as being a basecamp for banking companies, it's also known fondly by many other names– Queen City, the Hornet's nest and of course, the Pimento Cheese Capital of the world.
Charlotte has a never-ending list of activities for groups to enjoy. From outdoor recreation to museums and historic districts, your road trip will start with a great time in the Queen City. Some of Charlotte's most popular attractions are located a ways from Center City, requiring more planning for your trip. Traveling in a professionally-operated minibus from GOGO Charters will give everyone the freedom to visit locations throughout the city without stressing over rideshares or who will navigate multiple rental cars. When you book with us, you can put together your own itinerary and leave the driving to a professional while you relax and enjoy your trip.
Water Sports
Charlotte is located near numerous bodies of water like lakes, rivers, and springs that are perfect for groups of outdoor enthusiasts. Spend an afternoon at the U.S. National Whitewater Center off the Catawba River, where you can participate in a variety of watersports including kayaking, rafting or paddleboarding.  If you'd rather stay dry, the Whitewater Center also boasts an impressive array of land activities, like rock climbing or ropes courses.
Carowinds
Whether you're looking for water rides or terrestrial fun, Carowinds is the amusement park of choice in Charlotte. This local attraction includes a water park and an impressive selection of roller coasters for guests seeking thrills. The theme park also has an array of family-friendly rides themed after the beloved PEANUTS series.
NoDa Art District
NoDa is Charlotte's historic arts district located just two miles north of Uptown. You'll find plenty of things to explore including active street vending,  NoDa brewery and a gallery crawl on the first and third Friday of every month.
Soul Gastrolounge
If you're looking to try some quirky but delicious small plates, stop by Soul Gastrolounge and order a plate of rocky mountain oysters, lamb lollipops, or one of their signature sushi rolls. Night owls can stay late and enjoy the tunes of a resident DJ while sipping one of their funky signature cocktails.
2.  Charleston, SC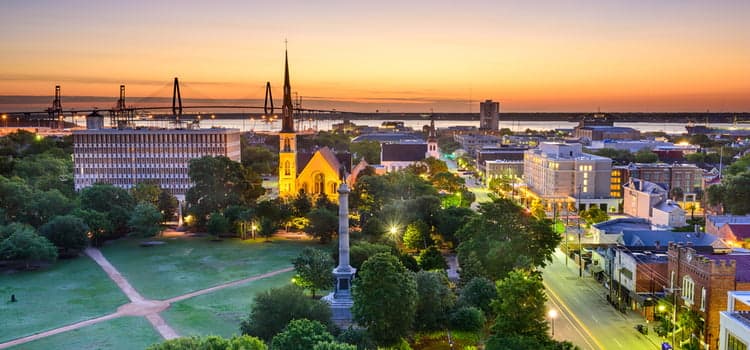 Bust out the sandals and sun hats when visiting this coastal city riddled with Southern charm. As one of the oldest cities in the US, Charleston has rich history, breathtaking views and diverse cuisine that will sweep you off your feet. After an afternoon in Charleston, you'll understand why the city is consistently ranked among "America's Most Friendly Cities."
Folly Beach
After a long stretch of traveling, there's nothing better than kicking your feet up in the sand at Folly Beach, just 15 minutes outside of historic downtown Charleston. This beach town offers a quiet and cozy feel, unlike tourist-haven Myrtle Beach, and is the perfect little getaway for a midday stroll or sunset picnic. If your group isn't looking to travel down to Folly, the Riley Waterfront Park also offers lovely views of the water while still relatively close to the action of Charleston's French Quarter.
Battery Park and Gardens
Rich with American history, Battery Park was once a defense ground during the War of 1812. Today, this southern landmark is home to dozens of gorgeous mansions and a green oasis of lush Palmetto and ancient Live Oaks. Many cannons and cannonball piles still remain in their original place, offering visitors a chance to time travel back to 1812 (or at the very least, get some pretty epic photos).
Sightseeing Tours
If you're looking to take a break from your charter bus and want to explore Charleston in a more authentic way, a horse-drawn carriage tour is a must. Established in 1972, Palmetto Carriage Works is the oldest carriage company in historic Charleston. Still family-owned and operated, the company offers guided horse- and mule-drawn tours of Charleston's downtown and residential historic district. Your group can also plan your own independent tour to historic locations Middleton Place, the Nathaniel Russell House, and Fort Sumter.
The Gin Joint
Tucked away on Charleston's historic East Bay Street, you'll find no shortage of booze at this pre-prohibition era bar. Known for their sophisticated, balanced cocktails alongside delicious bar food, The Gin Joint offers a menu of seasonal drinks alongside its signature Bartender's Choice, where patrons choose two flavorful descriptors from a word bank and let the bartender deliver. Enjoy the East Coast with your favorite people and a few drinks while GOGO Charters handles the driving. Whether you're headed to The Gin Joint or one of Charleston's many other watering holes, you'll have a designated driver for your entire trip.
3. Savannah, GA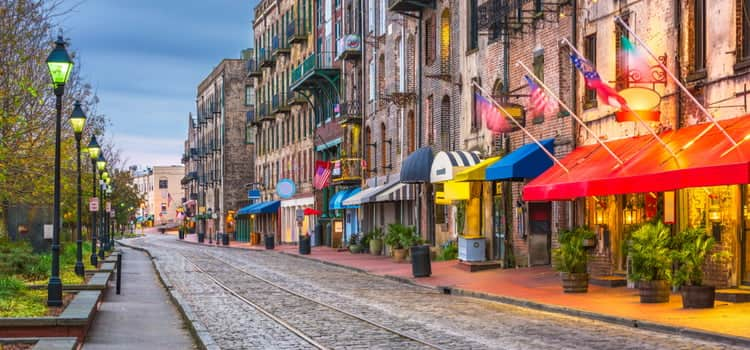 Hop back on your charter bus and travel down the scenic coast to one of America's most haunted cities. Along with tales of ghosts and history dating back to 1733, this little coastal city packs a big punch when it comes to southern charm. Pedestrian-friendly Savannah is bursting at the seams with culture and sightseeing opportunities. From dozens of beautiful garden squares filled with street performers and horse-drawn carriages to the modern and progressive Savannah College of Art and Design campus, you'll find that Savannah is a truly unique location in the Southeast.
Savannah Historic District
The historic district in Savannah spans over 1,000 acres in the city's downtown area. As the largest location on the National Register of Historic Places, the bustling district has dozens of historic and educational attractions. Visit one of Savannah's 22 green squares, beautiful Forsyth Park, historic churches like the Cathedral of St. John the Baptist or the Mickve Israel Temple, and so much more.
Bonaventure Cemetery
Filled with beautiful views of greenery and iconic Spanish moss along the Wilmington River, this historic cemetery has offered visitors a peaceful glance into the afterlife for over 150 years. The cemetery is open to the public daily and offers guided tours.
The Collins Quarter
The Collins Quarter offers a local, fresh farm-to-table menu inside a unique space styled after Melbourne's historic Collins Street. From a decadent champagne breakfast to a delicious lunch or dinner cuisine paired with fine wines and craft beers, The Collins Quarter offers a casual cafe environment that all will enjoy.
Ghost Tours
If you're interested in getting a closer look into the dark side of Savannah, check out the Dead of Night Ghost Tour. This 90-minute adults-only tour starts at 11pm every night and weaves in out of the alleyways of historic Savannah. Murder, witchcraft, demons….nothing is off limits on this ghost tour. Book tickets ahead of time, as this tour often sells out.
4. Atlanta, GA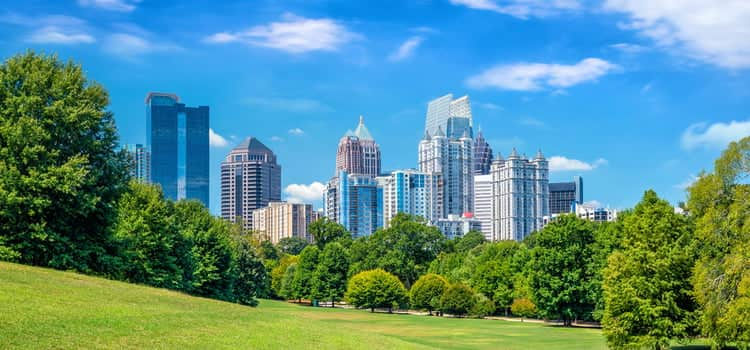 Between the booming film industry, convenient public transit, or the beautiful downtown skyline, one could see why Atlanta is becoming a popular destination in the south.  One thing you won't find in Atlanta: ridiculous travel prices. Atlanta has all the conveniences of big city life, plus a touch of southern hospitality.
Explore Downtown
Downtown ATL offers an abundance of fun, unique tours, and attractions guaranteed to entertain all ages. Check out the world-famous Georgia Aquarium and interact with beluga whales, penguins, sea otters and more.  For a more media-rich experience, the famous CNN Center offers exciting up-close studio tours 7 days a week.
Walk the Beltline
The Atlanta Beltline is a must-see. This 22-mile loop of historic rail corridor connects shops, restaurants, and vendors across the city. Rent a bike and get some exercise or walk the Beltline to enjoy the city's largest collection of temporary public art installations along the way.
Ponce City Market
This former factory has been recently renovated to house one of the city's most unique shopping and dining experiences. Nibble on some house-made beef jerky at Biltong Bar, jump over to Hop's Chicken for some of the most mouth-watering deep-fried chicken in the South, then finish it off with a King of Pops boozy popsicle for dessert.  Still haven't had enough fun? Check out the Ponce City Market rooftop Skyline Park, where you can play a variety of carnival games while enjoying some of the best views in town.
5. Jacksonville, FL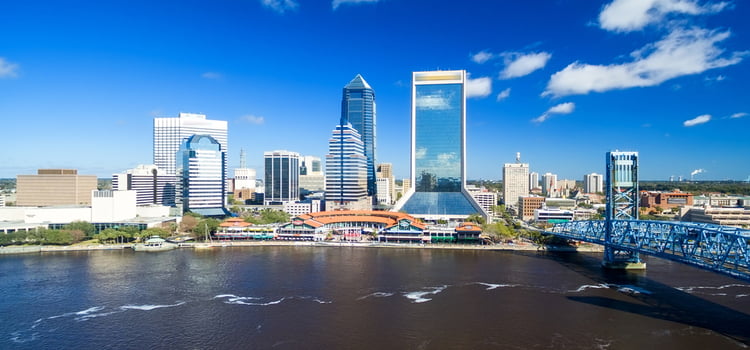 Known as the cultural, financial, and commercial center of Northern Florida, there's no shortage of things to do and see in beautiful Jacksonville. Whether it's world-class museums or beautiful state park beaches you seek, Jax has you covered. Jacksonville is also the largest city by land area in the mainland United States. Getting to popular coastal parks and preserves on the outskirts of Jax will be easy with your own private charter bus.
Catty Shack Ranch Wildlife Sanctuary
Take a break from visiting zoos and support a local gem like the Catty Shack Ranch. This non-profit organization focuses on the rescue, rehabilitation, and education surrounding big cats in the wild and captivity. The ranch is also a permanent home to horses, foxes, and coatimundis. Catty Shack offers a rare up-close look at beautiful animals during select tour dates.
Museum of Science & History
Adults and kids alike will enjoy the exciting exhibits and interactive games of the Museum of Science and History (MOSH), located on the south bank of Jacksonville's beautiful St. Johns River. Whether you're interested in wildlife, dinosaurs, outer space, time, or physics, MOSH has something fun for all interests and all ages. After exploring MOSH, make sure to stop by the Friendship Fountain in the adjacent St. Johns River Park for a colorful show of water and lights set against a scenic downtown Jacksonville backdrop.
Beaches & Parks
Jacksonville is known for its many beautiful public parks, gardens and beaches. Check out Hemming Park if you're looking for a beautiful urban setting with live events. If you're feeling extra adventurous, hop on your charter bus and take a scenic 25-minute ride to Kathryn Abbey Hanna Park or a 35-minute drive out to Big Talbot Island State Park to see breathtaking sandy white beaches with views of the Atlantic. After visiting coastal parks, drive by or stop in and tour the Kingsley Plantation, a historic former plantation nestled along the Fort George River.
Start Your Road Trip with GOGO Charters
Now that you've seen how much the Southeast has to offer, get ready to make the most of it!  These destinations are guaranteed to be an enjoyable time for groups of all types. GOGO Charters has access to a wide selection of charter bus rentals to make your Southeast road trip as easy as possible. Everyone in your group can focus on enjoying the destinations while we handle all the transportation logistics. Call us 24/7 at 1-855-826-6770 to get a free quote for your road trip!
Do you need to rent a charter bus?
Do you need a long-term shuttle service?
We offer contracted shuttle services for businesses, schools, hotels, and more. Contact our experts at 1-844-897-5201 to discuss your long-term transportation plans.