What is the Cost of a Tour Bus Rental?
Comparing costs of tour bus companies can be overwhelming if you're not familiar with how they're priced. Once your band is ready for an upgrade, do a little homework upfront to know if you're getting a good deal.
Exact rates vary by city, but you can expect to pay between $1,900 and $2,500 per day for an entertainer coach. If the company charges per mile, you'll likely pay somewhere between $7.00 and $8.50 per mile.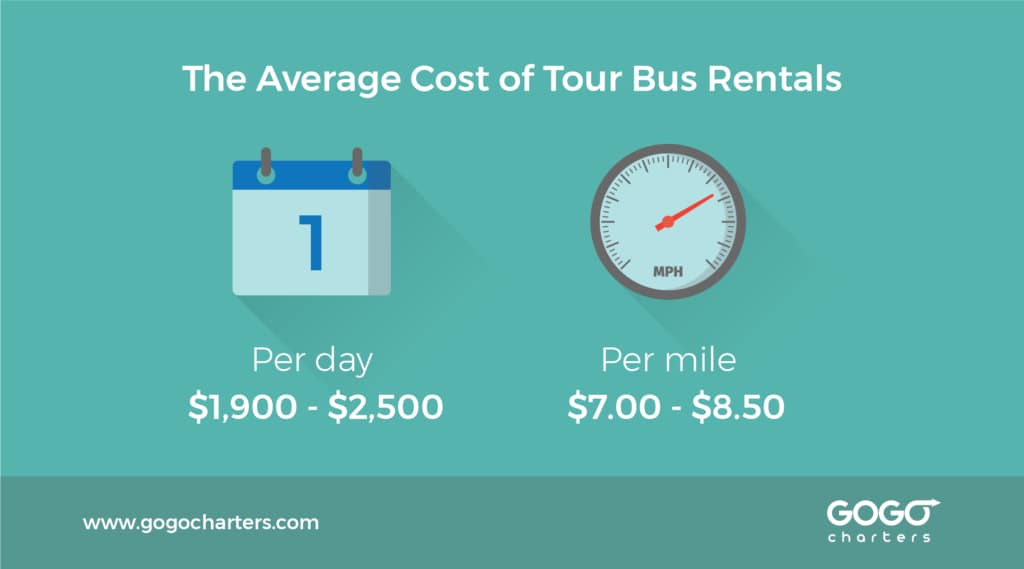 The 4 Biggest Factors That Influence the Cost
Breaking the price down gives you a better estimate of how much to budget for trip. Factors that will affect your cost include:
1. How much fuel will your tour bus use?
As you tour from Chicago to Los Angeles to Atlanta and everywhere in between, the cost of gas is going to be a major part of your transportation budget. You can calculate your estimated fuel cost using this formula: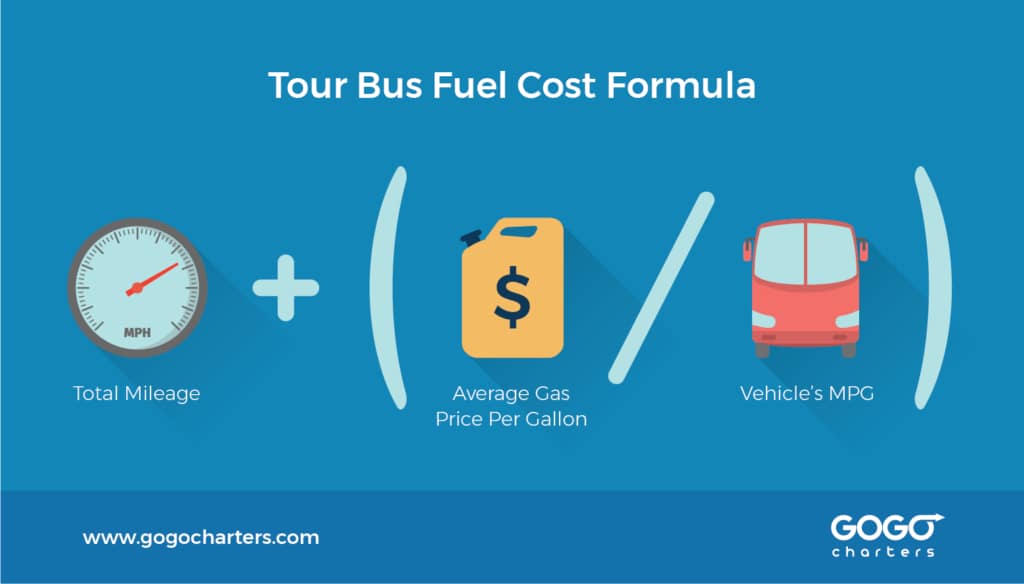 Most charter bus companies will include fuel cost in the price, but it's helpful to calculate this cost ahead of time to give you an idea of what to expect. To complete this formula, use Google Maps to tally the total mileage, ask the company to provide you with their entertainer buses' average MPG, and use the current national average for gas prices per gallon.
"One of the best pieces of advice I can give someone looking to rent a tour bus is to make sure they're renting from a company in the location they're starting from," says Mike Hines, band leader and guitarist for Corey Smith. He says fuel and mileage expenses can be greater if you don't rent from a company in your hometown.
2. How much will it cost for the tour bus driver's labor, hotels, and gratuity?
Since you're going to essentially live in an enormous motor coach during your tour, a professional driver is vital to your band members' safety.
"An experienced, dependable and safer driver is going to cost more than maybe somebody who isn't as experienced," says singer and song-writer Rudy Vaughn, winner of Hark Rock's 2009 Ambassadors of Rock. "I would rather have the safe driver!"
"Professional drivers will have limitations to the amount of miles or hours they are able to drive at a time without needing to be paid overtime," Vaughn explains. "This is called overdrive, and can start anywhere from 450 miles to 650 miles. The amount varies among bus companies, but the cost can add up quickly for longer tours."
Legally, charter bus drivers can only drive ten consecutive hours before they are required to take an eight-hour break, according to the American Bus Association. If your destination will take longer than a 10-hour drive, you'll need to divide your trip into multiple days. This can increase total costs if your bus company charges by the day.
"Along with the cost of your driver, you'll pay for his or her hotel rooms," says Kevin Spencer, guitarist and lead singer of Electric Avenue. "Remember to get them at least a 3-star hotel room. Saving $40 on a hotel room isn't something you would appreciate your clients doing to you. Treat the driver as a family member, he's there to keep you safe."
Your driver is one of your biggest allies during the tour. Budget for a hotel that will make him or her feel at ease, not the cheapest motel you can find.
While it's generally not required, gratuity is always appreciated and is a great way to thank a bus driver. Consider a 5-10% tip for a job well done.
3. Will you need a trailer for extra storage?
How do you know if you'll have enough room to store your equipment on the tour bus? Most modern buses have a hollow bay underneath that spans the width of the bus to store items.
Spencer says his band can fit a full drum kit, a small bass amp, two combo amps, a small keyboard rig and stand, guitars, bass, keyboard, and a box of merchandise under the bus. They haul everything else in a trailer attached to the bus.
If you think you'll need extra space, you can rent a trailer to haul on the back of the bus. These can be rented for an additional $50-100 per day, on average.
"Don't forget about your merchandise when estimating how much storage room you'll need," Mike Hines advises. "You may need to bring weeks worth of merchandise on the road with you, and that can take up a significant amount of space."
4. How much will it cost to park the tour bus?
One of the most overlooked aspects of renting a tour bus is parking logistics. The last thing you want to worry about when on a tight schedule is, "Where in the world are we going to park this thing?!" Determine if there will be parking fees before you begin your trip.
Some venues have designated bus parking on the premises while others in more populated areas require an off-site parking fee. In New York City, for example, bus parking rates are $20/hour while rates in Baltimore are $25 for 12 hours. Call venues ahead of time to see if they have designated parking spaces for your bus and if any additional charges will apply.
Necessity or Nice-to-Have?
Before you and your bandmates cash in on a real tour bus experience, balance your checkbook and take a hard look at your finances. With all of the other costs of touring, does chartering a bus make sense for your band?
"Buses can cost thousands of dollars per day, and that's just one more bill you have to pay," Hines says. "The luxury of the bus might sound attractive, but ask yourself if you're truly ready."
It's best for musicians to budget for a tour bus when they are agreeing on the price of the gig, Rudy Vaughn says. Since transportation is such a massive part of the touring budget, sometimes half of the gross income of the show, it's imperative to know those costs before agreeing upon a price.
"One of the biggest reasons why we book tour buses is because of our production gear," Vaughn continues. "We have discovered that doing our own production has added benefits, so we have a trailer that is full of stuff. Musicians should always weigh out all of the factors. Is it better to fly to a location and rent production and vehicles to get around? The amount of people will vastly change these types of factors…and it will be something to work out case by case."
Weighing the Cost of a Tour Bus Rental
When you charter a tour bus for your band, you're not just paying for transportation.
"It's easy to under-appreciate the amount of work it takes to keep a 50-foot "building on wheels" driving down the highway without problems," Vaughn says. "The cost of even one repair, or even a single tire replacement can be in the thousands of dollars. So the price of renting a tour bus needs to be high enough for the owner to be able to absorb the rigors of such a vehicle."
"You're hiring someone to manage your safety," Kevin Spencer says. "Paying a higher price for the right company is worth it because they are ultimately responsible for getting you to and from shows safely and efficiently. The bus is your home while you're on the road, so it's important to build a solid relationship with your bus rental company for peace of mind."
A higher price point doesn't necessarily result in a better tour bus, but companies with an excellent reputation may charge more to ensure a high standard of service. Ask around, read reviews thoroughly, and ask a lot of questions before choosing a bus company to keep your tour running smoothly.
Do you need to rent a charter bus?
Do you need a long-term shuttle service?
We offer contracted shuttle services for businesses, schools, hotels, and more. Contact our experts at 1-844-897-5201 to discuss your long-term transportation plans.