Why GOGO Charters?
When you're transporting members of your congregation or youth group, keeping everyone safe is critical. GOGO Charters only works with experienced bus providers who hire qualified, thoroughly vetted drivers.
All of the buses in our network are maintained and inspected regularly, and we offer both full-sized motorcoaches and smaller minibuses so you can find a vehicle that's the right fit for your group. If you'd like to learn more about what we can do for your religious community, call our 24/7 reservation specialists at 1-855-826-6770.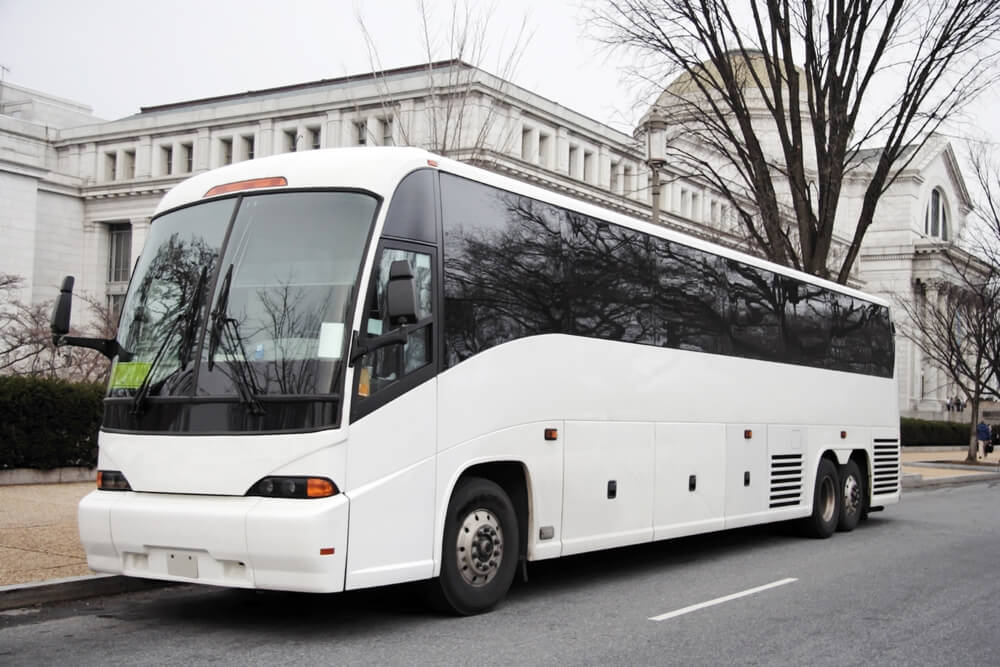 Plan a Shuttle for Weekly Services
At GOGO Charters, we understand that religious communities value weekly services. But people who are elderly, have a disability, or can't afford a car might struggle to attend every week. If you need a shuttle to take people from their neighborhoods or a far-away parking lot to your place of worship, GOGO Charters can help.
We offer long-term contracts for groups who need shuttle service on a daily, weekly, or monthly basis. Just give our long-term reservation specialists a call at 1-844-897-5201 or email us at shuttles@gogocharters.com, and we'll book the right shuttle for you.
Accommodate Everyone
GOGO Charters has access to ADA-accessible buses that include features like wheelchair lifts, wheelchair seating areas, handrails along stairways, and wider aisles. Whether you need these amenities on a weekly basis or just once for a convention or retreat, we'll find them for you at no extra charge.
Community for Youth Groups on the Road
When you're taking your youth group to a weekend retreat or volunteer event, you can always enlist parents or older students to arrange a carpool caravan—but that relies on your ability to get enough volunteers. It also doesn't give your kids the chance to spend time with each other on the road.
If you rent a charter bus, your students can study religious texts, play ice-breakers, or just talk while a professional driver takes all of you safely to your destination. You won't have to worry about anyone getting lost or distracted while driving, which means you can focus on fellowship instead.
Day Trips with a Minibus
Taking a one-day trip to volunteer at a food pantry or visit a nearby place of worship? Rent a compact and efficient minibus to transport your group from your meeting place to your destination and back. Minibuses are easier to park than full-sized buses, and they come with convenient amenities like plush seats, overhead storage space, and climate control. You can even request free WiFi if you want to stream music or check Twitter during your ride.
Travel Comfortably Over Long Distances
If you're planning a longer trip to a religious concert, conference or retreat, you may want to opt for a full-size charter bus. Charter buses offer more legroom than minibuses, and the undercarriage storage space ensures you have a place to stash your luggage. You can also request TVs with DVD players and free WiFi to keep your group entertained and a small onboard restroom in case of emergencies.
Sightsee in Other Cities Together
Whether you want to visit The Holy Land Experience in Orlando or the Islamic Center of America near Detroit, GOGO Charters can help your group get there with a nationwide network of buses. Just let us know where you're going, whether you want to make any stops at shrines or religious landmarks along the way, and how many people you're bringing along.
Our reservation specialists can also help you find the amenities you need for a road trip. WiFi and power outlets so you don't have to deal with a dozen teenagers with dead phones? Done. Panoramic windows so you can see the beautiful temples, churches, or synagogues in the city you're visiting? We've got you covered.
Religious Events with a Charter Bus
We can help your religious group reach any large event, from a basketball tournament to a choir competition or youth convention. But we won't stop at getting you there—we can also help you get around once you arrive.
Your professional bus driver will pick your group up from your hotel each morning and take you to the gym, conference center, or theater where your event is held. At the end of the day, your bus will be waiting for you so you can quickly head off to dinner or a fun night at the movies.
No searching for parking, waiting for people who are running late, or wondering how you lost half the team in a subway station. Your religious group will have safe, reliable transportation that lets you focus on worship and fellowship.
Getting Started
If you want to rent a bus but you're not sure where to begin, we've put together a few guides to help you out.
Start by reading our complete guide to charter bus rentals to find out why charter buses are a great option for group travel.
If you're feeling overwhelmed about the variety of bus types, check out our guide to choosing the best bus type for your group to see which bus you might want to rent.
Wondering about prices? Read our pricing guide to see what you can expect before you call to receive your free, personalized quote.
Our reservation specialists are available 24/7 to guide you through the rental process. Give us a call today at 1-855-826-6770 (for general inquiries) or 1-844-897-5201 (for long-term contracts) and secure transportation for your next trip!
FAQ
Frequently Asked Questions
More Questions?
We're happy to help.
GOGO Charters is a charter bus rental service that operates in over 300 cities across the United States. With access to a variety of buses combined with superior customer service, we've got everything you need to schedule your next big trip. We can accommodate groups of all shapes and sizes, making us perfect for religious group trips, company events, convention transportation, employee shuttles, campus shuttles, movie and television productions, weddings, sports teams, field trips, family vacations, and more. Have any transportation questions you need answered? Call us 24/7 at 1-855-826-6770. We're happy to help.