Here are just a few of the companies we've worked with: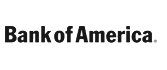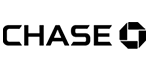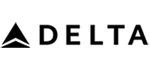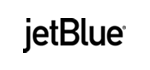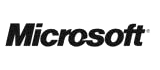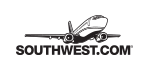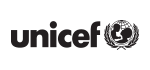 Group Transportation Services for Miami Events
Filled with bustling nightlife, rich diverse culture, and postcard-worthy waterfront views, Miami attracts groups of all types for a variety of events. Experience the best of Miami with private charter bus transportation from GOGO Charters. There's no need to worry about securing multiple rental cars, bothering with designating drivers, or running late to an event due to lack of spacious rideshare options. Your group's transportation logistics will be taken care of during every step of your Miami trip. Soak up the sun and travel in complete comfort throughout South Florida with a modern and efficient charter bus.
CALL (305) 547-8457 FOR CHARTER BUSES IN MIAMI, FLORIDA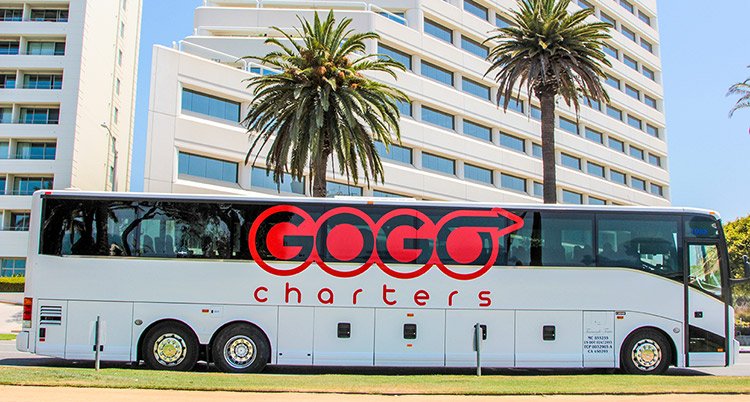 Choose GOGO Charters for Your Miami Trip
As one of the largest metropolitan areas in the country, Miami and the surrounding areas of Fort Lauderdale and West Palm Beach are home to over 5.5 million residents. Along with being home to millions of locals, Miami alone welcomes over 15 million visitors annually. With so many locals and tourists on the road, Miami sees plenty of highway gridlock. If you're planning a group trip to Miami, don't be discouraged! GOGO Charters is here to handle your travel needs with the utmost care. Whether you need a spacious charter bus for your large field trip group or a compact minibus for your night out on South Beach, we have your transportation covered. Our network of charter bus providers and rental partners extends through South Florida, giving us the resources to provide passengers with all types of transportation.
Leave Driving to Professionals
Every charter bus rented through us includes a local driver with extensive professional experience. Your driver and the GOGO Charters team will handle each step of your Miami trip transportation, no matter how many stops you have on your itinerary. If you're coming from out of town, you won't need to worry about being unfamiliar with the city or getting your group lost. The pickup and dropoff process at Miami's top attractions, best restaurants, and shining beaches will be a seamless process for your entire group. With a charter bus, you won't have to worry about pesky parking situations on Miami's crowded roads.
Keep Cool in the Miami Heat
Renting a charter bus in Miami not only offers convenience for your group but it also offers optimal comfort. A charter bus rental from GOGO Charters offers top-of-the-line amenities for both long-distance and short-distance travel. Shuttle from Orlando or Jacksonville with plush, reclining seats, free WiFi, and entertainment systems to make the drive breeze by quickly. Or if you're being picked up from Miami International Airport after a long flight from San Diego or New York, you can relax in climate-controlled cabins and let your drivers take the wheel.
Miami Charter Buses for Groups of All Sizes
No matter the scale of event, GOGO Charters is your one-stop shop for charter buses of every size. Planning a local school field trip to Vizcaya Museum & Gardens? GOGO Charters will pair you with a full-sized charter bus or even a custom fleet of buses for your students and chaperones. These 56-passenger charter buses are spacious, comfortable, and can come fully loaded with additional amenities and convenient onboard restrooms. Organizing a friend's birthday party out on Miami Beach? We'll pair you with a compact minibus or sprinter van to comfortably shuttle your party group to hotspots like Clevelander's or LIV. Don't worry, with GOGO Charters you'll have a designated driver for your night!
Travel Around Miami's Diverse Neighborhoods
Tourists looking for an exciting experience in Miami have so many local neighborhoods to explore. Miami is more than just beaches; it has a wide range of neighborhoods with their own unique flair. Grab cafecitos and tostadas one morning in Little Havana, cool off at Nikki Beach in SoBe during an afternoon, and then head over to Wynwood to enjoy live music and art. Groups that'll be in Miami for a multi-day trip should be sure to check out these Miami neighborhoods:
Brickell
A haven for young professionals, Brickell has become a popular area for premium living, shopping, and entertainment. This area hugs Downtown Miami and is also a stone's throw from Miami Beach. Brickell offers the ultimate posh travel experience for groups of young people or those looking for a waterfront view without being right on the beach. Enjoy a night out at Blackbird Ordinary, shop and dine at Brickell City Centre or enjoy rooftop views from trendy bars like Area 31 or Sugar.
Wynwood
Wynwood underwent a major revival in the mid-2000s, becoming Miami's hippest and trendiest neighborhood. This area is often referred to as Miami's art district, boasting galleries, boutiques, and streets filled with impressive murals by international artists. Wynwood is located just north of Downtown and also borders the luxury Miami Design District. Attend a Saturday Art Walk, visit the famous Wynwood Walls, and then grab a bite to eat at Coyo Taco or The Wynwood Yard.
Coral Gables
Coral Gables is a South Miami neighborhood existing at the perfect intersection of quiet residential roads on prime real estate, upscale shopping, lush greenspaces, and Spanish architecture. The University of Miami is located in Coral Gables just a short distance from Miracle Mile and its many shops. Coral Gables is also home to the historic Venetian Pool and Fairchild Tropical Garden, an 83-acre botanic garden with an extensive collection.
South Beach
Let's be honest, this is what most tourists picture when they hear "Miami". South Beach is one of three main neighborhoods in the city of Miami Beach, the other two being North Beach and Mid-Beach. South Beach is where all the fun happens! The beach offers the quintessential Miami glitz and glamour with year-round warm water, beautiful beaches, trendy nightlife, prime shopping, and Art Deco buildings. SoBe is often very busy and crawling with people, so be sure to put on your patience cap while beach hopping or exploring Ocean Drive. If you're looking for a quieter beach atmosphere or even more space to spread out with your group, hop over to Mid-Beach or North Beach.
Little Havana
Looking for authentic Cuban cuisine and culture? Little Havana is your spot. Miami as a whole is heavily influenced by Cuban culture, along with plenty of help from other Caribbean and Latin American countries. If you're in Little Havana, it's necessary to stop at Versailles, Miami's most popular Cuban eatery. Little Havana's vibrant culture is infectious, offering visitors a great time, especially if you're exploring Calle Ocho during festival season.
Downtown
Downtown Miami is often overshadowed by the beauty of Miami Beach and the hip atmosphere of Wynwood and Brickell. The downtown area still has its hidden gems and a handful of popular attractions. Dance to live music and admire waterfront views at Bayside Marketplace, catch a Miami Heat game at the American Airlines Arena, and chow down on delicious food at local restaurants like Fratelli Milano.
Charter a Bus for Miami's Best Festivals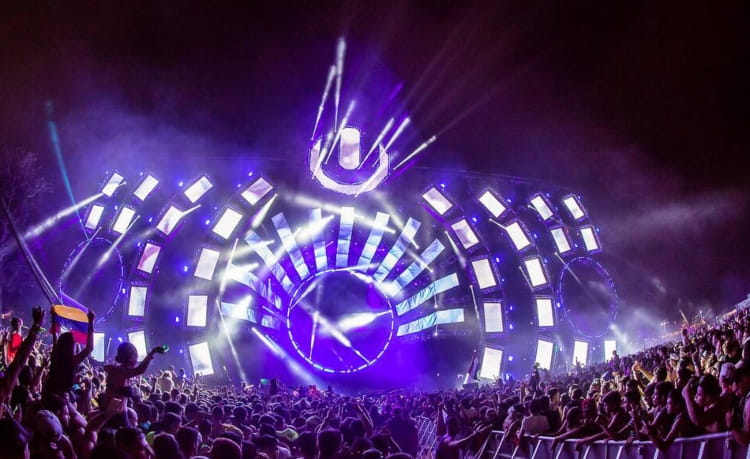 Year-round warm weather means it's always festival season in Miami. Culture, music, and art festivals attract hundreds of thousands of visitors each year. Reserving a GOGO Charters minibus for your festival group will ensure you can enjoy the festival to the fullest. You won't have to worry about hailing a rideshare in busy crowds or losing group members while splitting up in separate cars. Relax on a private charter bus handled by a professional driver after a long day of enjoying music in the Miami Heat.
South Beach Wine and Food Festival
February
This week-long food festival brings the best cuisines from around the world right to the beach. Internationally-acclaimed chefs come together for dozens of events, including beachfront dinners, late-night parties, food tastings, and industry seminars.
March
Electronic dance music (EDM) is a huge part of the thriving Miami music scene. Ultra started in 1999 on Miami Beach and has gradually become an international music festival phenomenon and arguably the largest music festival in Miami.
Carnaval Miami
March
Carnaval Miami is an annual celebration and weeklong festival that focuses on all things Miami. The festival celebrates the heavy Hispanic cultural influences in the city, with contests, delicious food, fun parties, and plenty of music. Head over to Little Havana and see Calle Ocho at its finest!
Miami Beach Pride
April
Miami is already a vibrant city, but the LGBTQ+ community adds even more vibrancy during week-long Pride festivities on the beach. Events include a parade, community activism events, a 2-day festival, pool parties, and so much more. Party it up on South Beach's Lummus Park during one of the nation's biggest LGBTQ+ events.
Rolling Loud Music Festival
May
Rolling Loud has quickly become one of the biggest hip hop music festivals in the country and is a driving force in Miami's music scene. Catch your favorite big-name rappers as well as smaller local acts at this 3-day festival.
Art Basel Miami Beach
December
Art Basel is among the largest art fairs to annually take place in Miami. Hundreds of artists from around the world travel to exhibit their work at Art Basel. Explore galleries filled with work from talented artists or even enjoy yourselves at one of many parties on SoBe or Wynwood.
Miami Charter Buses for Safe Field Trips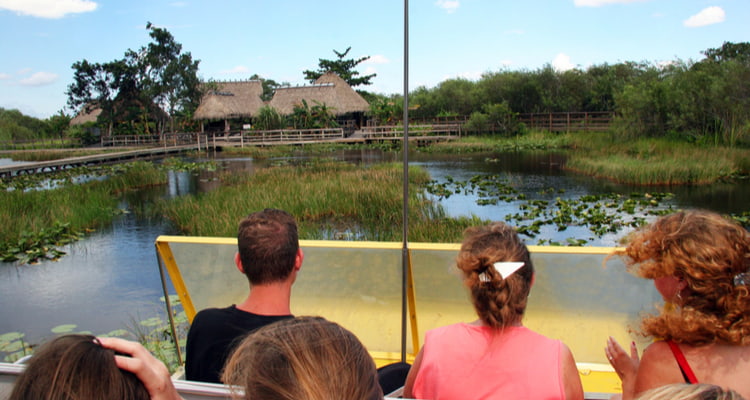 Are you an educator planning a school field trip for your class? Whether you're a Miami local or you're heading to The Magic City from other parts of Florida, we have your transportation covered for any type of academic event. We work with a large network of charter bus providers that are dedicated to not only providing comfortable travels, but safe ones as well. When you rent with us, we guarantee a safe trip for all of our young travelers. Each charter bus is equipped with modern safety features to optimize safety for every trip. We also only work with certified, knowledgeable drivers with vast experience on the roads and handling large groups.
Stay Entertained on Long School Trips
Florida is one of the longest states to drive through, right behind the likes of California and Texas. Taking an academic trip around Florida can be a long journey, especially when traveling from a southern city like Miami. So staying comfortable and entertained is important for students. Renting with GOGO Charters for your next field trip means you can choose a modern bus with amenities like WIFI and entertainment systems for the kids to enjoy. Your next long-distance field trip to Disney World in Orlando or Busch Gardens in Tampa will breeze by, while local trips to the Everglades National Park will be smooth sailing with GOGO Charters.
College Tours Made Easy
Renting a charter bus in Miami for your next planned college tour will keep your group of high-school seniors on schedule to explore each campus. Visit both University of Miami and Florida International University in the same afternoon or even shuttle up to Tallahassee or Gainesville to visit FSU and UF.
Cheer on Your Favorite Miami Sports Team
Attending an exciting sports game is always more fun with a group! Grab a group and go support the Miami Heat at the American Airlines Arena or the Miami Dolphins at Hard Rock Stadium. We'll pair you with a minibus for your friends, family, or colleagues to travel together to the next game. Skip the hassles of gameday gridlock and inflated parking fees for each car. A private motorcoach rental will ensure your entire group arrives and leaves as a cohesive unit. Everyone will be dropped off at designated locations and subsequently picked up in a timely fashion after the game.
Travel to Your Next Game with GOGO Charters
The charter buses in our network include spacious models that are perfect for local teams needing gameday transportation. Everyone from local sports clubs to school teams will find an efficient travel solution with GOGO Charters. Full-sized charter buses can seat up to 56 passengers and include large luggage bays and overhead storage. You'll have enough seats for every team member, as well as plenty of space for equipment. If you're planning to celebrate after a big win, we'll shuttle your team to nearby restaurants or lounges for a good time!
Stay Together for Special Sports Tournaments
Along with standard professional sports, Miami hosts everything from marathons to auto races. Attend the Miami Marathon as a group of spectators or participants, cheer on your favorite driver at the NASCAR Ford Championship in Homestead, or support players at the Miami Open. When you rent with GOGO Charters, you'll have a driver dedicated to your group's trip over to each event venue.
Corporate Event Transportation in Miami
Miami is a major hub for international business, attracting professionals from around the globe for meetings, conferences, conventions, and more. Large business groups traveling to Miami for conventions at the South Beach Convention Center can rely on GOGO Charters for efficient charter bus transportation during the entire Miami trip. Reserve a sleek minibus to comfortably accommodate your company and clients for trips to business centers, hotels, restaurants, or any other location. We'll be sure your business group arrives to important meetings and conference events in a timely fashion.
Amenities for On-Road Productivity
Business travel usually means you'll be condensing a lot of work into a small amount of time. Working on the go is often vital for business professionals. A GOGO Charters rental will offer your corporate travel group the option to work on the road. Send emails, work on important presentations, or even hold a Skype conference call with WiFi and power outlets on the bus.
Miami Wedding Shuttle Services
Miami's beautiful landscape and endless opportunities make it a popular city for picturesque weddings. Locals planning large ceremonies already have so much to worry about when planning. GOGO Charters will handle your guest or wedding party transportation so it's one less thing for you to worry about. Popular venues in bustling neighborhoods can be short on parking. Instead of having each guest drive their own vehicle, offer a shuttle service to eliminate the parking hassle for them. Any guests coming from out of town won't need to worry about getting lost on hectic Miami roads. A wedding shuttle can easily pick up guests from hotels or designated locations before shutting everyone to the venue. This route will keep guest arrival on your tight schedule and ensure your wedding ceremony begins and ends on time.
Plan the Perfect Destination Wedding
Destination weddings are popular at Miami's many beautiful waterfront resorts and hotels. If you're planning a glamorous destination wedding, it's important for guests to have all the accommodations they'll need. Guests coming into town after long international flights or monotonous drives won't want to stress how they'll travel and park at the venue. Leave the driving up to GOGO Charters! No matter the type of venue you choose for your destination wedding, each guest will arrive comfortably and ready for your big day.
Vizcaya Museum & Gardens
Address: 3251 S Miami Ave, Miami, FL 33129
Phone: (305) 250-9133
The Ritz-Carlton Key Biscayne
Address: 455 Grand Bay Dr. Key Biscayne, Miami, FL 33149
Phone: (305) 365-4500
The Palms Hotel & Spa
Address: 3025 Collins Ave, Miami Beach, FL 33140
Phone: (305) 534-0505
Fontainebleau Miami Beach
Address: 4441 Collins Ave, Miami Beach, FL 33140
Phone: 800-548-8886
How Much Does a Miami Charter Bus Cost?
The cost of a Miami charter bus rental is based on quite a few factors, making each group's pricing different. Your rental cost will take into account factors like the size of your group, the model of bus, time of year, distance of your trip, and the duration of your trip. Our rental experts will be able to provide you with an accurate quote once given the details of your trip. The quoting process is quick, simple, and most importantly free!
Reserve Your Miami Group Transportation
Ready to book your charter bus for your next group trip around The 305? Call our offices anytime at (305) 547-8457 to chat with one of our rental experts about your travel needs. We'll pair you with the best type of bus for your Miami trip and a professional driver to keep everything on track!
Rent your charter bus now:
(305) 547-8457
You may have seen us featured in: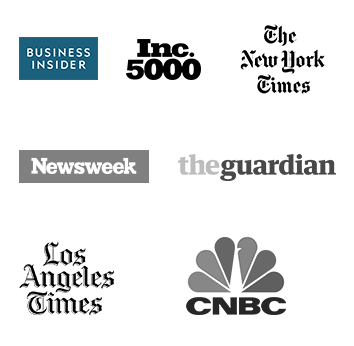 Calculate Rates
from Miami, Florida
Example Prices
Roundtrip

From: Miami,FL

To: Atlanta,GA

Roundtrip

From: Miami,FL

To: Chicago,IL

Roundtrip

From: Miami,FL

To: Chicago,IL

Roundtrip

From: Miami,FL

To: Dallas,TX

Roundtrip

From: Miami,FL

To: Houston,TX

Roundtrip

From: Miami,FL

To: Las Vegas,NV

Roundtrip

From: Miami,FL

To: Los Angeles,CA

Roundtrip

From: Miami,FL

To: New Orleans,LA

Roundtrip

From: Miami,FL

To: New York,NY

Roundtrip

From: Miami,FL

To: Orlando,FL

Roundtrip

From: Miami,FL

To: Phoenix,AZ

Roundtrip

From: Miami,FL

To: Tampa,FL

Roundtrip

From: Miami,FL

To: Washington DC,DC
Gogo Charters Miami

9150 S Dadeland Blvd Suite 104, Miami, FL 33156, USA

(305) 547-8457
Helpful Bus
Rental Resources
Latest
Blog Posts