Atlanta Group Travel Guide: Top 3 Things to Do in Atlanta, Straight from a Local
GOGO Charters is committed to giving you a top-tier experience during your trip, which is why we've put together an Atlanta group travel guide with the help of Dan Tanner, an Atlanta local for over 30 years and the owner of premier tour company DTour.
Take a spin with Dan through some of Atlanta's top 3 gems:
1. Cabbagetown
Boundaries: Decatur St NE, Pearl St SE, Memorial Dr SE, Boulevard SE
Cabbagetown in one sentence: Historic charm mixed with artistic flair.
Top points of interest: Carroll Street Cafe, Agave, Fulton Bag & Cotton Mill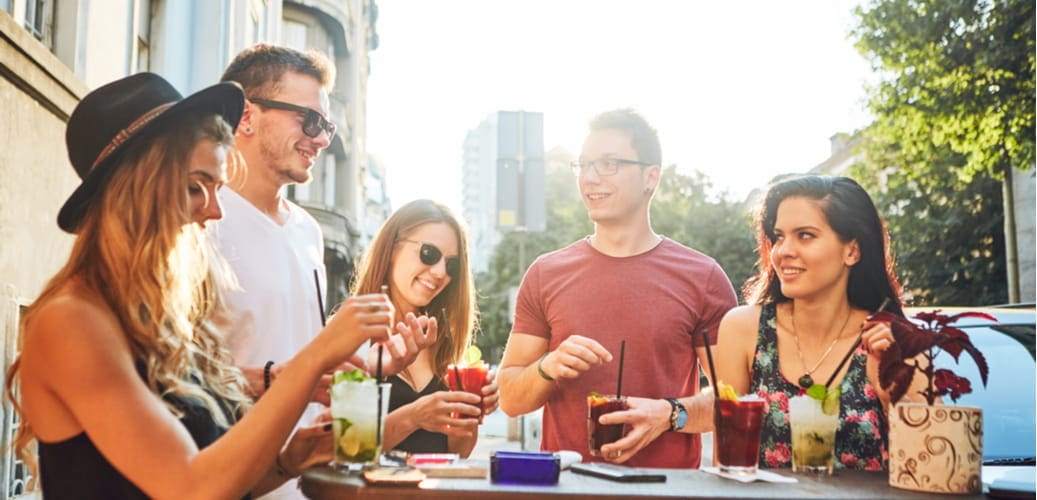 Dan's take:
"Carroll Street Cafe is a neighborhood standard. Great people-watching and curbside seating. And Agave is a real find with delicious Southwestern fare and the largest tequila bar in Atlanta.

"Built in 1881, the old Fulton Bag & Cotton Mill dominates the neighborhood. It was converted to lofts in the turn of the 21st century. The neighborhood also contains the largest collection of street art and muralists. Fun fact: the work is updated every year."
Best way to get to Cabbagetown with a group: MARTA connectivity is limited in Cabbagetown, and the only available parking is on the street. If visiting Cabbagetown in a group, a bus rental will be your best bet.
Our experts recommend booking a minibus to get there rather than a full-sized charter bus. And don't worry—you won't be skimping on critical amenities such as on-board restrooms and WiFi. We'll always ensure it's included.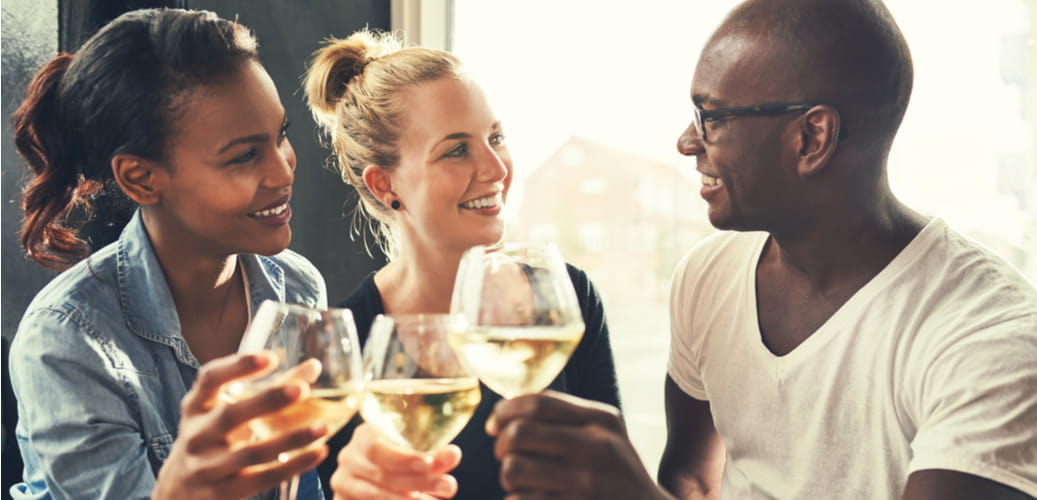 2. Inman Park
Boundaries: E John Lewis Freedom Parkway NE, Moreland Avenue NE, Dekalb Avenue NE
Inman Park in one sentence: A BeltLine essential.
Top points of interest: Springvale Park, Inman Perk, Barcelona Wine Bar, The Brasserie and Neighborhood Cafe at PARISH
Dan's take:
"Now containing one of the largest collections of Victorian homes in Atlanta, Inman Park was previously the site of the Battle of Atlanta in 1864. The neighborhood also contains the home of the founder of the Coca-Cola Company. North Highland Avenue contains an array of bars, restaurants and coffee-shops, including Inman Perk, Barcelona Wine Bar, and Parish, located in an old train depot."
Best way to get to Inman Park with a group: Don't want to deal with paid parking? Neither do we.To get to Inman Park, we recommend booking a small 25-passenger bus for your trip.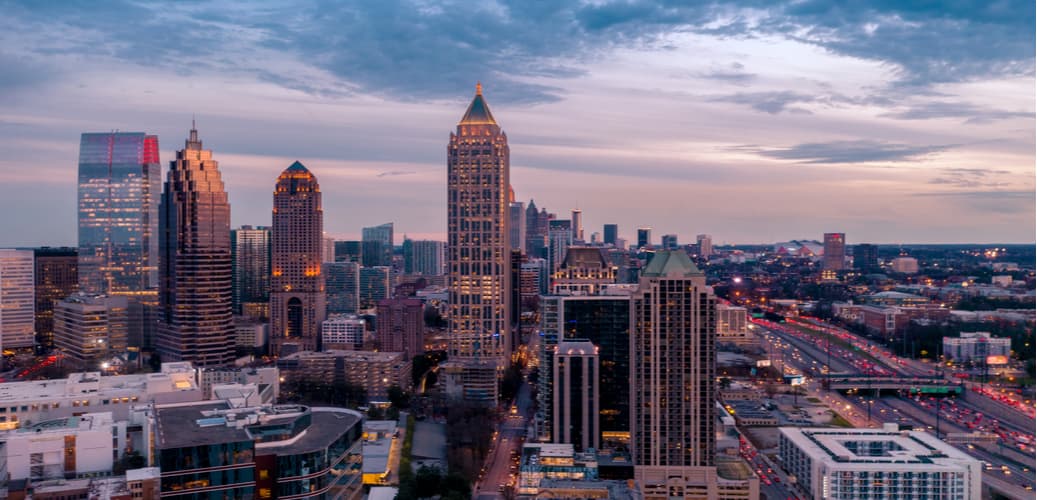 3. Downtown
Boundaries: North Avenue NW, Northside Dr NW, I-85
Downtown in one sentence: Equal parts work and play, with a healthy dollop of Southern charm.
Top points of interest: Peachtree Street, Fairlie Poplar Historic District, Centennial Olympic Park, Mercedes Benz Stadium
Dan's take:
"If you stop by Downtown, take an architecture tour of the Fairlie Poplar District. It's the largest collection of late 19th- and early 20th-century commercial buildings in Atlanta. Another good stop is the Sweet Auburn Curb Market on Edgewood Ave. Aside from some small eateries that are worth trying, there is also a traditional farmer's market where you can purchase local meat, seafood, and produce. Be sure to try the popcorn vendor, Miss D's."
Best way to get to Downtown with a group: MARTA stops overbound in this central location, but unless you're planning to stay in the Fairlie Poplar District, you won't fare well walking on foot. With such limited parking, driving a rental car isn't ideal, either.
Banish all these worries by renting a bus. Since we only work with local drivers, your trip will be in the hands of an expert who knows the best spots to pick up, drop off, and wait for your group.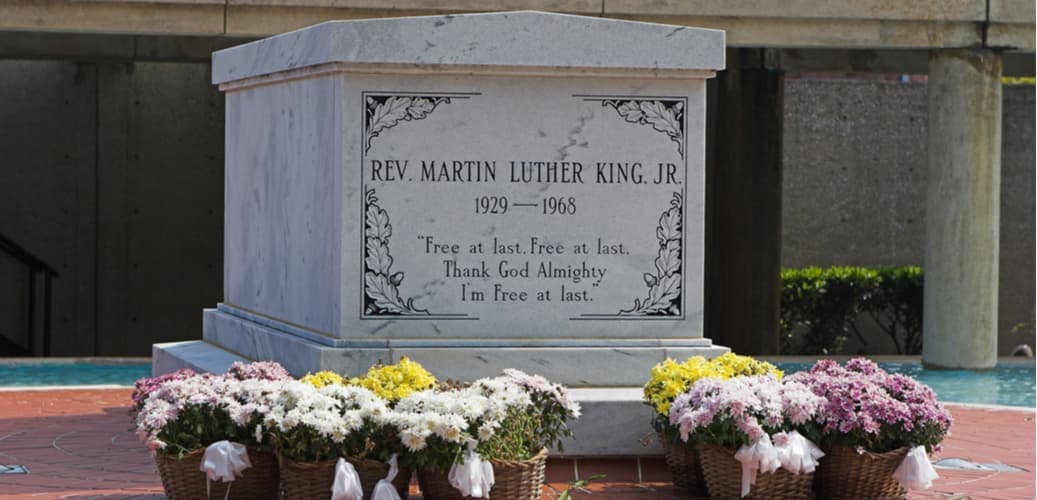 A Final Tip
Dan also recommends visiting Old Fourth Ward, where he enjoys showing Ponce City Market to his tour groups, and Eastside, which he recommends as another great neighborhood for street art.
Another unmissable stop is the Martin Luther King Jr. Historic Site, which is free to enter. Dan says that there are NPS rangers on site who can answer questions, so your tour can be easily self-guided. He provides one caveat: "Having a private guide adds a deeper experience and a more nuanced breadth of information. Consider investing for a much more comprehensive look at Atlanta's Civil Rights history."