Inside Celebrity Tour Buses: The Modifications Stars Make to their Mobile Homes
Who isn't fascinated by celebrity homes? We love seeing the outrageous additions that adorn the mansions of the rich and famous. Couches worth tens of thousands of dollars, gourmet kitchens, and master bedrooms fit for royalty aren't uncommon inside the homes of our favorite stars.
Not surprisingly, their mobile homes are no different.
For entertainers such as supermodels, singers, and even pro golfers, touring is what pulls in the most cash— a band can take home 35% of one night's ticket sales plus up to 50% of the merchandise profits over one tour. Tirelessly entertaining dedicated fans from New York to Chicago to Los Angeles and every city in between, these celebrities may play up to 180 gigs in one year. When work requires such lengthy stretches of traveling on the road, comfortable mobile living space is a necessity.
While it seems a bit odd at first— why not just fly from one venue to another and save the time difference?— touring with a bus really is the most cost-effective and certainly the most convenient way to move a team around. These modified tour buses take away the stress of living out of a suitcase and provide celebrities with a "home base" where they can relax, unwind, and store all of their things in one consistent spot between appearances. It isn't just a bus— it's an office, a bedroom, a living room, a storage area, and a communal area to bond with your band and team, all in one big box on wheels.
Between living rooms, full bedrooms, and full bathrooms, celebrities work closely with companies that specialize in modifying tour buses to make them as homely and as comfortable as possible. These celebrities also tend to put a unique "touch" on their buses, some "touches" more outrageous than others. From leather couches to over-the-top back lounges, state-of-the-art kitchens, and even upstairs (yes, upstairs) lounges, celebrities certainly know how to get creative when it comes to building a unique "home away from home."
All buses can be divided into four basic sections: a front lounge, which functions as a living room; a kitchen, or more typically, a "kitchenette;" a bunk area, where the band sleeps; and a back lounge, which is a bit of a "wild card" on these buses.
Keep reading to have a look inside the most extravagant celebrity tour buses we could find!
THE FRONT LOUNGE
A front lounge can usually seat about 10 people. They're very "homey," and great for socializing with band members and entourages or hosting friends and family. On either side of the lounge are usually couches, one of which is most likely placed on a "slide—" a mechanism that slides out when the bus is parked, adding up to 60 square feet of space and creating a proper living area.
While some celebrities prefer to keep their lounges simple and sweet— as Kenny Rogers says of his humble wheeled abode, "You buy what you need and you fix it up great!" — others like to beef theirs up a bit with luxury couches, oversized TVs, or high-tech controls.
Tommy Lee's coach features a cozy front lounge with two leather-upholstered couches costing $25,000 each.
The front lounge may also include some sort of "master control" for the entire bus. John Legend has an iPad connected to his bus's server for controlling light settings, changing the television and music, and adjusting the air temperature. Stored right in the same server are over 1,000 movies so there's always something good to watch on the road.
TVs are also a must-have for all front lounges, and you'd better believe they come big— Heidi Klum's front lounge features a 46-inch screen embedded into the wall. Mariah Carey's mobile castle features THREE 60-inch TVs plus an extra screen hidden behind her makeup mirror!
Heidi Klum and Mariah Carey ended up having two of our favorite mobile homes— we'll explain why later.
Also included in many front lounges is a killer sound system that would compete with any typical grounded studio. The Eli Young Band's bus includes a 12-speaker system that's used for blasting music through after parties and rocking the bus on the road with their favorite albums. "Loud" is the best way to listen to music, right?
THE KITCHEN
After the lounge area comes the kitchen. On a typical RV, kitchens are almost nonexistent— it is, after all, quite difficult not only to store all of the usual kitchen equipment but also to make room for appliances such as a stove, oven, and microwave, not to mention necessary counter space and cabinets. On top of all of that, who even has time to cook for themselves while they're busy playing shows? Kitchens simply aren't a priority on the road for most. The usual mobile kitchen features are a coffee maker, an electric tea kettle, and a mini-fridge.
John Legend's bus, however, houses a full stove top, a toaster, a microwave that doubles as a convection oven, and extra cabinet space for preparing gourmet meals in between performances.
Despite limited space, though, alcohol is always a priority. For entertaining an entourage and unwinding after big shows, drinks on-demand are a must-have. Gwen Stefani's coach includes a wine chiller, always stocked with a wide selection of her favorite blends.
Jake Owen's kitchen even has a beer tap— every time his band stops in a new city, they will make an agreement to trade show tickets with a local brewery in exchange for a local beer on-tap on the bus.
Ron White's kitchen features a hidden-away humidor with two sides— one for his cigar stash, and one for his scotch.
Brad Pitt's mobile kitchen takes the cake. His features all of the amenities of any usual kitchen— the stove, the oven, the microwave, the counter, and the cabinet space— plus a built-in full refrigerator and dishwasher, totaling a cost of $60,000 just for the kitchen— more than double what the average person spends on a kitchen remodel in their house!
THE BUNKS
Past the usual mobile kitchen, you'll find the bunks. Sleeping on a bus sounds painfully uncomfortable, right? The way most celebrities do it, it doesn't have to be. Typically, each bunk features its own mini television, a curtain for privacy, individual controls for air conditioning and lighting, and sometimes memory foam mattresses! The average tour bus bunk is just about the size of a regular twin-size bed.
Lee Brice, however, took it up a notch on his bus with custom oversize bunks, which they call "condo bunks," that feature all the regular amenities at a slightly larger size for extra comfort.
Many celebrities report that sleeping in mobile bunks isn't so bad— the movement of the bus has a tendency to rock them to sleep, which is necessary considering the grueling daily schedules they may keep during a tour.
Most buses can accommodate 6-8 bunks, in which everyone can have their defined private space separate from everybody else. You'll usually see pictures of family, charging outlets, and various other personal belongings inside each bunk.
THE BACK LOUNGE
Back lounges are where we find some of the most unique modifications.
For the most part, celebrities keep the back lounge as their private bed area— everyone needs their own quiet space, right? There's usually a master bathroom included in the back, too, with a full shower, walk-in closet, and counter space. Tommy Lee's master bathroom includes a full-size shower with a TV in the wall, and a closet with a fuzzy rail to keep hangers from sliding while the bus is moving.
John Legend's master suite includes a plush queen-sized bed that slides out just like the couches in the front lounge. Also in his master suite is a 5.1 surround-sound system, with a subwoofer under the bed to make movie-watching in the back even more exciting.
Back lounges are more than just bedrooms, though. Travis Barker's master bed folds up into the wall with the push of a button, creating the perfect private space for practicing his drums. He's also made room for not just one, but two bathrooms on his coach, so there's never any fighting over who's getting the coveted bathroom space.
Laura Bell Bundy had a dance studio built in her back lounge, complete with a full-length mirror and a ballet bar, allowing her to practice routines between shows.
Ashley Monroe's back room has been dubbed a "girls-only zone," where she and her girlfriends can get ready for shows together and stay secluded from the rest of her band.
However, back lounges also have many more specific uses, such as that of Hunter Hayes— situated in the back of his bus is a full recording studio, in which he makes serious progress on all of his current songs. The studio features a mixing station, multiple monitors, and 5.1 surround sound. In it, he's finished 20-30 demos while on the road.
Our favorite back room, though, belongs to Jeff Dunham— he has a full workshop in the back of his bus where he can not only construct but also repair his puppets while on the road, ensuring that they remain in pristine condition for shows.
Now, if all of this makes you roll your eyes and say, "of course they have all that, they're celebrities!" Just wait— we aren't quite finished yet.
Have a look inside these 3 over-the-top celebrity homes. These coaches are so spectacular that we couldn't even single out our favorite features above!
HEIDI KLUM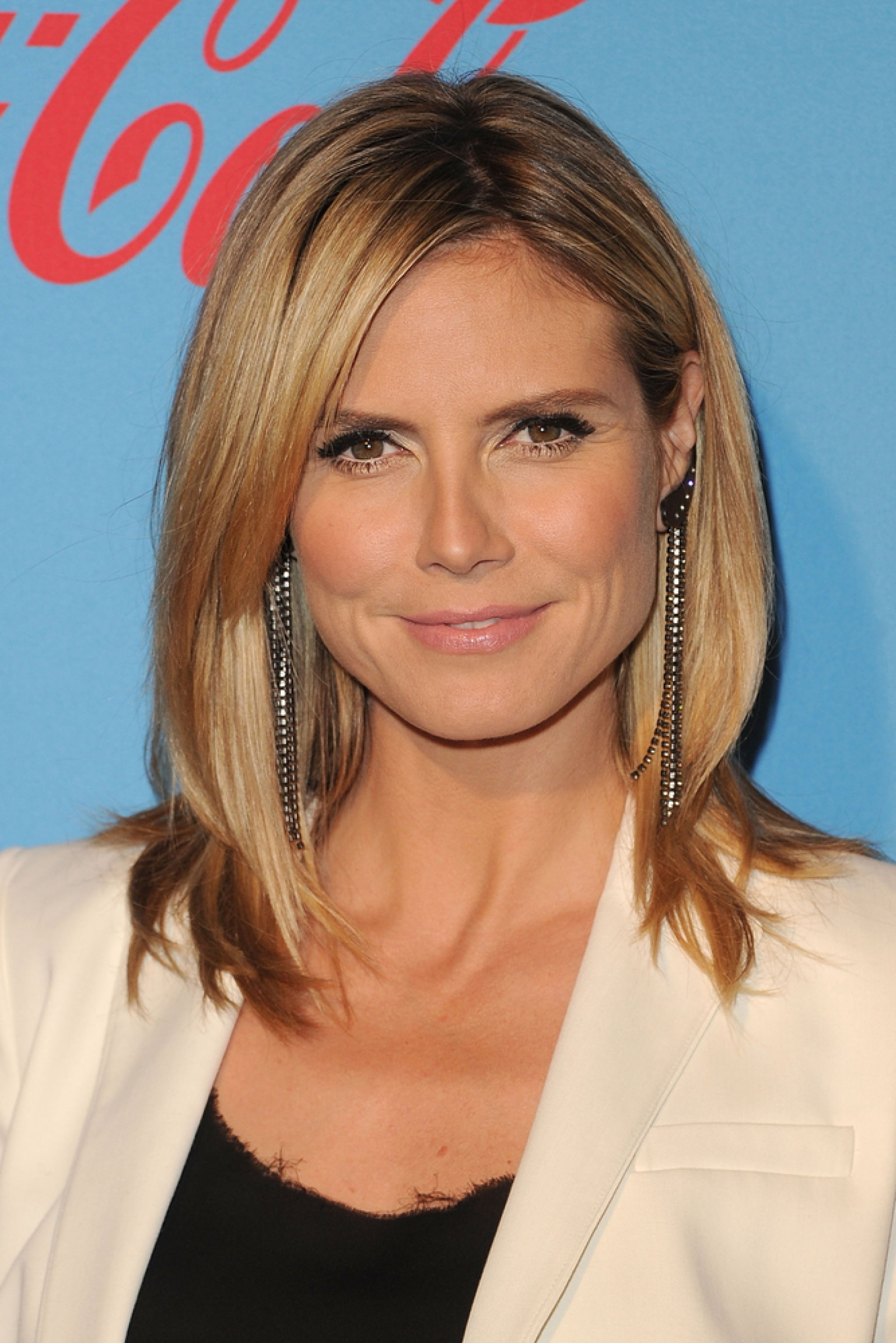 Supermodel Heidi Klum is the proud owner of what is possibly the "greenest" mobile home on the planet. Her office on wheels is the world's only 100% solar-powered RV, packed with countless other "green" modifications throughout the interior and exterior.
The designers of this eco-friendly coach took great care in conserving energy in every way possible when constructing Heidi's mobile workspace. All throughout the RV are energy-efficient LED bulbs, which draw less power and don't add heat to the coach; and high-grade eco-friendly fabric, covering the floor and upholstery. Located by the living space is a control panel, at which one staff member is tasked with ensuring that the RV runs exclusively off of solar power for as long as possible (in the event of an emergency, the coach can easily be switched to draw power from a generator).
With a floor plan that more closely resembles a luxury hotel room than a motor home, this coach includes a total of 320 square feet of living space, including a couch, a loveseat, and a 42-inch TV. Without a bunk area like most other buses, the main living space flows into a spacious kitchenette with a full-size refrigerator, a desk made completely out of recycled wood, and a small sink. The back room serves as a makeup area and dressing room, complete with an oversize mirror surrounded by eco-friendly lights, and a professional- grade hair-washing sink.
MARIAH CAREY
Just the front lounge and kitchen of Mariah Carey's mobile mansion cover 600 square feet— bigger than most New York studio apartments! The lounge includes a 15-foot custom couch, a 25-foot slide on one side, and a 30-foot slide on the other. Facing the oversized couch is a 65-inch TV, connected to a 5.1 studio-grade surround-sound system. In the back is a full kitchen with a full stove top, refrigerator, convection oven, and a kangen water machine— a $4000 water ionizer designed to purify tap water by removing alkaline minerals.
Right by the kitchen is Mariah's makeup station featuring a mirror surrounded by makeup lights, with a TV placed directly behind the surface of the mirror so that Mariah can watch her favorite shows while she's getting her hair and makeup done.
Fantastic, right? We would expect nothing less from a star of Mariah's status.
But guess what? The top of this bus expands to an entire second story.
That's right— this bus is two stories tall when parked.
The second floor of this skyscraper on wheels is connected to the first by a marble staircase. Upstairs, you'll find unique lighting with a color wheel, creating the perfect mobile dance club for Mariah and her entourage. Wrapping around the back of the dance floor is a 35-foot rounded couch that can seat up to 30 people, facing two more 60-inch TVs, one placed at either end of the bus.
All of the over-the-top amenities in this luxurious mobile tour home, which includes more than two tons of marble and stone, bring the cost to a staggering $1.8 million.
STEVE ELKINGTON
Pro golfer Steve Elkington takes the grand prize for the most insane mobile home modifications. His stunning mobile estate, which he's nicknamed "The Big Show," is an astounding 1,130 square feet, spread over two stories just like Mariah Carey's moving castle. Standing in Steve's over-the-top estate feels less like being in a bus and more like being in a cozy cottage— the coach is modeled after a golf clubhouse, meant to have that "19th-hole" vibe that all golfers love. Included in this wheeled mansion are a full washer and dryer, a full kitchen, a living room, a pro shop, a shoe rack, and a master suite, all on one massive mobile manor.
The kitchen features a full gas stove, an oven, and high-end appliances, with a restaurant-style booth for dining. The living room features a typical slide on the right side with the couch, adding even more square feet to the home. Just past the living room is Steve's own putting green and a pro shop, where guests can come in and browse some of his golf gear. Next to the shop is his personal shoe rack and a station for cleaning and polishing his collection of shoes.
Right by the stairs are the full washer and dryer, tucked away in their own closet for when it's time to take care of a few chores.
The roof lifts 35 feet to reveal a master suite, complete with a queen-size bed and a pop-up tv disguised as a cabinet at the foot of the bed. The TV screen can swivel to face the master bed or the two plush chairs that Steve and his wife often use to read or relax between games.
Finally, the home is completed with a luxurious master bathroom by the bed area.
From leather-upholstered living rooms to walk-in closets to upstairs dance clubs, we can't say that we aren't a little jealous of these luxurious buses. With living on these spectacular mobile mansions and simultaneously touring for months at a time year after year, it's clear that these celebrities know how to work hard and play hard.
If you're a musician looking to rent your own tour bus, check out "What is the Cost of a Tour Bus Rental?" on our blog and decide if you're ready to "go pro" with your own bus!
Hemphill Brothers photo gallery
GOGO Charters is a charter bus rental service that operates in over 200 cities across the United States. With access to a variety of bus rentals combined with superior customer service, we've got everything you need to schedule your next big trip. We can accommodate groups of all shapes and sizes, making us perfect for weddings, company events, sports teams, church trips, school events, vacations, and more. Have any transportation questions you need answered? Call us 24/7 at 1-855-826-6770. We're happy to help. 
Do you need to rent a charter bus?
Do you need a long-term shuttle service?
We offer contracted shuttle services for businesses, schools, hotels, and more. Contact our experts at 1-844-897-5201 to discuss your long-term transportation plans.