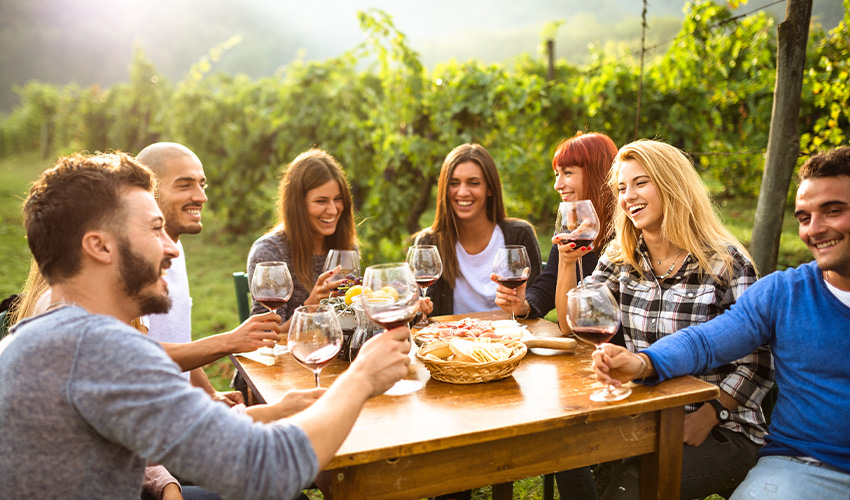 15 Best Corporate Retreat Locations in California
The golden coast of the United States, California, isn't just a state; it's an experience. With its sunny beaches, sprawling deserts, and tranquil forests, California offers a backdrop that's as diverse as the dreams of your corporate retreat.
We've scoured the state to bring you this list of the 15 best corporate retreats California has to offer. Each retreat is easily accessible via shuttle bus for seamless transportation from airports or team-building excursions.
Whether you're in search of a mountain adventure for some team bonding, a peaceful wellness escape by the ocean, or an environment that sparks innovation and creativity, California has it all.
1. Mission Bay Resort
Our Rating: 5 stars
Location: San Diego
Mission Bay Resort in San Diego is a retreat destination where business and pleasure harmoniously blend. Just 5 miles from the San Diego International Airport, its convenient location ensures a seamless transition for your team as soon as they touch down.
The resort provides a comfortable stay with over 350 rooms, diverse indoor meeting spaces, and five versatile outdoor venues for your corporate needs.
What truly sets this retreat destination apart is its in-house team of experts dedicated to crafting unforgettable team-building experiences. From engaging games and crafts to beachfront recreational activities like biking and sailing, Mission Bay Resort offers a comprehensive package to strengthen bonds and spark innovation among your team.
2. Smoke Tree Ranch
Our Rating: 5 stars
Location: Palm Springs
Located in the serene Palm Springs desert, you'll find Smoke Tree Ranch, a corporate retreat haven that promises both relaxation and productivity for your team. At the ranch, all-inclusive rates cover a private cottage, three daily gourmet meals, meeting spaces, and full access to on-site recreational facilities.
From basketball and tennis courts and a scenic golf course to hiking trails, horseback riding, and relaxing spa services, the list of activities seems endless. Smoke Tree Ranch even goes the extra mile by assisting in arranging cocktail receptions, special theme dinners, golf tee times, off-site excursions, and more to ensure your corporate retreat is a resounding success.
3. Hotel del Coronado
Our Rating: 5 stars
Location: San Diego
For an iconic and historically rich setting for your business retreat, Hotel del Coronado in San Diego is an exceptional choice. The hotel boasts over 30 meeting and event spaces designed to accommodate gatherings of all sizes and occasions, complemented by a wide selection of over 750 luxurious rooms available throughout the property.
Your on-site experience at this hotel is equally diverse, with options for relaxation by the pool or beach, shopping, bike rides, kayaking adventures, spa treatments, and a delectable array of dining experiences to satisfy your culinary cravings. Hotel del Coronado combines timeless charm with contemporary convenience, ensuring your retreat is both memorable and professionally productive.
4. Rancho Bernardo Inn
Our Rating: 4.5 stars
Location: San Diego
Nestled among the rolling hills of San Diego's North County on 265 acres, Rancho Bernardo Inn emerges as a great choice for your upcoming corporate retreat. This resort presents a variety of indoor and outdoor venues that can be customized to your needs, whether you're planning a team-building activity, a brainstorming workshop, or a social event.
Rancho Bernardo Inn offers a wealth of engaging experiences, from leisurely strolls along the resort's walking trails to exploring shopping and dining options. Golf enthusiasts can tee off on the 18-hole golf course, while those seeking relaxation can unwind by one of the three pools. For a unique team-building experience, don't miss a private wine barrel tasting event.
5. The Resort at Pelican Hill
Our Rating: 4.5 stars
Location: Newport Beach
Located along the Golden Coast across 500 sprawling acres, The Resort at Pelican Hill is an idyllic haven for a relaxing corporate retreat. This secluded gem offers top-tier accommodations, featuring 128 luxurious villas and 204 bungalow guest rooms and suites. There's also a wealth of world-class amenities, including a 5-star spa and a 36-hole golf course overlooking the Pacific Ocean.
In terms of the corporate experience, the resort provides 24 meeting rooms, along with event lawns and terraces that showcase panoramic ocean views. This pristine backdrop ensures a conducive environment for both productive meetings and social events, making The Resort at Pelican Hill an excellent choice for your retreat.
6. Calamigos Ranch
Our Rating: 4.5 stars
Location: Malibu
For a corporate retreat focused on well-deserved rejuvenation, look no further than Calamigos Ranch. This peaceful haven offers a serene backdrop where your team can unwind with experiences like massages, yoga classes, and a variety of outdoor recreational activities, all while enjoying the comforts of luxurious accommodations.
Calamigos Ranch provides customizable indoor and outdoor spaces—perfect for corporate parties, picnics, and conferences and summits. The ranch also offers an exceptional farm-to-table dining experience, expertly curated by an on-site executive chef. Your team's pursuit of relaxation and productivity finds its ideal destination at Calamigos Ranch, where professionalism meets tranquility.
7. Cavallo Point
Our Rating: 4.5 stars
Location: Sausalito
Cavallo Point is a picturesque lodge located at the foot of the Golden Gate Bridge. The lodge's event venues provide over 25,000 square feet of adaptable meeting space to work, celebrate, and play. The lodge also offers exceptional team-building and group activities, customized menus, and private dining rooms, combined with cutting-edge technology and professional service.
There is an array of on-site amenities available, including the Healing Arts Center & Spa, Cavallo Point Cooking School, daily yoga, guided walks, and much more. For fun team-building day trips, take a shuttle across the bridge to San Francisco or wine country only one hour north.
8. Carneros Resort and Spa
Our Rating: 4.5 stars
Location: Napa Valley
Set amid rolling vineyards and serene countryside, Carneros Resort and Spa provides a corporate retreat setting that captures the essence of a relaxed and lavish Napa experience.
The resort has a range of cottages and homes for your team's lodging, as well as nine event venues suitable for meetings, conferences, receptions, and more. With a strong focus on attentive service, top-tier dining, and an extensive wine selection, Carneros Resort and Spa ensures a full retreat experience.
Carneros Resort and Spa also offers group activities designed to foster team bonding, like a wine-blending experience, where you can craft your very own Napa Valley wine, and the Core to Cork Wellness Class, a unique fusion of wine tasting with fitness activities like Pilates or cardio.
9. Fairmont Miramar Hotel & Bungalows
Our Rating: 4.5 stars
Location: Santa Monica
Situated right on the beach, the Fairmont Miramar Hotel & Bungalows in Santa Monica immerses you in a true Southern California experience. The hotel boasts 297 refined accommodations, including private bungalows perfect for smaller teams.
For larger corporate retreats, the hotel houses the city's largest ballroom for meetings and events, accompanied by 64,000 square feet of both indoor and outdoor space, suitable for a diverse range of gatherings.
The Fairmont Miramar Hotel also offers many on-site activities for your team's enjoyment, including access to pool and beach amenities, shopping, and exclusive private dining experiences.
10. The Langham
Our Rating: 4.5 stars
Location: Los Angeles
The Langham Huntington, Pasadena, Los Angeles is a luxurious 4-star hotel that's perfect for treating your team to an upscale corporate retreat. The hotel offers a variety of refined rooms and suites to accommodate your team and top-tier amenities including wet and dry spa facilities, bike rentals, tennis courts, and a pool.
The Langham also has over 50,000 square feet of indoor and outdoor event and meeting spaces that can accommodate large meetings and breakout sessions for team-building activities.
11. Greenhorn Ranch
Our Rating: 4 stars
Location: Quincy
Greenhorn Ranch, nestled in the Northern Sierra, offers the ideal setting for a distinctive corporate retreat or workshop, boasting natural beauty and a diverse range of activities. Conveniently located within driving distance from the San Francisco Bay Area, Sacramento, and Reno, Nevada, the ranch offers a perfect blend of seclusion and accessibility.
Accommodation options include the lodge and cabins, with the ranch's corporate events manager overseeing the coordination of AV equipment, lodging, dining, and a host of experiences such as horseback riding, fishing, electric bike tours, golf, and more.
Indoor spaces at the ranch can host gatherings ranging from two to 120 people, while outdoor venues can accommodate up to 250 guests. With everything necessary for a successful team event readily available at the ranch, you're all set for an unforgettable experience.
12. Four Seasons Resort The Biltmore Santa Barbara
Our Rating: 4 stars
Location: Santa Barbara
The Four Seasons Resort The Biltmore Santa Barbara is set on 22 acres of land overlooking the ocean—the perfect escape for a wellness corporate retreat. The resort has a total of 206 accommodations, including private bungalows, villas, suites, and guest rooms, conveniently located near the resort's amenities.
Your team will have plenty of activities to choose from, including croquet, paddleboarding, fitness classes, and more. The resort also provides a generous 15,000 square feet of event space, encompassing private dining rooms, oceanfront banquets, classrooms for breakout sessions, and more, ensuring a versatile and accommodating environment for your retreat.
13. Kimpton Shorebreak Resort
Our Rating: 4 stars
Location: Huntington Beach
If you're seeking a corporate retreat with a Southern California beach vibe, Kimpton Shorebreak Resort in Orange County is an excellent choice. The resort provides a range of meeting and event spaces equipped with full AV capabilities, accommodating up to 200 attendees.
Ensuring a perfect blend of productivity and leisure, the resort offers various amenities, including beach access, recreational activities, weekly yoga sessions, in-room spa services, and more. Your team can savor the delicious food, drinks, and live music at the Pacific Hideaway restaurant located on-site or opt for a private dining experience.
14. Hotel Yountville Resort and Spa
Our Rating: 4 stars
Location: Napa Valley
Hotel Yountville Resort and Spa in Napa Valley is a unique corporate retreat location that'll give your team the full wine country experience. The resort boasts 4,400 square feet of meeting space capable of accommodating up to 80 guests, complemented by a dedicated staff to assist in planning and executing your meetings and events.
The resort's prime location grants your team access to exclusive on-site amenities and a wealth of nearby activities to enjoy after meetings. You'll be surrounded by over 350 wineries for wine tastings, have the opportunity to explore the downtown area on complimentary bikes, or even witness the morning hot air balloon flights.
15. The Polo Villas by Avantstay
Our Rating: 4 stars
Location: La Quinta
The Polo Villas by Avantstay offers a complete package of vacation homes with top-notch concierge services. Your team will reside in fully equipped homes that provide all the essentials for productive meetings, such as Wi-Fi and smart TVs. Accommodation options include townhomes, villas, or even the possibility of reserving the entire hotel.
Avantstay's team also assigns you a dedicated specialist who will collaborate with you to create customized itineraries. They can coordinate group activities, including cocktail-making classes, private chef-prepared dinners, and a variety of other options.
10 Tips for Planning Your Next Corporate Retreat
Planning a successful corporate retreat requires careful consideration and attention to detail. Here are some tips to help you in the planning process:
Define goals: Clearly outline the goals of the retreat, whether it's for team-building, strategy development, employee wellness, or something else.
Budget wisely: Establish a budget by considering all costs, including accommodation, transportation, activities, meals, and any additional services.
Plan well in advance: Start planning several months ahead to ensure availability and get a confirmed head count before the retreat.
Consider timing: Avoid scheduling during busy work periods or holidays.
Choose the right location: Select a location that aligns with your objectives and offers the right facilities and atmosphere. Consider accessibility, accommodation, and available activities available.
Secure transportation: Make sure you have reliable transportation to get your team to the destination and off-site excursions.
Create an itinerary: Create a detailed itinerary that includes meetings, activities, and downtime. Allow for flexibility, but ensure that the schedule meets your objectives.
Plan team-building activities: Include team-building exercises that are relevant to your goals.
Incorporate fun and relaxation: While the retreat is focused on work, it's important to include opportunities for relaxation and enjoyment. Consider recreational activities, entertainment, or wellness sessions.
Conduct a post-retreat evaluation: Assess the retreat's success by evaluating how well it met your objectives and soliciting participant feedback. Use this information to improve future retreats.
Secure Reliable Retreat Transportation With GOGO Charters
With these 15 best corporate retreats in California guaranteeing a comfortable, productive event, you can rely on GOGO Charters to handle your transportation needs for seamless transfers and team-building excursions.
Our diverse fleet comprises minibus and charter bus rentals, accommodating groups of all sizes. Contact us at 202-741-9808 to discover how GOGO Charters can tailor transportation solutions to suit your corporate retreat needs.
Methodology
This study was conducted in October 2023. To find the best corporate retreat locations, we analyzed 45 of California's most popular hotels and retreats and ranked them based on the following criteria:
Location and accessibility: 30 points
Facility amenities: 30 points
On-site recreational activities: 20 points
Third-party reviews: 10 points
Average annual weather conditions: 10 points
Each retreat was then given a score based on these factors and assigned an overall rating. The retreats with the highest scores were deemed the best corporate retreats in California.
Our data was sourced from Google Maps, Tripadvisor, Yelp, and Time and Date.
Do you need to rent a charter bus?
Do you need a long-term shuttle service?
We offer contracted shuttle services for businesses, schools, hotels, and more. Contact our experts at 1-844-897-5201 to discuss your long-term transportation plans.