Can You Drink Alcohol on a Charter Bus?
From the bachelor party and wine tour to the wedding reception and New Year Eve's bar hop, there's one important question that all seem to think of: can you drink on a minibus or charter bus?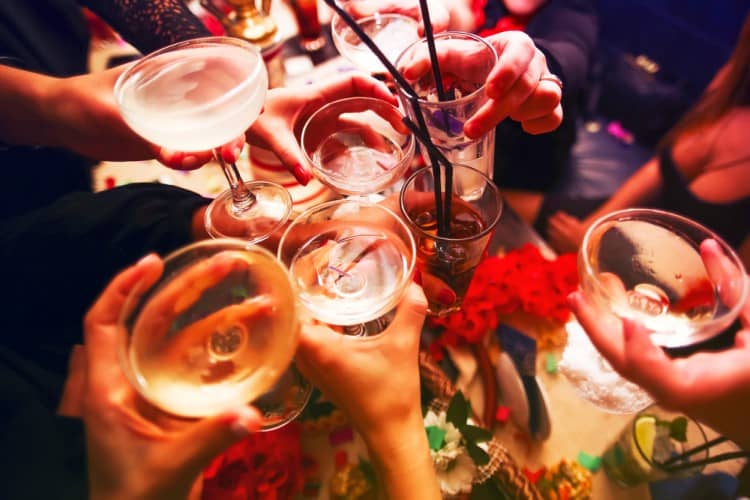 If you live in Canada or the UK, the answer is disappointing: No.
For the US, the answer is straightforward: Yes.
While federal law TEA-21 prohibits open containers in any motor vehicle, there is no federal law regarding passengers drinking on minibuses, charter buses, or other vehicles that transport people for compensation. This includes all alcoholic beverages: beer, wine, and spirits that contain one-half of one percent or more of alcohol by volume.
However, there may be local laws that prohibit you from legally drinking on a charter bus. When booking your bus, be sure to ask your reservation specialist about the local drinking laws for each stop on your itinerary.
Do Charter Bus Companies Allow Alcohol On-Board?
It depends. Around 80% of bus operators allow alcohol on board, but will often require a deposit or cleaning fee for any potential messes made. It's best to stick to canned drinks and plastic cups, as most providers prohibit kegs or glass bottles in order to keep the coach clean and safe.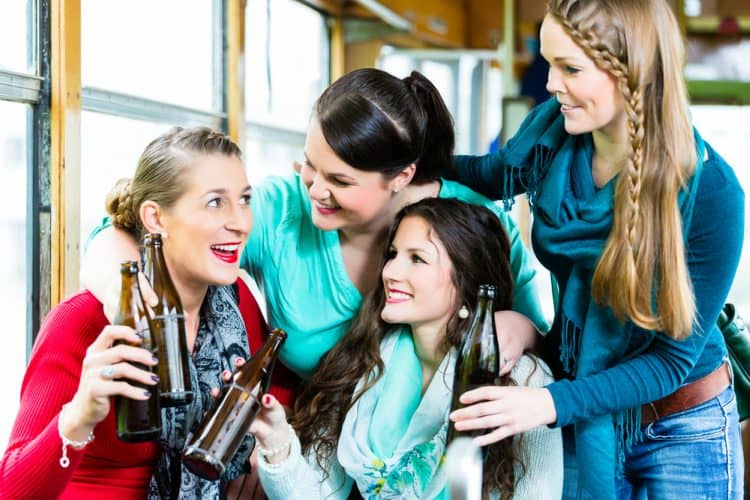 If you have underage passengers on board, you may be expected to bring chaperones to ensure underage drinking doesn't occur. If you live in the state of California, you are required to designate a chaperone over the age of 25 for all underage passengers due to bill AB 45, which requires companies that operate party buses to take control of underage drinking. If you are a designated chaperone, your duties include:
Signing a form that specifies your responsibilities
Checking the identification of all passengers to determine if any are under 21
Reading a statement that alcohol is prohibited for any person under 21
Notifying the driver if a minor consumes alcohol at any time during the ride.
As long as your bus provider allows it and you keep the bus clean, safe, and legal for underage passengers, bringing alcohol on-board should be no problem. Always ensure your bus allows it with your reservation specialist, and thoroughly review the details in your contract.
Booking with a professional company like GOGO Charters makes travel planning simple. When you call us at 1-855-826-6770, our dedicated reservation specialists will pair you with a bus that allows alcohol consumption on-board and is equipped with premium amenities like WiFi, speakers, TVs, and more for the best experience possible.
From 18-passenger minibuses to full-sized 56-passenger coaches, we have access to a variety of buses for every kind of celebration.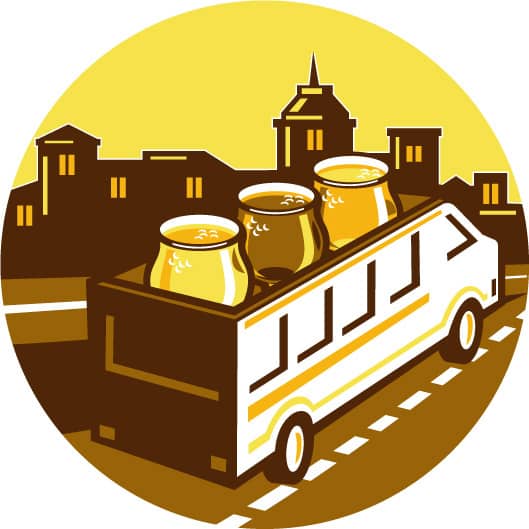 Tips For Drinking On a Bus
Now that you're sure of what's allowed and what's prohibited, be sure to keep these tips in mind to make sure your trip is safe and efficient for both you and your driver:
Rent a bus from a reputable, trustworthy company. When you choose to work with GOGO Charters, you can rest assured your bus rental will be up to standards as we only work with licensed and certified professional bus providers.
Double check with your reservation specialist and thoroughly review your contract to ensure your bus permits alcohol. Ask your reservation specialist to alert your driver that you will be bringing alcohol onboard.
Be respectful of your driver, and keep noise and other distractions to a minimum to ensure your trip is safe. Your driver has a right to stop the bus if your group causes too much disruption.
Refrain from any rowdy behavior that may damage the bus, your fellow passengers, and your driver.
Clean up after yourself out of common courtesy and to ensure that you get back your deposit.
Be prepared to show proof of legal drinking with a valid ID, like a driver's license.
Serve and drink alcoholic beverages responsibly.
Stay hydrated. Drink plenty of water to ensure you have a safe and fun night.
Ask your reservation specialist if coolers are allowed onboard to store drinks and snacks. They could easily fit underneath the seats or in the overhead bins for easy accessibility.
Just like other public places, refrain from bringing glass bottles or kegs onboard and stick with cans and plastic cups for safety and an easier clean up incase of any mishaps.
Provide chaperones if there are any underage passengers. The driver reserves the right to stop the bus and terminate the trip if underage drinking occurs.
While you can drink, please refrain from smoking and bringing illegal substances or weapons on-board.
Ensure to collect all your belongings and not leave anything behind. It's easy to lose track of your things during a night of drinking, but your bus is not responsible for the loss of your personal belongings.
Follow all safety rules required while onboard for a safe and efficient trip.
As long as you follow these guidelines and know which kind of bus best fits your group, you're ready to party.
If you're unsure how much a charter bus costs, read our complete guide on bus rental costs to get started, or call us at 1-855-826-6770. Our 24/7 reservation specialists are more than happy to help you match your budget and get your trip planned!
Do you need to rent a charter bus?
Do you need a long-term shuttle service?
We offer contracted shuttle services for businesses, schools, hotels, and more. Contact our experts at 1-844-897-5201 to discuss your long-term transportation plans.