The Complete Guide to Campus Group Tours in New York City
Since New York City is home to some of the nation's top colleges, it's no wonder students have such a difficult time choosing their new home. Campus tours are an important stage in exploring which school will be the right fit for them.
Luckily, private buses are the easiest and most reliable way to transport groups of students for campus tours. GOGO Charters reached out to NYC's top schools to help make your campus tour planning easy:
Columbia University
Are your students' hearts set on an Ivy League track? One of the world's most prestigious schools, Columbia University is the oldest private research university in the state of New York.
Columbia University offers information sessions, campus tours, and class visits for prospective students. If you're planning on visiting the campus, reservations are required for both information sessions and campus tours, including groups of more than 10.
The main campus is located in Upper Manhattan, on 116th Street between Amsterdam Avenue and Broadway. While buses aren't allowed on campus, your group can access the school's entrance on either Amsterdam Avenue & 116th Street, or Broadway & 116th Street. Make your way to the Visitors Center, located in Room 213 of Low Memorial Library, where your tour will begin. Columbia provides a campus map tourists can refer to during their visit.
Columbia University does not have a university-run parking garage, but there may be street parking and local parking garages available nearby. When you rent a private charter bus with a company like GOGO Charters, your driver will handle parking while you explore.
Barnard College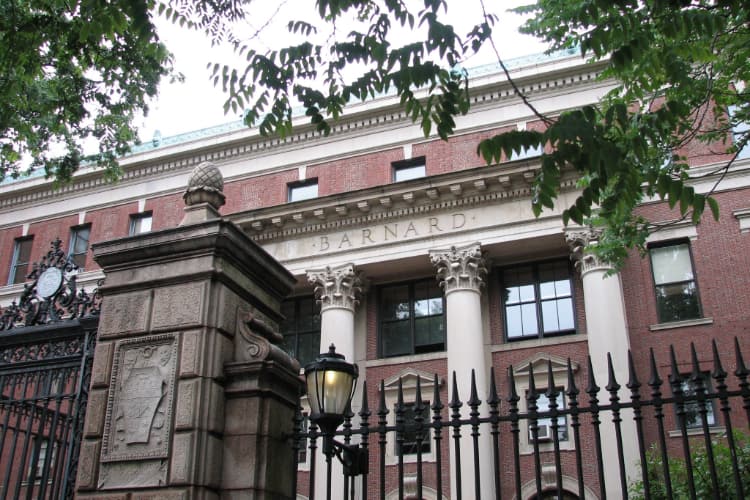 If you have young women interested in studying liberal arts and sciences, take them to visit Barnard College, the only women's college in NYC. Founded in 1889 in response to Columbia's refusal to admit women, the college is monumental to the history of women's rights. Barnard, now affiliated with Columbia University, is located in the cosmopolitan setting of the Upper West Side of Manhattan.
Explore Barnard's beautiful campus by scheduling a tour. Tours are offered weekdays year round for students from 9th-12th grade, but be sure to check the schedule for availability. For large groups, you will need to fill out the Group Tour Request Form three weeks prior to your intended visit. Tours begin at the Visitor Center in Sulzberger Annex.
Barnard's campus cannot accommodate minibuses or charter buses, nor is designated parking available, but your bus can drop off and pick up students in front of Barnard's gates between 116th and 120th Street. Your driver will worry about finding parking off campus during your tour.
The Juilliard School
Do you have any upcoming musicians, actors, or dancers in your group? Take your creative students to tour one of the world's leading music and dance schools. The Juilliard School offers tours year-round, scheduled around tour guide availability. Check their schedule to ensure your desired date is available. Please note that tours can only accommodate up to three students. We advise you to contact the school for bigger groups.
The Juilliard School is located at 60 Lincoln Center Plaza in Lincoln Center. Parking in Manhattan can be tricky, as all vehicles are responsible for their own parking, but there are multiple parking garages in the area. You and your students can have your bus drop you off near the front of the entrance on 65th Street. While you participate in your hour-long tour, your driver will find a place to park and wait until it's time for pick-up.
For smaller groups navigating cities with limited space, an 18-passenger minibus is the best choice.
New York University
Do your students want to study in the heart of New York City? Take them to one of the city's biggest schools, New York University. Students interested in pursuing drama or film in an urban setting would fit right into NYU's renowned Tisch School of the Arts. The university is also known for its programs in social sciences, business, management, marketing, and more.
Group tours must be scheduled three weeks in advance for groups of 15 or more high school students. Since 50 West 4th Street can be very busy, depending on the intensity of traffic, buses may be able to drop students off right in front of the welcome center. Group tours start at the Jeffrey S. Gould Welcome Center at 50 West 4th Street. NYU's interactive map is the perfect resource for finding your way around their vast campus.
However, if you're concerned with stopping traffic, your bus can drop you off nearby at LaGuardia Plaza or at the Skirball Center for the Performing Arts, only a block away. Your local driver can park the bus while they wait for your tour to finish.
Pace University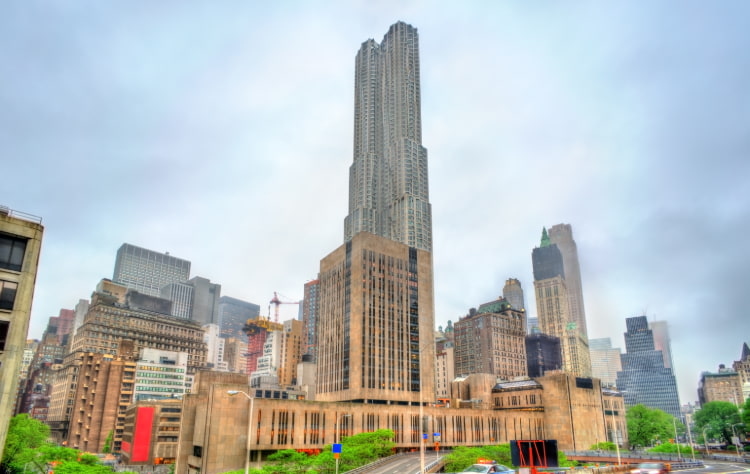 Students interested in pursuing a business, management, marketing, or journalism degree should add Pace University to their list of choices. Pace University has two main campuses, one located in Manhattan's Financial District and the other in Pleasantville, NY.
Groups of up to 30 are required to request a group tour at least one month in advance. Due to the high demand for campus tours, Pace University recommends that only groups of 11th and 12th graders apply for group tours.
Due to the tricky parking in Manhattan, there is no designated area to park a bus around Pace University's New York City campus. However, buses can drop groups off on Gold Street behind 1 Pace Plaza and wait under the FDR by the Seaport. Your driver can pick you up at the same location after you have finished your two-hour tour.
Planning Your Campus Tour
Your students' future depends on their school choice. Make sure they pick the perfect match by taking them to tour all of their top colleges. While you're discovering each campus, we'll take care of all the transportation logistics for an easy and stress-free trip.
Not sure where to start? Read our complete guide to charter buses and guide on minibus prices, and give us a call at 1-855-826-6770 to book your campus tour bus!
Tags In
Do you need to rent a charter bus?
Do you need a long-term shuttle service?
We offer contracted shuttle services for businesses, schools, hotels, and more. Contact our experts at 1-844-897-5201 to discuss your long-term transportation plans.