The Ultimate Guide to Long Charter Bus Rides
The idea of long road trips may be exhilarating for some travelers yet daunting to others. This can especially be the case when organizing a large group trip, which includes many moving parts and a good bit of planning.
From finding the perfect type of rental bus to making sure everyone is entertained and comfortable, there's plenty to think about before hitting the road. What is there to do for hours upon hours? What should be brought on the trip?
Don't worry! We've put together a survival guide for inexperienced and veteran bus riders alike.
Quick Navigation
Start with the Essentials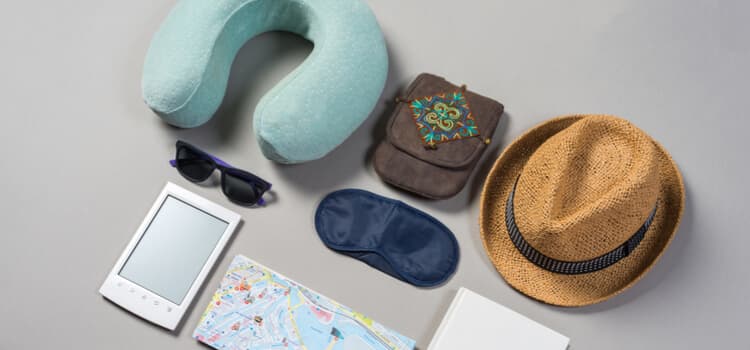 Whether you're traveling for a school trip, business trip, sports event, or just for personal leisure, everyone can benefit from packing a handful of travel essentials for a long bus ride. Depending on the bus you choose, luggage storage will be available in-cabin or underneath the bus. It's always a good idea to err on the side of caution and pack a carry-on bag, either a relatively small backpack or purse, full of essentials you may need during the bus ride.
We recommend packing:
1. A Pillow and Blanket
Catching up on some sleep is always a good idea during a long trip, especially for early morning or late night departures. A small blanket and a travel-sized neck pillow are good options for tired travelers. The interior of bus cabins can also get quite cold, depending on the bus, so these are also good for travelers looking to stay cozy.
2. Snacks!
Some long-distance trips do include planned stops along the way, but having your own rations allows you more food choices past the standard highway fare. Food items like granola bars, pretzels, trail mix, and fresh or dried fruit, are healthy options to hold you over for parts of the ride. Be sure to snag water or your favorite refreshing drink to bring on board as well. Staying hydrated is important but don't overdo it too much, as rest stops may be limited.
3. Electronics
Most of the charter buses and minibuses we charter include WiFi and power outlets for travelers who want to surf the web for pleasure or catch up on work. If you decide to bring a laptop, tablet or use your cell phone on your trip, be sure to bring headphones and power cords on board as well.
4. Reading and Writing Material
For travelers who prefer hard copy material versus digital format, bringing a book or notepad can be useful if traveling motivates you to write, read, or draw.
5. Toiletries
Tissues, hand sanitizer, napkins, feminine hygiene products, toilet paper, and necessary medications are just a few items that people may overlook when packing. Keep in mind, most bus bathrooms are relatively small and limited, especially on long or delayed trips. Bringing along these items will make the hassle of using the bathroom on the road that much easier.
For those who are prone to headaches or dreaded full-blown motion sickness, be proactive and pack ibuprofen or Dramamine, or explore some holistic options before hitting the highway.
Stay Comfortable
Comfort is one of the most important parts of traveling long distances. The buses we charter have ample legroom, modern climate-controlled interiors, and cushioned, reclining seats, but dressing appropriately for travel adds to an overall more comfortable trip.
Relatively loose clothing is always a safe bet, while stretchy shorts, leggings or athletic wear are suitable options as well.  If bringing a blanket on board isn't an option, bringing a light jacket is a good alternative. Travelers that are going to a business or sports event may want to pack business attire and uniforms in a overhead luggage, rather than wearing them on the trip.
Get Some Rest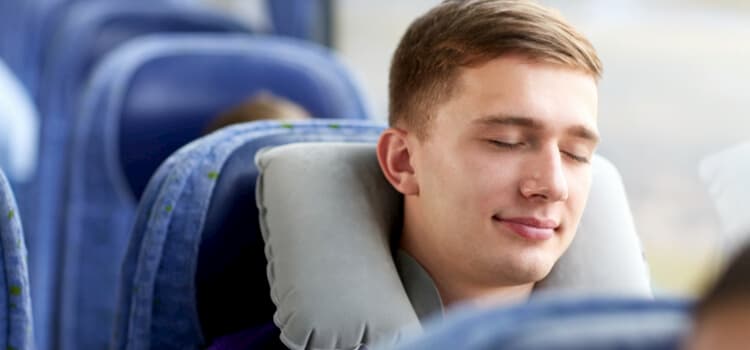 Dressing comfortably is one of many factors that influences getting good rest during a lengthy trip. Choosing the proper seat and bringing along sleep aids are also important when you're looking to get some shut-eye on the road. Reclining seats on charter buses are comfortable and convenient but you may need to take an extra step to ensure a peaceful nap. Selecting a window seat will allow for more built-in comfort for travelers looking to snooze along the way.
Silicone or foam earplugs are a valuable travel addition to sleeping on a charter bus. Headphones or earbuds can be used as well to drown out any pesky noise on the bus. Noise-canceling headphones like the Bose QuietComfort series and Bose sleepbuds were designed for effortlessly tuning out unwanted background noise.
These headphones can be pricey but are renowned for their superb features. Sony and Audio Technica offer budget-friendly options for travelers searching for quality headphones that won't break the bank.
Be sure to bring along a travel pillow that suits your sleeping needs the best. U-shaped pillows and wrap around travel pillows provide overall neck and head support while chin-supporting pillows are perfect for travelers who struggle to get comfortable. For those who prefer a traditional rectangular pillow, compressible and inflatable options are available.
Enjoy the Journey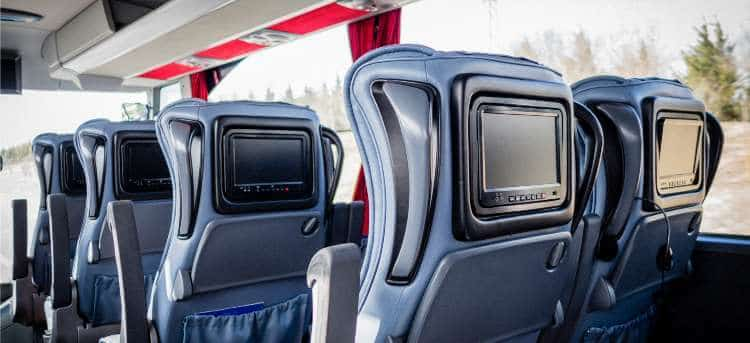 There are plenty of group and individual activities that can be done to pass the time on a long trip. The beauty of renting a private charter bus is having the freedom to stretch out and relax during the ride or take the time to have fun with your group. Getting there should be half the fun!
Traditional road trip games like "I Spy" may seem a bit dated to some travelers. We've found a few updated versions of road trip games that are perfect for groups. We've compiled lists of road trips games to entertain groups of various sizes.
A few offbeat favorites that you should try include:
 1. Explain a Film Plot Badly (Thrillist)
This game became a viral trend on social media and translates well into a game. Each person in the group takes a turn explaining a well-known movie plot in a vague or obscure manner, then the rest of the group must guess the film title. It's best to not give away too much detail about the film and there also shouldn't be any lies given about the plot.
 2. Did You Hear That…? (Buzzfeed)
The intention of this game is to fool your opponents and test their knowledge of current events. You can make up fictitious current events or use a few ridiculous-but-true news stories to trick your opponents. Try teaming up in smaller groups of four or five to come up with some wild stories for your opponents.
 3. Six Degrees of Separation (The News Wheel)
Six Degrees can get complex and is ideal for a group of film or television fanatics. The first player must name two different actors and the remaining players must figure out how these two actors are connected. These two actors should not directly have starred in the same movie but should be connected through their shared screen time with other actors. This could definitely take some group work and collaboration to figure out the connections.
 4. The Alphabet Categories (Buzzfeed)
This is a pretty simple one that is great for kids and adults alike. The game starts with someone picking a category, you can choose whoever is the oldest or youngest to make the first category choice. Once the category is chosen everyone on the bus must name an object or person in that category in alphabetical order. Good luck getting through your whole group without one fumble!
 5. Heads Up!
Heads Up! and HedBandz are similar games that can be played with a digital application or with a physical card game. If you don't want to spend money on purchasing either version, your group can DIY it! Bring along sticky notes to make your own version of the game. Each player will write something on the sticky note and place it on their seat neighbor's forehead. This can be a person, household object, food, animal, or anything really. The player must then figure out what the sticky note on their forehead says by asking questions to the rest of the group. The group can only answer "yes" or "no" to these questions.
Among other entertainment options, most charter buses come with television monitors which can be used for ambitious gamers during a long trip. Bringing a laptop and HDMI cable on board can transform the bus ride into a gaming competition. Jackbox Games is one of many companies that offers quiz-based party games that are made for group entertainment. This does require more of a setup than traditional road trip games, but it's an excellent way to pass time and enjoy the company of your group.
If your group isn't in the mood for games or interactive activities, bringing DVDs along for the trip are an easy means of entertainment. Your group can take a pre-trip poll about what movies they'd like to see on the trip. Including new releases as options when asking provides a better opportunity for travelers to see a movie they've had on their mind. DVDs can be rented through services like Redbox and can conveniently be returned at any RedBox kiosk, regardless of your travel location.
If group activities aren't your thing, find a few podcasts or discover new music playlists to pass the time, such as:
 Be Courteous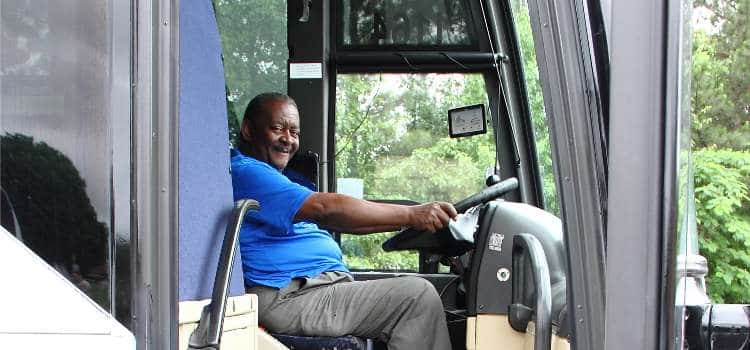 Being a considerate passenger makes the trip more comfortable for fellow travelers and creates a better travel environment.
Be sure to:
 1. Minimize noise
If you are planning to listen to music or use your electronic devices for movies or games, please be sure to bring headphones. Listening to audio out loud may disturb other passengers looking to rest or enjoy quiet time. If you have to take a phone call, try to make it relatively short or speak quietly during the conversation.
 2. Be on time
Timeliness is always important, but this is especially so when traveling with a group. If your arrival to the charter pickup is delayed, call ahead to one of the trip organizers to relay an updated estimated time of arrival. Whenever the bus stops for rest stops, please also adhere to the time limits that will be spent at each stop. This will keep the travel timeline on track and keep fellow travelers from becoming frustrated.
 3. Relax, but not too much
While getting comfortable on the bus, be aware of other passengers' comfort as well. Be aware and considerate of personal space and keep your hands and feet off of the seat in front of you. Kicking or pushing on the back of a seat will only cause tension (and unhappy fellow travelers).
4. Clean up after yourself
If you'll be eating on the bus, make sure your trash makes it into a trash bag and off the bus at rest stops. Leaving trash on the bus, especially food, will cause unwanted smells that aren't desired in an enclosed space. If you spill sticky foods or liquids, clean them up before the end of your bus trip to avoid paying a cleaning fee.
Mentally Prepare
A frequently overlooked part of long-distance bus travel is mental preparation. This includes estimating your travel time and setting expectations accordingly. If your group is traveling cross country, you're in for a multi-hour trip by default. Traveling to and from major cities will also include some additional traffic. For example, if you're traveling between Boston and Washington D.C., expect to spend at least eight hours on your bus. So be sure to pack some patience and enjoy the ride.
Following these few tips can help ease the stress associated with long-distance group travel. GOGO Charters is here to assist you in all of your group's travel needs, regardless of the distance. We've created separate guides to answer any general questions about charter rentals and the costs associated with rentals.
If you still have further questions or want to get your free charter bus quote started, give us a call at 1-855-826-6770 to chat with one of our experienced reservation representatives!
Do you need to rent a charter bus?
Do you need a long-term shuttle service?
We offer contracted shuttle services for businesses, schools, hotels, and more. Contact our experts at 1-844-897-5201 to discuss your long-term transportation plans.