How to Become a Charter Bus Driver
So you're interested in a career as a charter bus driver but you're not really sure how to get the process started. The good news is it's not as difficult as you may think.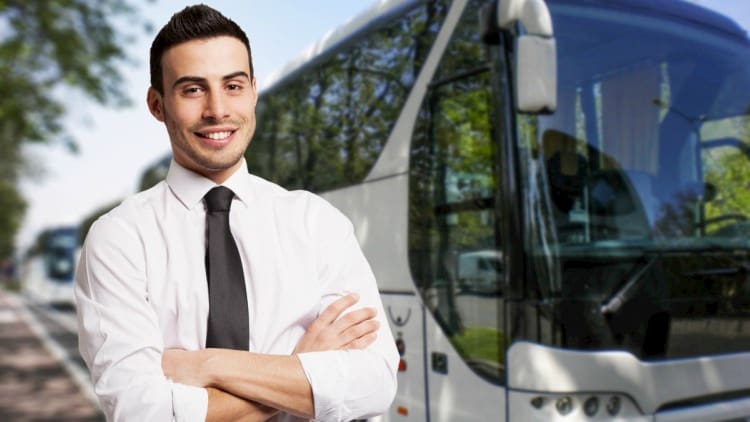 GOGO Charters works with a number of talented, successful bus drivers that have become leaders in their industry. Our bus reservation platform services over 200 cities, and in these locations we've managed to build a rapport with some of the best drivers in the country. After speaking with them and doing some research, we've figured out exactly what it takes to become a charter bus driver.
Pursuing a career as a bus driver can be a rewarding experience. On average, drivers earn the opportunity to regularly meet new people and travel extensively. If you love to drive, love interacting with people, and have a passion for traveling, a career as a bus driver may be perfect for you.
Ready to get started? Follow these steps and you'll be on your way:
1. Research the Minimum Requirements
Typically, a bus driver must meet a set of requirements to be qualified for a bus company's position. Requirements often vary by the hiring company, but there are a few standard rules: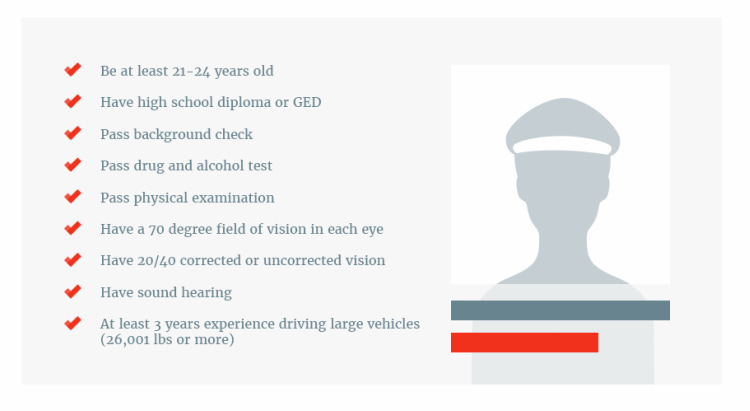 Be at least 21-24 years old
Have high school diploma or GED
Pass background check
Pass drug and alcohol test
Pass physical examination
Have a 70 degree field of vision in each eye
Have 20/40 corrected or uncorrected vision
Have sound hearing
At least 3 years experience driving large vehicles (26,001 lbs or more)
If you aren't sure about requirements, either contact the company you're interested in driving for, or check your local job listings.
PRO TIP: If you have a suspended license or history of major traffic violations, you may not be eligible for a Commercial Drivers License (CDL). It's important to maintain a clean driving record before seeking employment as a driver.
2. Take a Training Course/Attend Driving School
Once you know the specific requirements of the company you're interested in, look for a training program in your area. Typically, aspiring drivers get their CDL permit before their license, then spend six months driving alongside a CDL licensed driver prior to testing for their own license.
Finding a program near you isn't as difficult as you may think. While you may be interested in becoming a charter bus driver, most of the CDL training programs available are geared toward truck drivers. Don't be afraid to apply to truck driving schools for training, as they will give you the same experience you need to earn a CDL license.
Schneider is a transportation and logistics company that finds CDL driving schools in your area. To find a school near you, follow this link, enter your state, and click "Search Schools". A list of results will populate.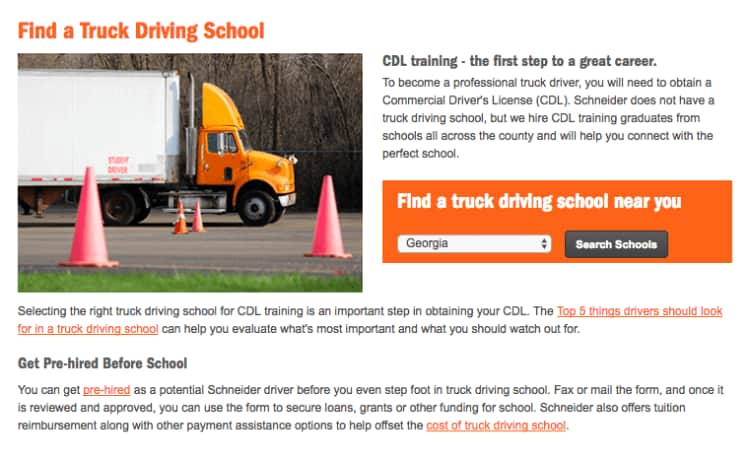 Click "More Info" for the results in your area, or click the circles on the corresponding map that are nearest to you.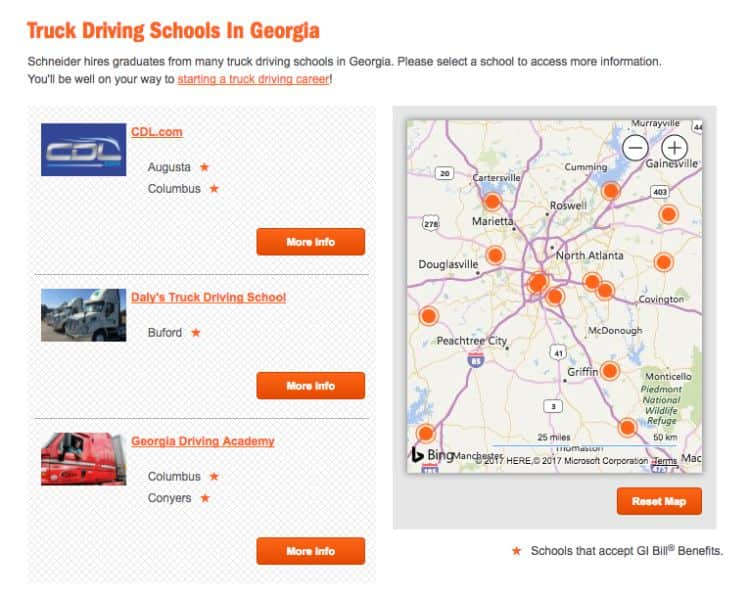 Lots of technical colleges across the United States offer CDL training as well. If you're interested in learning more about what the colleges in your area offer, check out Career One Stop.
To find schools, under 'Search by Occupation, School, or Program' enter the job code '53-3022.00'. Under 'Location', enter your state of residence. Results will then populate, listing a number of schools in your area offering CDL training on their campus.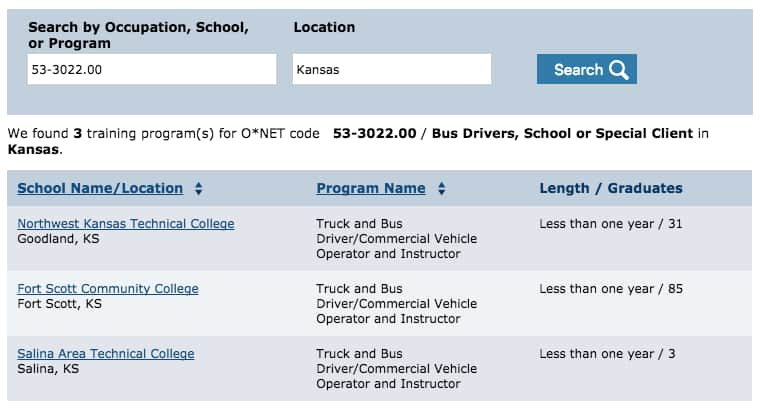 If you're looking for independent CDL training schools around you, a simple Google search can work wonders as well. To find a few, open your internet explorer and type "[your state] CDL training". Scroll down to the results appearing on the map, then click on "More Places". Run through the list that appears and choose a few that catch your interest.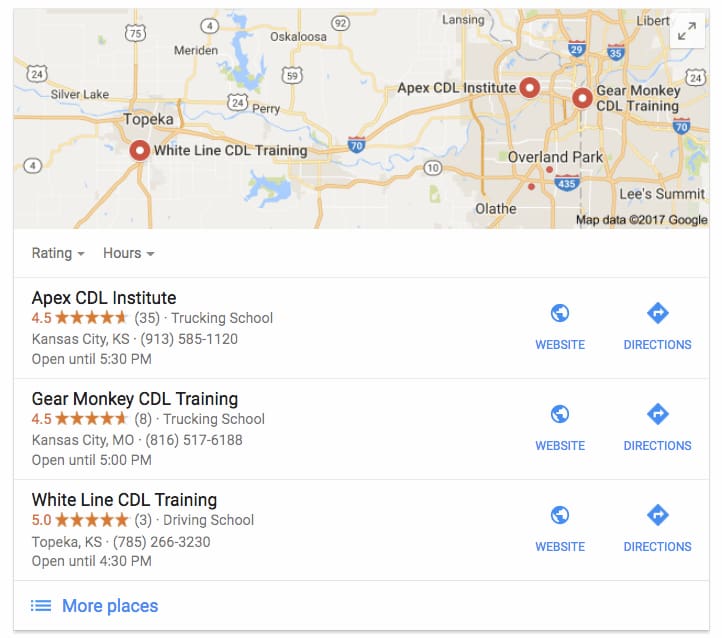 PRO TIP:  rivers that can't necessarily afford school, they should be your last resort. Paid CDL training schools offer on-the-job training or may cover your learning expenses in exchange for labor. In exchange for their services, you are often required to sign contracts locking you into employment with them for months or even years.
Some of the most popular paid CDL training schools are: Roehl Transportation, Prime Inc, Knight Transportation, Swift, and C.R. England.
While training courses vary, there are a few subjects that you are likely to see in all of them:
Types of CDL Licenses
Class A – gives clearance to drive vehicles with a combined weight of over 26,001 lbs, in which the vehicle being towed is over 10,001 lbs (tractor trailers)
Class B – gives clearance to drive a single vehicle with a weight of 26,001 lbs or more, including vehicles with 16 or more passengers
Class C – gives clearance to drive a single vehicle with a weight under 26,001 lbs, and any vehicle being towed that weighs no more than 10,000 lbs. 
What To Do After an Accident
Protect the area – if your vehicle is involved in the accident, try to get it to the side of the road. If you're stopping to help, park your vehicle away from the crash site and set reflective triangles to warn traffic
Notify authorities – call for assistance before you get out of your vehicle if you have a cellphone. Try to determine where you are so you can give authorities an exact location.
Care for the injured – don't move a severely injured person unless a fire or passing traffic makes it completely necessary. Stop heavy bleeding by applying pressure to a wound, and keep the injured person warm
Drugs and Alcohol: Effects on Driving
Alcohol-related accidents cause more than 20,000 deaths per year. Because alcohol can have profound effects on your ability to drive, it's important to know the facts behind alcohol consumption and everything that occurs when driving impaired.
A 12 oz glass of beer, a 5 oz cup of wine, and a 1 ½ oz shot of 80 proof liquor all have the same alcohol content. While all of these drinks have the same alcohol content, each drink may have different effects on your blood alcohol concentration. Their impact is based on the amount of alcohol you've consumed, how quickly you consumed it, and your individual weight.
Alcohol affects everyone's body differently, but there are some standard effects that we all experience. Typically, after drinking an individual will experience impaired judgment, loss of muscle control, reduced coordination and decreased reaction time. Consuming large amounts of alcohol can also cause loss of consciousness and memory.

Hours of Service: Staying Alert to Drive
Staying alert and active is one of the keys to being a successful driver. Anyone who doesn't sleep regularly acquires "sleep debt", a fatigue that will not go away unless you get some rest. Driving while tired can be extremely dangerous, but there are some habits you can develop to help minimize fatigued driving:
Schedule Trips Safely – do not start a trip while tired, or during hours you normally sleep
Exercise Regularly – this will develop a resistance to fatigue and improved sleep
Eat healthy – consuming healthier food will give you more energy throughout the day
Avoid medication – taking medication that makes you drowsy increases the risk of falling asleep
Being able to identify when you're tired is critical to avoiding emergencies. Falling asleep is rarely voluntary when you're exhausted, and some people experience "micro-sleeps", brief 4 to 5-second naps that can occur without you even realizing.
In the event that you find yourself dozing off on the road or struggling to remain alert, find a hotel or somewhere you can stop to get a few hours of sleep. Also, avoid taking any depressants or drugs that will further induce drowsiness.
Driving Distracted
Never drive distracted. Distracted driving is any kind of driving where activity is shifting your attention from the road or makes you take your hands off the wheel.
Aggressive Driving/Road Rage
Aggressive driving and road rage occurs when emotions intensify and drivers make unsafe decisions on the road. Specifically, aggressive driving is when someone operates a vehicle in a bold or selfish manner, while road rage happens when someone operates a vehicle with the intent of doing harm or assaults a driver/vehicle.
When confronted by an aggressive driver:
Get out of the way
Avoid eye contact
Ignore gestures and refuse to react
Report aggressive drivers
Hazardous Conditions
There are many dangers on the road that go beyond angry drivers. Driving at night is always a huge risk, as you're not able to see hazards as quickly and have less time to respond to them. Poor lighting and drunk drivers are major roadway factors, but vehicle factors include headlights and vehicle speed can be dangerous as well.
Pre-trip Procedures:
Sleep before you drive
Clean your eyeglasses
Do a complete vehicle inspection
Visual Search
Identifying hazards before they become emergencies is the key to avoiding damage and injury. Work zones, drop offs, and foreign objects are all hazardous road setups, along with on/off ramps. 
Off ramps/On ramps
Freeway exits can be dangerous for commercial vehicles
Posted speeds are not always safe for larger vehicles
Exits that go downhill and turn at the same time can be dangerous
Braking and turning at the same time is dangerous
Slow before you enter a curve
3. Get a DOT Physical Examination
Make sure you get a Department of Transportation certified physical examination done to ensure that you're able to operate a bus efficiently and correctly. The DOT's Federal Motor Carrier Safety Administration has a network of certified Medical Examiners that are registered to examine you before certification. Search the DOT's directory to find a Medical Examiner near you.
What can I expect during a DOT physical exam?
The first thing you should do is give your doctor a health history update. Disclose any new developments to your healthcare provider, and make sure they're aware of any changes in medication, allergies, or medical records.
You will also receive a vital sign check, reading your blood pressure, heart rate, and respiratory rate. Next, you can expect a visual exam of your body, followed by a physical, in which the doctor touches and feels your body parts for anything abnormal.
Next, the doctor will run a number of lab and screening tests. Blood is drawn during lab tests for vital information, including blood cell count, metabolic panels, diabetes, and thyroid screening. Screening tests uncover any hidden illnesses you may have been unaware of.
Men are frequently tested for high cholesterol, prostate cancer, and abdominal aortic aneurysms, women get a mammogram, pap smear, pelvic exam, cholesterol test and osteoporosis exam, and both men and women are examined for colon cancer, lung cancer, depression, diabetes, and Hepatitis C.

4. Obtain CDL Permit
Typically, aspiring drivers get their CDL permit before their license. At the DMV, you will be given a written test followed by a driving test. Once a permit is earned, they must then spend six months driving alongside a CDL licensed driver in order to test for a license.
PRO TIP: You must obtain a 'P' passenger endorsement on your CDL license in order to drive vehicles that transport 16 or more passengers
5. Obtain CDL License and Passenger Endorsement
Once you've had your permit for 6 months, you're in the clear to take the test for the CDL license. Brush up on your written-test information, then head to your nearest DMV and take the CDL test.

PRO TIP: You must obtain a 'P' passenger endorsement on your CDL license in order to drive vehicles that transport 16 or more passengers
6. Gain Some Work Experience
Most bus companies will ask that you have some experience driving buses before they assign you gigs. Once licensed to drive, it's recommended that you gain at least two years of experience driving school buses or commercial buses before you seek gigs driving charter buses.
You have a better chance of getting experience by driving delivery, equipment and merchandise trucks because there aren't any passengers on board. Since there's less risk involved, employers are more likely to give you a chance to earn experience. Driving trucks will also help you learn how to handle bigger vehicles, and from there you can get experience.
What Does Being a Driver Entail?
As a charter bus driver, you are required to drive a charter bus along a specified route, transporting passengers. You will be responsible for driving your employer's equipment under various road conditions, all the while keeping your passengers safe.
Drivers are only allowed to drive a maximum of 10 hours per day, and can only serve a maximum of 15 hours on duty. There are a few more requirements that drivers must also meet:
Average physical condition and the ability to lift up to 75 lbs in and out of baggage compartments
Physical dexterity to twist, turn, and pull out baggage
Ability to operate equipment such as DVR, audio, and public address systems
Knowledge of how to operate wheelchair lifts and assisting passengers with disabilities
Keep interior of motorcoach clean by sweeping, mopping floors, disposing of trash, and dumping restroom holding tanks
What Makes a Successful Driver?
The best bus drivers possess a number of skills to accommodate the fast-paced lifestyle their career entails. Drivers must be able to handle long days on the road, high volumes of passengers, and varying road conditions. Customer service skills are by far the most important skills a driver must have.
GOGO Charters works with only the best and brightest drivers in the industry on a daily basis. While there are a number of qualities that make a driver successful, we've found that the best bus drivers have a few specific personality traits that set them apart:
Outgoing – must have the ability to communicate and engage with the thousands of passengers they will serve
Polite – must be able to talk to large numbers of people with respect, dignity, and understanding
Assertive – must be able to maintain control and order of the bus and its passengers
Professional – must be able to give and take direction, be flexible in times of stress, levelheaded, and able to handle a multitude of responsibilities
"A bus driver must be more than just a 'driver' to his passengers. He needs to work as a concierge for his passengers."

– Muhammad Bhatti, Limo Corp Worldwide
7. Apply for Jobs with Local Bus Companies
Check the job listings in your area for bus companies that are hiring. Sites like Indeed, Monster, LinkedIn, CareerBuilder, and Craigslist update their job listings daily, so you're sure to find a few options there.
What are the benefits of a job as a bus driver?
Many companies also provide competitive benefits, such as medical insurance, dental insurance, life insurance, 401k, and paid vacation days. Drivers also frequently receive tips, and the industry standard for gratuity is typically 10 – 20% of the cost of the charter bus rental.
PRO TIP: When applying through a job site, you may need to search alternatives to "bus driver", such as "motor coach operator" or "bus operator".
If you're ready to start an exciting new career as a charter bus driver, use this information to educate yourself and prepare for the tests. The sooner you start learning, the sooner you'll be on the road.
Do you need to rent a charter bus?
Do you need a long-term shuttle service?
We offer contracted shuttle services for businesses, schools, hotels, and more. Contact our experts at 1-844-897-5201 to discuss your long-term transportation plans.