Just because you're in sunny San Diego, it doesn't mean you don't need a break from the ol' grind. Luckily, the city has no shortage of things to when it comes to team-building entertainment!
From laid-back strolls through the amusement park to high-stakes paintball wars—and everything in-between—GOGO Charters is your key to getting your team up and at 'em and out of their comfort zone! When you call (619) 312-4991, we won't rest until we find the perfect shuttle service to any San Diego team-building activity you can imagine.
Not sure where to start? Here's our go-to top 10 destinations for your next team-building outing in San Diego:
Coin-Op Game Room
789 Sixth Ave, San Diego, CA 92101
Let loose and have fun at San Diego's favorite barcade! A corporate team building event here can host up to 350 people for hours of playing classic arcade games, drinking local brews and noshing on contemporary-takes of classic bar food. Grab your team for games of 4-player Pac-Man Battle Royale, beer pong, Big Buck Hunter, Mortal Kombat II, and way, way more. Nothing says team building like beating your boss at Dance, Dance Revolution.
Battle Axe San Diego
6330 Riverdale St, San Diego, CA 92120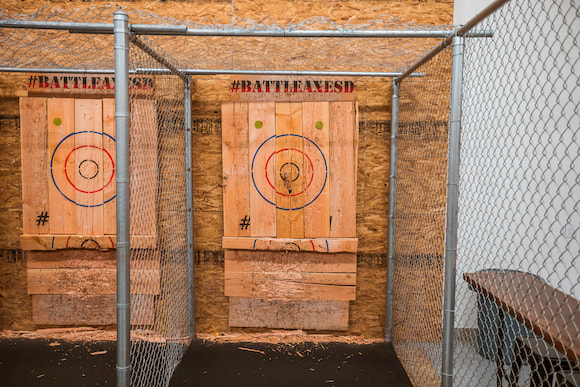 Need to blow off some steam? Battle Axe San Diego will teach your group the safest and most effective ways to throw an axe in order to achieve minimum personal injury and maximum stress relief. Groups as small as 6 and as large as 100 can join in on the fun, with special event packages available for your choosing. They'll even open up outside of regular hours to accommodate the time that best suits you and your teammates.
Harvard Cookin' Girl
7441 Girard Ave, La Jolla, CA 92037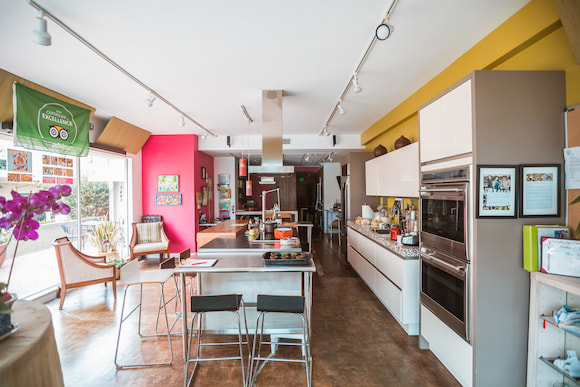 Have you ever wanted to eat like a king in the Jewel City? Load up your private minibus and head out to La Jolla for a private session at this chic and casual culinary studio—just a stone's throw from the gorgeous beaches. Whether you've booked a collaborative cooking class where everyone pitches in to a family-style meal or an Iron Chef-style culinary showdown, your group of up to 40 is sure to savor every moment of this unique team building experience!
ULTRAZONE Laser Tag
3146 Sports Arena Blvd #21, San Diego, CA 92110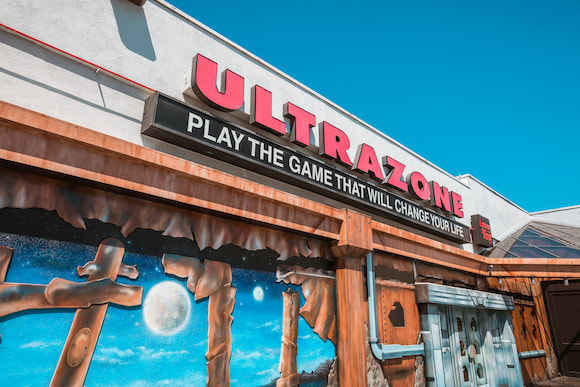 What has intense competition, cooperative games, and laser beams? ULTRAZONE Laser Tag! This place offers a variety of team-building packages, from hourly arena buy-outs for goal-oriented missions and expert tips, to straight-up blasting your friends into next week in a casual game. Be sure to look into their catering and beverage service options before you book, or just let your GOGO Charters rental shuttle everyone to any of the quick eats throughout the surrounding Midway District.
UCSD Challenge Course
9500 Gilman Dr. La Jolla, CA, 92093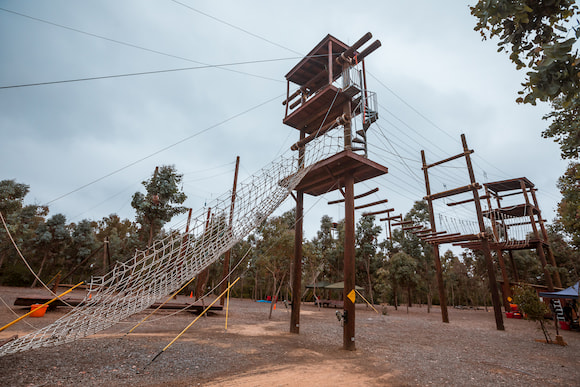 The UC San Diego Recreation services aren't just for students and faculty. Take your corporate group, youth group, or sports team over to the UCSD Challenge Course for the ultimate adrenaline-fueled team-bonding. Work together to conquer a course filled with ropes, walking cables, wooden platforms, and much more. The USCD course has ground-based activities for groups who aren't quite brave enough to tackle The Odyssey Course around 40-feet off the ground. You can even customize the course to help your group work toward your unique, team-bonding goals.
San Diego Paintball Park
8268 Industrial Park Driveway, San Diego, CA 92111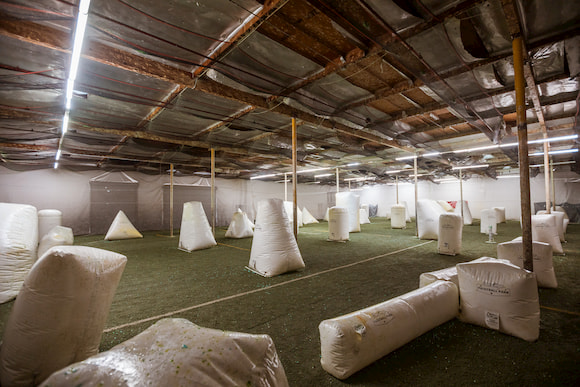 Band together with a few of your team members to take down your rivals in a friendly paintball game. Don't worry, San Diego Paintball Park specializes in low-impact paintball, making the game less intimidating and much more fun. The San Diego Paintball Park offers various packages and games for team-building groups to choose from. Book your private team-building party at the indoor course to play games like "Capture the Flag", "Buzzer Beater", or even come up with your own strategic game!
Belmont Park
3146 Mission Blvd, San Diego, CA 92109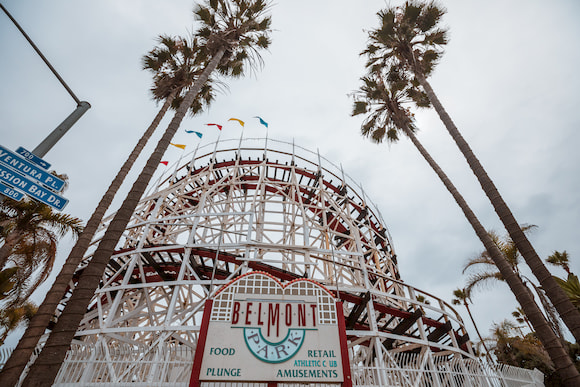 Feel like a kid again at Belmont Park, a beachfront amusement park and boardwalk. They offer four unique event spaces, each boasting its own flavor of fun. The Beach House is the best choice for cabana lounging, beach games and live entertainment, while Coaster Terrace is tucked between the shops and pool on Mission Beach boardwalk and the Giant Dipper roller coaster. If you want to shield your group from the sun, reserve space at the Draft for flights of craft beer and amazing patio space, or the Cannonball restaurant for unparalleled rooftop ocean views and fire pits.
Petco Park
100 Park Blvd, San Diego, CA 92101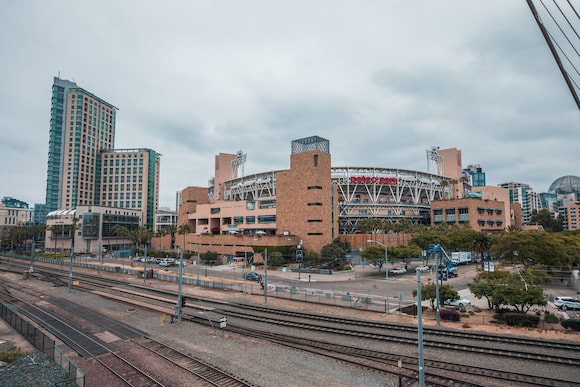 What's better than beer and baseball? Nothing, that's what! Take your group of sports-ball fanatics to Petco Park for a day filled with camaraderie and team spirit! Consider investing in group spaces such as The Beach, Western Metal Rooftop or even the Estrella Jalisco Landing for a spectacular view of the park and the breath-taking San Diego skyline. If you value your privacy, the group suites are the way to go. Options such as the Champions Suites and Sweet Spot offer enclosed spaces with prime views of the baseball field. Take the group bonding up by another notch and provide a once-in-a-lifetime experience for your co-workers or friends! Activities such as participating in the honorary first pitch or ringing the mission bell can be provided if booked in advance. In addition, don't hesitate to take private park tours before the game to learn more about the history of Petco Park and the legacy of the San Diego Padres. If you're traveling on busy game days, pre-paid parking is your best bet.
K1 Speed
1709 Main St, San Diego, CA 92113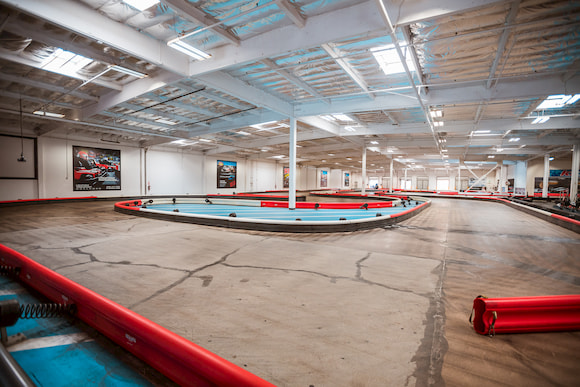 Get fast and furious with indoor go kart racing at K1 Speed! With electric motors instead of gas-powered engines, these race karts travel at speeds of up to 45 mph. There are go-kart racing packages available for groups of 8 and more, that replicate Formula One, FIA GT or Grand Prix races. These are usually the best option for large group events, since they provide exclusive race times and private access to the tracks. A checkered flag is placed at the finish line, and the fastest driver who reaches the flag first, wins! To commemorate the occasion, there is a podium celebration for the trophy winners. Best of all, when you're done playing, your group can kick back, relax and eat to their heart's content at the Paddock Lounge restaurant or in any private room rental with your choice of catering.
SeaWorld
500 Sea World Dr, San Diego, CA 92109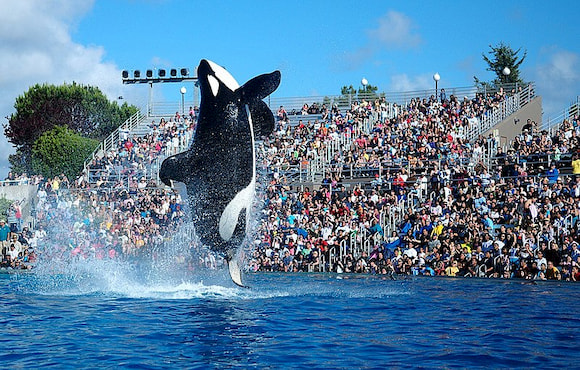 Image Credit
This legendary marine park is sure to impress at your next big team event, whether it's a quiet team gathering of 50 or a large-scale corporate convention of 10,000+ guests. For a less formal gathering, SeaWorld also offers group tours, animal viewings, and rides during the day for a nice break from the monotony of office life, sports team practices, or paperwork. Get your group to the park in an organized and timely fashion with a private minibus from GOGO Charters!
Build a Stronger Team with GOGO Charters
Transportation should be the last thing on your team's mind during your next bonding event, whether you're introducing new coworkers to the office or heading to a dinner for a little league team. Team camaraderie and building relationships should be the only thing your group members need to worry about. Reserving a San Diego charter bus rental will keep everyone's focus on the exciting day ahead, rather than the transportation logistics. Our own team of rental experts is available around the clock at (619) 312-4991 to help you reserve your bus and provide personalized, no-obligation charter bus quotes.