Rent a Charter Bus to Evacuate Groups Fast for Hurricane Irma
Please don't wait until the last minute to evacuate. Now is the time to quickly make preparations and leave the storm's path. We worked around the clock to transport thousands of people out of the paths of Hurricane Matthew and Harvey, and we're doing it again for Hurricane Irma.
Call now for fast, easy quotes:
Why trust GOGO Charters for emergency transportation in Florida? We have:
Access to more than 3,000 buses across the U.S.
A record of 0 accidents since our company launched in 2013
Expert bus reservation specialists who are available to answer questions, provide you with a free quote, and quickly book your motorcoach rental
We are currently helping residents of nursing homes like the Victoria Nursing & Rehabilitation Center and Claridge House move to safety with comfortable, wheelchair accessible charter buses. Student groups from the University of Miami are renting buses to aid in evacuation for students without personal cars.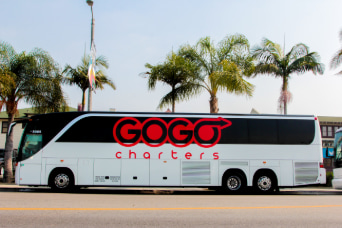 Whether you need one bus or an entire fleet of buses, our reservation specialists will find you the best emergency evacuation bus.
Since 2013, GOGO Charters has coordinated charter bus services for over 1 million customers with 0 accidents. Let us help your group travel securely out of Irma's path by calling us at 1-855-826-6770 for a free, no-obligation quote.
Do you need to rent a charter bus?
Do you need a long-term shuttle service?
We offer contracted shuttle services for businesses, schools, hotels, and more. Contact our experts at 1-844-897-5201 to discuss your long-term transportation plans.