You've loaded up your itinerary with the best breweries, hikes, ski trips, and restaurants that Denver has to offer. Now, it's time to complete your trip plans by booking a hotel for your group!
While Denver has plenty of chain hotels to choose from, we've selected a few of our favorites that might not have a location in your home city. Your hotel will serve as a home base for the duration of your trip, after all— why not pick a place that has some character? A little flair? A team of locals ready to recommend the city's best stops?
Once you've chosen your group's perfect hotel, we'll make sure you're paired with the perfect Denver charter bus rental for you. You'll begin your Denver adventure each morning with a professional driver and a clean bus by your side, and you'll be guaranteed a safe ride back to your hotel after each day has wrapped up.
Choose your Denver hotel based on our recommendations below:
The ART, a Hotel
1201 N Broadway, Denver, CO 80203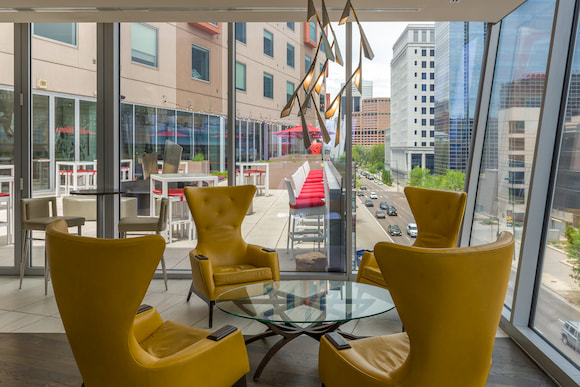 This ultra-modern luxury hotel is nestled in Denver's Civic Center district among several museums and performing arts centers. Visual art is truly the main focus of this hotel's experience, offering guests access to beautiful works on every floor. From the lobby's welcome gallery to exclusive pieces in guest rooms, The ART lives up to its name. Guests can enjoy beautiful views of the Rocky Mountains from the hotel's rooftop bar and restaurant, FIRE. The world-renowned Denver Museum of Art and Kirkland Museum of Fine & Decorative Art are just a few of many artistic attractions in the hotel's vicinity. Popular greenspaces like City Park and Cheesman Park are also just minutes away when you take your charter bus rental.
Hotel Teatro
1100 14th St, Denver, CO 80202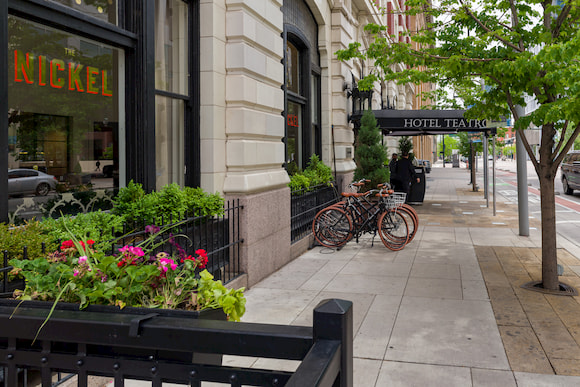 A modern, elegant space housed in a historic 20th century Renaissance Revival building, Hotel Teatro offers a unique juxtaposition of styles that's sure to inspire travelers. Visit the Craft Beer Concierge or Charcuterie Concierge for some tips on where to grab some after-hours fare, or stay in and take advantage of The Study, the hotels' in-house community space. Though its close proximity to attractions such as the Denver Center for Performing Arts and Union Station make it a popular choice for travelers, you won't be grounded to this area of town with a private minibus shuttle at your disposal!
Kimpton Hotel Born
1600 Wewatta St, Denver, CO 80202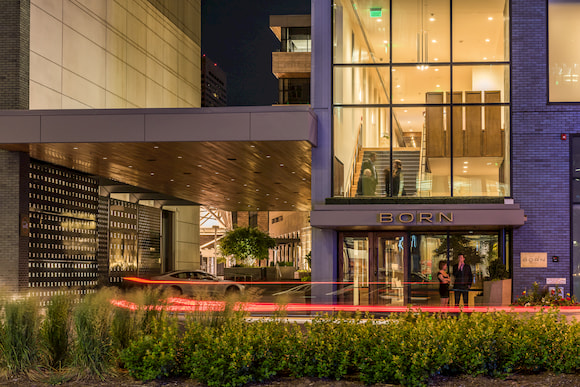 Located in the heart of the trendy LoDo neighborhood, Kimpton Hotel Born's urban aesthetic attracts many a traveler who crave elegant, comfortable, and modern lodging. Plenty of beautiful event spaces with natural light and views of downtown make for the perfect space for your corporate event, wedding, family reunion, or other gathering. As a bonus, the hotel has a few special package offers to make your trip unique— one including a cooking demonstration and shopping trip with one of the hotel's executive chefs!
Le Méridien Denver Downtown
1475 California St, Denver, CO 80202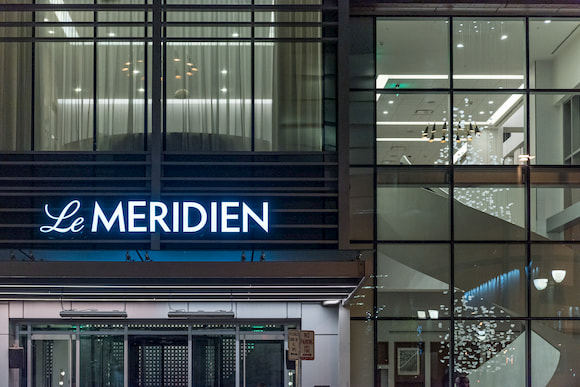 This beautiful boutique hotel sits in close proximity to Denver's Arts District, providing plenty of opportunities to inspire the creative minds in your group. Mingle with your group members in The Hub, enjoy a beverage at The Lobbyist Bar, or experience some of the city's best food at Corrine Restaurant. If you're feeling really fancy, take your group up to 54thirty— the city's highest rooftop bar! Le Méridien also offers the chance to enjoy special access to local museums and cultural institutions to further inspire your group members.
The Crawford Hotel
1701 Wynkoop St, Denver, CO 80202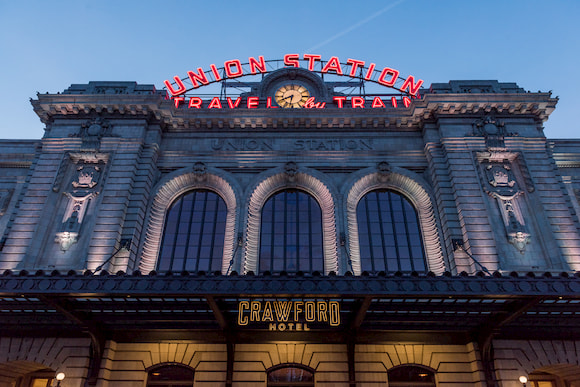 The Crawford Hotel is located in the heart of LoDo inside of the historic Denver Union Station. As one of the most iconic locations in Downtown Denver, guests choosing to stay at The Crawford Hotel will have easy access to the city's best dining, shopping, and attractions. The hotel offers a combination of modern amenities yet a somewhat rustic atmosphere in the over century-old renovated train station. Large groups of guests reserving more than 10 rooms for a special event can inquire about group room blocks. Along with its central location to all things quintessentially Denver, guests at The Crawford Hotel can take advantage of priority seating at popular restaurants like brunch hotspot Snooze.
The Jacquard
222 Milwaukee St, Denver, CO 80206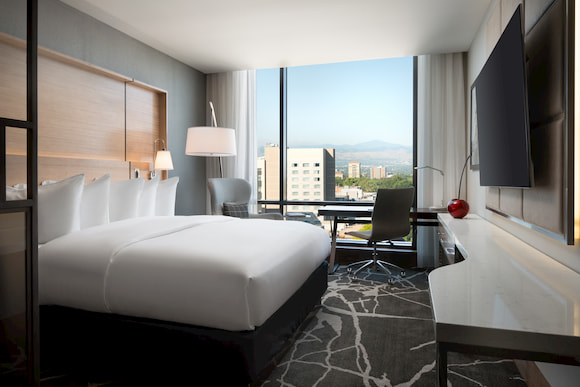 Lodge in luxury at this Autograph Collection hotel in the affluent residential Cherry Creek neighborhood. The Jacquard is a prime lodging location for visitors who want a luxury experience without staying in the hustle and bustle of neighborhoods like LoDo or Uptown. When you lodge at The Jacquard, your group will be close to major shopping and posh dining at the Cherry Creek Shopping Center. You'll have plenty of space on your charter bus to store your shopping loot. If you're looking for beautiful mountain views from your upscale rooms, be sure to request an accommodation on the west side of the building or even head up to The Jacquard's rooftop bar for a nightcap and small bite to eat.
The Maven Hotel at the Dairy Block
1850 Wazee St, Denver, CO 80202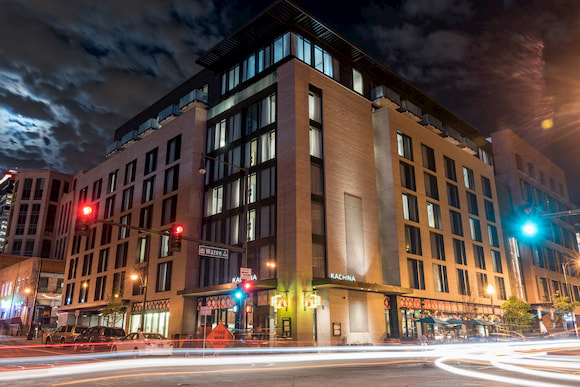 Located right next to Coors Field in LoDo's Dairy Block district, baseball fans will love The Maven Hotel and its easy access to the home of the Colorado Rockies. This boutique hotel is both sleek and modern, with little touches of charming, quirky decor. Dairy Block is lovingly referred to as a "microdistrict" within LoDo, with several trendy bars, restaurants, and local boutiques. Staying at The Maven Hotel is perfect for groups desiring a trendy and cozy lodging arrangement central to some of Denver's coolest neighborhoods like RiNo and Downtown.
The Oxford Hotel
1600 17th St, Denver, CO 80202
Revel in vintage luxury without having to give up modern amenities! As one of the oldest hotels in Denver–accommodating out-of-towners since 1891—this place doesn't skimp when it comes to old-school charm. And with trendy LoDo's best eats and shopping right outside your window, staying here means staying on the pulse of the Denver lifestyle. All your group has to do is hop in your GOGO rental and settle in for a short trip to any of the cities hottest attractions.
The Ramble Hotel
1280 25th St, Denver, CO 80205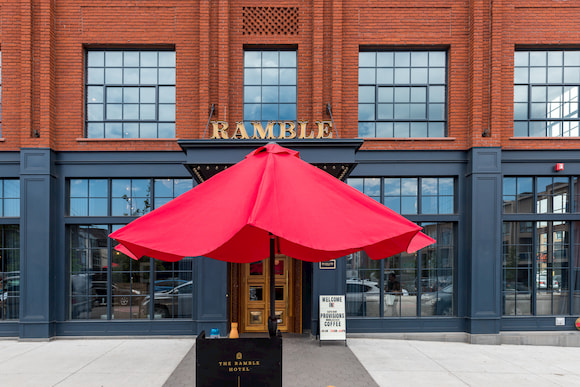 Inspired by 17th century French salons—with a Denverian modern twist, of course—this place boasts some of the best spaces for aesthetically pleasing get-togethers in town. Reserve the 2,300 sq. ft. ballroom, a variety of posh business suites, or even the quaint rooftop garden, and trust GOGO Charters to safely transport everyone to your upcoming wedding, corporate event, or Rockies home game. Coors Field and the bustle of RiNo Arts District is just a stone's throw away, so here's the perfect launch point for any Denver activity you have in mind!
The Source Hotel
3330 East Brighton Boulevard, Denver, CO 80216, USA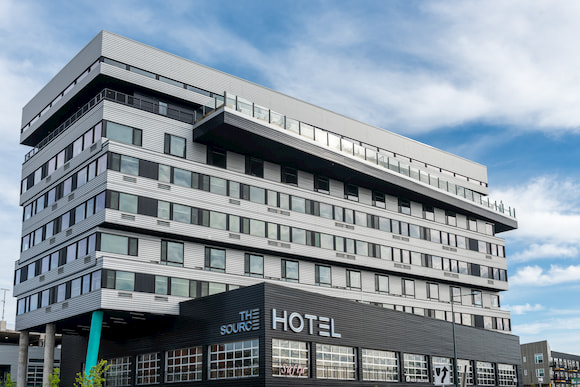 This industrial and sleek iron-factory-turned-hotel sports a mix of Scandinavian and Japanese minimalism. Expect polished concrete floors, birchwood accents, and sweeping views of the Denver skyline and the distant Rockies if you plan to hang your hat here. Even better, this chic hotel is just a short shuttle ride away from the South Platte River, the greens of Mestizo-Curtis Park, and the trendy breweries, bars, nightlife, and galleries of RiNo!
Elevate Your Denver Trip with a Private Bus Rental
No matter where your group decides to rest their heads in Denver or what you have planned while you're in town, GOGO Charters can get you there. From long-distance charter bus rides throughout Colorado to speedy airport shuttles—or any combination of transportation services—we'll make all your Mile-High travel plans easy. Call (720) 216-2068 today, and our 24/7 reps will be more than happy to add any of these Denver hotels to your group's itinerary!
More Denver Maps