Planning a day of exploration, adventure, and team-building in Washington DC? Whether it's for an afternoon away from the office or an off-day with your sports team, DC has no shortage of exciting attractions sure to entertain your team and inspire conversation.
Plus, with group bus transportation from GOGO Charters, you won't have to worry about asking team members to volunteer their personal cars or catching up with groups who got lost along the way. We'll find the perfect charter bus rental for you, based on your group's needs, when you call 202-741-9808 for your free quote!
From sporting events to cooking classes to comedy shows and beyond, our list of the 10 best team-building activities in DC is sure to include the perfect choice for your next team outing:
Players Club
1400 14th St NW, Washington, DC 20005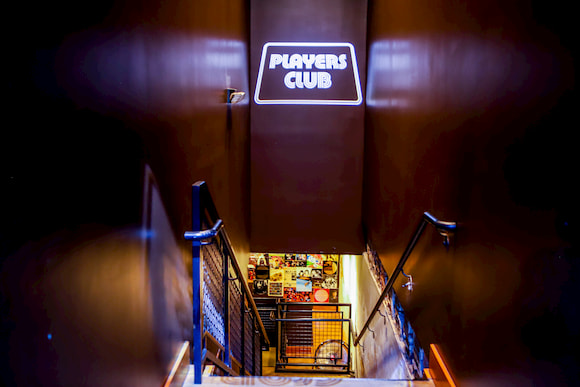 This arcade bar is sure to serve up plenty of 1970s nostalgia. A gaming basement, a rooftop bar, plenty of beer, and the option to put in an order for Shake Shack take-out make this the perfect spot to relax, unwind, and chill with teammates in a laid-back atmosphere. Private events in the lounge for up to 50 people can be reserved in advance, but move quickly-- this space fills up fast!
Nationals Park
1500 S Capitol St SE, Washington, DC 20003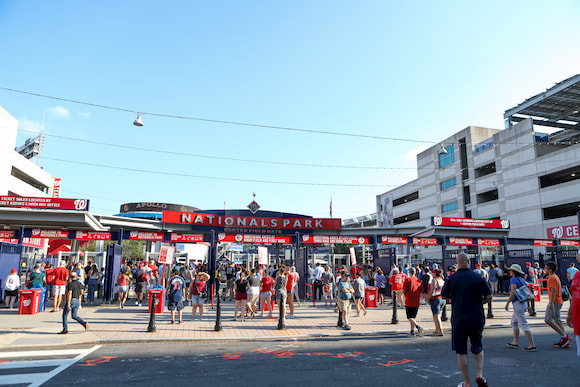 Whether you're attending a Nationals game or taking a private tour of the facility, Nationals Park is a great stop for the baseball fans on your team. Non game-day tours even include the opportunity to visit the dugout and throw a pitch in the bullpen! For an easy, organized ride to the park, book a private minibus for your team.
Capital One Arena
601 F St NW, Washington, DC 20004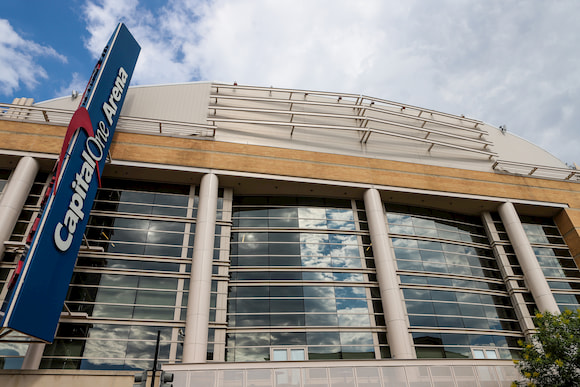 Serving as the home to the Washington Capitals, Capital One Arena is a great team-building spot if your group prefers basketball over baseball. Alternatively, you can skip the sports all together and plan to attend a concert for your favorite artist, or book one of the arena's numerous hospitality spaces-- one able to accommodate up to 500 guests. If you're planning an all-day event, arrange for a minibus to shuttle your team members to and from the arena!
Summit Outdoor Challenge Course
2100 Foxhall Rd NW, Washington, DC 20007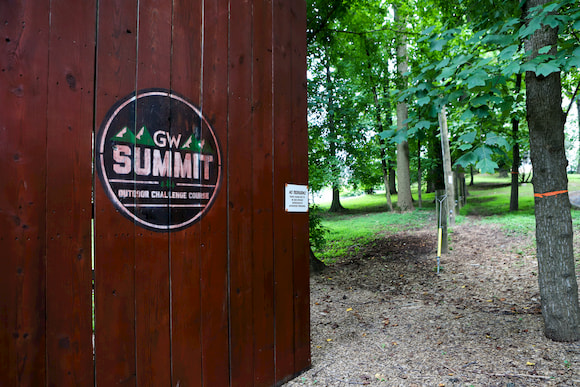 Looking for an outdoor obstacle course to challenge you and your teammates? Head over to the Summit Outdoor Challenge Course at the George Washington University. This course will challenge you team's problem-solving and communication skills as you work through low-ropes and platform courses. This GW course isn't just for students though, its open to the public as well. Take your company, sports team, or local organization out for a day on the GW course to bring everyone closer together.
Key Bridge Boathouse
3500 Water St NW, Washington, DC 20007
Key Bridge Boathouse offers a variety of aquatic activities that are perfect for a day of team building! From canoeing and kayaking to paddleboarding and fitness classes, there's no better way to simultaneously see Washington DC's natural landscape and bond with your team. Take a kayaking or canoeing class and coast along the Potomac River beneath the historic Key Bridge. Want an even more unique team-building experience on the Potomac? Take a full moon monument tour or a twilight monument tour to see DC from a fresh new perspective.
CulinAerie
1131 14th St NW, Washington, DC 20005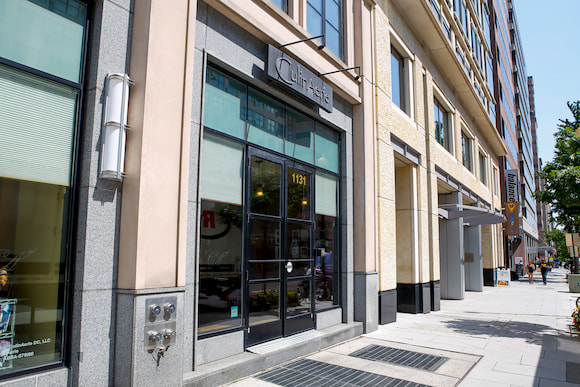 Every activity is better with food! Good food naturally brings people closer together, especially when you're doing the cooking. Reserve a day of team-building with a cooking class at CulinAerie in Downtown DC. CulinAerie provides all inclusive cooking class packages for groups as small as 12 people all the way to large groups of up to 48. Choose a menu to come together and complete a multi-course meal or even set up some friendly competition with a cookoff. CulinAerie offers a variety of classes and menus including Peruvian, Indian, and Thai cuisine. Pick your favorite type of cuisine and put your team's cooking skills to the test.
Penn Social
801 E St NW, Washington, DC 20004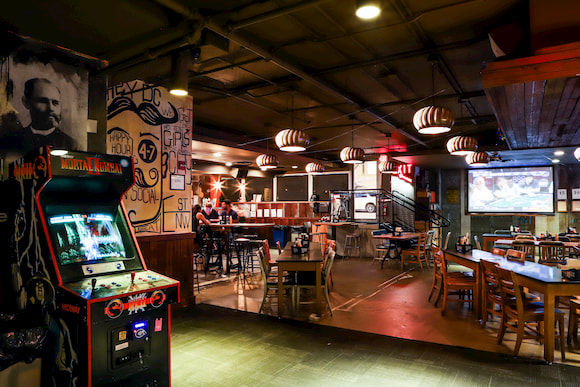 Arcade games, sporting events, and good brews, what more do you need? Penn Social is the perfect location for teams that love classic arcade games with a modern twist. Enjoy an afternoon or evening challenging your teammates to games of foosball, cornhole, pinball, and much more. Along with plenty of games, the multifaceted bar has several television screens to cheer on your favorite DC sports team and two stages for concerts and live events. Grab your team, grab a few drinks, and hit the gaming floor for hours of endless fun.
Audi Field
100 Potomac Ave SW, Washington, DC 20024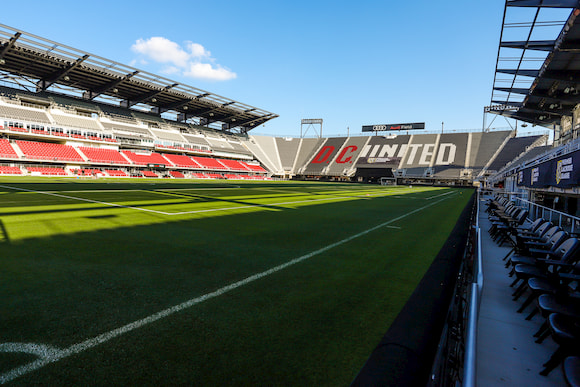 Looking for a blood-pumping experience that's sure to please any group of soccer fans? Cheer on DC United on their home turf! With special discounted rates available for groups of 10 or more, seating section buy-outs that can accommodate 250+ fans at a time, and exclusive party suites where you can catch the match in style, Audi Field has plenty of options for your next field-side group outing.
District Winery
385 Water St SE, Washington, DC 20003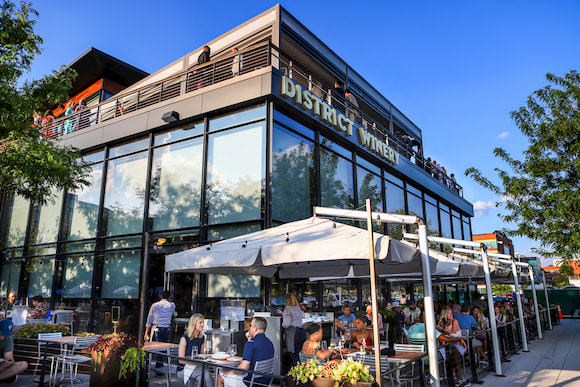 For a more refined take on team building, gather your group of up to 60 people and check out the only commercial winery in DC. From private wine blending sessions, to game nights stacked with wine-themed trivia and Pictionary, to dinnertime round of True Wine Detective—half blind wine tasting, half libation investigation—District Winery boasts a sophisticated backdrop and countless itinerary options for your next night of in team bonding.
DC Improv Comedy Club
1140 Connecticut Ave NW, Washington, DC 20036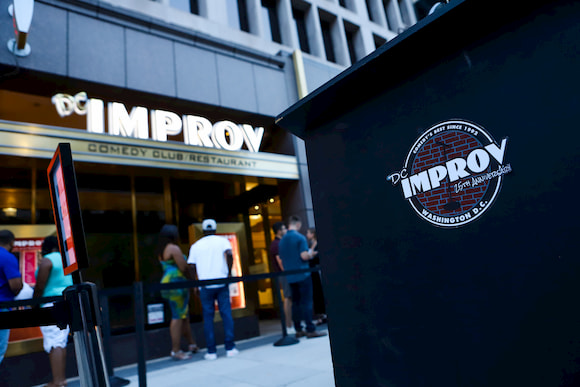 Nothing helps break the ice quite like a night of laughter! Help your group live in the moment and cut loose with a 2-hour improv workshop tailored to your group's size and sense of humor. Whether you plan to load up a minibus and head out to this local laugh house or request them to bring the workshop to your office or headquarters, your group will hone their collaboration, communication, and—well—improvisational skills through the instruction of professional comedians.
Get Going with GOGO Charters
We know that you have enough on your plate when it comes to planning your group's next team building outing in DC. That's why we're dedicated to making the ride there and back as easy as possible. When you reserve a private transportation shuttle through GOGO Charters, you have a talented team of professional drivers, a vast network of state-of-the-art charter buses and minibuses, and an experienced 24/7 customer service team on your side. Rather than stressing the navigation, parking, and logistical details of your trip, call 202-741-9808 today and rest assured everyone arrives safe, sound, and comfortable—no matter the distance!