GOGO Charter's Guide to Touring Campuses in North Carolina's Research Triangle
North Carolina is a state filled with top universities and colleges, most notably those located in The Triangle. North Carolina's Research Triangle area is home to three major research universities, as well as a few smaller colleges. High school students looking to tour colleges in The Triangle have various campuses to trek and chaperones have a great deal of planning to do. School groups looking to tour multiple campuses can find easy transportation options with GOGO Charters. A private charter bus rental is the best way to transport tour groups, either big or small. No matter the size of your group and number of campuses, GOGO Charters has a bus to meet everyone's needs.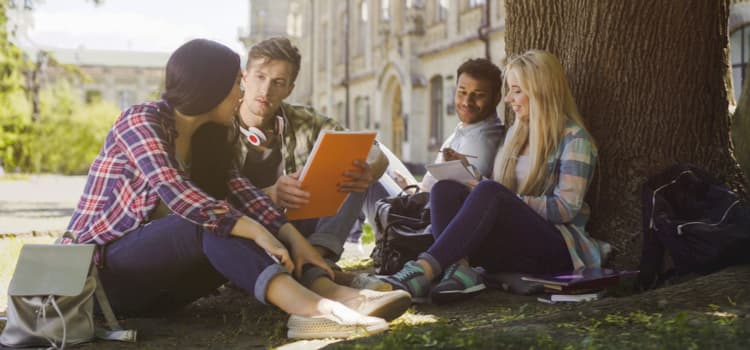 The full-sized motorcoaches we charter are best for large groups of up to 56 passengers, while minibuses come in various sizes, accommodating anywhere from 18 passengers to 35 passengers. With the option of premium amenities like WiFi, restrooms, and cushioned reclining seats, a charter bus provides a comfortable trip during your group's first college experience. Each charter bus comes with a professional driver to easily shuttle your group to and from campuses.
We've put together a concise tour guide for your group to utilize during your campuses visits. From NC State to Meredith College, check out what The Triangle has to offer:
University of North Carolina – Chapel Hill
With world-class undergraduate and graduate programs, UNC Chapel Hill is considered one of the nation's "public ivies", continuously ranking as one of the top institutions in the country. As one of the oldest public universities in the states, UNC Chapel Hill places strong value in diversity, financial accessibility, research, and service. The university offers 77 undergraduate degrees, 111 master's degrees and 65 doctorate degrees, with high regard being given to programs in business, health, and the sciences.
If your group is planning to tour Tar Heel territory, be sure to register for a group visit. Groups of 10 to 50 students can register for a 2-hour campus visit, which includes a campus tour and admissions information session. These group tours are exclusively for high schoolers and require at least one adult chaperone per 25 students. Group tours are available on select dates each year and cannot be scheduled at the beginning of new academic years. If anyone in your group is interested in a specific academic program like computer science, pharmacy, business, or more, different departments offer Department Tours on specified days.
Once you have a handle on the number of tour attendees and dates for your tour, give GOGO Charters a call at (919) 805-3099 to find the best motorcoach for your group to travel to UNC. Bus parking for UNC can be quite a ways from the Admissions Center, so have your driver drop your group off before finding parking. Keep in mind, bus parking differs based on the parking area (some spots require permits while others do not)– note this to your bus driver before they depart.
Duke University
Currently ranked in the top ten schools in the nation, Duke is one of the most prestigious universities in the Southern United States. Well-rounded in academics, research, community engagement, and athletics, Duke University is a dream school for many students across the country. The Duke University Health System is regarded as one of the best in the world, with many students entering majors focused on medicine and other helping professions. Along with programs on medical tracks, Duke is also well known for programs in business, engineering, law and public policy.
Groups of 10 to 50 high school students are encouraged to register for group tours, which take place on Mondays, Wednesdays, and Fridays. Reservations are limited and must be made at least 3 weeks in advance for the Office of Undergraduate Admissions to accommodate your group. Keep in mind, Duke doesn't generally offer group tours during spring months or December, due to breaks. At least one chaperone is required per 15 students during the one-and-a-half-hour tour. Each tour includes an information session and Q&A with an admissions counselor, followed by a student-led walking tour of campus. Additional tours are available from specific departments for smaller groups of students interested in engineering, athletics, and more.
Buses and large vehicles are required to park in the Sarah P. Duke Gardens lot in the center of Duke's campus. This lot is about a five to ten-minute walk to the Office of Admissions, so make sure your group has plenty of time to head over. Alternatively, if your group is running tight on time, have your driver drop everyone off. Parking on campus is either metered or a temporary permit provided by the admissions office is required.
North Carolina State University
Located in North Carolina's capital city of Raleigh, NC State is the largest institution in the state's public university system. The university has over 100 programs and possesses a diverse roster of student organizations and clubs. As the last corner in The Triangle, NC State provides an affordable education grounded in research. The school is ranked highly for not only being a good value in terms of tuition, but for providing students with a quality education, especially in the fields of business, engineering, and veterinary medicine.
If you're looking to join the Wolfpack, NC State hosts guided tours for groups of 10 or more high school students throughout the year, generally at 9:00 a.m. and 11:00 a.m. Each tour begins with a 30- to 45-minute information session with a representative from the Office of Undergraduate Admissions, followed by an hour-long walking tour of the campus. Large groups are encouraged to request a tour at least two months in advance. Many departments offer separate specialized tours for students interested in specific academic programs.
Information sessions take place at the Joyner Visitor Center on the south campus, where parking is free. The walking tour of main (central) campus will require your charter bus to shuttle your group over to the Talley Student Union. Gated visitor parking for buses is available at the  Coliseum Parking Deck. There is a coast to park on campus, so be sure you coordinate this with your driver beforehand.
North Carolina Central University
NCCU is a top-ranked historically black university located in Durham. It is home to both a biomanufacturing and biomedical research institute focusing on unique research of health disparities among communities. The public university is at the forefront of social justice and change in the area, valuing research, service, history, and academic excellence among minorities.
Campus tours are held throughout the week at 10:45 a.m. and 1:45 p.m., during fall and spring semester and exclusively on Tuesdays and Wednesdays during summer. Standard group tours usually accommodate up to 75 individuals (including chaperones), while groups larger than 75 (a maximum of 150) must contact the Office of Undergraduate Admissions at admissions@nccu.edu. Groups must request a tour at least one to two weeks in advance for the university to prepare. The campus visit includes a walking tour of campus, as well as an information session with an NCCU admissions counselor.
Parking is relatively limited on NCCU's campus and large vehicles like charter buses and minibuses are required to register for a temporary permit through the NCCU Police Department. Be sure to coordinate receiving the appropriate permits with your bus driver. Call 919-530-5023 or 530-6106 to communicate with NCCU PD regarding permits.
Meredith College
Meredith College is one of the largest women's institutions in the Southeast United States and one of three remaining historical women's universities in the state. The school has more than 80 majors for undergraduate students and also provides graduate degrees in a handful of departments. Meredith College is a great option for female students looking for a quality liberal arts college in North Carolina's capital.
High school groups can request tours Monday through Friday at either 10:00 a.m. or 2:00 p.m. Requests must be submitted at least two weeks in advance and student groups should be between 10 to 50 people. At least one chaperone is needed for every 15 students attending the tour. Tours include a 30-minute information session with an admission counselor and a 50-minute walking tour of campus. Group tours are available from March through May due to a high influx of visitors, so be sure to plan accordingly.
Group visits begin at Johnson Hall and visitor parking is available in the adjoining Chapel lot. Temporary parking permits are free for visitors after registering with the Campus Police Department at (919) 760-8888.
Tour Campuses with GOGO Charters
Organizing college tours has never been easier with services through GOGO Charters. We charter buses  in a variety of sizes to accommodate multiple classes. The full-sized motorcoach and minibus rentals we charter are modern and comfortable to keep students, educators, and chaperones comfortable and satisfied. Our network of bus providers spans across the country, so if your group wants to travel long distances to visit schools outside The Triangle, we have you covered. If you need help finding the perfect bus, give us a call at (919) 805-3099 to chat with a rental representative to help you through the rental process. We'll provide a free quote before your group is ready to head to campus.
Do you need to rent a charter bus?
Do you need a long-term shuttle service?
We offer contracted shuttle services for businesses, schools, hotels, and more. Contact our experts at 1-844-897-5201 to discuss your long-term transportation plans.