The Ultimate Guide to Group Campus Tours in Austin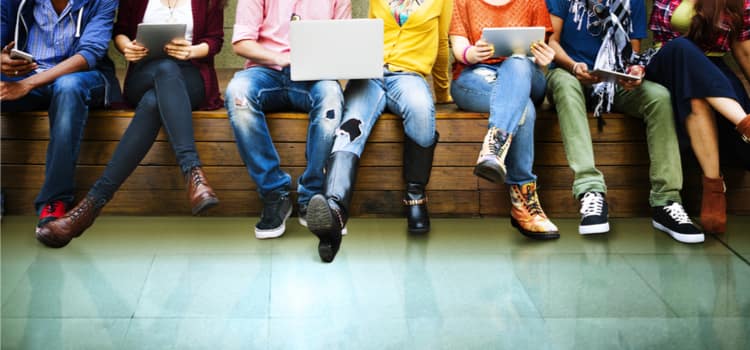 As the capital of Texas and one of the largest cities in the state, Austin is home to multiple accredited universities and colleges. Students entering their senior year of high school generally take college tours before school begins. GOGO Charters is experienced in providing transportation services for school groups organizing college tours in Austin. The network of buses we rent are perfect for groups of all sizes traveling to different campuses. Large groups of students and chaperones will find full-sized motorcoaches the best choice, as they come in 56-passenger options. Minibuses are suited for smaller groups, accommodating 18 to 35 passengers.
To make your college tour experience in Austin as easy as possible, we've created a concise guide to touring each campus. Check out the helpful tour tips and pieces of information we gathered from each school:
University of Texas at Austin
In terms of enrollment size, University of Texas at Austin is the second largest university in the state with over 50,000 students. Not only is the institution large, it is well-known for undergraduate and graduate programs in business, education, engineering, and the sciences.
Colloquially known as the Forty Acres, after the original 40-acres set aside to build the school in 1827, the U Texas at Austin campus is sprawling and filled with students. Student-led tours are open to the public via the school's Visitor Center but large groups of prospective students are highly encouraged to schedule a group information session and campus visit via email.
Specialized information sessions are offered for smaller groups (usually under 5 total participants) interested in specific programs like communication, nursing, pharmacy, and more. Larger groups between 10 to 100 students should email groupvisitrequest@austin.utexas.edu to schedule a campus tour to ensure their spot.
Once you have a full count on who will be attending the college tour, be sure to email the Group Visit Coordinator and to also book a charter bus rental large enough for your group. Parking on U Texas at Austin's is very limited, so arrange to have your charter bus driver drop your group off at the Visitor Center.
Texas State University
Located about 40 minutes South of Austin in San Marcos, TSU is one of the largest public universities in the state with over 35,000 students. The university offers over 100 undergraduate programs and also has an impressive roster of available graduate degrees. Texas State has also been ranked as a top university for Hispanic students earning undergraduate degrees.
Groups of 10 or more visitors are required to register at least three weeks in advance for a campus tour. Formal tour reservations are exclusively for highschool students and groups must be no more than 80 students. As with most campus tours, TSU requires one chaperone per every 10 students attending. Large group tours are available Monday through Friday during normal university hours.
TSU also hosts an open house event called Bobcat Day a few times a year to give groups a campus-wide experience. Groups can register for Bobcat Day but keep in mind this experience will not be as personalized as a normal campus tour due to the large crowds that generally attend. Smaller groups interested in specific programs can register for Academic Visit Days, just keep in mind registration is very limited.
All buses are required to park at Bobcat Stadium in designated bus lots during campus tours. Your driver can drop your group off at the Student Center and park at the stadium before coming back to get your group in a few hours.
Saint Edward's University
Saint Edward's is a relatively small private institution located on the The Hilltop and is ranked as one of the best universities in the West. With 24 international partner universities and a diverse student body, Saint Edward's is a great option for students looking for a smaller school.
The university offers guided group tours for high school sophomores, juniors, and seniors who may be prospective students. Groups must be limited to 50 students with one adult chaperone for every 10 students. A Group Tour Request must be filled out and submitted at least three weeks in advance before scheduling the tour. When requesting a guided group tour, keep in mind spring group tours end on April 26th and summer tours are available May 29th through August 16th. Tours are only on Tuesday, Wednesday, and Thursday at 10:00am and 1:00pm.  If your group requires any specific accommodations, email seuvisit@stedwards.edu to contact a Group Tour Coordinator.
Your group's charter bus can park in the Admission lot on Theater Pass Drive or Lot V (reserved for buses) off University Circle with pre-registered permission from the Office of Admission. When requesting a tour, be sure to mention needing a parking permit for your group's bus to avoid university tickets or fees.
Concordia University Texas
Tucked away in suburban Austin, Concordia University Texas is home to multiple undergraduate programs. The school offers a combination of fully traditional in-person studies on their main campus with online classes and fully online programs. Concordia is also known to be a great school for full-time working adults looking to continue their education.
Group tours for middle school students and older are available by email at visit@concordia.edu and require at least two weeks notice. Spring and summer tours are available on designated mornings for middle school students and high school students. Available tours are for groups of 80 students and fewer, with a requirement of one chaperone per 10 students.
Visitor parking is free and available directly in front of the Office of Admissions. Visitor parking permits are distributed at the university's front gate.
Huston-Tillotson University
This Historically Black University is located on the outskirts of downtown Austin and has a relatively small student population. With programs across multiple disciplines, Huston-Tillotson has a lot to offer for all students, especially those looking for an HBCU.
Tours are led by the Office of Recruitment & Admission and start at the Agard-Lovinggood Building Auditorium. The office conducts student-led tours Monday through Friday at either 10:00 a.m. or 2:00 p.m. Tour requests must be made at least 48 hours in advance. Huston-Tillotson offers a variety of visitor parking across the campus.
Southwestern University
Like TSU, Southwestern isn't quite located in Austin, it's actually about 35 to 45 minutes North in Georgetown but groups looking to join the oldest university in Texas will find the little hike well worth it. The small liberal arts college prides itself on history and community service.
Groups of up to 50 students are welcome to register for a campus tour. The groups should consist of only high school students with at least one chaperone per 10 students. Tours are exclusively held at 11:00 a.m. Monday through Thursdays and are not offered during midterm exams, final exams, designated holidays or breaks. Tours are also relatively limited at Southwestern during summer months, so plan accordingly. Parking for your bus is available along Maple Street at the Admissions Center during campus tours.
Plan Your Campus Tours Today
While planning your campus tour transportation, GOGO Charters is here every step of the way. Rental representatives are available 24/7 at (512) 640-4096 to help your group find the best bus to shuttle between campuses. Each bus comes with the option of choosing premium amenities like WiFi, power outlets, restrooms, and televisions to keep everyone comfortable and entertained throughout the trip. No matter the distance, we will happily provide transportation options for your group. So you can even ride over to San Antonio to tour Trinity University or even College Station for Texas A & M. Grab your comfy shoes, a bottle of water, and get ready to experiences a taste of the college life!
Tags In
Do you need to rent a charter bus?
Do you need a long-term shuttle service?
We offer contracted shuttle services for businesses, schools, hotels, and more. Contact our experts at 1-844-897-5201 to discuss your long-term transportation plans.