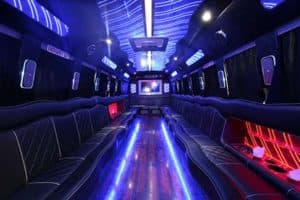 How to Start your Own Party Bus Company In North America
Just in case you haven't seen the photographic evidence on Facebook, Twitter, and Instagram, young people love partying. Heck, even middle-aged and older people enjoy letting loose and enjoying themselves. This is a fact of life that doesn't figure to change anytime soon, meaning a business venture into the party industry could prove fruitful for someone looking to start a new company or merely run a business on the side.
One specific business idea that's worth looking into is owning a party bus, as it's become the most stylish way to party, especially for people willing to go all-out on special occasions like birthdays and bachelor parties. If this is something that may interest you, here is everything you need to know about starting your own party bus company.
Are You Ready?
The first thing you have to do before starting your own party bus company is decide if it's the right kind of business for you. First and foremost, you have to be ready to work nights, late nights. People may sometimes rent party buses to take day trips to breweries or wineries, but a majority of the time your party bus will be used for use at night, and those nights may extend until the sun comes up the next morning, so be prepared to work those types of hours.
You must also be prepared to work closely with people and deal with them in a friendly manner. Also keep in mind that most people riding on a party bus are not going to be at their most sober or respectable, so you must have the kind of personality and patience that can deal with people who are not always on their best behavior (to put it kindly).
Buy the Right Bus
Once you decide you're ready for the party bus business, the first step is to buy the right bus. You may want to lease a bus at first, but if you're serious about your business, at some point you'll want to buy your own bus, and eventually multiple buses. As with any other meaningful business investment, you need to do your due diligence when deciding on the right bus. Do you want to go all-out for a full-size bus or maybe go with a few shorter buses or large vans instead? How many seats do you need and how much space should there be? Also, how much extra space will you need to store drinks and food?
These are all questions you'll need to answer at one point or another, and so it'd be wise to look at a few different options until you decide on one. A good place to start looking is actually other party bus companies, who may be willing to sell you one of the buses from their fleet.
Permits and License
Unfortunately, a party bus is not all fun and games. Operating a large bus will require a permit from your local or state government, in addition to all the proper business licenses, so you will have to take all of those steps before you can get your new bus on the road. Parking large buses and vans may also require special permits that you can't overlook.
Finally, since you'll probably be driving the bus yourself, at least in the beginning before you make enough to hire a driver, you will need to acquire a commercial drivers license, which unfortunately means contacting your local DMV if you don't already have a commercial license.
Insurance is a Must
Another logistical necessity for your party bus business is insurance, which is an absolute must for a business like this. You will need liability insurance in case something happens and there are any injuries to you or your passengers. This is on top of collision and accident insurance for the vehicle itself. Also, you and any drivers you hire will also need to be insured. If you don't have insurance for any possible scenario in the party bus business, you're just asking for trouble.
Find a Specialty
Once all the boring stuff is taken care of, you can finally start to focus on building the fun side of your business. Take time to decorate your bus the way you want and decide what kind of amenities you're going to offer, what kind of bus rental packages you want to put together, and what prices you'll charge.
It may behoove you to pick out a specific kind of party bus rental you want to focus on. For instance, do you want to do day trips to breweries and wineries? Do you want to attract bachelor and bachelorette parties? Do you want to cater to club hoppers? Do you want people to rent your bus for road trips to sporting events? If you want to stay open-minded and cater to a variety of needs, that's fine, but picking out a target audience may help you make decisions about the services and packages you offer.
Prepare for the Worst
You have to realize that things are going to get rowdy on a party bus, and if you don't already know this, you'll learn it real fast when you first start serving people. You must prepare for people to be out of control and at their worst while on a party bus, and you must know how to handle it. This may mean laying down ground rules for your customers before they board the bus, and making sure you and your drivers can step in and stop a potential problem before it happens.
Connect with Local Businesses
To start growing your business, try forming partnerships with other small businesses. Maybe a local sports team wants to sell tickets to a road game and use your bus as transportation. If not the team, maybe a local sports bar wants to do a similar trip and partner up with you. There are a lot of opportunities for cross-marketing, so your business and a lot of other small businesses in your area will have a chance to help each other out, as you try to grow your business.
Advertising and Marketing
Advertising and marketing will be important to people learning about your new business, and if you decide to focus on a certain need or demographics within the party bus industry, it'll be easy to target a specific audience with your ad campaign.
Posting flyers in local clubs or sponsoring local events can be a good starting point, as can advertising with a local radio station. Of course, in this day and age you'll need to have your own website where people can look up your services and book a trip. You'll also need to have a social media presence where you'll be able to post pictures or people enjoying your party bus, giving you free advertisement once you start to gain followers.
Plan Your Expansion
Once you start to get your business off the ground, you can start thinking about expansion. This could mean adding more party buses to your fleet, including buses that are a different size or offer different amenities from what you already offer, allowing you to offer more and attract more people. Perhaps adding a limousine to your fleet of vehicles is practical.
You could also look into expanding your service area, perhaps dedicating a vehicle or two to serving people in a neighboring city. The party bus industry is definitely on the rise, so if you can get your business off the ground, there are a lot of ways for you to grow your business; the sky is the limit.
You might think about making a move to one of the bigger cities where you'll have more weddings, proms and other events that would call for a party bus rental. NYC, Atlanta, Los Angeles, Seattle, and Orlando are good places to start.
Do you need to rent a charter bus?
Do you need a long-term shuttle service?
We offer contracted shuttle services for businesses, schools, hotels, and more. Contact our experts at 1-844-897-5201 to discuss your long-term transportation plans.