Our Favorite Road Trip Snacks for Long Bus Rides
Snacks are an absolute "must-have" for a long charter bus ride! While you can always build pit stops into your itinerary to grab a bite to eat, roadside restaurants sometimes don't offer the selection you need—especially if you're traveling with folks who have dietary restrictions, get carsick easily, or are on a budget.
Here's a quick guide to our favorite snacks to take on a bus trip, so you can board with all the supplies you need to make your GOGO Charters bus rental experience as positive as possible!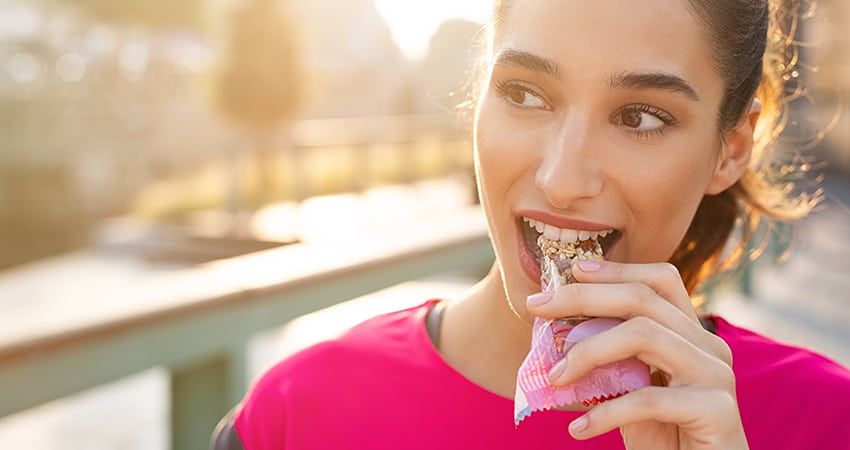 What makes for a good bus trip snack?
We understand that everyone has different tastes and preferences when it comes to on-the-road foods. That being said, in our experience, we think the best snacks for a bus trip are:
Easily portable
This may seem like a no-brainer for a group on the move. But by "portable," we mean foods that are self-contained/can easily be stored away and can be consumed without utensils are ideal snacks for a charter bus trip. Consider packing your favorite single-serving and handheld snacks like granola bars and small fruits. Avoid having to deal with storing any leftover food once you've had your fill by grabbing snacks that can be stashed away in your carry-on bag or the overhead parcel rack without the risk of spilling everywhere.
Light on the stomach
Studies show that a little over half of modern travelers report having felt carsick at some point in their lives. And even if you don't consider yourself prone to feeling queasy in a moving vehicle, it never hurts to opt for foods that can help prevent motion sickness while on a bus.
Avoid foods that are greasy or acidic, as they take longer to digest. When in doubt, opt for a variation of the BRAT diet (bananas, rice, applesauce, and toast) with simple ingredients and not too much flavor. The goal is to eat something light and easy to digest, so as to not upset your stomach while you're on the road.
Proteins over carbs
Sure, carb-based snacks like potato chips are tasty, can fill you up quickly, and can even give you a short burst of energy—but those calories are empty, and they'll leave your stomach feeling empty after an hour or so. Instead, protein-based foods like nuts, jerky, and trail mix are good snacks for bus trips because they are filling and will give you the energy you need to take on the events or occasions that await you at your destination.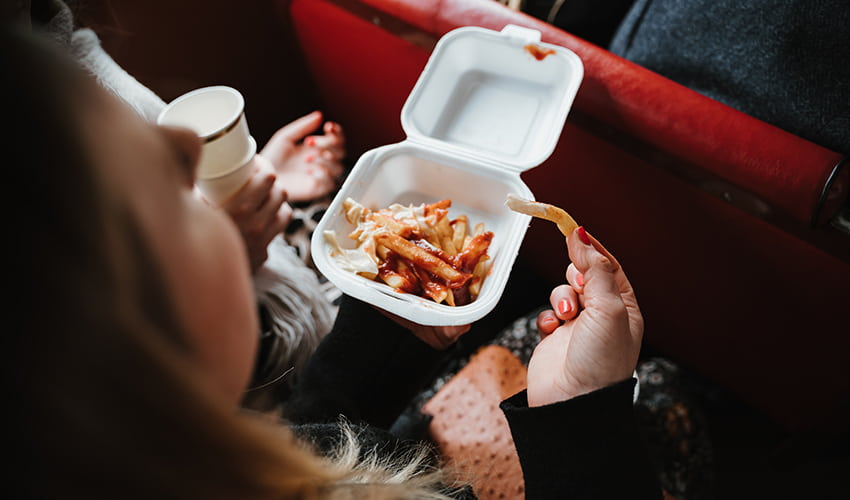 Foods to Avoid on a Charter Bus Rental
When packing your carry-on bag with your in-cabin snacks, there are a few kinds of foods you should consider avoiding:
Smelly or odorous foods
Your favorite road trip snack might smell delicious to you—but not every passenger on your charter bus rental will agree. Be courteous of other passengers' comfort, and avoid bringing snacks that have a strong smell, such as pickled foods, cheeses, and fish.
Messy foods
The charter bus drivers in the GOGO Charter network strive to keep the drive as smooth as possible, but spills happen. To avoid a $200 cleaning fee, make sure your passengers pack snacks for your bus trip that aren't messy or are at least easy to pick up if dropped.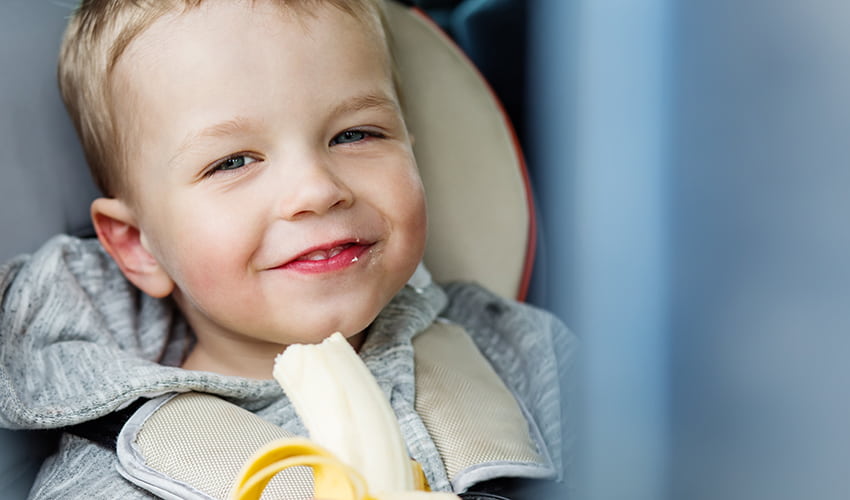 Great Snacks for Bus Trip with Kids
If you're traveling with younger passengers—say, for a field trip or a little league sporting event—you'll want to ensure they stay comfortable and preoccupied between stops. So let them pop a DVD into the onboard entertainment system, recline in a comfy plush seat, and enjoy these kid-favorite snacks for a bus trip:
Dried fruits
Kids love sugar, and fruit can be a healthy way to curb those cravings! Fresh fruit can easily make for sticky hands and a messy seat, so opt for dried fruit to minimize the need for wet wipes or trips to the onboard restroom's sink to wash up.
Squeeze-pouch foods
There are plenty of portable kid snacks on the market that come in squeeze pouches with a nozzle—from applesauce to yogurt to pudding. Not only are these foods easy to store in a backpack or carry-on bag, but they also offer relatively mess-free ways for kids of all ages to enjoy their favorite snacks.
Juice box
Especially if you have a long day of walking through museums of physical activity on the itinerary, your little passengers will need to stay hydrated. Juice boxes are easy to store and offer a tastier alternative to water when it comes to quenching their thirst.
Pack Your Bus Snacks and Hit the Road
Deciding what snacks to take on a bus trip can be tricky—but when you rent a bus with GOGO Charters, securing a reliable group transportation service will be the least of your worries.
Our nationwide network of charter buses and minibus shuttles, in addition to our 24-hour reservation team, make it easy to lock in the perfect bus for nearly any occasion or destination city! Get in touch today by calling 1-855-826-6770, and we'll be happy to offer a free and personalized bus rental quote with no obligation to book!
Do you need to rent a charter bus?
Do you need a long-term shuttle service?
We offer contracted shuttle services for businesses, schools, hotels, and more. Contact our experts at 1-844-897-5201 to discuss your long-term transportation plans.