The Best Day Trips from Las Vegas
Feeling the need to escape the hustle and bustle of Las Vegas for a quick day trip elsewhere? You are in luck! Las Vegas's location makes it central to plenty of interesting and unique day trip locations that are all within a few hours' driving distance. In this blog post, we break down some of the best day trips from Las Vegas, whether you're willing to drive 30 minutes or even up to four hours.
And if you are looking for group transportation for your Las Vegas day trip, count on GOGO Charters to get you there. We have access to a vast network of charter bus rentals in Nevada and beyond. Each comes with an experienced and professional charter bus driver committed to your safety. The charter bus rentals in our network can accommodate anywhere from 18 to 56 people, and come with all the amenities you need to enjoy the ride.
When you're ready to book your Las Vegas bus rental for your upcoming day trip, give us a call at 702-475-4900! We are available 24/7 to assist you.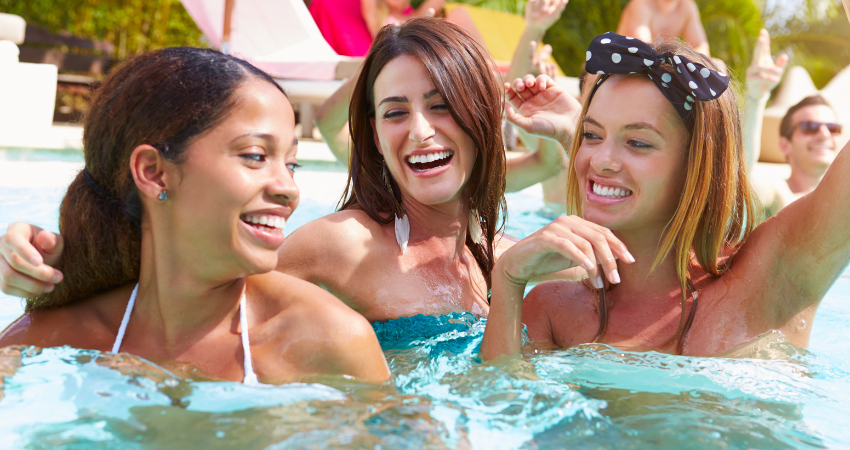 Henderson
Distance from Las Vegas: 30 minutes
Henderson is a bustling city just 30 minutes outside of Las Vegas with plenty to offer its visitors. The city is home to an area popular with corporate team-building groups and families that's referred to as "Lake Las Vegas." Lake Las Vegas hosts three different resorts that offer shopping, restaurants, pools, and spas, and other entertainment. Families can beat the heat in Henderson at Cowabunga Bay, a giant seasonal waterpark with numerous slides, water fixtures, and attractions. Animal lovers can also visit the lion sanctuary in Henderson for tours, guided feeding experiences, and education about lions and conservation.
Charter bus parking tip: Depending on which attractions you visit, you can always call ahead and ask about charter bus parking that is available. Cowabunga Bay, for example, is a group-friendly attraction and even offers deals for groups of 20 people or more.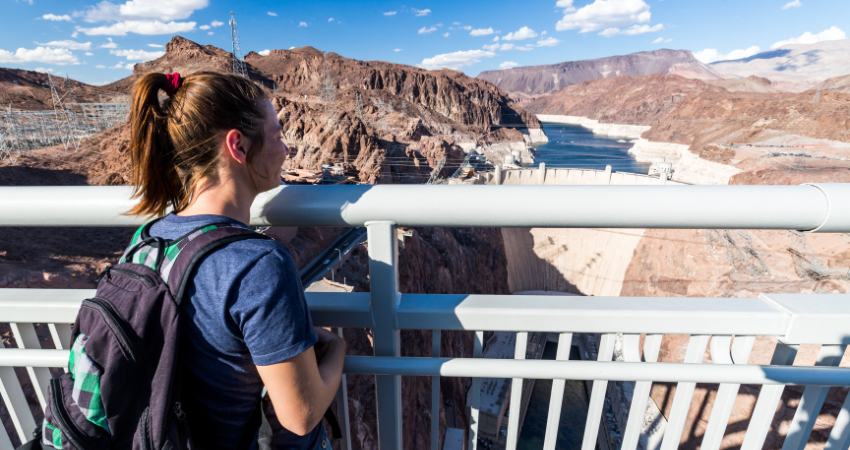 Hoover Dam and Lake Mead
Distance from Las Vegas: 45 minutes
One of the most popular attractions outside of Las Vegas is right on the border of Nevada and Arizona. The Hoover Dam was built during the Great Depression and was the highest dam in the world at the time. The dam also formed Lake Mead, a popular area for outdoor recreation. Lake Mead stretches across 750 miles of shoreline and features stunning blue waters, cozy coves to explore, and opportunities for fishing and boating. Together, the Hoover Dam and Lake Mead draw in over a million visitors a year, who enjoy outdoor recreation activities like hiking, biking, hunting, and camping. 
Charter bus parking tip: Oversized vehicles visiting the Hoover Dam are advised to park on the Arizona side of the dam, which is parking lot #9.
Eldorado Canyon
Distance from Las Vegas: 1 hour
Those interested in history and ghost towns will want to venture out to Eldorado Canyon. The abandoned former mining town is just under an hour drive from Las Vegas. You can take the Techatticup Underground Mine Tour, which chronicles the history of Eldorado Canyon and its roots as a mining town. Tours are for groups of four or more and by reservation only, making it a great Las Vegas field trip option for classes of all sizes. You can also explore the Jubilee Mine, which is open to the public, or see the picturesque cliffs at Nelson's Landing.
Charter bus parking tip: Eldorado Canyon has limited parking available, so it's best to call the Techatticup Mine Tour in advance to ask about parking options. They will most likely be willing to work with you on parking arrangements for your charter bus rental.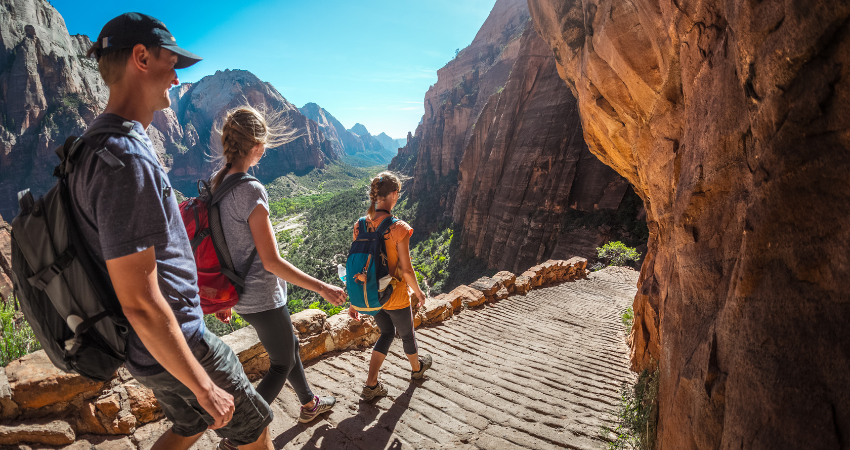 Saint George
Distance from Las Vegas: 2 hours
Travel just under two hours from Las Vegas into neighboring Utah to explore Saint George. Known for its beautiful natural landscapes, it's close to Zion National Park, Pioneer Park, and Red Cliffs National. Those interested in arts and culture can explore the St. George Art Museum, which hosts multicultural and regional artwork across many decades. History buffs can check out a site of actual dinosaur fossils and footprints at the St. George Dinosaur Discovery Site or see the historic home of Mormon pioneer and Santa Clara founder Jacob Hamblin.
Charter bus parking tip: Depending on which attractions you visit, you can always call ahead and ask about charter bus parking that is available.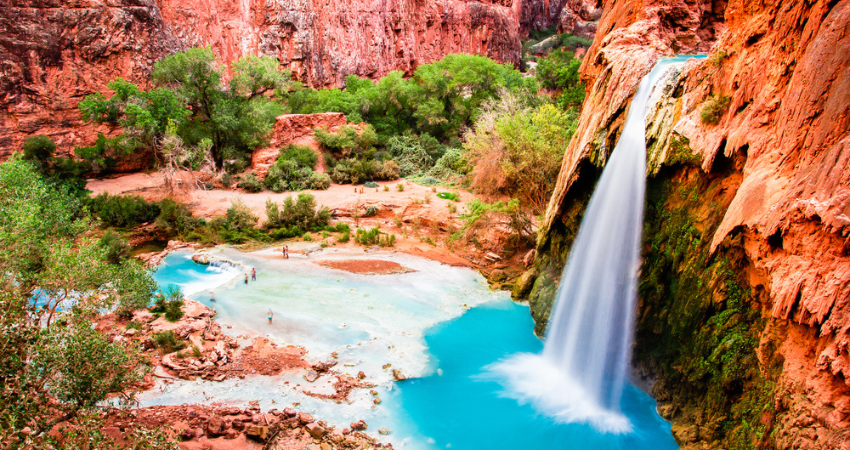 Lake Havasu
Distance from Las Vegas: 2.5 hours
Known for having the most stunning beaches in the state of Arizona, Lake Havasu is only two and a half hours outside of Las Vegas. In addition to its bright blue waters and white sandy beaches, it's also home to the famed London Bridge, which stands over the Colorado River after being brought to the area around 1967. The beach itself features a swimming area, sports courts, an off-leash dog area, and playgrounds, plus opportunities to rent different water boating vehicles like kayaks, paddleboats, and canoes. When you've had enough of the water, head into lake Havasu City and tour the Lake Havasu Museum of History, or try your luck at the Lake Havasu Resort casino.
Charter bus parking tip: Lake Havasu and the surrounding area are group-friendly, with plenty of surface and street parking for your charter bus driver to park in.
Travel with GOGO Charters
We hope you found some great ideas for your next Las Vegas day trip! And when you're ready to secure group transportation, be sure to give us at GOGO Charters a call at 702-475-4900. Our experienced Las Vegas charter bus reservation team can answer any of your questions and set you up with the right bus rental. Safe travels!
Do you need to rent a charter bus?
Do you need a long-term shuttle service?
We offer contracted shuttle services for businesses, schools, hotels, and more. Contact our experts at 1-844-897-5201 to discuss your long-term transportation plans.