A Group Guide to North Georgia Wineries
If there's anything ATLiens love to do, it's wine down with a group of friends. So whether you're planning a weekend-long event with your wedding party or a quick day trip out of the Atlanta metropolitan area, the wineries of North Georgia's Blue Ridge and Piedmont regions are sure to have the getaway you're looking for.
Not sure where to start? We've put together this guide to help your group plan the perfect winery and vineyard tour in North Georgia, so everyone can enjoy the refreshing drinks and rustic views free from stress!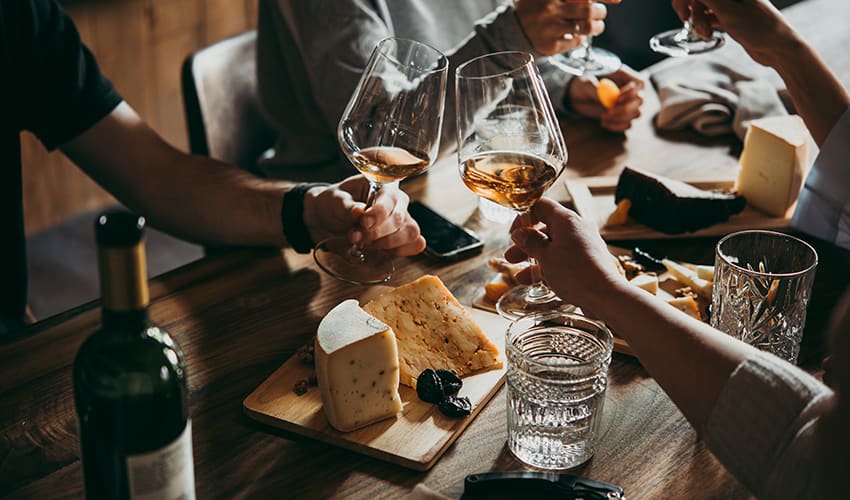 Group Transportation for Winery Tours
First things first: your crew is going to need a reliable group transportation service whenever alcohol is involved.
A handful of Atlanta-based tour companies offer preplanned North Georgia winery tours that can hit multiple vineyards in one day and include transportation—though you may be lumped into a large tour group and stuck on a preset schedule of specific wineries.
But what if you're looking for something more customized? That's where an Atlanta bus rental comes in! We at GOGO Charters offer personalized, private minibus and charter bus rental plans that are tailored to your group's headcount and desired stops, so you'll never have to settle for a transportation service that doesn't fit your needs. Just give us a call at (404) 425-9570 when you're ready to book, and a 24/7 representative will be happy to help you pick the ideal motorcoach, map out your stops, and set the pace of your private winery tour by bus. We can even offer a free, no-obligation bus rental quote for your vineyard and winery tour within minutes!
Local-Favorite Wineries and Vineyards in North Georgia
Now for the fun part: filling your itinerary with your must-see Georgia wineries! This list is by no means comprehensive, but here are some of the most acclaimed vineyards and winery spaces in the region:
Wolf Mountain Vineyards
Address: 180 Wolf Mountain Trail, Dahlonega, GA 30533
Distance from Atlanta: 1 hour, 20 minutes
When wine enthusiasts across the country think of "wine" and "North Georgia," this prestigious winery is likely to come to mind. Wolf Mountain Vineyards have earned Georgia's first-ever Gold medals from San Francisco Chronicle and Los Angeles International Wine Competitions—a big deal in the wine world. Come sample the sips that have set the bar high for other East Coast wine producers, including Blanc de Blancs Brut, the estate-grown Claret, and the Boegner Family Private Reserve Cabernet Sauvignon.
Groups of 8 or more should make a reservation before stopping by to snag a semi-private tasting room. Anticipate spending some time walking around the estate and its library full of 19th-century French wine artifacts, or even stop for a bite to eat from the extensive menu.
Three Sisters Vineyard and Winery
Address: 439 Vineyard Way, Dahlonega, GA 30533
Distance from Atlanta: 1 hour, 15 minutes
Traveling with folks who have assorted tastes? Three Sisters Vineyards boasts nearly 10,000 premium vines—including Pinot Blanc, Chardonnay, Merlot, and Cynthiana grapes—so your wine enthusiasts are sure to find something they enjoy.
Swing by Thursday through Sunday for a wine tasting and stroll through the art gallery's showcases of local folk art. Be sure to check the vineyard's event calendar for specific events—this North Georgia vineyard is no stranger to live music, food trucks, and chances to walk around and admire the rolling, hilly scenery.
Tiger Mountain Vineyards
Address: 2592 Old 441 S, Tiger, GA 30576
Distance from Atlanta: 1 hour, 40 minutes
Tiger Mountain Vineyards has been family-owned and -operated for five generations, lovingly turning their 14 acres of vines into Malbec and Cabernet Franc wines using traditional European methods. The tasting room itself is open Wednesdays through Sundays, and the on-property Red Barn Cafe serves up farmhouse-style dinners from May through November.
Planning something bigger than a winery tour? Tiger Mountain's Red Barn Cafe and its surrounding pavilions are a local-favorite venue for all sorts of private events—weddings, family reunions, corporate retreats, and more. Let a private shuttle bus rental offer a seamless transportation service between your Atlanta hotels and this stunning outdoor venue, and you'll have a professional DD handling all logistics for the rest of the night.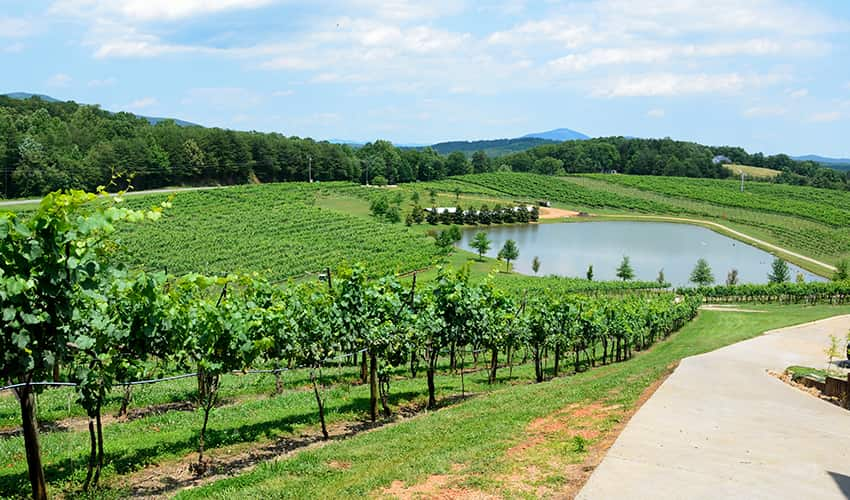 Habersham Vineyards and Winery
Address: 7025 S Main St, Helen, GA 30545
Distance from Atlanta: 1 hour, 30 minutes
Located a stone's throw from the quaint Germanic town of Helen, Habersham Vineyards is one of the region's oldest and largest wineries—producing award-winning North Georgia wines since 1983.
After your wine tasting (offered every day of the week) your group can swing by the well-stocked gift shop to pick up picnic supplies and a bottle or two for the road. The area around Helen is picture-perfect for outdoor lunches in autumn, and your charter bus rental should have plenty of room to store coolers, folding chairs, and more in the spacious undercarriage bay.
Yonah Mountain Vineyards
Address: 1717 Hwy 255 S, Cleveland, GA 30528
Distance from Atlanta: 1 hour, 25 minutes
Where Yonah Mountain Vineyards lack in food options, lodging accommodations, and other add-ons, this winery tops many local's winery lists, thanks to the gorgeous scenery. Come sip samples of pinot noir, malbec, merlot, and chardonnay—or if you're feeling adventurous, explore the caves where the barrels are stored for a unique day out. Just keep in mind that wine cave tours are limited to groups of 10 or fewer guests, and that larger groups will need to split up to reserve this experience.
Plan to be in North Georgia wine country over Labor Day weekend? Your group members won't want to miss Yonah Mountain's annual Crush Fest—especially if they don't mind getting their hands dirty. Enjoy live music, wine tastings, and opportunities to stomp your own grapes at this family-friendly event! This vineyard offers spacious parking accommodations, so your charter bus driver can easily park your motorcoach on the property while you enjoy the festivities.
Book a North Georgia Winery Tour Bus Rental
Whenever you need to get out of the hustle and bustle of Atlanta, North Georgia's wine country will surely provide the refreshment and panoramic views your group needs to unwind. Let GOGO Charters ease your next winery outing with a simple and custom minibus or charter bus rental, so you'll never have to worry about hailing a rideshare or designating a driver! Just call (404) 425-9570 when you're ready to learn more, and our 24-hour reservation team will be happy to help.
Do you need to rent a charter bus?
Do you need a long-term shuttle service?
We offer contracted shuttle services for businesses, schools, hotels, and more. Contact our experts at 1-844-897-5201 to discuss your long-term transportation plans.