Group Guide to Visiting Southern California Wineries
There's nothing quite as special as enjoying a glass of wine in the Southern California sun with your favorite people. GOGO Charters can help make that ideal day possible. Whether you're traveling to Los Angeles area wineries with a bachelorette group or to vineyards outside San Diego for a company retreat, we can ensure your transportation is handled.
Keep on reading to learn more about our group transportation services and the wineries that we can help you explore throughout Southern California's wine countries.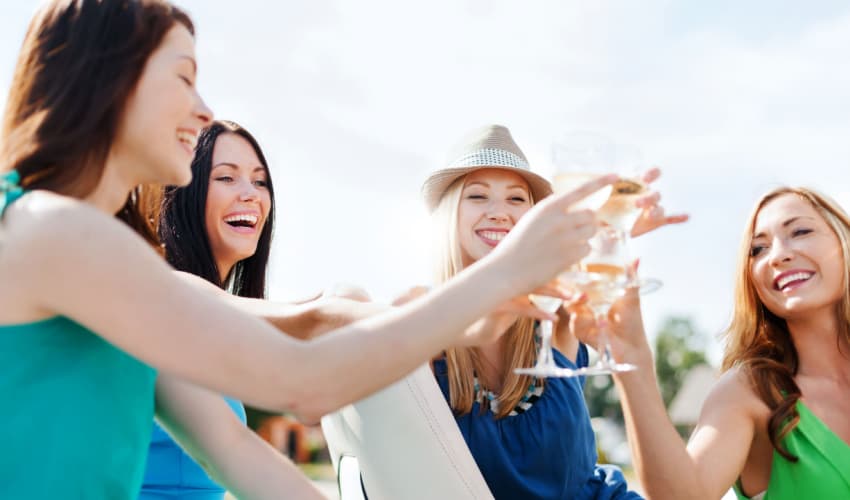 How to Travel to SoCal Wineries with a Group
Winery trips are always a fun time, but planning them can be a bit hectic when you've got a large group. One way to simplify your winery trip is by booking a private transportation service to streamline your travels. GOGO Charters can organize charter bus services for every type of occasion at a winery.
Are you planning a bachelorette weekend with a big group of your friends? Book a minibus rental to transport everyone together with ease! Do you need a more spacious bus rental for an employee appreciation trip? Consider booking a full-size charter bus rental for up to 56 passengers! Whatever your travel needs may be, everyone in your group can focus on enjoying wine and quality time together. Forget about needing to call multiple rideshares or designating drivers who may need to sit out on the wine flight tastings. With a GOGO Charters bus rental, you'll have a professional driver to serve as your built-in DD during every step of your winery trip. If a charter bus sounds like the right type of transportation for your next SoCal wine trip, give the GOGO Charters team a call 24/7 at 1-855-826-6770 to get a free, personalized charter bus rental quote.
Los Angeles Area Wineries
Los Angeles locals or visitors starting their wine journey in LA will have a wonderful selection of wineries to choose from in the area. From tastings in the heart of bustling urban DTLA to seafront views at quaint Malibu wineries, you're sure to find a winery to suit your group's tastes.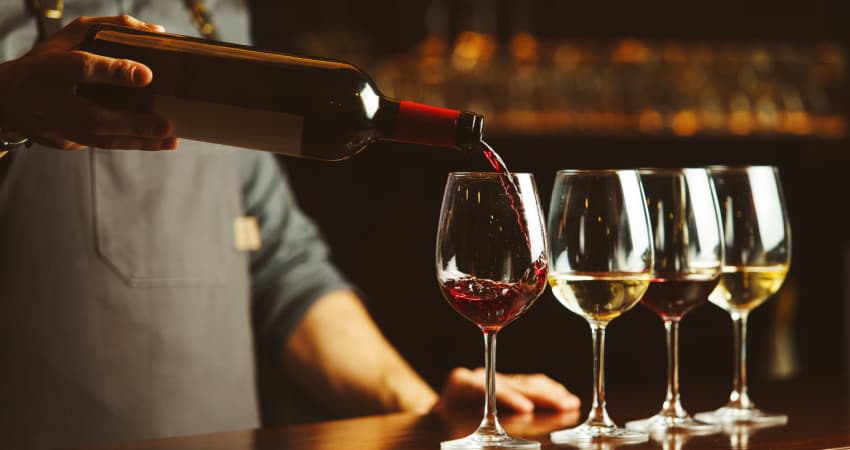 Malibu Wines & Beer Garden
Address: 23130 Sherman Way, West Hills, CA 91307
Phone: (818) 578-4146
Located just north of Calabasas, Malibu Wines is the best spot to enjoy wine and some sunshine on a spacious patio. Take in hilltop views from this Saddlerock Ranch winery, order some delicious wood-fired pizzas, and enjoy the atmosphere with a glass of Saddlerock's finest wine in hand. Table reservations can be made for groups of up to 8 people. Larger groups will need to make multiple reservations and be seated near each other at separate tables.
Rosenthal Wine Bar & Patio
Address: 18741 E Pacific Coast Hwy, Malibu, CA 90265
Phone: (310) 456-1392
Rosenthal Wine Bar is one of the few wineries located on the PCH, offering convenient access to Topanga Beach and its waterfront views. Go for the wine but stay for the live music, laidback patio atmosphere, and beachbound opportunities after your wine tasting. Reservations for groups are highly recommended on busy Saturdays and Sundays, while walk-ins are welcome during the week.
San Antonio Winery
Address: 737 Lamar St, Los Angeles, CA 90031
Phone: (323) 223-1401
San Antonio Winery is located in Los Angeles downtown and is the city's oldest, highest-producing winery. San Antonio Winery's original location in DTLA offers a selection of wine tastings, tours of the winery, and a full-service eatery at the Maddalena Restaurant. Patio wine-tasting reservations can be made for groups of up to 10 people. Private tastings in the winery's cellar can be booked for up to 40 people.
Cavaletti Vineyards
Address: 165 Poindexter Ave Suite C & D, 165 Poindexter Ave Suite D, Moorpark, CA 93021
Phone: (805) 405-5272
If you have some extra time in your schedule, consider visiting Cavaletti Vineyards just north of Thousand Oaks. Cavaletti Vineyards is a hidden gem for wine enthusiasts who want a quiet, quaint, and quality tasting experience. The winery offers a unique selection of varietals for every palate. Reservations are highly recommended, as Cavaletti Vineyards functions on limited hours during certain seasons.
San Diego Wineries
The San Diego metro area is home to the San Pasqual and Ramona Valleys, home to numerous local wineries. If you're not quite committed to making the trip to the Temecula Valley and South Coast, you can plan a tour of these San Diego area wineries.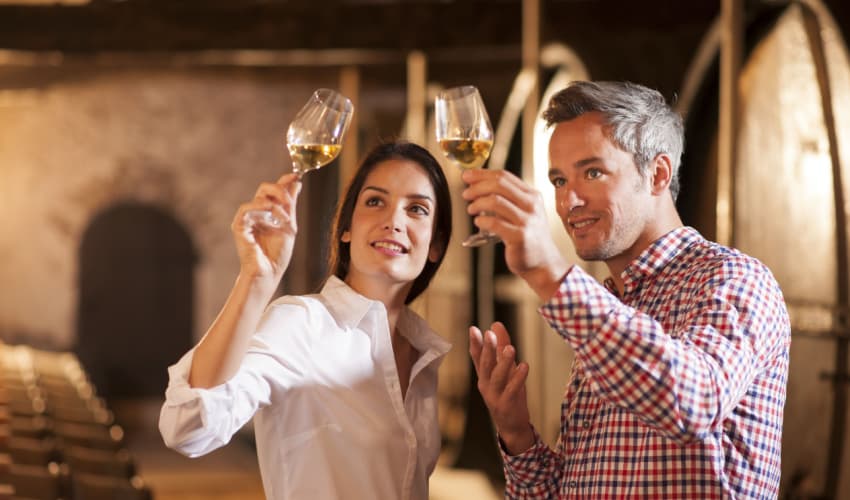 Orfila Vineyards and Winery
Address: 13455 San Pasqual Rd, Escondido, CA 92025
Phone: (760) 738-6500
Orfila Vineyards is one of Escondido's most popular wineries. This beloved family-owned winery offers rolling countryside views of the San Pasqual Valley mountains. Orfila Vineyards has a beautiful patio overlooking the valley, often with live music and spacious seating that's perfect for groups. Groups of more than 20 are required to make a reservation. If your group is smaller than 20, we'd highly recommend calling in advance to ensure your group can be accommodated.
San Pasqual Winery (Seaport Village)
Address: 805 W Harbor Dr, San Diego, CA 92101
Phone: (619) 544-9463
San Pasqual Winery has multiple locations in the San Diego metro area. The Seaport Village waterfront tasting room is the winery's most popular location, offering scenic views of the Bay and Embarcadero Marina in Downtown San Diego. In addition to flavorful reds, whites, and rosés, San Pasqual Winery also offers a unique selection of passionfruit and dessert wines. Group tastings can be booked with the winery via email.
Castelli & Pizarro Family Winery
Address: 17870 Oak Grove Rd, Ramona, CA 92065
Phone: (619) 997-5141
Castelli & Pizarro Family Winery offers top quality wine tasting experience in a relaxed atmosphere in California's Ramona Valley. The winery specializes in flavorful red wines but also has a selection of white and dessert wines. Tastings are led by friendly and knowledgeable staff, so your group is sure to enjoy your time at this family winery. Be sure to call or email the winery in advance to inquire about group tasting options and hours.
Hungry Hawk Vineyards & Winery
Address: 3255 Summit Dr, Escondido, CA 92025
Phone: (760) 489-1758
Hungry Hawk Vineyards & Winery is located just down the road from the famous San Diego Zoo Safari Park. If you're hosting an adults-only day at the safari park, making a stop at Hungry Hawk is a must. The winery offers a selection of 25-30 wines, so everyone in your group will find something suited to their taste. Reservations are highly recommended for group visits and tastings.
Southern California Wineries Between LA and San Diego
If you're committed to a longer trip from either LA or San Diego, you'll want to make a visit to wineries in Temecula Valley and the South Coast. When you're traveling with GOGO Charters, you won't need to worry about the distance. Your professional driver will handle all of your transportation while you relax on the way to wineries in a private charter bus shuttle.
South Coast Winery
Address: 34843 Rancho California Rd, Temecula, CA 92591
Phone: (951) 566-4622
South Coast Winery is special for many reasons, including that it's attached to a resort, hotel, and spa. Visiting the South Coast can be an all-inclusive vacation experience for groups planning a weekend getaway. Groups opting for an afternoon visit will still enjoy the beautiful grounds, luxurious tasting room, and delicious selection of wine. Groups larger than 10 people are required to make a tasting room reservation before visiting.
Briar Rose Winery
Address: 41720 Calle Cabrillo, Temecula, CA 92592
Phone: (951) 308-1098
This family-owned and operated winery offers a boutique, reservations-required experience. Visiting Briar Rose Winery is a must for groups looking for an exclusive and intimate tasting experience. Groups of old-school Disney fans will also be delighted to know that Briar Rose has themed cottages on the grounds, including a replica of Snow White's cottage.
Oak Mountain Winery
Address: 36522 Vía Verde, Temecula, CA 92592
Phone: (951) 699-9102
Wine enthusiasts interested in a truly unique wine selection should make it a priority to visit Oak Mountain Winery. This Temecula Valley establishment is home to Southern California's only mined wine caves. Oak Mountain's subterranean mined wine cave is located 104 feet below ground and is open for tastings and tours. You'll learn about the cave barrel aging process and how the Oak Mountain team utilizes such a unique landscape. Wine tastings can also be held on the patio and in the winery's main tasting room. Private tours and large groups (generally over 14 people) must call the winery to make a reservation.
Callaway Vineyard and Winery
Address: 32720 Rancho California Rd, Temecula, CA 92591
Phone: (951) 676-4001
Callaway Vineyard & Winery is the perfect location to wine and dine in the sunny Temecula Valley. Callaway has a popular full-service eatery called Meritage Restaurant that serves tasty farm-to-table fare to pair with a large selection of delectable wine. Grab a delicious meal and a few glasses of wine while your group enjoys the beautiful sunset beyond the Temecula Mountains.
Book a Southern California Wine Shuttle with GOGO Charters
After reading through the many top-tier wineries in Southern California, you should have plenty to fill up your group's itinerary. No matter where your group travels start, the GOGO Charters team will make sure you travel safely from wineries across the region. Call the GOGO Charters rental team around the clock at 1-855-826-6770 to learn more about charter bus rental pricing for a winery tour shuttle service.
Do you need to rent a charter bus?
Do you need a long-term shuttle service?
We offer contracted shuttle services for businesses, schools, hotels, and more. Contact our experts at 1-844-897-5201 to discuss your long-term transportation plans.