Winery Bus Tour in San Diego Wine Country
When you rent a charter bus with GOGO Charters to explore San Diego wine country, your adventure will be easy, exciting, and stress-free. We'll handle the logistics of transportation while you spend your time planning the perfect itinerary for your group.
If you're interested in booking a San Diego winery bus tour, GOGO Charters can help you out. Give us a call at 619-312-4991 and tell us all about your ideal itinerary. We'll pair your with the perfect charter bus and provide a free, no obligation quote for your trip.
Private, Plush and Premium Road Travel
Booking a private charter bus means premium comfort just for you and your group. If you're throwing a bachelorette party for a dozen-or-so folks, opt for a cozy minibus with free WiFi and an AUX-cable plug-in so you can blast your favorite Spotify playlist or enjoy a little "car-aoke." You can quickly zip through the countryside for a day-trip with a small shuttle bus in tow.
Though when you're planning a tour for a large group of travelers, or maybe a family gathering or class reunion, you'll want to opt for a motorcoach. With a high-capacity charter bus, you can go ahead and plan that epic 3-day adventure through San Diego wine country you've been dreaming of. There is plenty of undercarriage storage space for everyone's belongings, and on-board amenities like restrooms and plush seats to make long journeys more comfortable.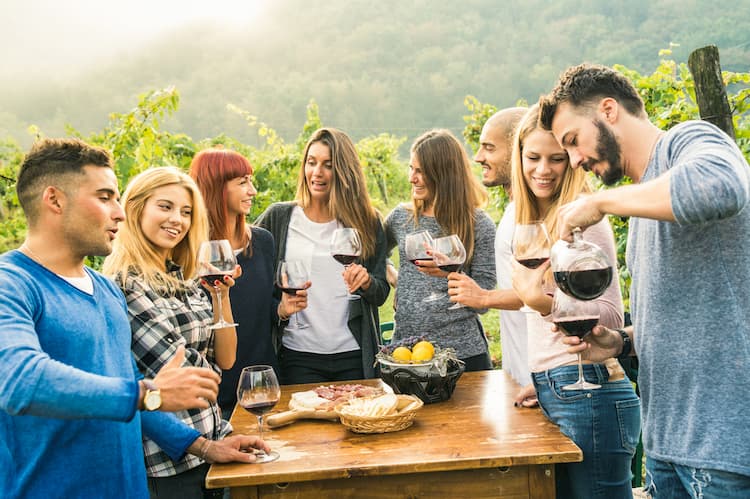 Customize Your San Diego Wine Tour
With a charter bus rental, there's no need to rely on pre-planned itineraries or decide between over-priced tour packages. Your wine country tour is what you make it!
As you start to plan, you can choose from any and all of the vineyards and wineries around San Diego. Make your trip a day-trip through the highlights of the Temecula Valley, or choose a 3-day excursion from the city to the countryside and back. With the freedom to control your schedule, you can spend more time at the places you love browsing fine wine, enjoying fine dining and exploring acres of vineyards.
To top it all off, you'll have a designated driver from start to finish, so don't be afraid to pop open a bottle or two on the bus. At the end of your trip, make sure to give your driver a tip for a safe and efficient ride.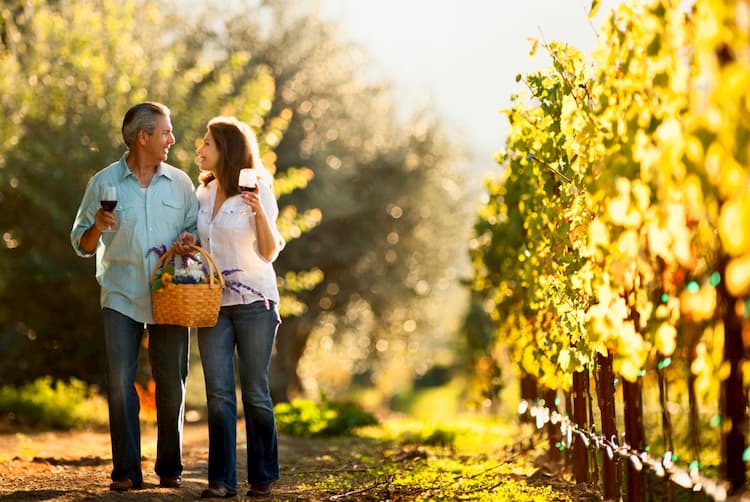 Top 5 Wineries and Vineyards Near San Diego
1. Hungry Hawk Vineyards & Winery
Head to the San Pasqual Valley near Safari Park for a taste from one of California's award-winning tasting rooms. Hungry Hawk releases 25 wines a year directly at its Estate Tasting room, which you can visit with a reservation.
Address: 3255 Summit Dr, Escondido, CA 92025
Phone: 760-489-1758
2. Blue Door Winery
Blue Door is a boutique winery nestled into the mountains just an hours drive from San Diego. They have a full production facility, so when you visit you'll be able to watch (and maybe even help with) the winemaking process!
Address: 4060 Morena Blvd, San Diego, CA 92117
Phone: 858-274-4292
3. Milagro Farm Winery
The beautiful Milagro winery is a sweeping estate complete with an 110-acre vineyard, an organic farm, and stucco event buildings. It's no surprise this is a popular wedding destination. Go here to enjoy trying wines in the tasting room, play bocce ball, take a vineyard hike, or go horseback riding.
Address: 18750 Littlepage Rd, Ramona, CA 92065
Phone: 760-787-0738
4. Carruth Cellars Urban Winery
This flagship urban winery is located in the heart of Solana Beach, just north of San Diego proper. Carruth Cellars is a stellar place to gather with friends, order a charcuterie board, and order a bottle or two (or three) of rosé.
Address: 118 S Cedros Ave #C, Solana Beach, CA 92075
Phone: 858-847-9463
5. Charlie & Echo
Charlie & Echo is an urban winery specializing in producing natural and craft wine from local vineyards. It's a great place to try unique mixes like vermouths, sangrias, sours, and "cocktails"—but don't leave without a bottle of bubbly. This spot is well known for their sparkling wines.
Address: 8680 Miralani Dr UNIT 113, San Diego, CA 92126
Phone: 877-592-9095
Book Your San Diego Charter Bus Today
Ready to hit the road in wine country? Call GOGO Charters today at 619-312-4991. Tell us about your ideal itinerary, and we'll recommend the perfect transportation for your group.
CALL 1-855-826-6770 FOR CHARTER BUSES IN SAN DIEGO, CALIFORNIA
Rent your charter bus now:
1-855-826-6770
You may have seen us featured in: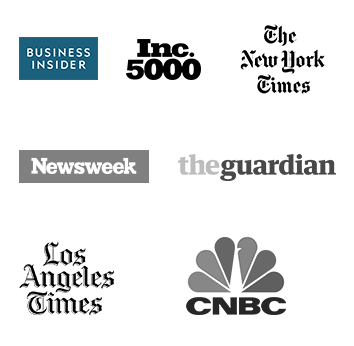 Gogo Charters San Diego

10251 Vista Sorrento Pkwy Suite 280, San Diego, CA 92121, USA

(619) 312-4991
More About Group Travel in San Diego
Helpful Bus
Rental Resources
Latest
Blog Posts