Your Guide to Group Tours of San Diego's Colleges
San Diego's colleges have a reputation for beautiful, scenic campuses and academic excellence. The city also has a variety of universities to choose from–you can find members of the University of California and California State systems in the area, as well as other exceptional public and private schools. 
If you're bringing a large group of students to tour San Diego's universities, you'll need to figure out how you're going to get around. A charter bus offers one of the easiest and most comfortable ways to travel from UC-San Diego to San Diego State. You can keep all of your students together, and you can even request free WiFi to help them research schools or finish homework while they travel.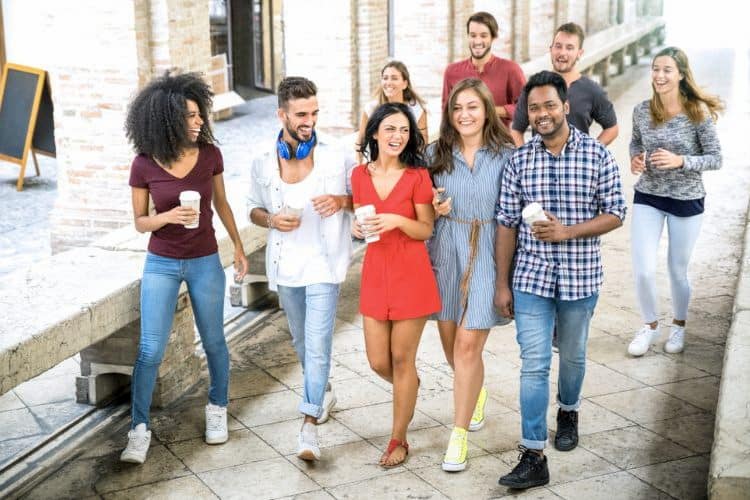 GOGO Charters has a variety of motorcoach and minibus rentals for you to choose from if you decide a charter bus is right for your group. Just give us a call at 619-312-4991 and let us know which colleges you want to visit, when you'll be going, and how many students you plan to bring. Looking for more information about what each college has to offer and how to take a group tour there? Keep reading. 
University of California San Diego
This highly selective public research university in La Jolla only takes the best of the best. Although UC San Diego has around 27,000 students, they've all earned their spot with strong academic records and high SAT or ACT scores. This is the campus to visit with overachievers, especially those who specialize in STEM. UC San Diego is renowned for its pre-med, public health, computer science and biology programs. 
UCSD isn't all about academics, though. The school has a beautiful 1,200 acre-campus near La Jolla's beaches, and many students enjoy recharging with a day of surfing or swimming. UCSD also strives to build a racially diverse student body and to provide opportunities for low-income students. 

Library at UC San Diego
Tour info: The Triton Tour consists of a 30-minute information session and a 90-minute walking tour. Groups can register online and then be dropped off at the Triton Center (on the first floor of the Student Services Center) on the day of their tour. The charter bus driver will need to park in lot P704 and pay at the parking kiosk or on the Park Mobile App for as many spaces as the bus takes up, although this fee is waived if the driver opts to stay with the bus. 
Drop-off address: 9500 Gilman Dr, La Jolla, CA 92093
San Diego State University
San Diego State University is another public research university with exceptional academics. Although it's not as selective as UC-San Diego, SDSU still offers highly challenging degree programs, especially in international business and sustainability. Other popular majors include psychology, criminal justice, and education. 
Students must apply to a specific major at SDSU, not to the school as a whole, so it's probably not a good fit for those who need time to explore before deciding on a major. However, students who've already figured out what they want to do may love this huge, racially and economically diverse school that knows how to have fun. SDSU's sports teams, the Aztecs, have a devoted following, and there's plenty of Greek life on campus.
Tour info: San Diego State only allows group tours for high school or community college students in groups of 80 or less. One chaperone is required for every 20 students, so you can bring anywhere from 21 people in a single minibus to 84 people in 2 charter buses for your tour.
Tours are offered from 9 a.m.-2 p.m. Monday through Friday, and you must register online in advance. On your arrival day, ask your bus driver to drop you off at the Prospective Student Center (inside the Student Services West building.) Minibuses can use the PayByPhone app to park in the P3 garage, while charter buses will need to find a spot off campus.  
Drop-off address: 5500 Campanile Drive, San Diego, CA 92182
California State University San Marcos
If you have students who want to commute to school from their homes or who need to balance academic life with jobs and family responsibilities, California State University San Marcos could be a great choice. This diverse public school offers affordable tuition, and many of its 12,000 students opt to live off campus. 
Don't confuse accessibility with lack of rigor, though. CSUSM is still selective, and it boasts strong programs in nursing, education, psychology, and business. Although the school is located in San Marcos, many San Diego natives choose to visit because it's only about 35-40 minutes away. If you add this stop to your itinerary, you can request WiFi or TVs on your charter bus to make sure your students won't get restless on the way there.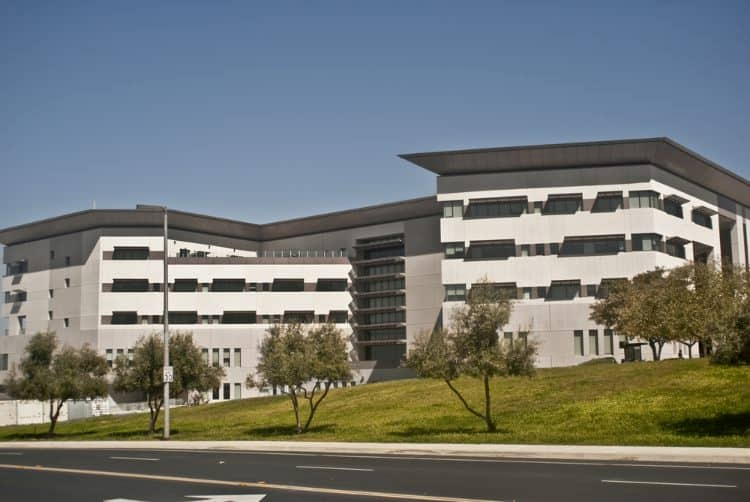 Tour info: Led by P.R.I.D.E. Student Ambassadors, group tours at CSUSM welcome 10-50 guests from high schools, junior colleges, or community groups. You must bring 2 chaperones for every 25 students and register your group ahead of time by emailing campustour@csusm.edu or calling 760-750-4830. You'll get an email confirmation that you can print out and bring with you on the day of your tour.
The first tour of each day begins at 9:00 a.m, while the last begins at 3:00 p.m. Your tour will start at Cougar Central on the third floor of Craven Hall. Your driver can drop your group off at the hall and then head to one of the campus's many paid parking lots or an off-campus parking location. 
Drop-off address: 333 S Twin Oaks Valley Rd, San Marcos, CA 92096
University of San Diego
Want to give your students a taste of a smaller university? Take your group to the University of San Diego, a private Catholic university with about 5,000 students and strong research programs. Like many of the schools in San Diego, USD is both selective and academically challenging, with strong programs in business, accounting, finance, communications, and marketing. 
USD also has a beautiful campus, with long stretches of green lawns and classic Spanish Colonial buildings. All that beauty comes with a hefty price tag, though–the University of San Diego's tuition is not cheap, and most attendees will need scholarships or financial aid. However, the small student body and concentrated campus create a strong sense of community that many students may love.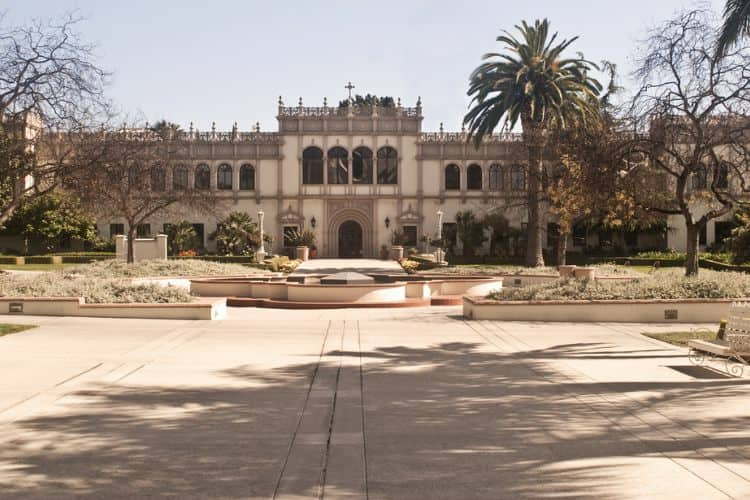 Tour info: Groups of middle and high school students can register for a group tour 4 weeks in advance. Tours take place Tuesday-Friday at 9 a.m., 11 a.m. and 2:30 p.m., and the Office of Undergraduate Admissions will contact you to confirm your tour time. You can bring anywhere from 10-125 students and chaperones. 
If you'd like to eat lunch on campus, you must register to eat in the Pavilion Dining Area before 11:45 a.m. or after 1:45 p.m. Set menus are available for groups of 20 or more at $10.75 per person. Your bus will leave you at Manchester Hall so you can check in, and then you can either  head to the Pavilion for an early lunch or embark on your tour and return for lunch later. 
Drop-off address: 5998 Alcalá Park, San Diego, CA 92110
Point Loma Nazarene University
If you work for a church or run a youth group, this private, Christian liberal arts school is worth a visit. Located on the Point Loma waterfront within walking distance of the beach, PLNU only has about 2,500 students and boasts small classes and a close-knit community.
Although it's especially well-known for its nursing program, Point Loma Nazarene University also offers programs in other health professions. Alternatively, many students opt to study the humanities or to major in social sciences like psychology and sociology. All of the programs are infused with Christian theology, so this school is best suited for students who practice evangelical Christianity and are deeply religious. 
Tour info: Middle school, high school, community college, and church groups can register for group tours at Point Loma on weekdays at 9 a.m., 11 a.m. or 2 p.m. Groups must register at least 4 weeks in advance, and you can bring up to 100 people with 1 chaperone for every 15 students. Your final headcount is due one week before your tour begins.
If you'd like to have lunch on campus, you can make a reservation at the cafeteria between 11 a.m. and 1:30 p.m. Lunch is buffet-style and costs $6.25 per person. You'll pay on the day of your tour, but you must pay for your entire group at once using a check, a credit card, or cash you've already collected. 
Note that Point Loma Nazarene doesn't allow buses to park on campus under any circumstances. Your bus driver must drop you off in a designated zone in front of the student center and then find parking off campus. Luckily, Point Loma isn't as packed as the Gaslamp Quarter or Balboa Park, so your bus will probably be able to find a spot in a paid lot or along the street. 
Drop-off address: 3900 Lomaland Dr, San Diego, CA 92106
Book Your Group Tour of San Diego's Colleges Today
It's hard to imagine a more beautiful place to go to college than San Diego. If you're taking a road trip to help your students experience campuses in the area, GOGO Charters has your back. Give us a call at 619-312-4991, and we'll find a charter bus with reclining seats, power outlets, and free WiFi to help you and your students have a relaxing, productive trip to San Diego's best universities.
Tags In
Do you need to rent a charter bus?
Do you need a long-term shuttle service?
We offer contracted shuttle services for businesses, schools, hotels, and more. Contact our experts at 1-844-897-5201 to discuss your long-term transportation plans.