The Best Group Day Trips from Chicago
Chicago has some of the most impressive attractions, delicious food, fun nightlife, and awe-inspiring skyscrapers in the Midwest. So why would you want to leave? Well, the big city life can get exhausting and locals may need a little break from the hustle and bustle of the Windy City. Plan a day trip out of Chicago to get a much-needed breath of fresh air with a group of friends or family. Even if you're planning an outing with work colleagues or a school field trip, organizing a day out of town is a wonderful way to team-build and learn.
Traveling Around the Midwest with a Group
Deciding where you'll go is only the first step in your journey. You'll also need to figure out how to get your group to, from, and around your destination. Small groups can easily pack everyone into a car or even build a caravan if needed. But if you're traveling with a large group, you'll need a more spacious way to get around. That's where GOGO Charters comes in with a Chicago charter bus rental.
Book a charter bus rental in Chicago and keep anyone from having to sacrifice the mileage on their personal vehicles or feeling uncomfortable while stuck in a small car. A motorcoach rental will give your group plenty of space to relax on the road while a professional driver gets you where you need to be! Call (312) 546-3925 to get a quote on a minibus or charter bus outfitted with WiFi, TVs with DVD players, and reclining seats for a smooth and easy ride to these nearby cities:
1.   Gurnee, IL
Distance from Chicago: 50 minutes or ~40 miles
Gurnee isn't all too far from Chicago, and it's the perfect place for thrill-seekers or groups with kids to spend an afternoon. This small town is home to Six Flags Great America and the Great Wolf Lodge Water Park, which offer hours upon hours of family-friendly fun just a little ways from the big city. Enjoy rides on the world's fastest wooden roller coaster at Six Flags or cool off in the wave pool at Great Wolf Lodge.
However, note that both parks see large attendance and may not be the best places to avoid big crowds. So if you're traveling during peak times like summer, be sure to practice patience, as wait times can get long. Once you finish enjoying the rides, stretch out and relax in your charter bus on the way back to Chi-town.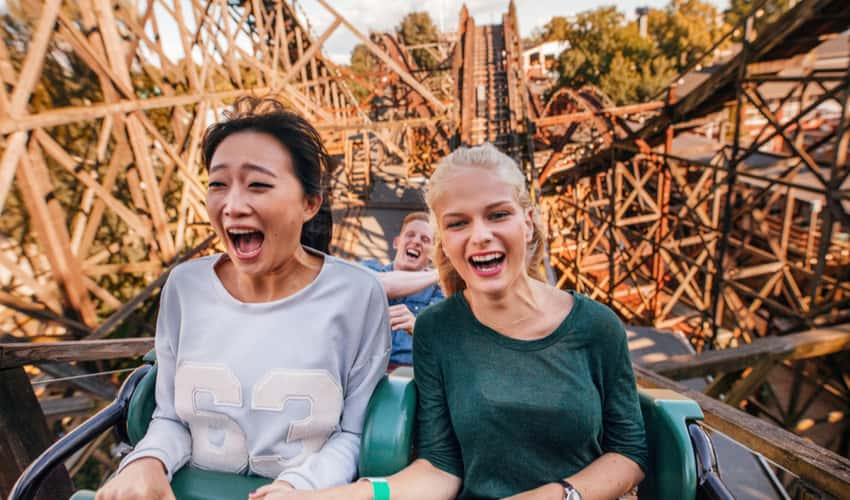 Six Flags Great America
Highlights: Goliath, Raging Bull, and American Eagle roller coasters, Batman-themed rides, Hurricane Harbor (seasonal)
Address: 1 Great America Parkway, Gurnee, IL 60031
Phone: (847) 249-1776
Great Wolf Lodge Water Park
Highlights: lazy river, wave pool, ropes course
Address: 1700 Nations Dr, Gurnee, IL 60031
Phone: (844) 482-9653
Charter bus travel tip: Gurnee's theme parks are used to handling a large number of vehicles and motorcoach parking can be organized easily. Charter bus parking at Six Flags is $30, and your driver will get free admission when they present a valid CDL license. Great Wolf Lodge offers oversized vehicle parking with purchases of day passes.
2.   Milwaukee, WI
Distance from Chicago: 1.5 hours or ~93 miles
Some may consider Chicago the cultural hub of the Midwest, but nearby Milwaukee has a lot to offer too. The city has a long history as well as several historic districts and unique attractions to visit on a day trip. Groups of beer lovers can explore the city's historic breweries,  like Pabst Brewing Company and Miller Brewing Company. These century-old establishments offer tours and tastings sure to intrigue those who love a good brew.
If you're traveling with underage visitors, don't worry — Milwaukee has plenty for them as well. Take a tour of the undeniably cool Harley-Davidson Museum, catch a Brewers game at Miller Park, or grab tasty local bites at the Milwaukee Public Market. One of the best times for Chicagoans to visit Milwaukee is during a Cubs vs. Brewers game! Book a charter bus for your Cubs fan club and ride from Chicago to Milwaukee for the big match.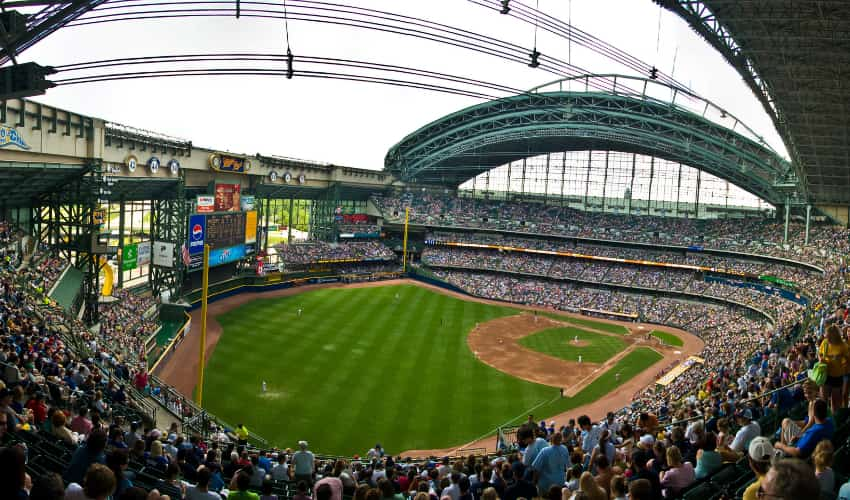 Harley-Davidson Museum
Highlights: Engine room exhibit, Bike Night Thursdays
Address: 400 W Canal St, Milwaukee, WI 53201
Phone: (414) 287-2789
Miller Park
Highlights: retractable roof during games, game day tours, iconic sausage horse races
Address: 41 Brewers Way, Milwaukee, WI 53214
Phone: (414) 902-4452
Milwaukee Public Market
Highlights: fresh seafood vendors, local baked goods, wine bar
Address: 1400 N Water St, Milwaukee, WI 53202
Phone: (414) 336-1111
Charter bus travel tip: Oversized parking can be found at most major attractions like Miller Park. Be sure to organize parking for your charter bus at each stop on your itinerary or find a lot that offers in and out privileges throughout the day.
3.   Lake Geneva, WI
Distance from Chicago: 1.5 hours or ~90 miles
Looking for a quiet, calm place to dip your toes in the water? The Chicago area has beautiful lakefront beaches if you want a day to soak up the sun, but they can get quite crowded, making it a pain to find space for your group to spread out and relax. Instead, shuttle up to Lake Geneva in Wisconsin for a lovely day in the sun.
Pack your charter bus's luggage bays with all your water gear and ride to Lake Geneva Public Beach, Big Foot Beach State Park, or Fontana Beach. The area around the lake also includes local restaurants, resorts, and attractions like Black Point Estate and Gardens where your group can tour the historic grounds.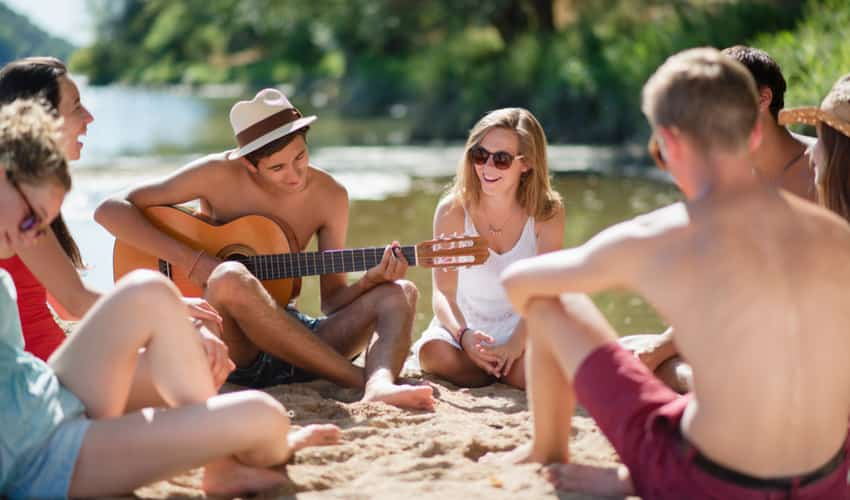 Lake Geneva Public Beach (Riviera Beach)
Highlights: family-friendly seasonal activities, swimming lessons
Address: Lake Geneva, WI 53147
Phone: (262) 248-3673
Big Foot Beach State Park
Highlights: swimming, canoeing, kayaking, and hiking
Address: 1550 S Lake Shore Dr, Lake Geneva, WI 53147
Phone: (262) 248-2528
Fontana Beach
Highlights: beachfront grassy areas and playground
Address: Fontana Blvd, Fontana-On-Geneva Lake, WI 53125
Phone: (262) 275-6136
Charter bus travel tip: Lake Geneva is a heavily residential area, and you'll find that many beaches offer resident discounts for beach admission and parking options. If you're traveling with a big group, call ahead to verify oversized parking availability and group admission rates for out-of-towners.
4.   Oglesby, IL
Distance from Chicago: 1.5 hours or ~100 miles
Groups of nature enthusiasts should make a trip from Chicago to Oglesby for beautiful walking and hiking opportunities. This quaint town is home to some of the state's most breathtaking parks, all situated along the Illinois and Vermillion rivers. Starved Rock State Park and Matthiessen State Park have miles of hiking trails, water features, rock formations, nature-watching activities, and picnic areas. Matthiessen State Park has several activities your group can enjoy but doesn't have accommodations like Starved Rock.
Consider starting your day of hiking at Matthiessen and then moving along to Starved Rock for more hiking and a bite to eat at the Starved Rock Lodge Restaurant or Back Door Lounge. Starved Rock also has rustic, spacious venues that are often used for business conferences and wedding services. With a charter bus rental, you can easily shuttle your wedding or business guests from Chicago to the great outdoors for a secluded event.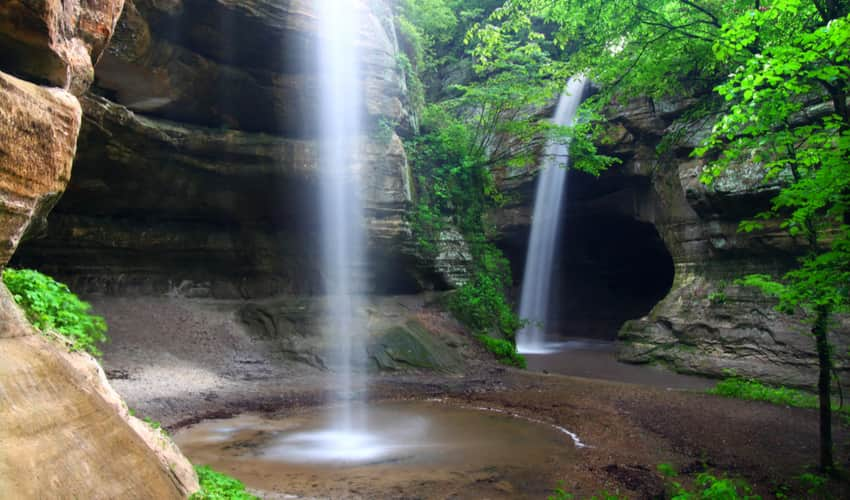 Starved Rock State Park
Highlights: St. Peter's sandstone rock formations, river cruises, guided trolley tours
Address: 2668 E 875th Rd, Oglesby, IL 61348
Phone: (815) 667-4726
Matthiessen State Park
Highlights: Cascade Falls, canyons, horseback riding trails
Address: 2500 IL-178, Oglesby, IL 61348
Phone:  (815) 667-4868
Charter bus travel tip: Parking can quickly fill up later in the afternoon at both parks, and you may not have an option for your charter bus. You can organize a drop-off and pick-up time with your driver and reserve parking in town. Oglesby has a few hotels, public lots, and campgrounds that allow parking for oversized vehicles.
5.   Madison, WI
Distance from Chicago: 2.5 hours or ~150 miles
As the capital of Wisconsin and a major college city, Madison has a little bit of something for everyone. From educational, historic attractions to rowdy yet fun nightlife, your group will find plenty to do. The Wisconsin State Capitol is a spectacular location to learn about history and admire grand Beaux-Arts architecture. Free tours are available every day, and groups of 10 or more can request a private tour with a prior reservation.
The Olbrich Botanical Gardens are another popular educational spot. Located about 5 miles north of the capitol, they are a lovely place to learn about exotic tropical plants, native flora and fauna, and international cultures.
The area around University of Wisconsin-Madison has a variety of nightlife options for college-aged adults wanting to enjoy an evening out on the town. Traveling with kids or even prospective students? Try to catch a thrilling Badgers football game at Camp Randall Stadium during the season, or tour the beautiful campus off of Lake Mendota.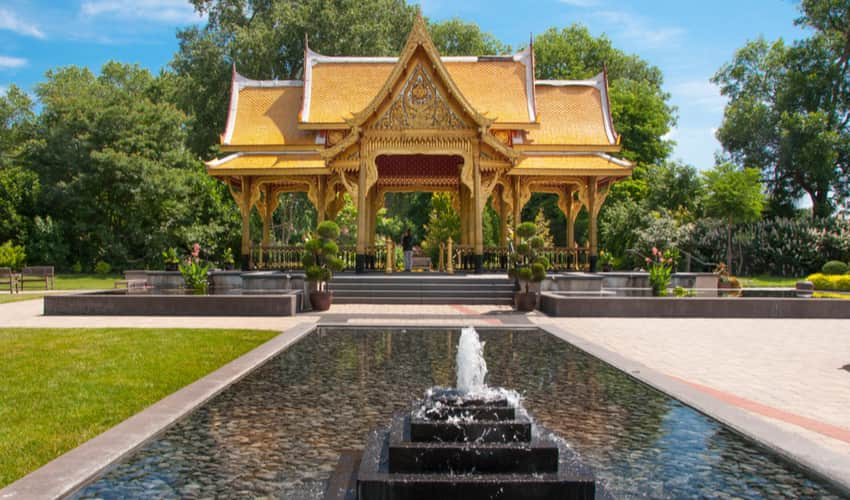 Wisconsin State Capitol
Highlights: observation deck with views of the city, hand painted murals, seasonal events
Address: 2 E Main St, Madison, WI 53703
Phone: (608) 266-0382
Olbrich Botanical Gardens
Highlights: Thai pavilion (the only structure of its kind in the contiguous U.S.), Boltz Indoor Conservatory, butterfly exhibits
Address: 3330 Atwood Ave, Madison, WI 53704
Phone: (608) 246-4550
University of Wisconsin-Madison
Highlights: waterfront views from Memorial Union Terrace, local businesses along State Street
Address: 716 Langdon St, Madison, WI 53706
Phone: (608) 263-2400
Charter bus travel tip: Motorcoach parking in Madison is available at Turville Point Park, just a couple miles from downtown. Have your driver safely drop your group off at your destination of choice before they park at Turville.
Book Your Chicago Day Trip Today
Get your day-trip planning started with GOGO Charters! A GOGO Charters rental expert will assist you at 312-546-3925 when you're ready to book a minibus or charter bus for your trip. Is your group organizing a longer outing? GOGO Charters has your multi-day trip transportation covered from Chicago to Indianapolis, Detroit, St. Louis, and beyond.
Tags In
Do you need to rent a charter bus?
Do you need a long-term shuttle service?
We offer contracted shuttle services for businesses, schools, hotels, and more. Contact our experts at 1-844-897-5201 to discuss your long-term transportation plans.