A Guide to Group Tours of Houston Colleges
If you're an educator or counselor in the Houston area, you already know that preparing for another year of college tour sessions is stressful. But you also know that ensuring your hopeful applicants visit their dream campuses and experience student life there is one of the best ways to see if a school is the right fit for them.
That's why GOGO Charters is here to help. Whether your students and chaperones are Houston locals or you're in town to weigh out-of-state options, reserving a Houston bus rental means you can tour every college and university on their list without stressing about navigation or parking. Give us a call any time at (281) 407-2654, and we'll connect you with a thoroughly-inspected motorcoach and a certified, professional driver for your Houston college tour trip. From finding ADA-accessible coaches at no additional cost to ensuring your bus is full of TVs, DVD players, and WiFi so your kids stay entertained between stops, our 24/7 reservation team can help you find a motorcoach that works for your budget and your group's needs.
Now let's get touring!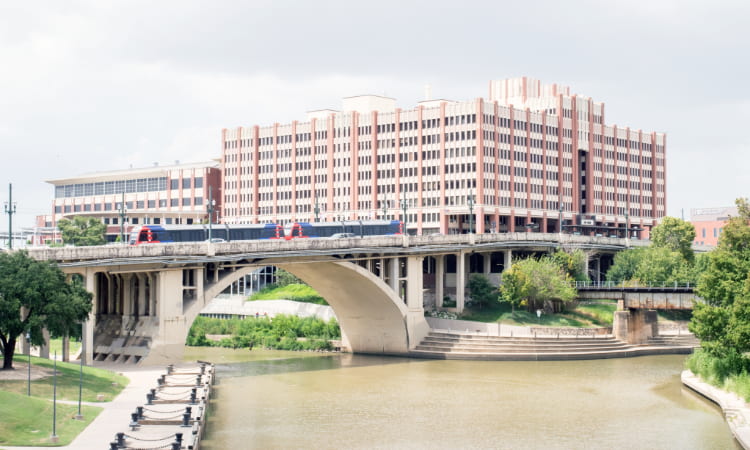 University of Houston
Address: 4400 University Dr, Houston, TX 77204
Phone: (713) 743-2255
Welcome to the city's largest public university, with over 45,000 students enrolled across this university system's four campuses in 2021. UH is considered a commuter college—which is to say that most students live off-campus—making it a favorite for local Houstonians seeking higher education without having to stray far from home. It's also considered a dream school for aspiring healthcare professionals, future leaders in renewable energy, and those who value community service and public art initiatives.
Group visits to the University of Houston are available Wednesdays and Fridays and include a session with an admissions counselor, a walking tour of the campus led by a current student, and a quick tour of one of the student housing buildings. The UH admission team can accommodate groups of up to 100 high school students (with at least one chaperone for every 10 students) for the two-hour guided tours. Once you arrive, campus visits are completely free, though you should consider reserving at least two weeks in advance to ensure availability.
Your driver can drop you off at the UH Welcome Center in time for your tour, then park the bus at 5000 Gulf Freeway near the University of Houston Technology Bridge. The university asks oversized vehicles to park close to the fence between Buildings 13 and 14 and asks drivers to leave a note on the dashboard with their contact information in case the bus needs to be moved in an emergency.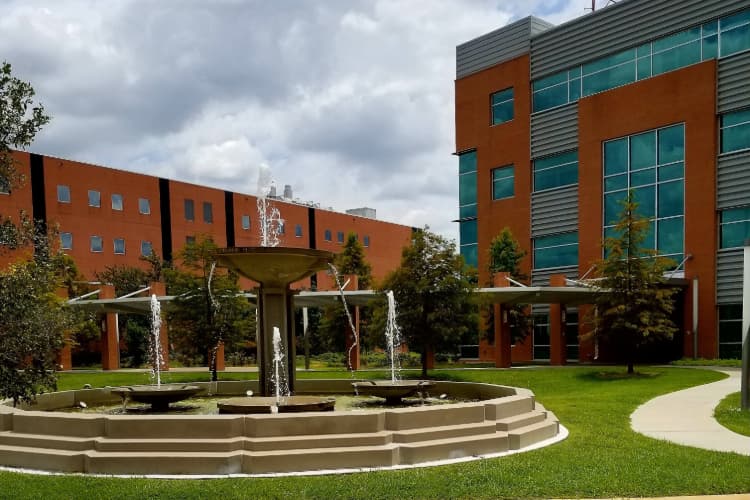 Texas Southern University
Address: 3100 Cleburne St, Houston, TX 77004
Phone: (713) 313-7011
After your tour of the University of Houston, hop back on your bus for a quick ride—literally a few blocks—to the prestigious Texas Southern University.
First established in 1927, this historically African American public college is one of the largest and most comprehensive of its kind in the country, with over 10,000 students enrolled per year and over 100 academic programs. TSU is one of the top 5 institutions in the U.S. when it comes to granting doctoral and professional degrees to African Americans, and out of all the institutions in Texas, it awards the most college degrees to African American and Hispanic students.
Even better, the campus is nestled in the heart of Third Ward—one of Houston's fastest-growing economic districts. The university partners with many businesses and corporations in the area, which means students have ready access to internships and interviews within walking distance of campus.
Long story short: if your students want to support an HBCU, value an education that's second-to-none, and plan to get a head-start on their professional development, TSU is a great place to call your alma mater.
Groups of 10 or more people may request to visit TSU Monday through Friday at 10 a.m., 12 p.m., and 2 p.m.—just be sure to reserve your preferred time slot at least two weeks before you plan to drop in. Wishing to tour with 50 or more prospective students? Consider making an event out of it, and ask the admissions offer about organizing a TSU Day, which includes an admissions presentation personalized to your organization, a walking tour of campus, and lunch at one of the on-campus dining halls.
Parking on the TSU campus is fairly limited, especially near the university's visitor center. If you plan to bring a large group here via charter bus, consider having your driver drop you off and find parking elsewhere downtown.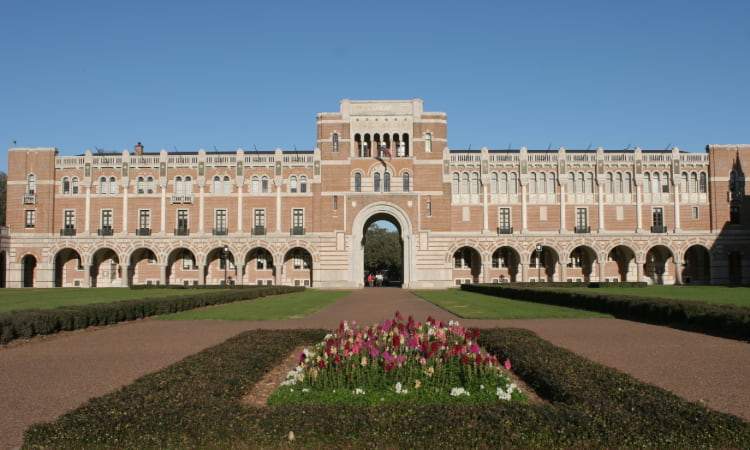 Rice University
Address: 6100 Main St, Houston, TX 77005
Phone: (713) 348-0000
This private university boasts a 300-acre tree-lined campus and nationally recognized research programs—including one of the best materials science programs in the country and an acclaimed nanotechnology research program. Given its highly selective and scholarly reputation, this school tends to attract brainiacs and over-achievers in all fields, though many prospective students are drawn to the computer and physical science programs.
Want a taste of student life at Rice University? Lucky for you, the admissions office here offers a wide range of campus-culture-based events and tours for prospective students. Sit in on a class, plan an overnight stay with a current student in one of the dorms, grab lunch on campus with an admissions counselor, or schedule an old-fashioned walking tour and information session—whatever program best fits your students' schedule and style, Rice University can work something out so they feel welcome.
The Rice University Welcome Center offers guided tours tailored to groups of elementary, middle school, high school, and adult visitors most Tuesdays and Thursdays. Groups larger than 40 people will be asked to break up into smaller sections, and tour reservations should be requested at least two weeks in advance.
Parking on this campus can be tricky, especially during peak touring season. If you plan to bring any kind of oversized vehicle to campus—including a charter bus or minibus—you'll need to call the Rice University parking offices at (713) 348-2020 and let them know. Your driver can drop everyone off at the Office of Admissions in time to catch your tour, park the bus, and meet back up with your students when it's time to roll out.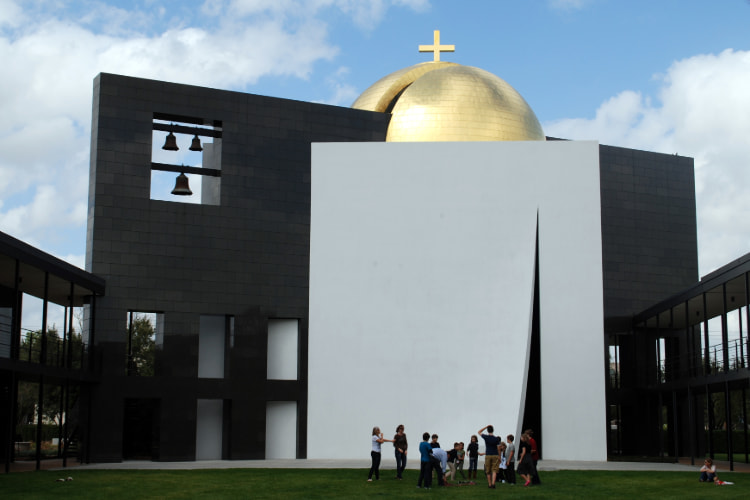 University of St. Thomas – Texas
Address: 3800 Montrose Blvd, Houston, TX 77006
Phone: (713) 522-7911
Touring higher learning options with your youth group or religious organization? Why not check out the University of St. Thomas! It's the only Catholic college in Houston, but the curriculum features more than faith-based classes (though it does offer religion studies as well!). This private institution features reputable accounting, business, and nursing programs, as well as close proximity to the Museum District and Midtown's stretch of local-favorite restaurants. One of the biggest draws to this private institution, however, is its small size—on average, only 1,500 students are enrolled here at a time—and 11:1 student to faculty ratio.
With a tiny student body and campus comes limited parking options, especially this close to the city center. Street parking is available around UST's perimeters if the on-campus lots fill (which is likely if you're visiting while class is in session), but when you're taking in the sights and information sessions with your students, the last thing you'll want to worry about is feeding the meter. Rather than carpooling to the campus and paying multiple parking fees, reserve a charter bus or minibus shuttle. That way, your driver can drop everyone off on campus, find a spot in the free, bus-friendly lots near Hermann Park, and meet back up with you at the visitor center once the tour wraps up.
Reserve Your Campus Tour Bus Rental Today
Whenever you're ready, the GOGO Charters team is here to make your Houston college tour transportation as stress-free as possible. Whether you need assistance picking the right bus for your group, a walk-through of the rental process, or a last-minute alteration to your reservation, we're always available to work something out. Call (281) 407-2654 today for a free, no-obligation rental quote personalized to your prospective students' itinerary and needs!
Tags In
Do you need to rent a charter bus?
Do you need a long-term shuttle service?
We offer contracted shuttle services for businesses, schools, hotels, and more. Contact our experts at 1-844-897-5201 to discuss your long-term transportation plans.