GOGO Charters Guide to the Best Day Trips from Orlando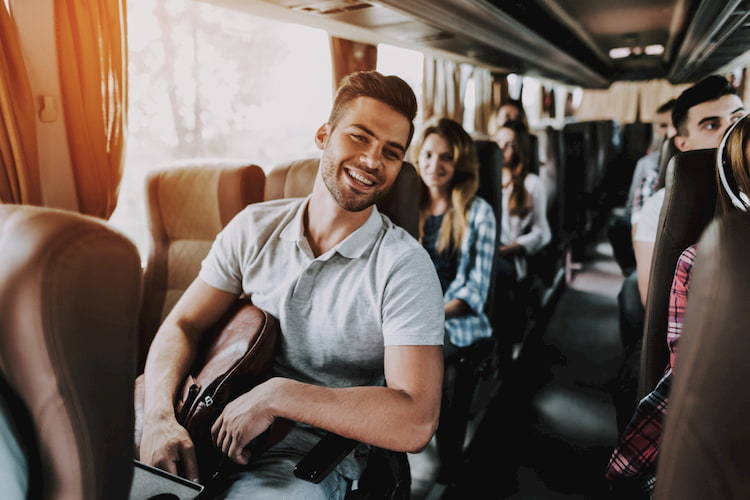 Sometimes, you just want to get out of the Theme Park Capital of the World and see what else the great state of Florida has to offer. From unexpected historical sites to space exploration to tropical outdoor adventures, there's a ton of fun and excitement all within 1 to 2 hours of Orlando, Florida. If you're planning a group day trip from Orlando, GOGO Charters can recommend a few fan favorites to organize an itinerary around.
While you're choosing the ultimate day trip destination, consider renting a charter bus to get you there. For both large and small groups, a motorcoach or minibus is a comfortable and efficient choice for traveling an hour or more. GOGO Charters can pair your group with the type of bus that fits you best, whether it's a 56-passenger motorcoach with an onboard restroom and free WiFi or an 18-passenger minibus with plenty of legroom and reclining seats. When you call GOGO Charters at 1-855-826-6770, you can also request a bus with the amenities you'd like, including an ADA-accessible bus for passengers with disabilities.
Ready to start planning your day trip from Orlando? Here are some of the best day trip destinations you'll want to experience:
1. Kennedy Space Center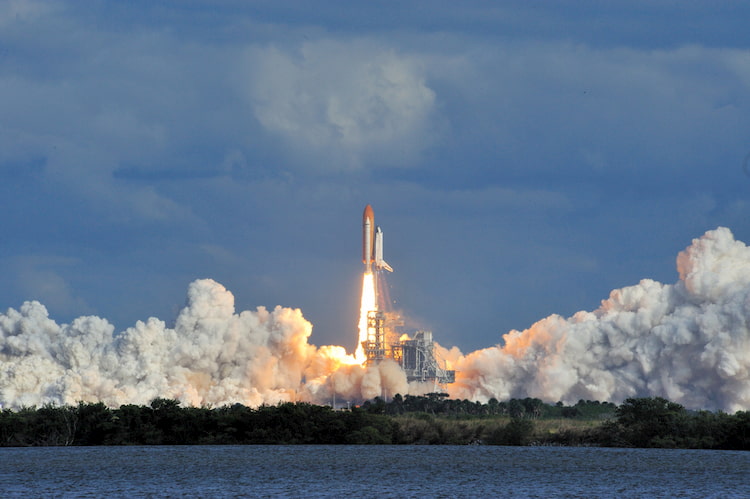 Distance from Orlando: 50 min
Get up close and personal with space shuttles and astronauts at the Kennedy Space Center Visitor Complex. Bring your corporate team for a private Astronaut Training Experience where you'll simulate being a crew on a space mission to Mars! And kids will enjoy an educational field trip that can include a behind-the-scenes tour and lunch with an astronaut. Groups of 15 or more can enjoy a group discount (and adult groups of more than 50 can receive an additional discount).
Make sure to bring at least $15 to pay the parking fee for a charter bus or shuttle bus. You can coordinate with your driver to drop your group off and pick you up in Lot 2 before parking.
Address: Space Commerce Way, Merritt Island, FL 32953
Phone: 1 (855) 433-4210
2. St. Augustine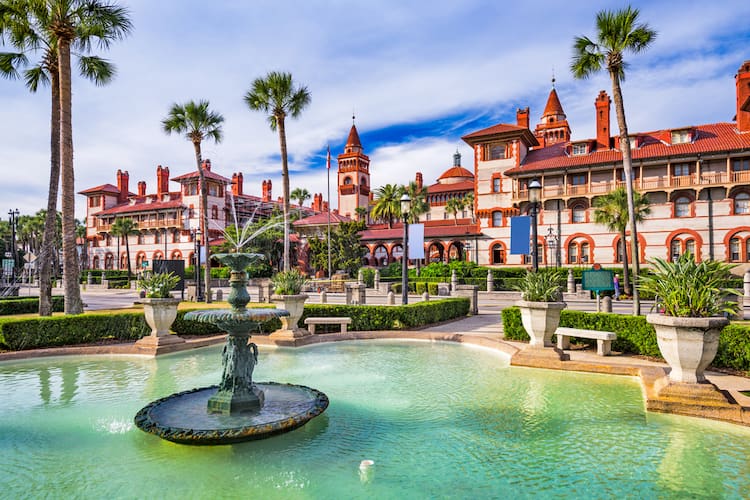 Distance from Orlando: 1 hr 45 min
Would it surprise you to know St. Augustine, Florida is the nation's oldest city? Among its cobblestone streets and Spanish-style buildings are dozens of historic sites and landmarks that tell the story of Don Pedro Menendez de Aviles, the Spanish explorer who founded the city on September 8, 1565—long before the British ever set sail for Jamestown. Now, it's your turn to explore this amazing destination on Florida's coast!
Plan a group day trip with a full-day itinerary of historic sites. Make your first stop the Castillo de San Marcos, a remote fortress that weathered many attacks during early colonial wars. The Lightner Museum is a unique institution showcasing Victorian era art and natural history relics like shrunken heads and mummies. We recommend leaving Orlando early in the morning (we're talking 6 or 7 a.m.) to make sure you get a full day of sightseeing in. Grab enough Starbucks and eye masks to placate the groggy crowd and load up your charter bus rental for a fun day.
Castillo de San Marcos
Address: 1 S Castillo Dr, St. Augustine, FL 32084
Phone: (904) 829-6506
Lightner Museum
Address: 75 King St, St. Augustine, FL 32084
Phone: (904) 824-2874
3. Clearwater Beach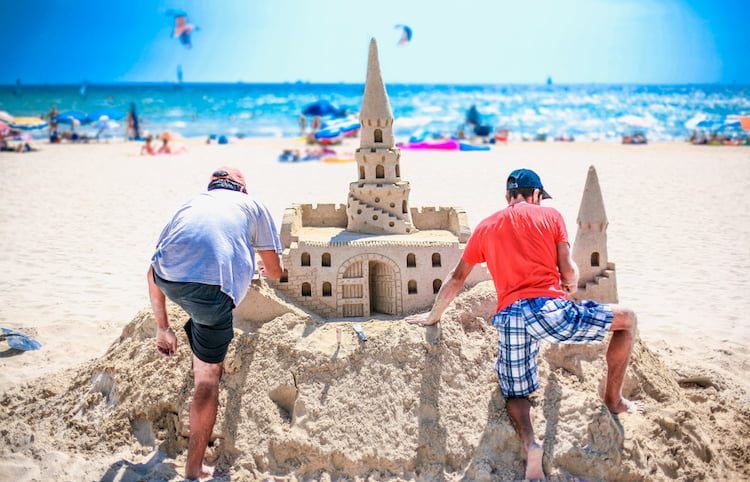 Distance from Orlando: 2 hr
One of Florida's most famous (and award-winning) beaches, Clearwater Beach is loved for its vast stretches of soft white sand and bright blue surf. Plan a group beach day and enjoy jet-skiing, parasailing and stand-up paddleboarding in the calm waters, or enjoy an event at Pier 60 like the 17-day Sugar Sand Festival. It's worth planning your trip around this amazing sand sculpting competition. You'll not only enjoy exhibits of brilliant sand sculptures, but also firework shows, beach concerts, and sand sculpting classes.
Pier 60
Address: 7 Causeway Blvd, Clearwater Beach, FL 33767
Phone: (727) 462-6466
4. LEGOLAND Florida Resort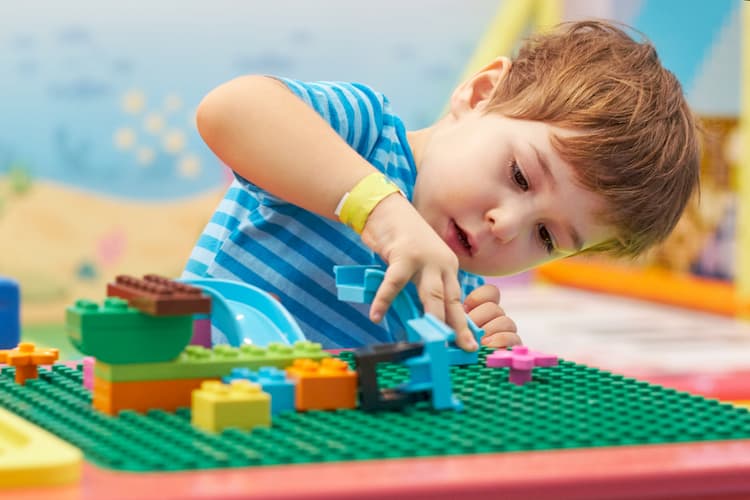 Distance from Orlando: 1 hr 15 min
Worn out all of the theme parks and resorts you'll find in Orlando? Head to LEGOLAND Florida with your favorite group of kids for a memorable day. Between the roller coasters, Imagination Zone, and water park, there'll be something for everyone to enjoy. Groups of 15 or more enjoy a group discount of 15% off general admission. If you're planning an educational trip, LEGOLAND offers school group programs complete with grade-specific educational experiences. Younger kids will enjoy learning how to build a tiny skyscraper or race car with lego bricks, while pre-teens can learn to design and pilot their very own space rover.
Address: 1 Legoland Way, Winter Haven, FL 33884
Phone: (888) 690-5346
5. Gainesville
Distance from Orlando: 1 hr 45 min
The city of Gainesville is much-loved for its outdoor recreation and local university life. You can plan a day trip around visiting the Florida Museum of Natural History, Kanapaha Botanical Gardens, or Devil's Millhopper Geological State Park. Due to elevation, Devil's Millhopper is a miniature rainforest and cover-collapse sinkhole, a destination rife with wildlife, lush vegetation, and natural history.
If you know some students interested in attending the University of Florida, plan a campus tour with a shuttle bus rental to cart you and your group around campus. Make sure to plan an afternoon or evening in downtown Gainesville so prospective students can get a feel for what college life could be like. Downtown is home to unique eateries, coffeehouses, and music venues perfect for filling evenings and weekends while studying at UF.
Devil's Millhopper Geological State Park
Address: 4732 Millhopper Rd, Gainesville, FL 32653
Phone: (352) 955-2008
University of Florida
Office of Admissions
Address: 201 Criser Hall, Gainesville, FL 32611
Phone: (352) 392-1365
6. Bok Tower Gardens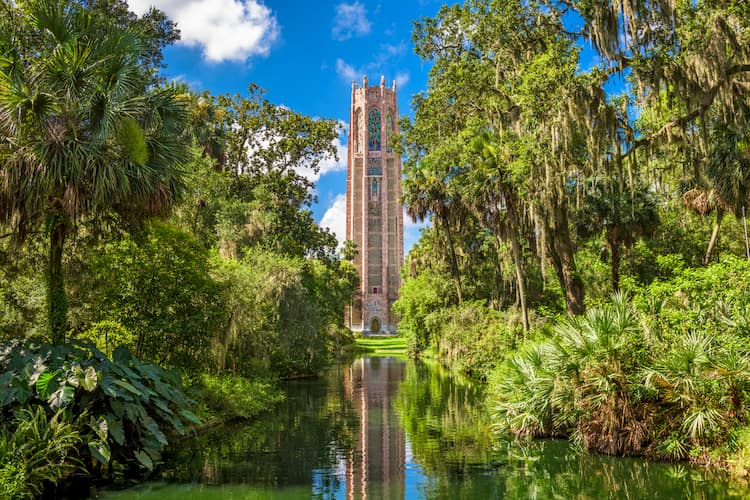 Distance from Orlando: 1 hr 15 min
The Bok Tower Gardens in Lake Wales is one of Florida's most magical hidden gems. The 205-foot Singing Tower—named for its resounding carillon bells—is this garden's claim to fame. Tour the tower to see the carillon (a bell chamber filled with 23 tuned bells, one of only 600 in the world), as well as the Anton Brees Carillon Library and beautiful Founder's Room. Plan your group tour or field trip to also include a trek through the gardens to see the reflection pool and endangered plant garden. If you're traveling with kids, go to the Hammock Hollow Children's Garden for playscapes and water fountains.
You can also plan your wedding ceremony and reception here. Have a romantic ceremony in the canopied White Garden or beneath the majesty of the Singing Tower, then enjoy a grand reception at the Pinewood Estate or The Olmstead House. If your friends and family all live in Orlando, you can arrange wedding day shuttle service to transport guests to the Bok Tower Gardens at the beginning and end of the day so they don't need to worry about navigation, parking, filling up on gas, or choosing a DD.
Address: 1151 Tower Blvd, Lake Wales, FL 33853
Phone: (863) 676-1408
7. Tampa Bay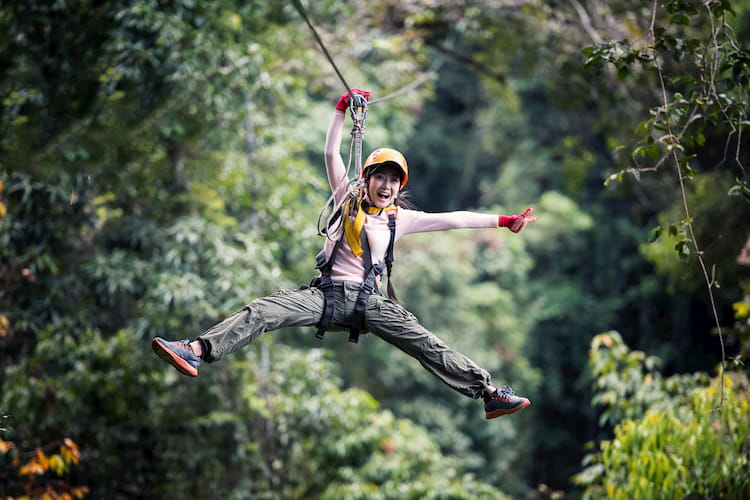 Distance from Orlando: 1 hr 20 min
Visit Tampa Bay for a fun-filled day along Florida's Gulf Coast. If you haven't had your fill of Orlando theme parks, you can plan a visit to Busch Gardens Tampa Bay, an African safari-themed animal park. But if you're more interested in experiencing the local culture, plan your day around seeing hammerhead sharks at The Florida Aquarium, a Tampa Bay Rays baseball game at Tropicana Field, or surrealist art at the Salvador Dalí Museum.
For an exciting and unique team-building event, birthday party or youth leadership development program, plan a zip-lining adventure at Empower Adventures. Nothing brings friends and colleagues together like flying through the air 60-feet above ground hanging from nothing but a sturdy rope! You can plan an adventure around five zip-lines, four aerial obstacles, and challenging team-building field games. Groups of 8 or more can also enjoy a 5% discount.
Empower Tampa Bay
Address: 423 Lafayette Blvd, Oldsmar, Fl 34677
Phone: (813) 448-5635
8. Capone's Dinner Show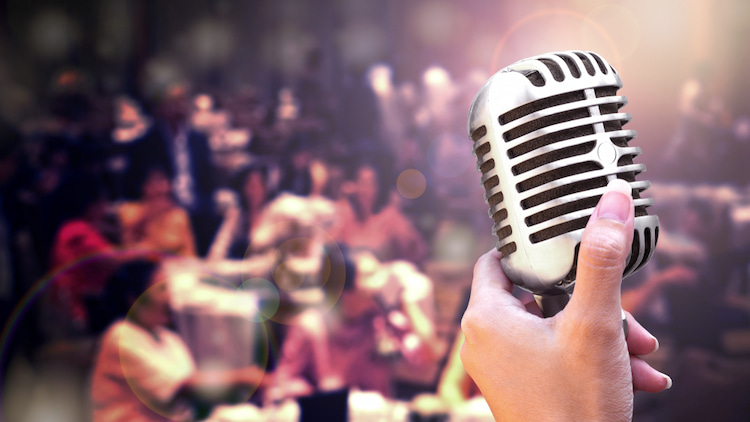 Distance from Orlando: 40 min
Less than an hour South of Orlando is a fun-filled blast from the past at Capone's Dinner Show, Florida's original gangster-themed dinner show. For groups, you'll enjoy great seats, the chance to meet character actors before the show, and a special group shout out during the show. Admission includes a show, a 4-course meal, and unlimited "bootleg spirits" and drinks. Since you can rely on a professional, designated driver at the helm of your charter bus rental, don't be shy about indulging in a few Bud Light drafts, Rum Runners, or vodka & cranberries.
Capone's offers group plans for corporate travelers, school field trips, families, and more, for a minimum group size of 15 people. You can also opt for group package upgrades to add to the experience: get costume props for the whole crew, order a cake for a special occasion, or have hors d'ouevres ready upon arrival for a pre-show snack. Got a big crowd to entertain? Call ahead to schedule a matinee show for groups of 150+.
Capone's Dinner Show
Address: 4740 W  Irlo Bronson Memorial Hwy, Kissimmee, FL 34746
Phone: (407) 397-2378
Use GOGO Charters For Your Next Florida Adventure
Excited for your next group day trip? Because we sure are! Make GOGO Charters your go-to for finding the best transportation for your Florida adventure. Call us 24/7 at 1-855-826-6770 to speak with a reservation specialist and get a free, no-obligation quote for your trip.
Tags In
Do you need to rent a charter bus?
Do you need a long-term shuttle service?
We offer contracted shuttle services for businesses, schools, hotels, and more. Contact our experts at 1-844-897-5201 to discuss your long-term transportation plans.