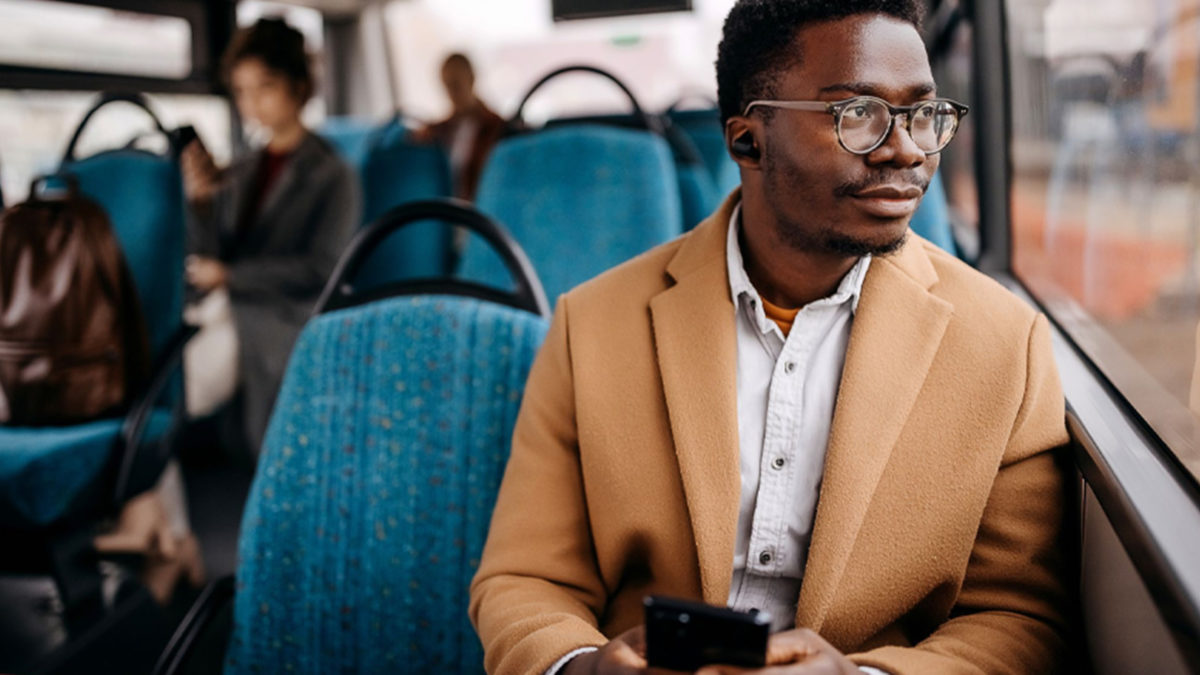 How Employee Shuttles Can Boost Your ESG Rating
In the post-pandemic world, the way we work has seen a seismic shift. As companies adapt to a new normal, the pressing need for environmentally responsible, socially conscious, and governance-focused practices has taken center stage. It's not just about business anymore; it's about the broader impact and the journey toward environmental, social, and governance (ESG) excellence.
In this post, we'll explore how a seemingly simple solution—employee shuttles—can become a powerful catalyst for elevating your ESG ratings. By enhancing office occupancy rates, boosting employee satisfaction and retention, and contributing to a greener environment, employee shuttles offer a win-win proposition for both businesses and their workforce.
Table of Contents:
The Current Landscape of Commuting Post-Pandemic
Before 2020, a daily commute was an integral aspect of life for many Americans. But when the COVID-19 pandemic led to widespread remote work across various industries, many employees embraced the shift.
Now, with companies urging their workforce to return to physical offices, employees are hesitant to resume the traditional five-day in-office routine, and some are even actively seeking positions that offer complete remote work options.
In fact, a study conducted by Unispace has revealed an interesting trend: 72% of surveyed companies are mandating office returns, yet nearly half (42%) are experiencing higher-than-expected employee attrition rates.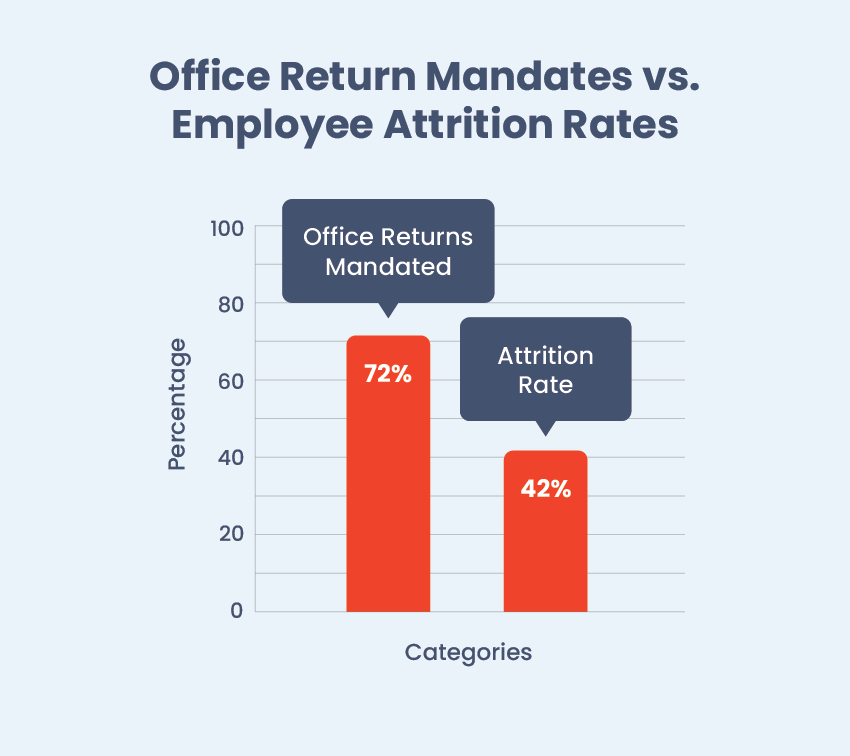 Long Commutes Affect Office Occupancy Rates
Although the appeal of a better work-life balance might play a role, a significant factor driving employees toward office avoidance is their aversion to the daily commute. According to a study by FlexJobs, 41% of participants stated that alleviating the stress of commuting was the main reason for pursuing flexible work.
The average daily commute, as reported by the U.S. Census Bureau, adds up to approximately 52.2 minutes round-trip. These commute times climb even higher in larger metropolitan areas, where office avoidance becomes even more apparent.
For instance, in New York City, where the average commute time is a staggering 79.6 minutes, office occupancy rates struggle to reach even 50%. On the other hand, smaller cities with shorter commutes, like Austin, Texas, show higher occupancy rates.
The Challenges of Public Transportation
Often touted as a solution, public transportation comes with its own set of challenges. For one, many people are reluctant to use public transportation due to the extended travel times from waiting for transit and taking multiple stops during the journey.
The U.S. Census uncovered that the longest average travel times were connected to various public transportation modes. For example, employees who commuted by public bus encountered an average one-way commute of 46.6 minutes.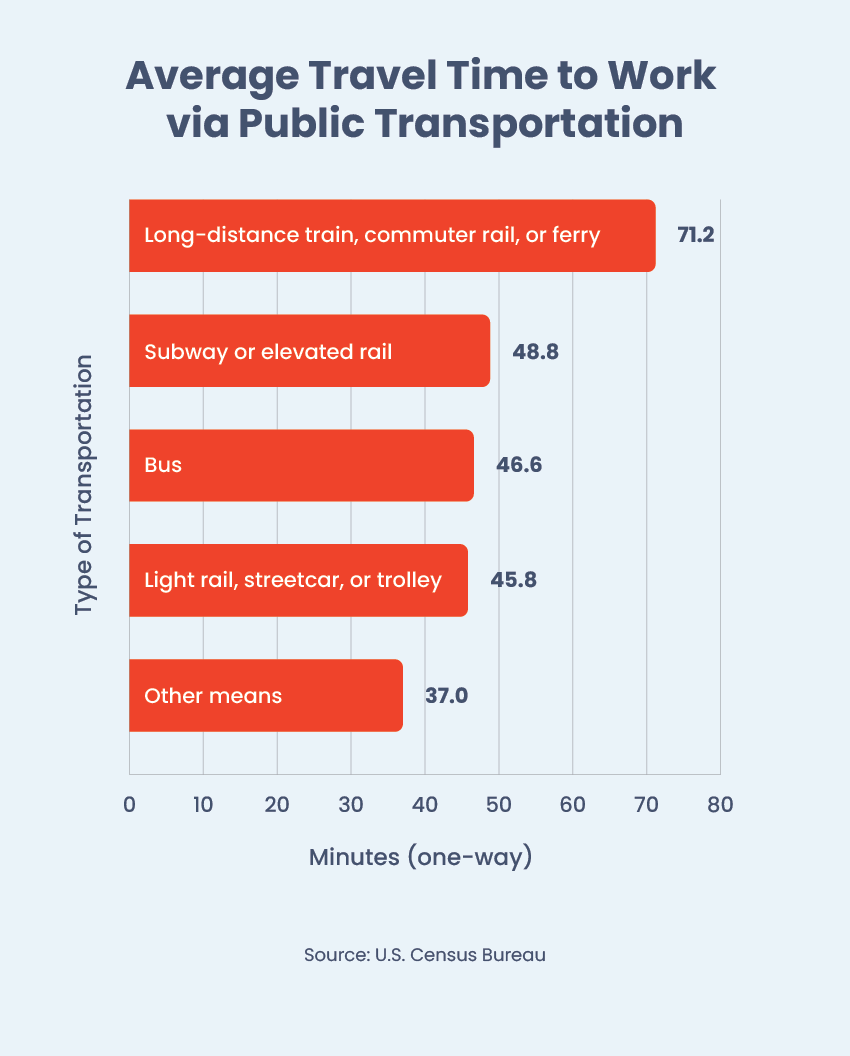 Even with wait time being a concern, 50%-70% of people claimed they would wait longer to avoid overcrowded public transit. This is especially prevalent in the post-pandemic era, where people are more wary of larger crowds in small spaces.
In fact, a JLL research report found that 34% of people who previously commuted via public transit planned to seek alternative transportation post-pandemic to avoid large crowds of strangers.
Safety is also a top concern, with 39% of Americans describing public transportation in U.S. cities as dangerous. According to the Bureau of Transportation Statistics, assault, robbery, and theft crimes on public transportation began to rise in 2021.
How Commuter Benefits Can Improve ESG and Employee Satisfaction
ESG stands for environmental, social, and governance. An ESG rating evaluates a company's performance in these areas and can greatly impact a company's reputation and investment opportunities.
According to a McKinsey study, 63% of companies found that paying attention to their ESG rating had a positive impact on their business. Some of these effects include:
Top-line growth
Cost reductions
Less regulation and legal interventions
Increased productivity
Enhanced investment returns
Additionally, companies with established ESG strategies and goals saw a positive effect on employee retention—86% of employees in organizations with ESG-related goals reported that these objectives made them feel like their work was more meaningful and made them proud to work for the company.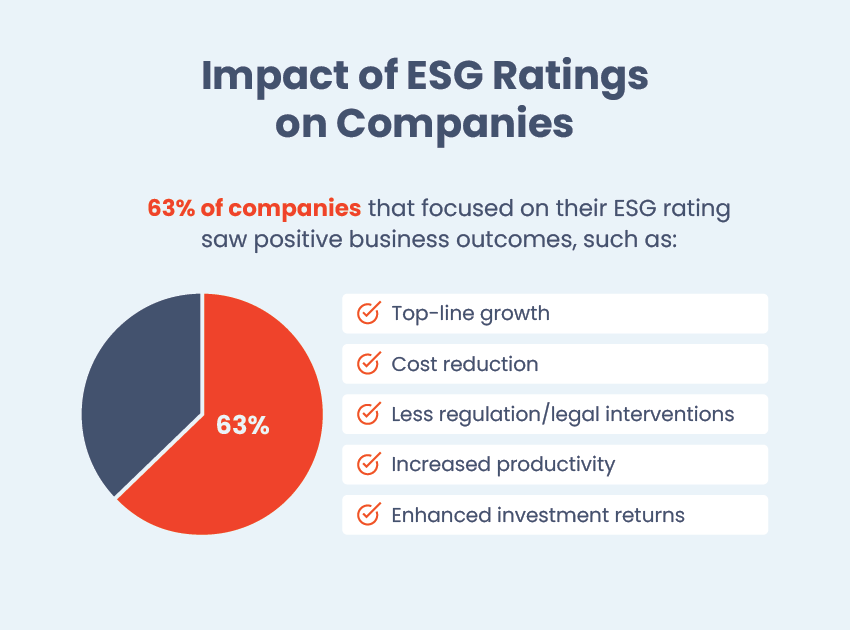 Now, a substantial 90% of businesses have either implemented or are in the process of creating a strategy to oversee their corporate ESG scores.
With this increased focus on sustainability, social responsibility, and ethical practices, many businesses are looking into commuter benefits and sustainable transportation for their employees as part of the solution.
Employee Shuttles: A Sustainable Transportation Solution
Transportation is the largest source of carbon emissions in the United States, according to the Center for Climate and Energy Solutions (C2ES). In many U.S. cities, individual vehicles represent the most significant source of pollution, and a study found that 98% of an employee's carbon footprint can be traced back to their commute.
According to C2ES, a reduction in the number of single-occupancy vehicles on the road can significantly reduce the annual carbon footprint. For example, for one person's daily 20-mile round-trip commute, opting for public transportation could result in an annual carbon footprint reduction of 4,800 pounds.
While some companies are implementing tax breaks for employees who carpool or take public transportation, others are taking on the responsibility and incentivizing employee shuttle buses.
By incorporating an employee shuttle service, businesses can help reduce the carbon emissions associated with employee commutes, a crucial aspect of the "'E"' in ESG ratings. For instance, providing a shuttle for 50 employees can save up to 240,000 pounds of carbon emissions annually.
Benefits of Employee Shuttles
While there are obvious environmental benefits for providing employee shuttles, there are other benefits that affect ESG ratings and the overall well-being of employees.
Signals a Commitment to Governance and Corporate Responsibility
The governance portion of an ESG rating focuses on a company's management practices and how it operates from an ethical standpoint. Offering employee shuttle services shows a company's dedication to delivering not just eco-friendly transportation, but also inclusive mobility options for those who might lack access to private vehicles or public transit.
Employee shuttles can be tailored to meet the needs of a wide range of employees, including those who may have trouble obtaining their own transportation. This displays a dedication to diversity and inclusiveness, both crucial components of responsible citizenship.
Improves Employee Well-Being and Retention
Car commuting takes a mental toll on many employees, which can ultimately affect their health, well-being, and productivity. ​​Research from the University of East Anglia revealed that employees who commute by car are 13% more likely to experience stress or difficulty concentrating.
Implementing a shuttle service offers employees enhanced convenience, which helps reduce the stress of long and taxing commutes. Percy Grunwald, co-founder of Compare Banks, highlights the positive impact of offering shuttle services to their workers:
"The shuttle service has been perceived as a valuable employee benefit that enhances their work-life balance. Many employees appreciate the convenience of not having to drive through traffic and search for parking, allowing them to arrive at work refreshed and ready to start the day."
Grunwald also shares how these buses have bolstered team collaboration. "The shuttle has garnered positive feedback for promoting a sense of camaraderie. Employees have shared how they enjoy interacting with colleagues during their commute, fostering connections beyond the workplace. This has contributed to a more engaged and cohesive team environment."
Boosts Employee Productivity
Traffic may be an inevitable part of daily commutes, but with employee shuttles, it becomes an opportunity for productivity. Shuttles can offer amenities you won't find on public transport, such as Wi-Fi, comfy seats for quick naps, and less crowding for focused work or important calls.
Whether catching up on emails, preparing for meetings, or simply enjoying a moment of peace, employees can make the most of their commute time. Employee shuttles redefine daily journeys, turning stress into productivity and ensuring your team arrives at work ready to conquer the day.
Best Cities for Employee Shuttling
Companies located in large cities with long commute times and challenges such as parking and traffic congestion will benefit immensely from employee shuttling. We looked at the commuting challenges reported in the JLL research report to analyze the top cities that would benefit from employee shuttle buses as a commuting alternative.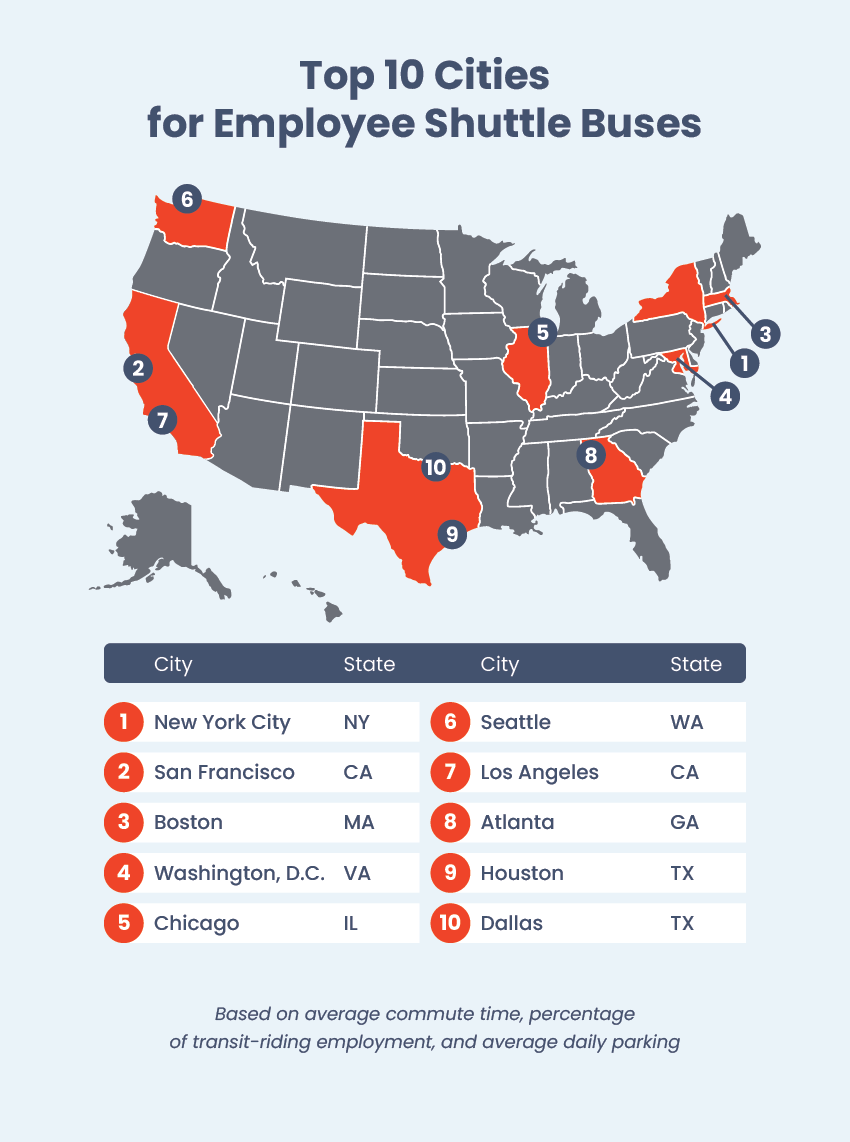 1. New York City
Thanks to its immense scale, New York City hosts the most extensive public transportation network in the United States, serving 31% of its workforce. Of those who opt for public transit, slightly less than 40% endure commutes lasting over 60 minutes.
While public transit typically demands 48% more time than commuting by car in New York City, it's not without its drawbacks, including an average of 140 hours of traffic congestion annually and costly parking fees, averaging a monthly rate of $616. By implementing shuttle buses, you'd be able to save your employees the hefty parking fees and hours of time stuck in traffic.
Public transit-riding employment: 31%
Transit-riding employment with a commute 60+ min: 39.5%
Annual hours of traffic congestion: 140 hours
Average monthly parking rate: $616
2. San Francisco
San Francisco, California, is a tech hub with numerous companies offering shuttle services for their employees. The city's hilly terrain and traffic congestion make employee shuttling a popular choice for tech giants like Google and Apple.
About 17% of San Francisco's workforce relies on public transportation, and 32% endure commutes exceeding 60 minutes. If more companies in the city implemented an employee shuttle service, they'd save employees an average annual congestion time of around 97 hours, and a monthly parking fee of $322.
Public transit-riding employment: 17%
Transit-riding employment with a commute 60+ min: 32%
Annual hours of traffic congestion: 97 hours
Average monthly parking rate: $322
3. Boston
More than 13% of the workforce in Boston, Massachusetts, relies on public transportation for their daily commute, and 36.2% of these public transit users face commutes lasting 60 minutes or longer.
Boston has considerable traffic congestion, averaging 149 hours annually, more than any other metro city in the U.S. More corporate shuttles in Boston would allow employees to use that time in traffic to their advantage while simultaneously saving a hefty average parking fee of $425 a month.
Public transit-riding employment: 13.4%
Transit-riding employment with a commute 60+ min: 36.2%
Annual hours of traffic congestion: 149 hours
Average monthly parking rate: $425
4. Washington, D.C.
Washington, D.C., boasts one of the nation's top public transportation systems, but also carries some of the steepest public transportation expenses, with a monthly pass exceeding $230.
While this is cheaper than the average monthly parking rate of $274, it takes 36% of employees riding public transit over an hour to commute to work. Introducing an employee shuttle system in Washington, D.C. would result in time and cost savings for employees compared to both public and private commuting methods.
Public transit-riding employment: 12.8%
Transit-riding employment with a commute 60+ min: 35.6%
Annual hours of traffic congestion: 124 hours
Average monthly parking rate: $274
5. Chicago
Chicago, Illinois, another major metropolitan area, would also benefit from an enhanced employee shuttle network. With over 37% of its workforce facing hour-long commutes, introducing shuttle services promises substantial relief.
Chicago employee shuttles would not only save time, but offer considerable financial advantages, including monthly parking fee savings of $265 and avoiding 145 hours of annual traffic congestion, ranking second in the nation.
Public transit-riding employment: 12.3%
Transit-riding employment with a commute 60+ min: 37.1%
Annual hours of traffic congestion: 145 hours
Average monthly parking rate: $265
6. Seattle
The city of Seattle, Washington, has a major focus on sustainability and reducing congestion, making it a good candidate for employee shuttle services. About 10% of employees rely on public transport for their daily commute, and more than 33% experience over an hour of commuting time. Corporate shuttles in Seattle would save employees an annual 74 hours of congestion and a steep $289 monthly parking rate.
Public transit-riding employment: 10.1%
Transit-riding employment with a commute 60+ min: 33.1%
Annual hours of traffic congestion: 74 hours
Average monthly parking rate: $289
7. Los Angeles
A notable 43.1% of employees who rely on public transit in Los Angeles, California, face commutes lasting 60 minutes or longer. Los Angeles is also infamous for its annual average of 103 hours of traffic congestion.
While the monthly parking rate is relatively lower at $190 compared to other major cities, shuttle services remain an appealing choice for employees seeking a more cost-effective and convenient commuting alternative.
Public transit-riding employment: 4.8%
Transit-riding employment with a commute 60+ min: 43.1%
Annual hours of traffic congestion: 103 hours
Average monthly parking rate: $190
8. Atlanta
Car commuting is more prevalent in Atlanta, Georgia than other major metro cities, making the roads more dangerous than other cities in the U.S. In fact, Atlanta ranks as the top city for the highest number of car accidents, with a relative likelihood of collision just under 50%.
Atlanta also boasts the largest percentage of employees using public transit for commutes lasting over an hour, hovering just below 45%. With 82 hours of annual traffic congestion and a monthly parking rate of $105, introducing more employee shuttle services could result in significant time and cost savings.
Public transit-riding employment: 3.1%
Transit-riding employment with a commute 60+ min: 44.8%
Annual hours of traffic congestion: 82 hours
Average monthly parking rate: $105
9. Houston
About 36% of public transit riders in Houston, Texas, endure commutes over 60 minutes, making employee shuttles an efficient alternative for commuters in the metro area. Houston experiences significant annual traffic congestion averaging 81 hours, but shuttles expertly navigate this, ensuring reliable and punctual employee transportation. Despite a reasonable $195 monthly parking rate, corporate shuttles in Houston remain attractive for cost-effective and convenient commuting.
Public transit-riding employment: 2.1%
Transit-riding employment with a commute 60+ min: 36.1%
Annual hours of traffic congestion: 81 hours
Average monthly parking rate: $195
10. Dallas
Although public transit usage in Dallas, Texas, remains lower than car commuting, it has seen a notable uptick, with a 20% increase since 2011. Covering an extensive 8,928 square miles, the Dallas metro area presents a scenario where more than one-third of public transit users endure commutes exceeding an hour.
Despite the annual traffic congestion lasting 63 hours, which is comparatively lower than in other major U.S. cities, implementing an employee shuttle system can offer an advantage. It enables commuters from distant neighborhoods to traverse shorter, more direct routes, bypassing the frequent stops typical of conventional public transit.
Public transit-riding employment: 1.3%
Transit-riding employment with a commute 60+ min: 34.2%
Annual hours of traffic congestion: 63 hours
Average monthly parking rate: $135
Implement Employee Shuttles With GOGO Charters
While there are many benefits to implementing employee shuttle services, the logistics can be overwhelming for many companies. GOGO Charters offers a comprehensive solution for commuter shuttles, handling all the logistics, from managing routing to scheduling.
With GOGO Charters' employee shuttle program, companies can enjoy shuttle benefits without the burden of having to manage every detail. GOGO Charters' expertise and resources allow businesses to focus on their core operations while professionals handle transportation logistics.
Call our reservation team at 1-855-826-6770 to learn more or book the perfect charter or minibus for all your employee transportation needs.
Do you need to rent a charter bus?
Do you need a long-term shuttle service?
We offer contracted shuttle services for businesses, schools, hotels, and more. Contact our experts at 1-844-897-5201 to discuss your long-term transportation plans.