Ready for a break from your day-to-day activities? Looking for an excuse to spend some time with your teammates? Our list of San Francisco's best team-building spots provides plenty of opportunities to do both, whether you're hoping to enjoy a few casual drinks, attend a ball game, or strategically escape a puzzle room designed by Houdini himself.
But once all of your plans have been made, who wants to go through the trouble of organizing transportation for your whole team? Instead of asking attendees to volunteer their cars, separating into groups, and splitting up gas costs, keep it simple with a private minibus rental from GOGO Charters! We're able to accommodate group outings of varying sizes from all over San Francisco, from small team get-togethers to multi-department mixers. Whether you're coming from your office, your school, or your sports practice, we'll handle all of the transportation logistics so you can focus on what's important: bonding with your team.
Emporium San Francisco
616 Divisadero St, San Francisco, CA 94117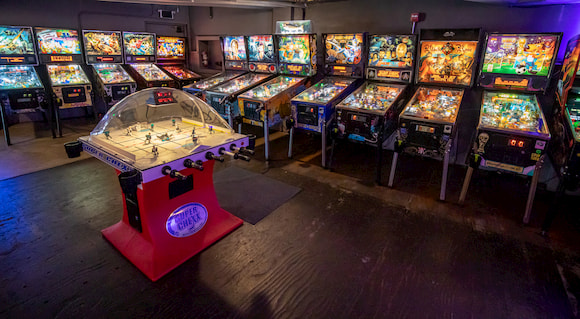 Nestled in the shadow of the eclectically elegant Painted Ladies, this fan-favorite barcade sports a mishmash of grandiosity and child-like wonder you can't get anywhere else. With the largest collection of games in San Francisco—from classic arcade games to pool tables to pinball, foosball, skeeball, air hockey, and more—and an equally impressive stock of whiskey and craft beer, the good times at Emporium seem to never stop. Drop on for the weekly office trivia night, or rent the place out for your group's next get-together. Groups under 40 get free table reservations, but this flashy haunt is no stranger to 800-person parties, so feel free to invite as many fun-enthusiasts as you please! ...As long as they're older than 21, of course.
Oracle Park
24 Willie Mays Plaza, San Francisco, CA 94107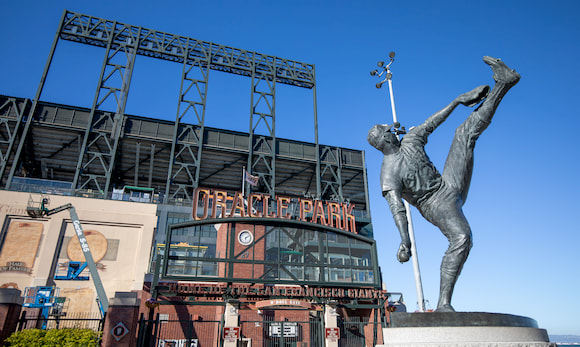 If you share a love of baseball with your teammates, you'll definitely want to put Oracle Park on your list of potential team-building spots. The San Francisco Giants' home offers the obvious— exciting ball games against some of the nation's best teams— but, if you're looking for a more unique experience, you can schedule a weekday tour to provide a nice break from your regular routine.
Urban Putt
1096 S Van Ness Ave, San Francisco, CA 94110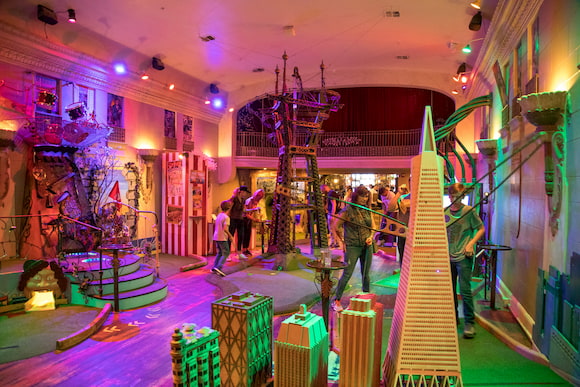 What's more fun than mixing classic childhood activities with adult beverages? Nothing, that's what. Take your team out for an evening of mini-golf, bar bites, beer, wine, cocktails, and more at San Francisco's Urban Putt. Plus, as the city's only indoor mini-golf course, you'll be able to enjoy a little healthy competition in comfortable air conditioning. We'll hook you up with a private minibus to be your designated driver so you can putt away and celebrate to your heart's content.
Chase Center
1601 3rd St, San Francisco, CA 94158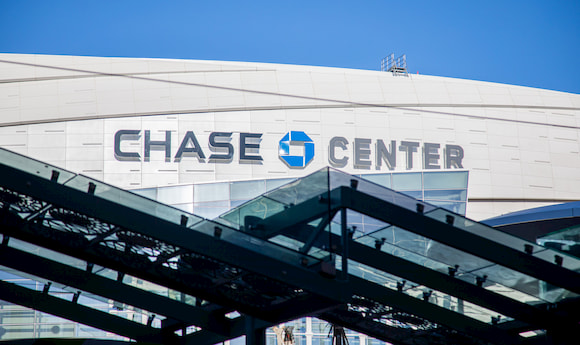 Home to the Golden State Warriors, Chase Center is another great choice if you're looking to celebrate a day of team-building with your fellow sports fans. Make it an occasion with a private suite just for your group, allowing sports fans to witness the action in real-time while less sports-savvy fans enjoy drinks, food, and camaraderie in comfort.
House of Air Trampoline Park
926 Mason St, San Francisco, CA 94129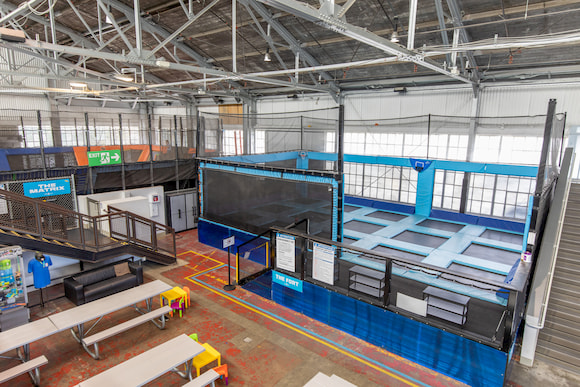 Wall-to-wall trampolines. Enough said.

Still not convinced that an evening of high-flying acrobatics is what your next team-building event needs? At Preisidio's one and only House of Air, your crew can duel it out on the regulation trampoline dodgeball quart, take a fitness class with a certified personal trainer, or simply bounce the night away. This glorified bounce house is one of the most group-friendly venues in the city, allowing planners to rent a party room by the hour, reserve specific activity zones, or spring for a full facility buy-out for up to 95 of your closest friends!
1AM SF
1000 Howard St, San Francisco, CA 94103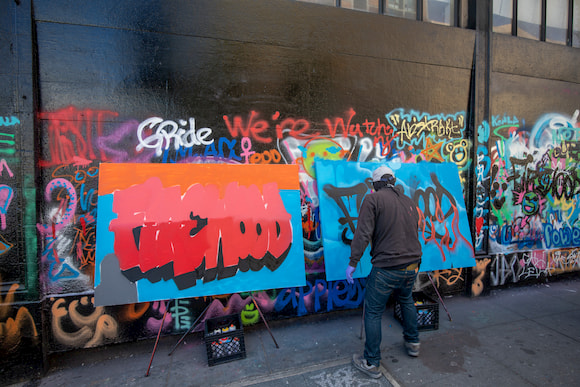 Because nothing says team-building quite like spray painting the side of a building, check out this San Francisco street art collective and enroll your group in a graffiti class—no talent required! 1AM, short for First Amendment, offers a variety of classes that appeal to all skill levels and niche interests, from throwback 80s and 90s Hip Hop workshops to crash courses in modern street art. Whether you plan to mix and remix your team's next party anthem or renovate the office with a fresh public mural, this off-beat adventure is sure to be one they won't soon forget.
Museum of Ice Cream
1 Grant Ave, San Francisco, CA 94108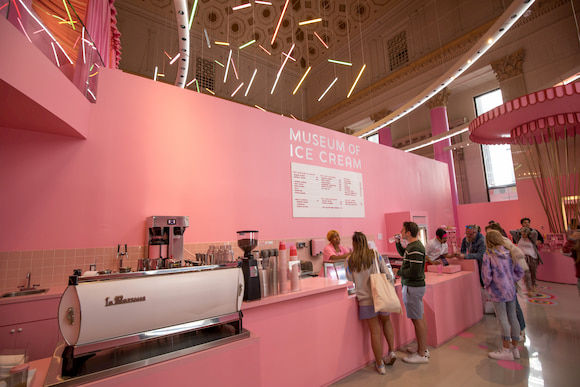 No hum-drum history tours here! Instead, expect a totally Instagrammable interactive experience that encourages guests to release their inner child. Kick back in a pool of sprinkles, saddle up on a larger-than-life frosted animal cracker, or sample the Museum's frozen confections to your heart's content—the only limits are your imagination! MOIC offers discounts for groups of 10 or more, and can even whip up a custom private event that caters to your crowd of cravers.
Palace Games
3362 Palace Dr, San Francisco, CA 94123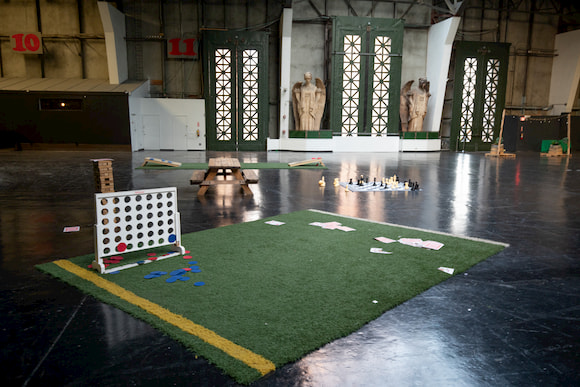 Themed escape rooms are all the rage for team-building activities! Located in the beautiful Palace of Fine Arts complex in The Presidio, Palace Games takes escape rooms to a new level. Groups from 4 to 125 players can work together to conquer one of three rooms or a specialized puzzle hunt in the Palace of Fine Arts itself. Each escape room can accommodate a maximum of 8 to 10 players while the puzzle hunt is reserved for 30 or more people.
Fort Miley Adventure Challenge Course
4150 Clement St, San Francisco, CA 94121
Fort Miley may be perfectly suited for San Francisco State's student organizations but the ropes course is also open to the public. The fort is located at Land's End and offers a variety of ropes courses that aim to stimulate team communication, leadership, and cooperation. Team-building activities at Fort Miley require a minimum of 8 team members while part-day and full-day programs require anywhere from 10 to 75 people. Your team can start off with team-building icebreakers and then work your way up to the high ropes course or opt for a lower course option.
Clay by the Bay
1616 Pacific Ave, San Francisco, CA 94109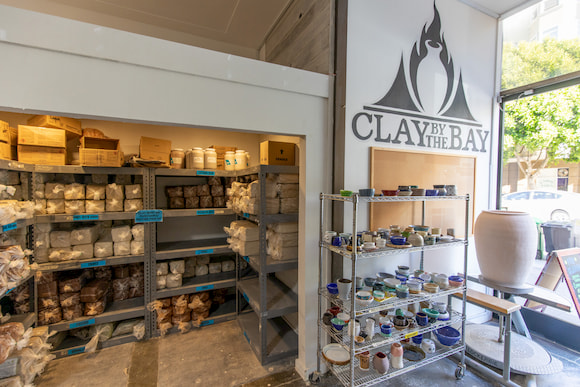 Get creative with a clay making and ceramics class at Clay by the Bay. Groups of 7 to 60 people can choose from a roster of fun ceramics classes to bring a team closer together. Take a course to make new planters for your office or schedule a wheel throwing course to add some flair to your team's day-to-day activities. Is pottery not quite your thing? Clay by the Bay also offers a group candle making course! Every course at Clay by the Bay can include catering for an additional fee and of-age groups are welcome to bring their own adult beverages to class.
Plan Your Team-Building Event with GOGO Charters
If you have a big group, team-building events can take a lot of planning. From corporate team building with dozens of employees to developing relationships between your sports team, you've got plenty on your planning plate. At GOGO Charters, we aim to make the transportation logistics one less thing to worry about. We'll take on the travel arrangements around San Francisco so you can focus on bonding with your team from start to finish. We have rental experts available around-the-clock at 415-462-2870 to pair your team with a minibus or charter bus for your day of activities.