Fun Ways to Social Distance in NYC
As New York City continues to reopen, you probably need to get out of your apartment for the sake of your mental and physical health. But you want to do so safely, and in a city as packed as New York, it's not easy to find places with enough space for social distancing. GOGO Charters has compiled a list of outdoor destinations in New York that offer adequate room to spread out when you're walking or soaking up the sun.
If you're traveling with your family or the pod of kids you supervise for virtual learning, a private charter bus from GOGO Charters offers a safer alternative to the subway. You won't risk exposure to crowds of strangers, and we can ensure the bus is cleaned and sanitized on a regular basis. Give us a call at 1-844-897-5201 if you're interested in booking a bus, and check out our list of NYC destinations you can visit while social distancing.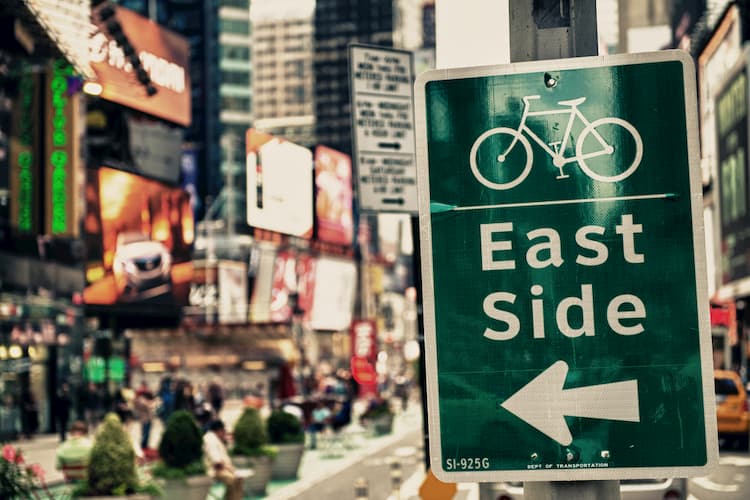 Walk across the Brooklyn Bridge
Now is a great time to check out some of New York's traditional outdoor destinations that might ordinarily be too crowded. With fewer tourists in the city, you can take on adventures like walking across the Brooklyn Bridge on the pedestrian path.
This isn't just a great way to get some exercise and enjoy the fresh air while social distancing—it's also a great way to see the city from a new perspective. The views of the Manhattan skyline as you walk over from Brooklyn are especially cool.
The bridge is about a mile long and takes most people roughly 30 minutes to cross on foot. If you want to go from Brooklyn to Manhattan, you'll enter the bridge's pedestrian path at the intersection of Tillary Street and Boerum Place or from the underpass on Washington Street. From Washington Street, climb up a stairway and then a ramp, and you'll find yourself on the walkway.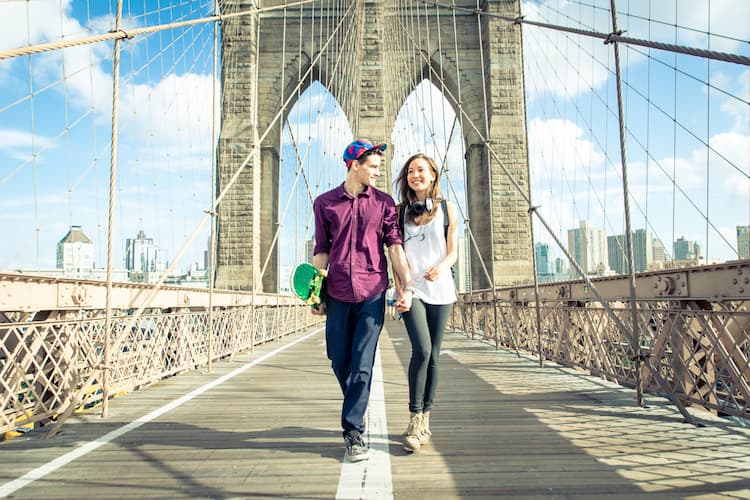 If you're going from Manhattan to Brooklyn, you can enter the pedestrian bridge from Centre Street, at the northeast corner of City Hall Park. And if you need a way to get to the bridge, your charter bus driver can drop you off at the Manhattan or Brooklyn entrance. You can then decide whether you want to walk the bridge one way and have your bus pick you up at the other end or walk the bridge both ways and get picked up at your original drop-off point.
Address: 65 Tillary St, Brooklyn, NY 11201 (Brooklyn–approximate)
1 Centre St 17th Floor, New York, NY 10007 (Manhattan–approximate)
Relax in Central Park
New York's most famous green space remains open to give New Yorkers a place to relax outdoors. Most of the sports facilities and playgrounds are closed, but you can still take your small group for a walk or a picnic while remaining socially distanced.
Many of the paths in Central Park are wheelchair and scooter-accessible, and your ADA-compliant bus can drop you off near one of the park entrances so you can head straight in. Central Park has dozens of entry points to choose from, but the large ones along Central Park South are some of the easiest to reach on a charter bus.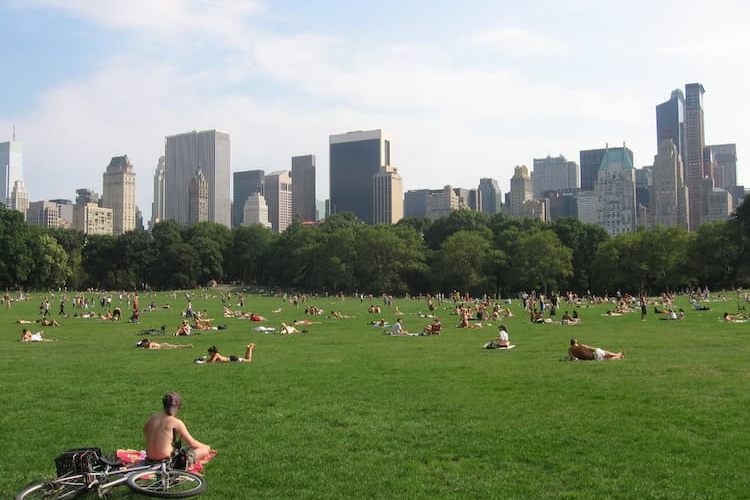 Your group can follow any of the paved paths as long as you keep your distance from others. But if you'd like to stop, lay out on a blanket and soak up the sun, make sure you pick an open area with plenty of room for distancing, like the Sheep Meadow or the Great Lawn.
Address: 2 Columbus Cir, New York, NY 10019 (near Central Park South, approximately)
Explore Little Italy
Many New York restaurants are now open for takeout or patio dining, which means you can support local restaurants while finally eating some of your favorite foods again. And if pasta is on your list, now is the ideal time to return to Little Italy.
Mulberry Street from Broome to Hester is participating in the city's Open Streets program throughout September and October. During Open Streets, many NY streets are only open to pedestrians and cyclists to make it easier to social distance. And September and October are ideal times to visit, because mid-September marks the annual Feast of Saint Gennaro.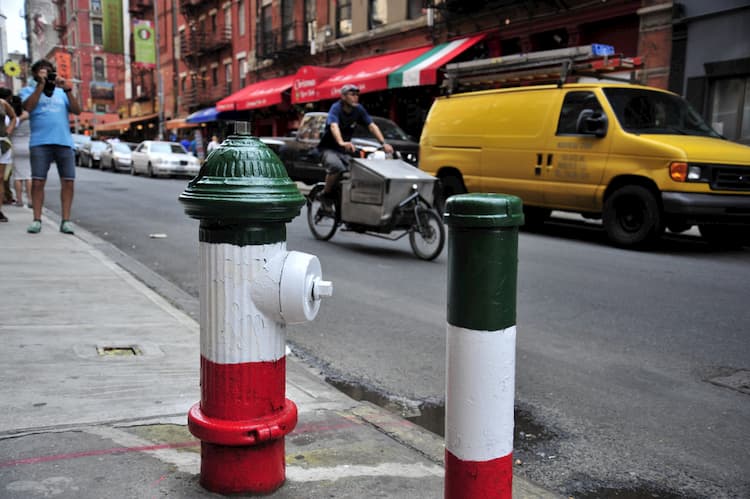 Although the formal festival won't take place this year to encourage social distancing, many restaurants in Little Italy are still offering food specials this fall. Ask your charter bus to drop you off near where the pedestrian area begins. Then put on your masks, keep your distance, and go get some cannoli!
Address: 195 Grand St, New York, NY 10013 (approximate)
Eat in Chinatown
While you're in Little Italy, stop by a restaurant in nearby Chinatown to support the local businesses there. Many restaurants have started to offer outdoor seating on weekends and takeout during the week, and they could use support to keep their doors open. Your charter bus driver will be happy to serve as DD if you'd like to have a cocktail with your meal without needing to take the crowded subway.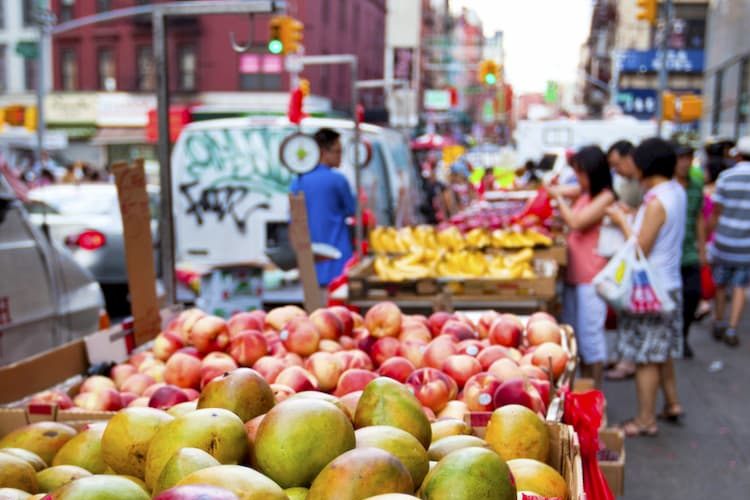 Pick up some of the best soup dumplings in New York at Joe's Shanghai or Deluxe Green Bo, or stand in a socially distanced line at Xi'an Famous Foods to get some of their world-renowned noodles. Like Little Italy, Chinatown has streets participating in the Open Streets program to allow for better social distancing. The intersection of Mott Street and East Broadway is the main area participating in the program, though you can easily visit the entire area on foot before your bus picks you up.
Address: 46 Bowery, New York, NY 10013 (approximate)
Have a drink outside
Bars may be closed, but outdoor drinking and dining locations are open for all of your socially distanced cocktail needs. If you're in Brooklyn, head to the McCarren Hotel & Pool to dine at one of two outdoor restaurants, Oaxaca Curbside or Talk Story Rooftop. The rooftop serves seafood and tropical cocktails, while Oaxaca offers tacos, ceviches, micheladas, and margaritas.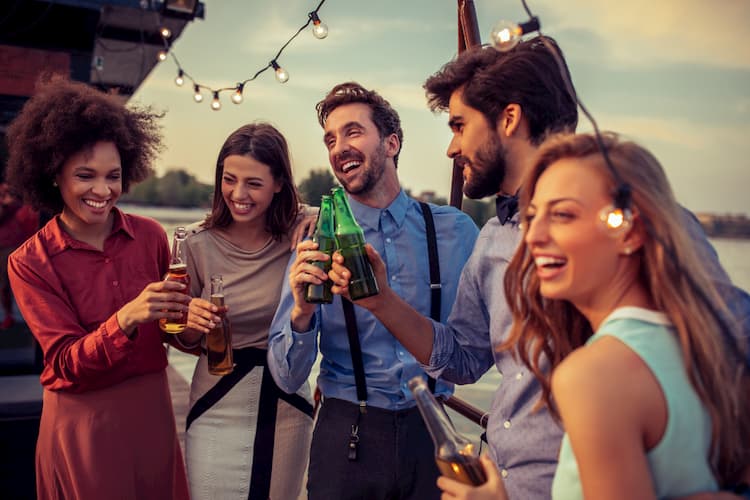 At Ten Hope Outdoor Garden, also in Brooklyn, you'll find a beautiful garden adorned with fairy lights and picnic tables where you can sip jalapeno margaritas, aperol spritzes, and old fashioneds. And if you're in the mood to get super-fancy while social distancing, book a table at Grand Banks, an oyster bar located on a boat on the Hudson. You can hire a minibus so you'll have a guaranteed designated driver for your night out with friends.
Addresses: 160 N 12th St, Brooklyn, NY 11249 (McCarren Hotel & Pool)
10 Hope St, Brooklyn, NY 11211 (Ten Hope Outdoor Garden)
Pier 25 Hudson River Park, New York, NY 10013 (Grand Banks)
Wander through a historic cemetery
Established in 1838, Brooklyn's Green-Wood Cemetery spans 478 acres, making it a great place to go for a socially distanced walk as well as to learn about the city's history. Many famous New Yorkers are buried here, including Jean-Michel Basquiat, Leonard Bernstein, and Susan Smith McKinney-Steward, so you can add some history to your outing.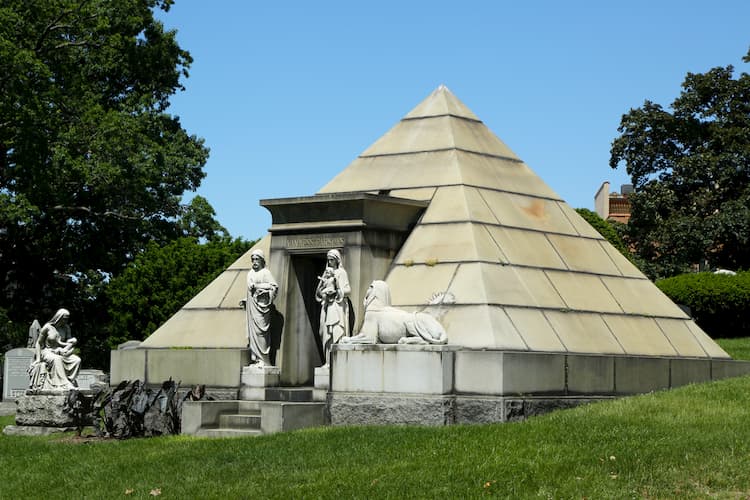 Green-Wood Cemetery is also a great spot for forest bathing. If you're tired of being surrounded by cars and buildings, ask your charter bus driver to drop your group off at the entrance to the cemetery. Then spend an afternoon quietly strolling through the graveyard's trees with your family or daycare group.
Address: 500 25th St, Brooklyn, NY 11232
Visit a farm
People don't necessarily think "farm" when they think "New York City." But Decker Farm, located inside Historic Richmond Town on Staten Island, has been a working farm since 1810. Although you can't tour the nineteenth-century buildings during social distancing, you can still go for walks through the farm's fields.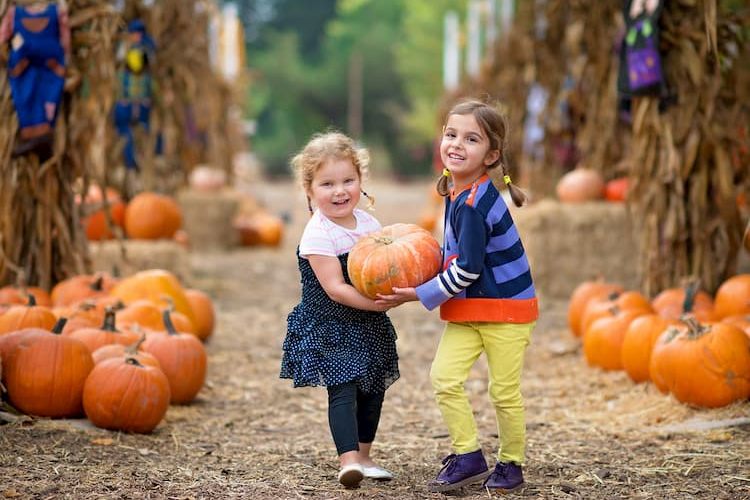 If you're visiting during fall, the pumpkin patch may also be open. Gather the kids in your homeschooling or virtual learning pod and let them pick out a few pumpkins to take home with them. Since the subway doesn't run from the rest of the boroughs to Staten Island, a charter bus or minibus provides one of the easiest ways to get your small group to the farm.
Address: 435 Richmond Hill Rd, Staten Island, NY 10314
Stay Safe While Relaxing in NYC
If you and your family need to get out of your apartment, GOGO Charters would love to help. We can provide sanitized charter buses with space for social distancing so you don't have to brave the subway to visit parks, farms, or outdoor dining spots. Just give us a call at 1-844-897-5201 to start planning.
Tags In
Do you need to rent a charter bus?
Do you need a long-term shuttle service?
We offer contracted shuttle services for businesses, schools, hotels, and more. Contact our experts at 1-844-897-5201 to discuss your long-term transportation plans.