The GOGO Charters Guide to New Year's Eve in Orlando
As the Theme Park Capital of the World, Orlando offers year-round magical experiences for visitors of all ages. Getting to hug Disney princesses and fly high with superheroes is cool during any time of year, but do you know what makes Orlando even more magical? The holidays!
Along with vibrant Halloween, Thanksgiving, and Christmas festivities, the city hosts lively New Year's celebrations. Kicking off the new year is always better with friends and family, so get your group together and book your ride with GOGO Charters to one of Orlando's many New Year's bashes. We'll handle the transportation with a comfortable charter bus rental so your family and friends can enjoy all the fun without the hassle of traffic and parking.
Where to Spend New Year's Eve in Orlando With Friends
Visitors may think of Orlando as a city solely catering to families with children. But don't worry, there's more than enough fun for adults too! With a GOGO Charters minibus rental, you won't need to stress about someone having to sit out of the fun to be the DD. All of our group transportation services include a professional driver to safely shuttle everyone through hectic holiday traffic.
If you're a group of adults looking for somewhere that's not completely overrun with tots, consider checking out one of these New Year's Eve celebrations:
Downtown Orlando
Contrary to popular belief, theme parks aren't the heart of Orlando. Yes, they're the heart of Orlando's tourism, but Downtown is the epicenter of business and nightlife. Orlando's top bars are always bustling during happy hour and on the weekends. New Year's Eve brings an even bigger crowd.
Book your minibus and ride throughout Downtown Orlando with a professional driver serving as your DD for the night. You can easily shuttle between Orlando's many downtown New Year's parties with GOGO Charters behind the wheel.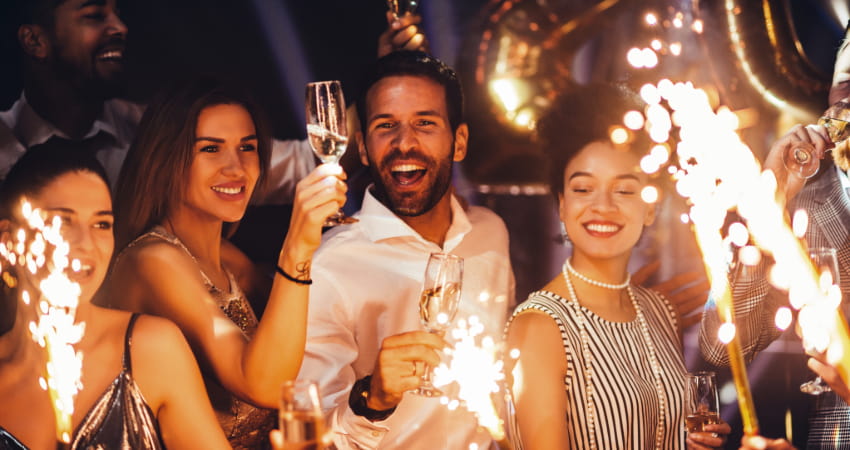 If you want amazing fireworks views: One80 Skytop Lounge
Who doesn't love a classy rooftop bar? One80 Skytop Lounge is located on the top floor of the Amway Center and has some of the best nighttime views of Downtown Orlando. Their New Year's Eve party is always a hit, so be sure to reserve a VIP table or buy your tickets in advance.
Address: 400 W Church St, Orlando, FL 32805
Phone: (407) 913-0180
If you love a good block party: Wall Street Plaza
Wall Street Plaza is a bar-hopper's dream. The plaza is made up of seven venues, ranging from a tiki bar to a 1920s-themed speakeasy. The Wall Street Plaza New Year's Eve Block Party lets you visit all seven venues for the cover price of one!
Address: 25 Wall St. Plaza, Orlando, FL 32801
Phone: (407) 849-0471
If you love live performances: Parliament House
This LGBTQ bar and hotel is located on Rock Lake, just a couple miles west of popular Lake Eola. Get ready for drag performances, great music, and plenty of dancing. If you're a fan of Ru Paul's Drag Race, you're in luck: Parliament's New Year's lineup of performers usually includes fan favorites from the show's most recent season.
Address: 410 N Orange Blossom Trail, Orlando, FL 32805
Phone: (407) 425-7571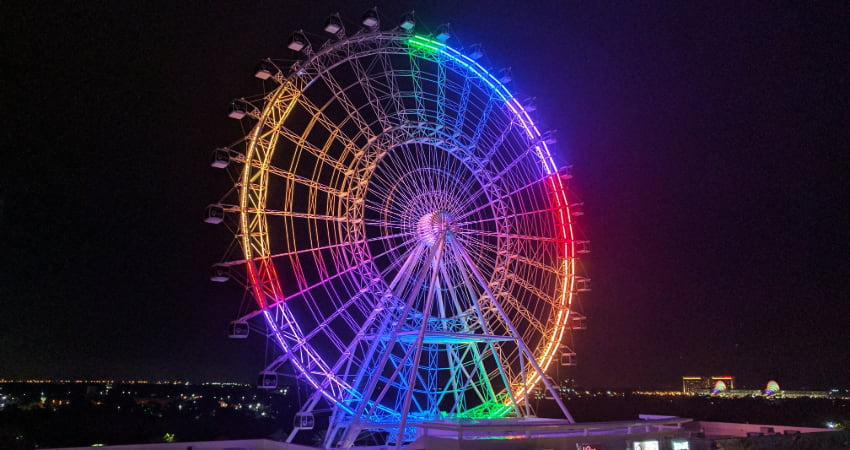 Image Source: Flickr
International Drive (I-Drive)
I-Drive isn't one location. It's more of a sprawling commercial area between metro Orlando and the neighboring theme park resorts on the city's outskirts. The nightlife options may not be the most popular spots for locals, but groups of visitors will love the many options in this area.
You'll find a diverse selection of nightlife in close proximity to the theme parks. So if you're a group of adults on a big multi-family vacation, consider taking a break from the kids and hopping on a private shuttle around International Drive.
Icon Park
Fun fact: the famous ferris wheel at Icon Park is the second-tallest in the country (the Las Vegas High Roller still holds the crown.) To some, Icon Park may be a little gimmicky, but you have to admit, viewing New Year's Eve fireworks from 400 feet in the air sounds pretty cool.
Address: 8445 International Drive, Orlando, FL 32819
Phone: (321) 888-2693
Pointe Orlando
Pointe Orlando is another popular dining and entertainment center just down the road from Icon Park. Although Pointe Orlando doesn't have the flashy rides and attractions of its neighbor, it has a great selection of performance venues for New Year's Eve celebrations. Catch a show at BB King's Blues Club or enjoy festive cocktails at Blue Martini Bar.
Address: 9101 International Dr, Orlando, FL 32819
Phone: (407) 248-2838
Howl at the Moon
Howl at the Moon is one of I-Drive's liveliest music bars. With dueling piano shows and cover performances  of some of music's biggest hits, Howl at the Moon is entertaining any time of year. Their New Year's Eve party includes several package options ranging from general admission with an included champagne toast to exclusive VIP packages with bottle service and an open bar. Get a group together, grab some champagne, and enjoy the show.
Address: 8815 International Dr, Orlando, FL 32819
Phone: (407) 354-5999
CityWalk
CityWalk at Universal Orlando hosts one of the biggest New Year's Eve parties in Orlando. Although CityWalk is owned by Universal, it's not a theme park. CityWalk is more of a retail and entertainment center, being home to several shops, nightclubs, and performance venues, EVE is a 21+ event that transforms part of CityWalk into a booming dance floor with fireworks, light shows, access to five clubs, and an endless supply of gourmet food and specialty drinks. The tickets for EVE can get a little pricey, but it's the ultimate way to experience Universal CityWalk.
Universal gets exceptionally crowded on holidays, which means parking at CityWalk will be difficult to say the least. Reserving a private charter bus will help your New Year's group cut down on the hassle of parking multiple vehicles and needing to pay for several spaces. Your driver can drop everyone off at one of CityWalk's designated loading zones before coming back to retrieve you after you've danced the night away.
How to Spend New Year's Eve in Orlando With Family
Champagne toasts during an adults' night out sounds like a wonderful way to bring in the new year, but what if you want to take the kids along? Orlando's many theme parks have you covered for family-friendly New Year's events.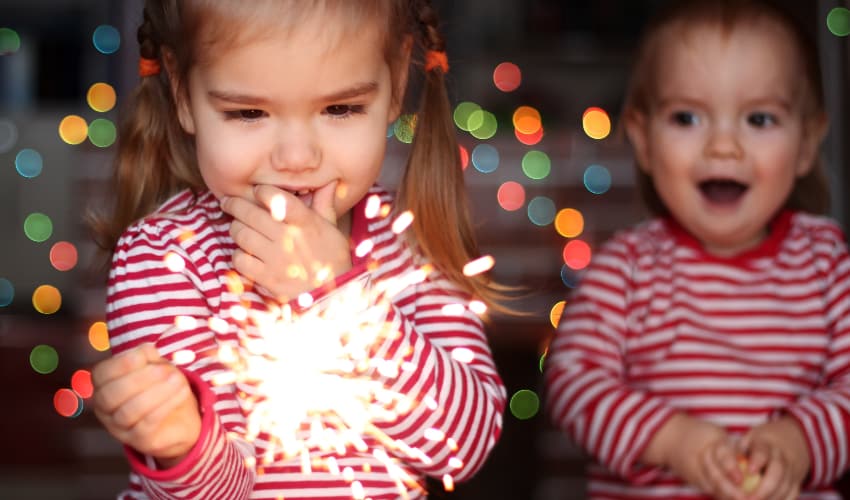 If you have a large family, piling everyone into multiple sedans or minivans isn't ideal. Tack on your extended family or your friends with their kids, and you'll need an even bigger caravan of cars. Skip the hassle of organizing transportation in multiple vehicles and book a private shuttle!
Many hotels surrounding Orlando's theme parks offer shuttle services for guests, but when you're traveling with over a dozen children and adults, getting everyone on board a pre-scheduled shuttle can be difficult. Half of your group may be ready to go right on time, while everyone else is still getting ready for the day. Other hotel guests probably won't be too keen on departure being held up while you wait for your last person. A private charter bus rental will work with your schedule and get you to the park without needing to rush out the door.
Travel on your own time while streaming classic movies like Happy New Year, Charlie Brown! on your bus's TVs, or have a little party onboard your bus with a playlist of kid-friendly party jams. All the children can enjoy the ride together while parents sit back without the stress of theme park traffic. Call GOGO Charters Orlando at (407) 792-0330 to book a charter bus for your family night out at the city's top theme parks.
Hop on your bus and get ready for a magical time at these New Year's celebrations:
Walt Disney Resort
Disney has four parks at its Orlando resort, all of which have their own New Year's Eve events. If you're not sure which park to visit, check out the Disney website to explore what each celebration has to offer. The Epcot and Magic Kingdom celebrations are the most popular among the four. Don't get us wrong, Animal Kingdom and Hollywood Studios are still great, but the festive productions aren't as big as Epcot's fireworks extravaganza and Magic Kingdom's sheer, well, magic.
If your group has the financial means and plenty of time, buying a multi-day Park Hopper ticket is the best way to see a portion of each park during the holiday season. You won't need to choose between the parks, and you'll be able to take full advantage of each one's extended holiday hours.
Quick Tips for Traveling to Disney on New Year's Eve
Plan early: Disney's resorts and nearby hotels are sure to fill up quickly during the latter half of December. Grab your tickets, reserve your bus, and book your lodging at least 6 months in advance.
Be patient: Expect long lines at any of the Disney parks. Along with summer vacation, the December holiday season is the busiest time of year.
Make an itinerary: There's a lot to see at Disney, so making an itinerary of sorts is a good way to keep your group on track. All four parks have extended hours on New Year's Eve, with Epcot and Magic Kingdom staying open an hour later than the other two parks. Unlike the other parks, Magic Kingdom's celebration also spans two days, from December 30 to December If you're planning a 2-day park-hopping trip, consider splitting each day between two parks, rounding out your evenings at either Epcot or Magic Kingdom.
Organize your budget: Tickets and extra activities are always the most expensive around the holidays. Be sure to plan accordingly.
Drop off vs. parking: Traveling by charter bus means you won't need to have your driver park at Disney. However, do make sure you have a drop-off game plan. Your driver will be instructed to drop your group off at the Transportation and Ticket Center (TTC) for Magic Kingdom or in designated drop-off zones at the other three parks. Traffic around TTC and drop-off zones will likely be congested, so be sure everyone unloads as safely and as quickly as possible.

Image Source: Wikimedia Commons
Universal Orlando Resort
If the magic of Disney isn't calling your name this New Year's Eve, Universal Orlando has an equally amazing program to check out. EVE at Universal's CityWalk is a hot spot for adults, but the Universal Orlando parks have fun parties for all ages.
Universal Orlando is made up of three parks—Universal Studios Florida, Islands of Adventure, and Volcano Bay—along with the entertainment/shopping center CityWalk. Of the three parks, Universal Studios Florida is the shining star on New Year's Eve. The park transforms into the biggest party in Central Florida! Marvel at pyrotechnic displays and parades, join a massive dance party with characters from series like Spongebob Squarepants and Despicable Me!, and immerse yourselves in the Universal Cinematic Celebration with interactive film screenings under the stars.
Quick Tips for Traveling to Universal Studios on New Year's Eve
Build your budget: Similar to Disney World, visiting Universal Studios with a group can get expensive. Ticket prices are at their highest around Christmastime and New Year's. Book your accommodations well in advance to secure the best prices possible.
Consider visiting Universal's other parks: If seeing The Wizarding World of Harry Potter during New Year's is a big priority for your kids, consider buying a 2-park ticket to visit both Islands of Adventures and Universal Studios Florida. You'll find Diagon Alley in Universal Studios and Hogsmeade in Islands of Adventure. You can even take the Hogwarts Express between the two parks!
Opt for the Express Passes (if you can): You should expect the holiday crowd at Universal to be massive, meaning long lines and waits for rides. There will be plenty of other people with Express Passes in the park, but skipping the general line will still cut down on wait times. Keep in mind, if you're visiting more than one park, you'll need to buy separate Express Passes.
Plan for a smooth drop off: If you'll be at Universal all day, save everyone the stress and don't instruct your driver to park. Opt to have them drop your group off at the park's main transportation hub before returning to your lodging site.

Other Theme Park New Year's Eve Celebrations
The theme park giants can easily become overwhelming for big groups traveling with children. Although Disney World and Universal Orlando provide some of the most enchanting New Year's options in Central Florida, they aren't always the best option for everyone.
Both SeaWorld Orlando and LEGOLAND Resort Florida host slightly more affordable kid-friendly New Year's Eve celebrations. SeaWorld will have festive music and fireworks throughout the night, making it perfect for children that love animals, but it's a little bit easier on the wallet and has smaller crowds than Disney's Animal Kingdom. LEGOLAND's New Year's Eve puts the party in the kids' hands. They can dance with Lego characters, build festive mosaics, enjoy fireworks, and take photo ops with Lego Santa and toy soldiers. The LEGOLAND New Year's Eve party runs from December 26 – 31, so your little builders will have plenty of time to celebrate.
Orlando offers groups of all ages many unique opportunities to ring in the new year. Whether you're a group of out-of-towners or local Floridians, you're sure to find a magical way to enjoy the holiday.
Ride into the New Year with GOGO Charters
Let GOGO Charters Orlando help you celebrate the New Year in optimal safety and comfort! Give us a call at (407) 792-0330 to find the best charter bus for your group. Need New Year's transportation outside of Orlando? We service most major cities throughout the US. We'll happily get you a minibus for your beachfront club-hopping in Miami or your New Year's family ski trip around Denver. You'll receive a personalized, no-obligation charter bus quote quickly and easily when you call GOGO Charters!
Tags In
Do you need to rent a charter bus?
Do you need a long-term shuttle service?
We offer contracted shuttle services for businesses, schools, hotels, and more. Contact our experts at 1-844-897-5201 to discuss your long-term transportation plans.