Your Ultimate Guide to Traveling to College Academic Competitions
When you're part of a debate, mock trial, case competition, or quiz bowl team, you spend a lot of time preparing for upcoming tournaments. (I say this as a quiz bowl veteran, albeit one who rarely got to play because I was only good at literature questions.) However, you probably don't spend nearly as much time preparing for the journey to the tournament. And that makes sense—getting ready to compete and win is the hard part.
But if you're the person who wound up in charge of logistics, you'll want to spend a little time thinking about issues like transportation, hotel rooms, and food. That's where GOGO Charters comes in. We have a network of charter bus rentals to get you to your destination and this guide to help with all the nitty-gritty details, so you can focus on putting together your debate notes or mock trial case.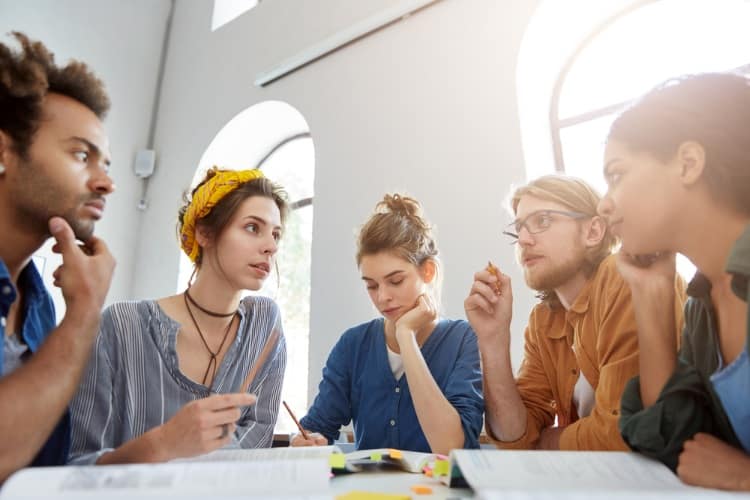 When you split the cost of a charter bus or minibus, you can get everyone to the competition without worrying about whether everyone has a car and is able to drive (can you tell I didn't have a car in college?). And since everyone's together and no one has to focus on the road, you can use the time to prepare for the tournament as a group.
Ready to get started? Check out our steps for planning a successful trip to your next college academic competition, and then call us at 1-855-826-6770 to reserve your bus.
1. Make sure you know who's going.
The first step of planning your trip is getting an accurate headcount. Try to find out several weeks in advance whether your entire team is eligible to compete and whether anyone has a sorority event or family birthday that means they won't be able to go. You can't book the correct size of bus and the correct number of hotel rooms until you know exactly how many people you're planning for.
This is also a good time to find out if anyone needs accessible features on the bus or in their hotel room. Since not all disabilities are visible, it might be smart to ask if anyone needs specific accommodations while making it clear that your teammates don't have to disclose why they need them.
2. Create a budget.
Having a headcount is essential to figuring out your budget. Your organization may have enough money to cover a charter bus, hotel rooms, and meals for everyone, but you still need to know how many people you'll have to pay for. And if your school can't cover all of your expenses, it helps to know how much each person will have to pay.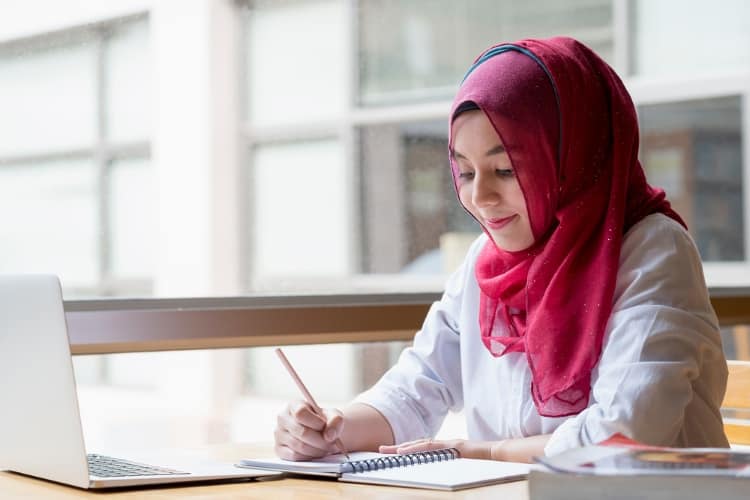 Once you know how many people are going, you'll need to calculate how much you can afford to spend on rooms, transportation and meals per person and in total. Having the numbers down in a spreadsheet or on a notepad will make it a lot easier to do your research.
3. Book your transportation.
Most academic teams are small enough to use a minibus, which will cost less than a full-sized charter bus (though it will also have less storage space, so you'll want to pack carefully.) Let our booking specialist know what your budget is when you call to make your reservation at 855-826-6770. We'll do our best to accommodate you.
You'll also want to research which amenities you'd like on your bus before you call. Need free WiFi to help you prepare for your case competition or Lincoln-Douglas debate? Want a flat-screen TV so you can relax with a movie on your way home? We have buses in our network with all of those features.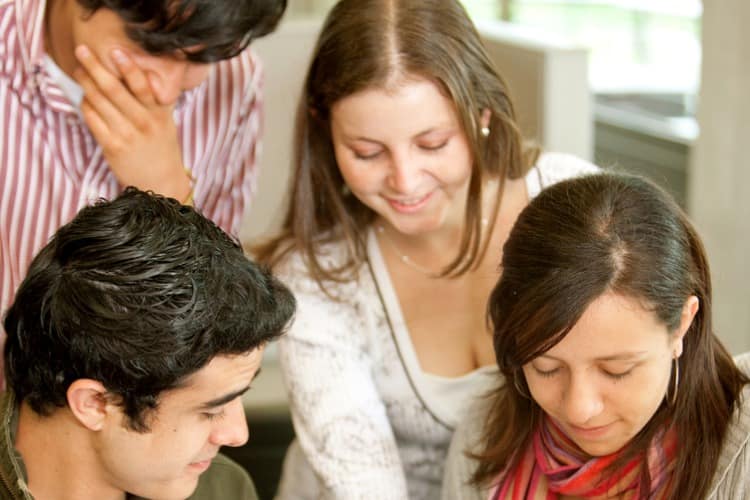 4. Reserve hotel rooms.
You'll probably need to start researching well ahead of time to find hotel rooms that are affordable, clean, and close to your destination. You don't necessarily need to book a hotel within walking distance, though. For example, if you're attending the National Women's Case Competition at UT Austin, you can book a hotel a few miles away and have your minibus drop you off at McCombs School of Business.
You might also want to consider amenities when you look for a hotel. Free WiFi could be enormously helpful if you need to work in your hotel room, while a 24-hour fitness center is great if some members of your team don't like to give up their workout routine. You may also want to look for a hotel that offers free breakfast. This can help your group save some money and get your blood sugar up so you're ready to compete.
5. Plan what to eat.
Speaking of breakfast, you'll need to plan meals for your group in advance. Start by finding out whether the tournament includes any meals. Many offer free lunch during competition days, and that means a few less meals you'll have to account for.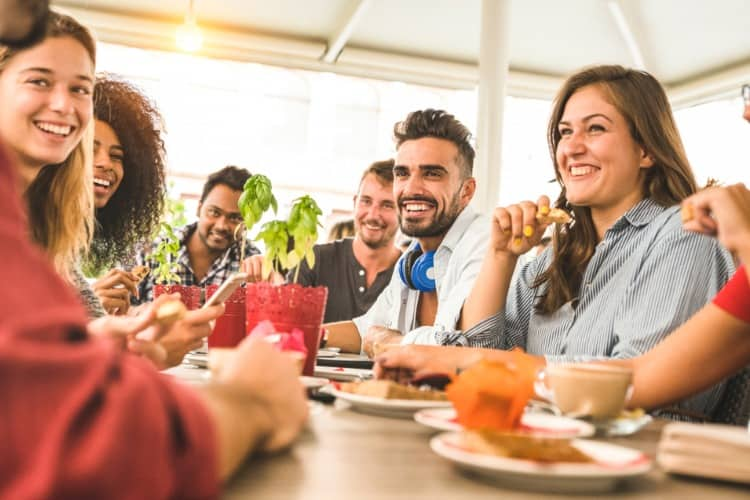 If your tournament doesn't include lunch, it might be easiest to just let everyone get a quick meal on their own. But don't forget about the days you're on the bus. For travel days, you'll want to find a good exit to stop at. Make sure you know if anyone in your group has food allergies or is gluten-free, vegetarian, or vegan! Dietary restrictions can make it a little trickier to find options on the road.
Also keep in mind that everyone can bring snacks on the bus. Most of the buses in our network offer overhead storage space so you can easily reach your granola bars or fresh fruit when the bus is moving.
The meal that will likely require the most planning is dinner. If you all want to eat together instead of grabbing fast food, you'll need to call restaurants ahead of time and make a group reservation. And don't worry—your charter bus can take you to the restaurant as well as to your hotel and the tournament, so no one has to get lost or pay for a rideshare.
6. Add in some fun activities.
You may not have any free time in between trials, debates, or case studies, but if you do, you can throw in a fun outing for your group. For example, almost every major city will have an awesome art museum where you can learn something and relax in a quiet, soothing environment at the same time.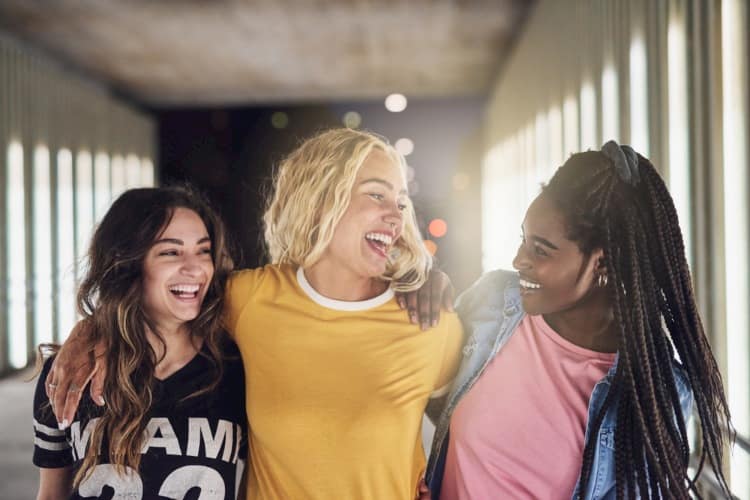 You can also try a free activity like going to a local park. It won't cost a thing to take a stroll through Balboa Park in San Diego, the National Mall in Washington, D.C., or Millenium Park in Chicago. Make sure you let our booking representative know if you'd like to add any destinations to your itinerary, and we'll communicate with your driver to figure out the best routes and parking locations.
7. Create a schedule.
Once you know where you're staying, what you'll be eating, and what you want to do, you're ready to build your schedule. Of course, a schedule helps your group stay organized and get everywhere on time—you definitely don't want a team member showing up late for a round of quiz bowl—but it also helps your bus driver. They need to know when and where to pick you up and drop you off throughout your trip so they can plan their route. Also, schedules are fun. (I can't be the only person who thinks making a schedule is fun, right?)
Get Ready for Your Next Academic Competition
Case study, debate, quiz bowl, and mock trial competitions are all great opportunities to bond with your team as well as to show off what you can do. When you book a minibus through GOGO Charters (1-855-826-6770), you can spend your trip listening to music, watching movies, and brainstorming, with no interruptions from cars cutting you off or someone having to turn Waze back on. And you won't have to worry about anyone getting lost on the way to the tournament, the restaurant, or your hotel. Ready to book? Our representatives are available 24/7 to help you out. And good luck at your competition!
Do you need to rent a charter bus?
Do you need a long-term shuttle service?
We offer contracted shuttle services for businesses, schools, hotels, and more. Contact our experts at 1-844-897-5201 to discuss your long-term transportation plans.