Best Restaurants in Dallas for Group Events
Dallas hosts dozens of fan conventions, business conferences, and trade shows at venues like the Kay Bailey Hutchison Convention Center and the Irving Convention Center at Las Colinas. And if you're attending one of these events with a group of coworkers or friends, you may be wondering where you should eat after your meetings or panels are over.
That's where GOGO Charters comes in. We can provide a minibus or charter bus to shuttle your group from the convention center to a restaurant in the Dallas area and then to your hotel. No one will have to worry about navigating traffic, designating a DD, or paying for their own rideshare. Just call us at 214-431-5792 to book your bus.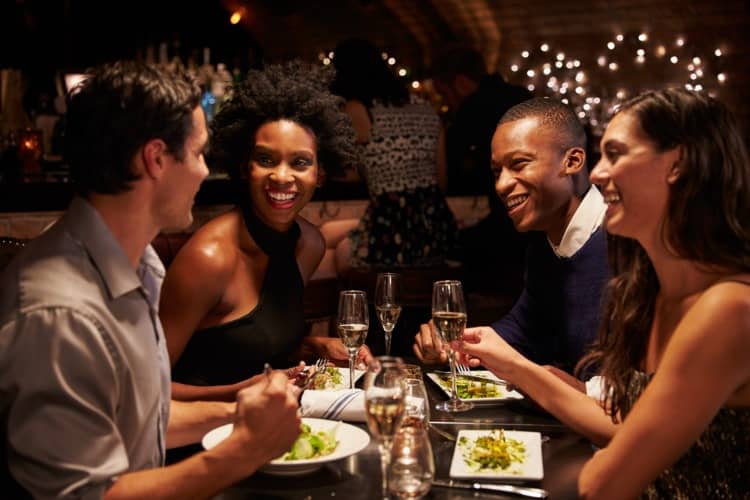 And how do you know which restaurant to take your group to? We've compiled a list of 8 Dallas  restaurants that are popular, well-reviewed, and feature party rooms or outdoor areas designed for large groups. Choose the one that's right for you and make a reservation before you call to book your bus.
rise n°1
One of the best-reviewed restaurants in Dallas, rise is a French eatery that specializes in souffles in a wide range of flavors. The original location lies near the Dallas Love Field Airport and features a "birch tree forest" dining area as well as a private outdoor patio for group events.
Start your meal with a delicious bowl of marshmallow soup, a dish that was invented at rise. It's not actually made from marshmallows—it's tomato soup with mini goat cheese souffles that look like marshmallows—but it is Instagram-worthy and mind-blowingly popular.
For your entree, you can order a savory souffle with creamed spinach, smoked salmon, or truffle-infused mushroom. And this is not the place to skip dessert. Choose a raspberry, chocolate, or praline pecan souffle to cap off your dinner.
Address: 5360 W Lovers Ln, Suite 220, Dallas, TX 75209
Contact info: 214-366-9900
modie@risesouffle.com (group reservations)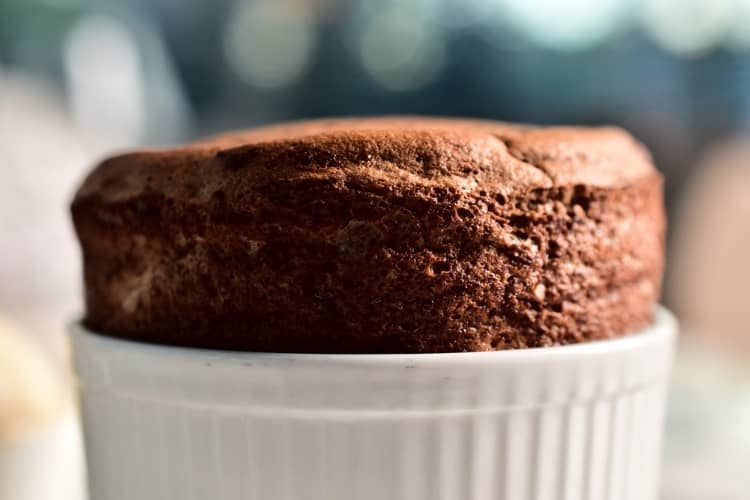 Pappas Bros. Steakhouse
Pappas Bros. Steakhouse is now a chain, but it started in Texas and remains one of Dallas's most popular places to grab a great steak in a refined yet welcoming setting. All of the steaks are made from USDA prime beef that has been dry-aged at the restaurant, and before each steak is cooked, it's coated in a simple seasoning of kosher salt, black pepper, and butter.
Got people in your group who aren't into steak? The restaurant also offers seafood entrees like salmon and lobster, and you can choose from sides like jumbo lump crab mac and cheese and au gratin potatoes.
Pappas Bros. offers a selection of private dining rooms for 25-80 people, each with a different theme. You can choose between The Fireplace Lounge, The Dining Car, The Train Car Room, or The Wine Room when you call to make a reservation.
Address: 10477 Lombardy Ln, Dallas, TX 75220
Contact info: 214-366-2000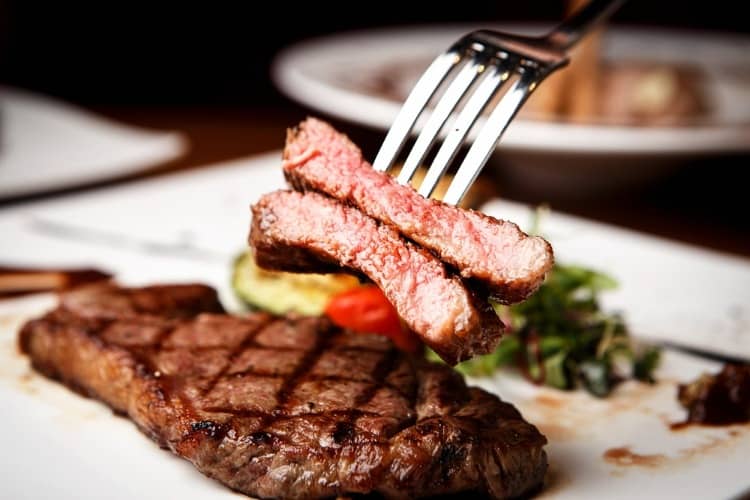 Café 43
Located at the George W. Bush Presidential Center, Café 43 draws in groups with its contemporary design and its views of Native Texas Park. The restaurant opens to the public for lunch and brunch, but in the evenings it's exclusively used for private events.
If you love organic, seasonal food, you'll love this cafe that operates under the philosophy "local first, Texas second." There are no banquettes or tall partitions inside, allowing the space to accommodate up to 150 guests and making it easy to see one another during your event. And booking a charter bus means you won't have to look for parking at the Presidential Center—we can drop you off near the restaurant entrance.
Address: 2943 SMU Boulevard, Dallas, TX 75205
Contact info: 214-200-4303
Uchi
Uchi serves acclaimed contemporary Japanese cuisine, like yasaimono, agemono, makimono, sushi, and sashimi, in Dallas's arts district. Try the kabocha (Japanese pumpkin tempura) or the suzuki yaki (grilled sea bass) paired with a cup of specialty sake. As an added bonus, Uchi also offers a vegetarian menu.
The restaurant's private room can hold up to 24 people for a seated dinner, so it's better for small businesses or wedding parties. Up to 40 people can fit for standing cocktail receptions. When you make your reservation, you can request floral decorations, a customized menu with sake and wine pairings, and audiovisual amenities like WiFi, sound equipment, and a flat-screen TV.
Address: 2817 Maple Ave, Dallas, TX 75201
Contact info: 214-855-5454
scowan@uchirestaurants.com (group reservations)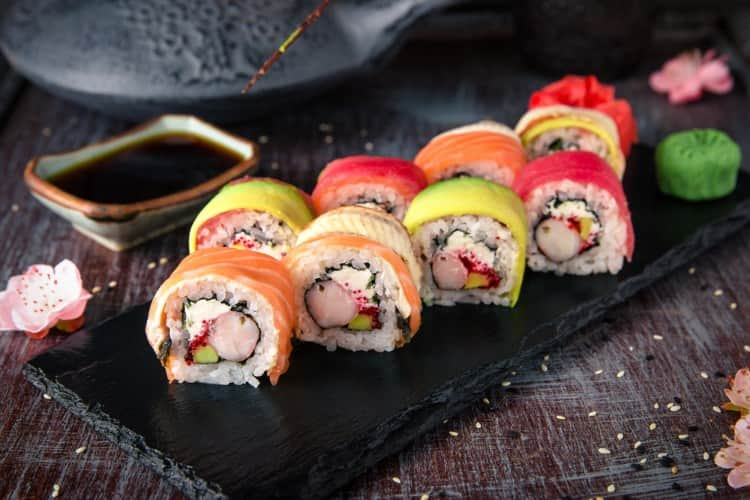 Truluck's
Like Uchi, Truluck's is located in the arts district and offers great private dining options. Originally opened to serve stone crab in Texas, where it was rarely available, the restaurant still serves stone crab but also offers sweet and spicy Dutch yellowtail, Pacific swordfish steak, and miso-glazed sea bass. If someone in your group isn't a seafood fan, they can choose from a selection of steaks such as prime bone-in ribeye and filet Oscar royale.
The private dining venue at the Dallas location is called the Naples Room, and it can hold up to 100 people seated and 150 for cocktail receptions. The space can also be divided into three smaller rooms for more intimate events of 32-80 people.
Address: 2401 McKinney Ave, Dallas, TX 75201
Contact info: 214-220-2909
rwright@trulucks.com (group reservations)
Bob's Steak & Chop House
Although it has since expanded to other cities and states, Bob's Steak & Chop House is a Dallas original. In fact, there's a chance the founder, Bob Sambol, may be there during your visit. This venue features private and semi-private dining rooms as well as a dedicated event coordinator to help you choose your entrees and wine.
As for the food, you can pick from classic steakhouse options like a porterhouse, filet mignon, and a bone-in Kansas City strip. Pair your steak with sides like sauteed mushrooms and creamed spinach or with a dessert like bread pudding or creme brulee. Got someone in your group who's avoiding red meat? They can order Maryland-style crab cakes or broiled Verlasso salmon.
Address: 4300 Lemmon Ave, Dallas, TX 75219
Contact info: 214-528-9446
ellyn.sokatch@bobs-steakandchop.com (group reservations)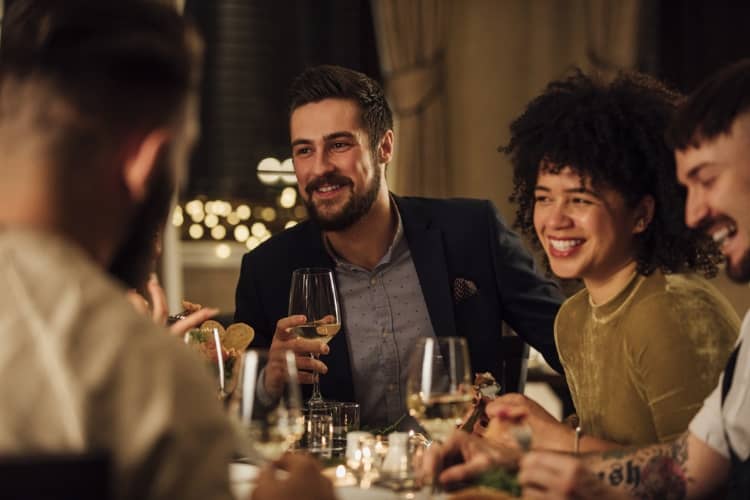 St. Martin's Wine Bistro
Like rise, St. Martin's Wine Bistro specializes in French cuisine. But rather than focusing on souffles, St. Martin's serves an array of dishes, including sauteed filet of lemon sole, seared diver scallops, and scallopini of veal. As you'd expect from the name, it also has an extensive wine list featuring almost 200 vintages.
The private Baroque Room includes a built-in marble and mahogany bar, a stone fireplace, a chandelier, and hand-crafted wooden wine racks to create a truly elegant dining experience for up to 50 guests. If you're traveling with a smaller group, book the Concerto Room, which can hold up to 25 people. This private room lies next to the piano nook, where an accomplished pianist plays soft classical music each night.
Address: 3020 Greenville Ave, Dallas, TX 75206
Contact info: 214-826-0940
Truck Yard
Most of the restaurants on this list lean toward the formal side—after all, if you're planning an event for your coworkers or your bridal party, you probably want to impress them. However, sometimes formal isn't what you're looking for. That's where Truck Yard comes in.
This casual beer garden serves a wide variety of draft beers and creative cocktails and hosts food trucks from across Dallas in its expansive outdoor space. The trucks vary from day to day, but there's one food you can always find: cheesesteak. Choose from steak, chicken, wagyu beef, or a vegetarian meat substitute, top it with Cheese Whiz, American or provolone, and add a dash of onions, jalapenos, mushrooms, or bell peppers.
For an hourly beverage minimum, you can rent the private Treehouse or Treehouse Rail area for up to 80 people. You'll receive a designated bartender and an array of beers and cocktails that you get to select, including a personalized craft cocktail just for your group. And don't worry about choosing a DD—GOGO Charters Dallas has you covered.
Address: 5624 Sears St, Dallas, TX 75206
Contact info: 469-500-0139
dallasevents@texastruckyard.com (group reservations)
Treat Your Group to a Special Dinner in Dallas
Add a memorable touch to your next corporate conference or bachelorette weekend with a group dinner at one of Dallas's best restaurants. Whether you want to eat seafood at tables draped in white tablecloths or chow down on cheesesteak outside, you can easily find a perfect party venue in the Dallas area. And no matter where you decide to go, GOGO Charters can help you get there. Give us a call at 214-431-5792 and start planning your night out in Dallas!
Tags In
Do you need to rent a charter bus?
Do you need a long-term shuttle service?
We offer contracted shuttle services for businesses, schools, hotels, and more. Contact our experts at 1-844-897-5201 to discuss your long-term transportation plans.