Here are just a few of the companies we've worked with: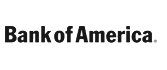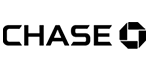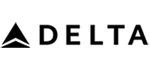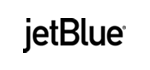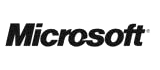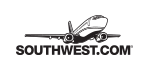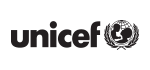 About San Diego's Balboa Park
CALL 1-855-826-6770FOR CHARTER BUSES TO BALBOA PARK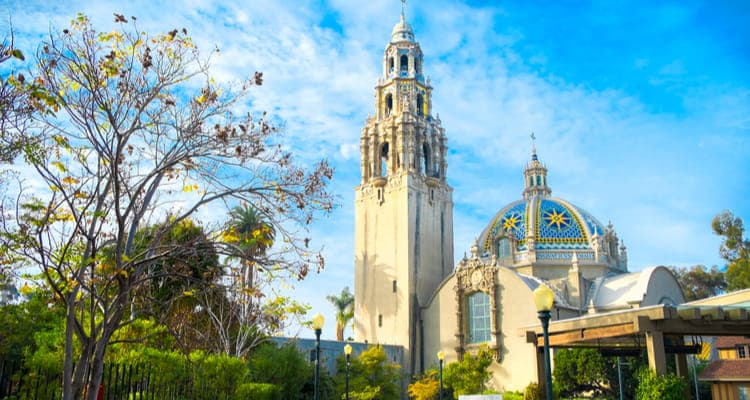 Central Park in New York City may be the most famous urban park on the East Cast, but Balboa Park reigns supreme as the largest and most iconic urban park on the West Coast. With 16 museums, 19 gardens, several performing arts centers, and dozens of additional attractions like the San Diego Zoo, Balboa Park has held its title as being San Diego's favorite green space for over 150 years. The park offers various guided tour options and also regularly hosts an array of events like outdoor concerts and community celebrations.
Balboa Park Quick Facts
The park officially opened in 1868 and primarily consisted of open green spaces for the public.
Balboa Park is 1,200 acres. In comparison, Central Park is only 840 acres.
Balboa Park is one of the nation's oldest spaces dedicated to public recreational use, with the land being designated and reserved in 1835.
Two major world expositions were hosted in Balboa Park between 1915 and 1936, leaving architectural remnants like the iconic Botanical Building and Casa del Prado.
The many buildings in Balboa Park combine various architectural styles, including Spanish Colonial Revival, Mission Revival, and Spanish Baroque.
Balboa Park is open 24 hours but each attraction and museum holds its own unique schedule and admission policies.
Group Transportation to Balboa Park
Balboa Park is often referred to as the crown jewel of San Diego. It's a popular place for locals to enjoy summer evenings filled with live music and for families to bring their children to learn, play, and enjoy themselves. Balboa Park has a special place in locals' hearts, but it's also the biggest tourist attraction in the city, bringing in upwards of 15 million visitors every year.
So if you're planning to visit Balboa Park with a group, expect crowds and traffic, especially during the peak travel season between sunny late-May to August. Balboa Park is located less than 2 miles from San Diego's Downtown city center, creating an even more complex traffic situation.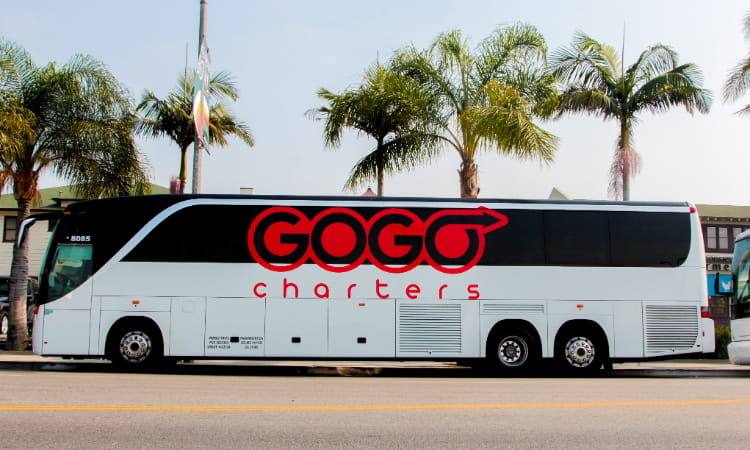 One of the best ways to help your group take on San Diego traffic around the park is with a personal charter bus rental. GOGO Charters works with one of the largest networks of charter bus providers in California to simplify group transportation across San Diego, Los Angeles, San Jose, San Francisco, and beyond. So you'll have a professional driver and team behind you every step of the way during your group visit.
Renting a charter bus to Balboa Park isn't just for school field trip groups or summer camps. Although a 56-passenger charter bus is spacious and suitable for large groups, smaller travel groups have plenty of options with GOGO Charters as well. Not only will you have a choice of several models of compact minibus but you'll have air-conditioned cabins and amenities like WiFi, televisions, and entertainment systems to wind down after a long day exploring Balboa Park.
Parking at Balboa Park
Getting to Balboa Park during peak travel season is one feat within itself, parking is another dilemma. Parking at Balboa Park is free but comes with the stress of tracking down a spot. Although Balboa Park has multiple parking lots, the main and largest parking lot is Inspiration Point, located in the southeastern-most portion of the park.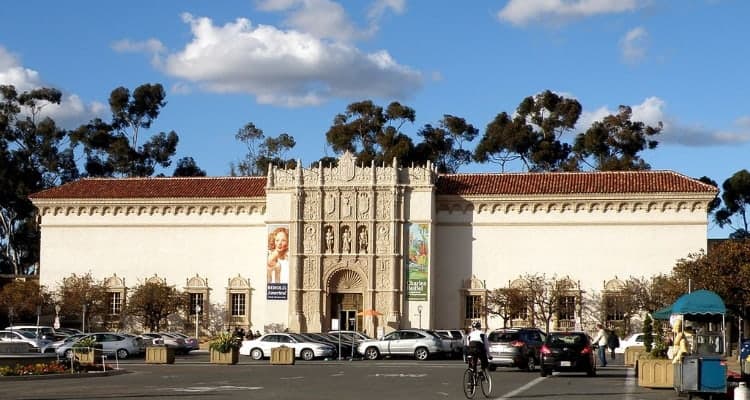 It's rare for every lot to completely fill up on a normal day, but during weekends, summer days, and special events, parking will become increasingly difficult to come by. If you're traveling with a relatively large group, splitting into separate cars is inefficient when considering traffic and the dreaded parking situation. It's not uncommon for cars to drive around for half an hour or more looking for parking on a busy day. Multiply that by multiple vehicles in your caravan and that'll set you up for plenty of frustration.
If you're traveling to the park by charter bus, you'll have the option to have your group dropped off while your driver parks the bus. Not only will this save you frustration, but it'll give you more time to spend in the beautiful park and museums instead of in your vehicle.
Popular Museums and Attractions at Balboa Park
Choosing which Balboa Park attractions to add to your itinerary isn't an easy task. There are so many to choose from and picking among the dozens of attractions depends on everyone's interests. Historic photography at MOPA or international folk art at Mingei may not interest groups of little ones, but dinosaurs at theNAT might do the trick.
Balboa Park's roster of museums and learning centers are world-class and special in their own way. If you're a group of locals or you'll be in San Diego for an extended period of time, consider getting a Balboa Park Explorer Pass. If you only have time to check out a handful of museums or attractions, consider putting these popular locations near the top of your list: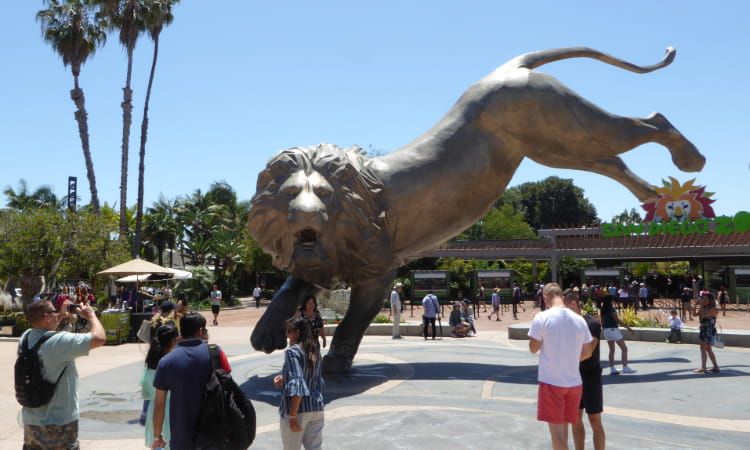 San Diego Zoo
Ticket price: Children(ages 3-11) $46+, Adults (ages 12+) $56+
Hours: Sunday through Thursday - 9:00am - 8:00pm
Friday - 9:00am - 6:00pm
Saturday - 9:00am - 6:00pm
The San Diego Zoo is easily Balboa Park's most popular attraction. Consistently ranked as the best zoo in the United States year after year, the San Diego Zoo is a must-see for groups of all ages. The San Diego Zoo also operates the San Diego Zoo Safari Park in Escondido, which is well worth the 40-minute drive north, if time permits.
San Diego Air & Space Museum
Ticket price: Children (3-11) $10.95, Adults (12+) $19.95
Hours: Monday thru Sunday 10:00am - 4:30pm
Do airplanes pique your interest? How about space travel? The San Diego Air & Space Museum is the perfect place for visitors who always have their heads in the clouds. The museum has extensive exhibitions on all things aviation, ranging from early da Vinci-era flight designs to new space age travel. You can even experience flight like never before with interactive flight simulators for an additional fee.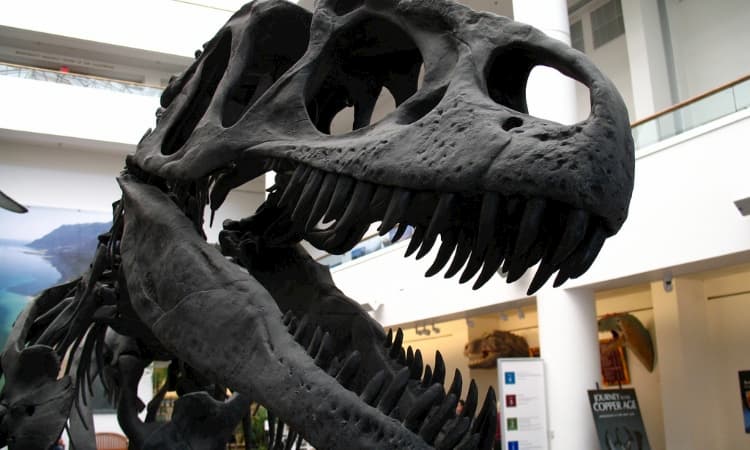 San Diego Natural History Museum (theNAT)
Ticket price: Children (3-17) $11.95, Adults $19.95
Hours: Monday thru Sunday 10:0am - 5:00pm
Dinosaurs and animal skeletons may appeal to kids, but don't worry adults, theNAT isn't just for the kiddos. There's plenty about the natural world that visitors of all ages can enjoy. Explore exhibitions about everything from the history of California's natural landscape to the physiology and evolution of baleen whales.
Fleet Science Center
Ticket prices: Children (3-12) $18.95, Adults (13+) $21.95
Hours: Monday thru Thursday 10:00am - 5:00pm
Friday thru Sunday 10:00am - 6:00pm
While theNAT is geared towards visitors of all ages, the Fleet Science Center is the premier location for groups looking to enrich little ones. The center focuses on offering interactive exhibitions on topics like meteorology and how electricity works. There's also a planetarium and IMAX theatre for an even more educational experience for the kids.
San Diego Museum of Man
Ticket prices: General Admission, $13
Hours: Monday thru Sunday 10:00am - 5:00pm
Dating back to 1915, the Museum of Man is located in one of the oldest portions of the park, being housed in the California Building within the California Quadrangle. The Museum of Man is a unique anthropological museum filled with exhibitions ranging from Ancient Egyptian and Mayan culture to cannibalism and the history of beer. Guests can also tour the historic California Tower for an additional fee of $16-23.
Annual Events at Balboa Park
Each museum often hosts an array of special events throughout the year. Balboa Park and its gardens also host annual parkwide events that are open to the public.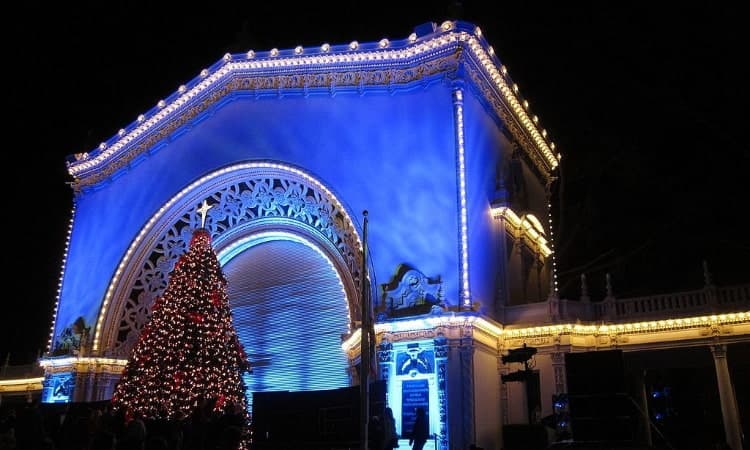 Balboa Park December Nights
December. Free.
December Nights is one of the busiest public events to take place in San Diego. The 2-day holiday festival attracted more than 350,000 people in 2018 and has been held annually for more than 40 years. Locals flock to Balboa Park to enjoy holiday lights, performances, local vendors, and plenty of delicious food.
Parking during December Nights is notoriously difficult. If you're traveling with a large group like a community organization or club, renting a charter bus from GOGO Charters is your easiest way in and out of the event. Forget the hassle of parking multiple vehicles, you'll be dropped off and picked up swiftly and efficiently.
Cherry Blossom Festival
March. $10+.
The Japanese Friendship Garden is the among most-visited gardens in Balboa Park. With roots dating back to the Panama-California Exposition of 1915, the garden has gone through various restorations and renovations to bring it to its current beauty and prestige. With well-manicured flora, a stone garden, a koi pond, waterfalls, and much more, the garden is a popular venue for special events like weddings.
Each spring, the garden hosts a festival to celebrate the blooming cherry blossoms. The traditional Japanese garden comes alive with beautiful flowers, cultural exhibitions, Japanese street food, and performances.
San Diego International Organ Festival
June-August. Free with paid VIP options.
If you're looking for a unique musical experience, the San Diego International Organ Festival will surely deliver. Held at the historic Spreckels Organ Pavilion every summer, the festival presents a wide variety of international musical acts. From world-renowned organ players to full ensemble bands, the festival has something for every music lover. Each concert throughout the festival series is free and open to the public. Seats fill up quickly but VIP options with reserved seating are available for some special evening shows.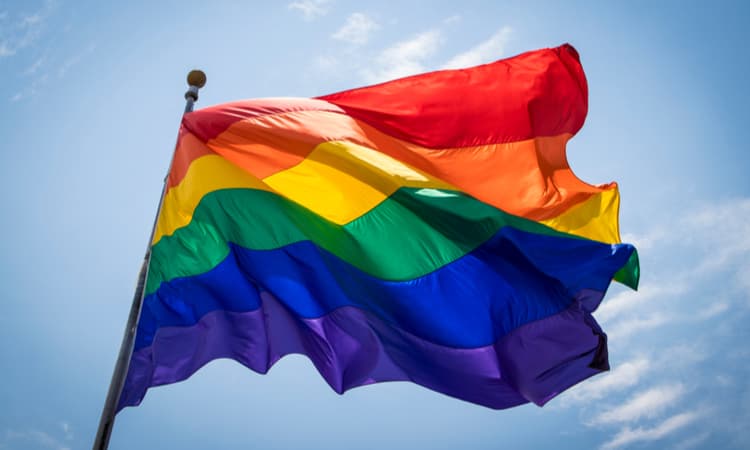 San Diego LGBTQ Pride Festival
July. Pricing varies.
The San Diego LGBTQ Pride Festival & Parade is one of the largest events of its kind in the United States. Various Pride events are held over the months of June and July, with the parade and music festival being the most popular. The 2-day music festival is held in Balboa Park and the 1.5-mile parade is held in the area. Over 300,000 people attended the festival and parade in 2018, with numbers expecting to grow each year.
Group Tours of Balboa Park
Balboa Park offers a variety of free public tours to guests. General free tours begin at the Balboa Park Visitors Center with 11:00am Sunday tours led by a park ranger and 11:00am Tuesday tour by Visitor Center staff. Custom, private tours are also available for groups of up to 15 people for a fee of $150.
History and architecture enthusiasts should plan to catch a Balboa Park architectural tour. The architectural tours are held the first Friday of each month at 10:00am. You'll learn about the California Building, the California Tower, the Spreckels Organ Pavilion, and the many other distinct buildings that line El Prado.
Botanical Building tours are held every third Friday of the month at 11:00am. Learn about one of the park's most iconic landmarks and its historic horticultural importance to the community. These 45-minute docent-led tours will cover everything from the building' design to the background of Alfred D. Robinson, the horticulturist behind the historic building.
Travel Tips and FAQ
Planning a trip to Balboa Park does require some thought, especially if you're traveling with a group and have limited time. When planning your trip, consider these GOGO Charters travel tips.
What can I do for free in Balboa Park?
Free Tuesdays: San Diego residents, active duty military, and military dependents can take advantage of free admission to select museums on Tuesdays.
Free Balboa Park attractions: Admission to the Timken Museum of Art is always free. The San Diego Mineral & Gem Society Museum is free, while classes and workshops require registration fees. The Centro Cultural de la Raza and Spanish Village Art Center are both free, but donations and patronage to local artists are appreciated. Guests can also explore Balboa Park's hiking trails and most gardens for free.
Is Balboa Park wheelchair- and stroller-friendly?
Balboa Park has an extensive walkway with paved sidewalks and ramps, optimal for wheelchairs and strollers.
Accessible parking is available in all lots but spots do fill up quickly.
Some attractions and museums like the San Diego Zoo have power chairs and strollers for rent on a first-come first-served basis.
Parking at the main Inspiration Point lot will give groups access to Balboa Park's accessible tram route.
Do Balboa Park museums have group discounts? Student discounts? Senior discounts?
Most Balboa Park museums offer discounts for seniors, students, retired military personnel and active-duty military.
Groups should also inquire about discounts to museums. For example, the San Diego Museum of Man and theNAT offer discounted tickets for groups of 10 or more.
Plan a Special Event at Balboa Park
Balboa Park has a wide array of special event venues for guests looking to plan events like weddings and company holiday parties. Plan a beautiful wedding ceremony in the Japanese Friendship Garden or a social gathering against the unique backdrop of the San Diego Museum of Art. No matter the type of event you're planning at San Diego's cultural gem, GOGO Charters has a transportation solution for your event. The last thing you'd want is to plan a beautiful wedding in Balboa Park but have guests arrive late due to parking restrictions on a busy day. Guests will have a charter bus or fleet of charter buses to shuttle them to your service without the hassle of finding parking!
Visit Balboa Park with GOGO Charters
Choose GOGO Charters for all of your group transportation needs to and around Balboa Park. Whether you're traveling for a large event like Pride, a school field trip, a big special family outing, or even a community service project, we've got you covered with comfortable and efficient charter bus rentals. Call our team anytime at (619) 312-4991 to reserve a San Diego charter bus for your day at Balboa Park.
Rent your charter bus now:
You may have seen us featured in: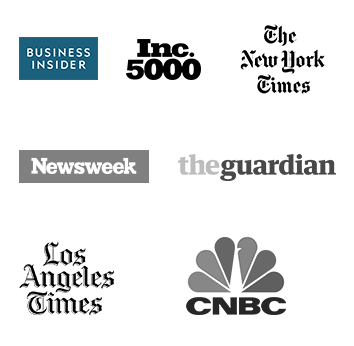 Latest
Blog Posts