The GOGO Charters Guide to the Best Group Day Trips from Houston
If you're here, you've probably been saddled with the task of moving a large group from somewhere in Houston to somewhere outside of Houston for the day. Maybe for a school field trip? A team-building adventure, or a corporate outing? Whatever your reason, moving a busload of folks from here to there is no easy feat. There's a lot of planning and preparation for a group day trip, and a lot of expectations to meet. You need to find a place to go, one that is preferably fun and impressive (and either has or is near delicious food), and then, you need a way to get there. Thankfully, GOGO Charters can help you out on all counts.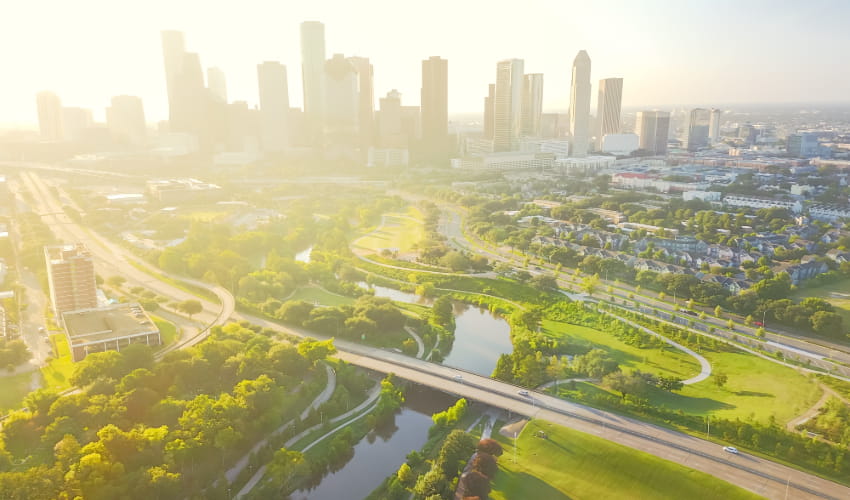 Large Group Transportation From Houston
GOGO Charters can set you up with the bus you need to enjoy the journey just as much as the destination. If you're a small group of less than 25, then you'll be comfortable in a sprinter van or minibus. For larger groups, we can pair you with as many 56-passenger motorcoaches as you need. Most charter buses come with amenities like reclining seats, plenty of legroom, and on-board lavatories, but be sure to confirm with your reservation specialist when you request your rental.
Call us at (409) 204-1292 to reserve a bus that meets your needs, and don't forget to ask about premium entertainment amenities for the ride. Many buses come equipped with TV monitors, DVD players and an AM/FM Radio, as well as comfort features like power outlets, WiFi, and air-conditioning. You'll be traveling outbound from Houston on your charter bus rental for anywhere between 30 minutes to two hours, so you'll want to enjoy the ride in comfortable, entertained bliss.
The Best Day Trip Destinations from Houston, Texas
While Houston itself is a marvelous place to spend the day, exploring the surrounding towns, cities and countrysides is a must for every seasoned Houstonian. A few short hours outside downtown, you'll find marvels like the tallest war memorial in the country, towering blue and pink glass pyramids, an antique wooden roller coaster and the creamiest ice cream in the state. You're truly blessed to live in Texas, so get out and explore!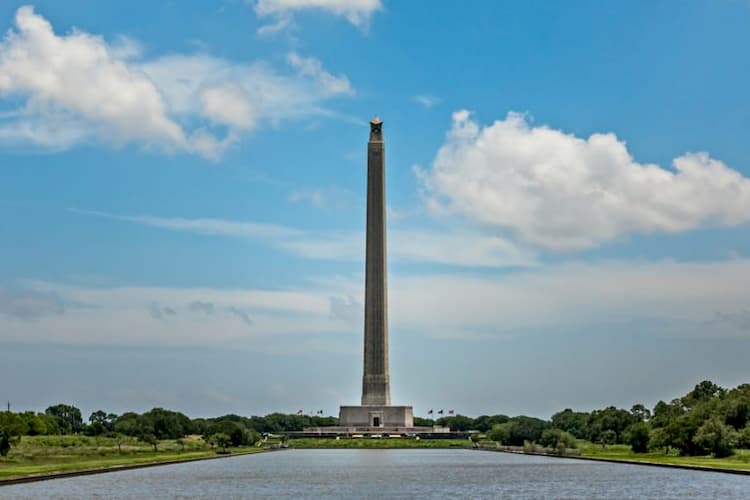 San Jacinto Monument
Travel Time from Houston: About 30 min.
Address: 1 Monument Cir, La Porte, TX 77571
American history buffs will love going here to stroll back in time through the defining battle of the Texas Revolution. The San Jacinto Monument is a 570-foot-high obelisk that commemorates the site of the Battle of San Jacinto. It marks a sprawling battlegrounds filled with historic landmarks, which you can see up-close and personal from the ground or from the observation deck at the top of the tallest war memorial in the nation. You'll see the Reflection Pool, the Battleship TEXAS, the Houston Ship Channel, and, in the distance, the Houston skyline. At the base of the monument is the San Jacinto Museum of History, filled with exhibits of art and artifacts from Texas's revolutions.
While there's plenty to fill an entire day here, an organized group outing will last roughly 1.5 to 2 hours and includes a tour through every site on the battlegrounds and the observation deck. If you'd like to get more information about group discounts for field trips or a corporate event, fill out and send a Group Visit Form and a museum representative will contact you within 48 hours. You could also rent the museum space for an event and enjoy the facility as an educational backdrop for a corporate lunch or seminar.
Kemah Boardwalk
Travel Time from Houston: About 45 min.
Address: 215 Kipp Avenue, Kemah, TX 77565
A mere 45 minutes southeast of downtown Houston is a smorgas-board of family-friendly fun for everyone. The Kemah Boardwalk is an old-fashioned waterfront amusement park complete with a wooden roller coaster, a two-story carousel, speedboat rides, a stingray touch tank, and dozens of delicious restaurants just waiting to host your group. Go here for any reason: educational field trip, company picnic, fundraising event, birthday party, sunset wedding, you name it. There's something for everyone.
If you have a group of 15 or more, then you can qualify for a group discount. For group events, tickets, meetings and catering information, you'll need to visit kemahboardwalk.com and fill out an Event Request Form or call the Group Sales hotline at 877-905-3624. Kemah Boardwalk can accommodate any size of group, from 15 to 5,000 people. Indoor and outdoor venues are available year-round—or have a little extra fun and book your event aboard the Boardwalk FantaSea Private Yacht.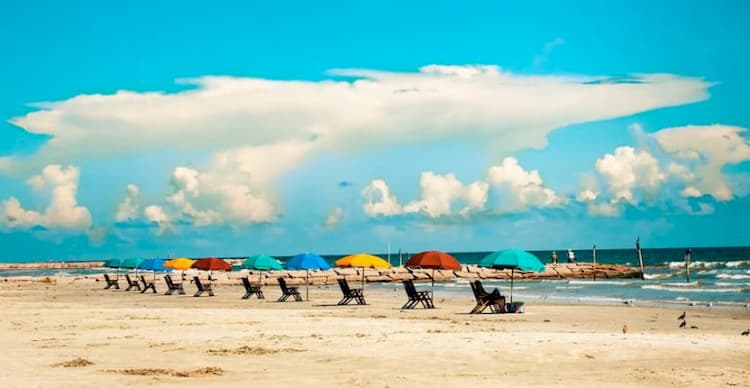 Moody Gardens
Travel Time from Houston: About 1 hour
Address: 1 Hope Blvd, Galveston, TX 77554
No adventure to the idyllic, seaside city of Galveston, Texas is complete without a visit to Moody Gardens. The perfect family-friendly day trip destination outside of Houston, Moody Gardens is an educational adventure park complete with a zip-line course, a water park, and three enormous glass pyramids housing an aquarium, a rainforest nature center, and a discovery center.
Moody Gardens offers group rate packages for groups of 20 or more for anything from a field trip to a family reunion. For field trips, ask about their age- and grade-specific guided exploration programs in either the Aquarium or Rainforest Pyramids starting at $7.95 per person (or $10.95 with a MG 3D Theater ticket.) If you're in the market for a private party room or event space, Moody Gardens has facilities for rent at the Moody Gardens Hotel, at the golf course, or aboard the Colonel Paddlewheel Boat.
Brazos Bend State Park
Travel Time from Houston: About 1 hour
Address: 21901FM 762, Needville, TX 77461
Want a break from the bustle of city life? Grab the crew, rent a bus, and head south of Houston to Brazos Bend State Park. The park is packed with 37 miles of hiking and biking trails, a nature center, fishing piers, the George Observatory, and observation decks overlooking wetlands teeming with wildlife, including alligators! (Make sure to read through the park's alligator safety tips before you go. In summary: avoid alligators, and please don't feed them.)
If you're hosting an event, you can reserve a group site to enjoy privately for the day. Set up at the pavilion, group hall or campsite and plan your park adventure. Call the park to ask about educational Ranger Programs that offer guided nature walks and lessons, or easily enjoy your day at Brazos Bend on your own self-guided adventure.
Blue Bell Creamery
Travel Time from Houston: About 1 hour and 20 min
Address: 1101 S Blue Bell Rd, Brenham, TX 77833
Who loves ice cream? Literally everyone, that's who! A trip to Blue Bell Creamery will undoubtedly delight adults and kids alike. The Observation Deck is open Monday through Friday from 8 a.m. to 2 p.m. and gives guests an inside look at how this iconic American brand makes its most popular ice cream flavors. Make sure to call ahead and reserve a time for your group to enjoy a guided tour.
While you're in Brenham, Texas, you may enjoy a side trip to the Chappell Hill Lavender Farm for some fresh-cut flowers or a heritage tour of the Giddings Stone Mansion. You can also host a group lunch at a local restaurant like BT Longhorn Saloon & Steak House or Guadalajara Mexican Restaurant.
George H.W. Bush Presidential Library and Museum
Travel Time from Houston: About 1 hour and 30 min
Address: 1000 George Bush Dr W, College Station, TX 77845
Head out to College Station, Texas and discover the life and legacy of George H.W. Bush. The George H.W. Bush Presidential Library and Museum is one of the top attractions in Texas for a reason: the center hosts a variety of educational programs and exhibits, and it has an event roster featuring talks and presentations from the top minds in government and politics.
Groups are welcome to tour the exhibits during regular hours, and groups of 20 or more can receive a discounted rate of $6 per person with an advanced reservation. The museum also offers interactive, one-hour guided tours for students on field trips. Feel free to take your time enjoying the exhibits and exploring the library—your charter bus rental won't be far. The designated bus parking lot is just behind the building.
Get Going with GOGO Charters
By now, we bet you have an idea of where you'd like to go. So let's get you there! If you're planning a day trip from Houston to a destination like Moody Gardens, the San Jacinto Monument or the George H.W. Bush Presidential Library and Museum, give us a call at (409) 204-1292 to speak with a reservation specialist. Just let us know your trip details like date, time, and pick-up/drop-off locations, and we'll provide you with a personalized quote for your Texas day trip.
Tags In
Do you need to rent a charter bus?
Do you need a long-term shuttle service?
We offer contracted shuttle services for businesses, schools, hotels, and more. Contact our experts at 1-844-897-5201 to discuss your long-term transportation plans.